Gerry Sweater Down Jacket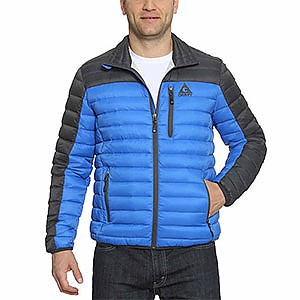 Gerry is a well-known brand that has been making outdoor clothing for more than seven decades. This jacket is well made and is being sold at a very good price.
Pros
Very well made
Down insulation makes for good warmth
Multiple pockets for storing maps, snacks, gloves, and other items close at hand
Excellent price for what you get
Light weight
Cons
Sewn-through can allow some loss of warmth
Not made in the USA
1-way front zipper (problematic when wearing climbing harness)
No storage bag or "stuffing pocket"
some "feather leakage" with time
Weight: 0.6 p/0.3 kg = 9.6 oz/300g
Down fill: 650
Some of us "Old Greybeards" who became acquainted with the outdoors many decades ago made use of army surplus leftovers from WWII. This gear tended to be very heavy and didn't always meet our needs.
As the troops returned home, some of them started small family shops that created high quality gear that was lighter than the army gear and would work for our treks into the woods and hills which we lived near. Sometimes when we made expeditions to far away parts of the world
One of these small family shops was started by Gerry Cunningham in Boulder, Colorado, right in the Rockies. Gerry was a member of the 10th Mountain Division during WWII. When he returned to Seattle after WWII, he started a business making gear for the outdoors, especially suited for the Pacific Northwest.
There had been shops earlier, such as Eddie Bauer. Bauer was a Pacific Outdoorsman, who opened in about 1920. Bauer patented the first down-filled "puff jacket"  in 1940. Some of these companies, like Holubar, developed excellent gear, though they later were absorbed by other companies or folded. Bauer became more of a general clothing store, though a few years ago they revived their outdoor aspects. I still have my Bauer sleeping bag, although it has a cotton cover and is heavy by today's standards.
Barbara and I were stopping by our neighborhood Costco one day. As we walked past the door guard waving our Costco card, we noticed a display with a sign for Gerry down men's jackets. We were curious about the bargain price ($29.99), about the same as Gerry down jackets had been 40 or 50 years ago. The Gerry's hang tags labelled the jacket as a "down sweater".
We started examining the jackets, quickly finding the "Made in China" label. The nylon fabric (cotton shells having been largely replaced by synthetics) contained 90% down and 10% waterfowl feathers. The price is kept down by using 650 fill down. This does not seem to have affected the insulating capability by very much.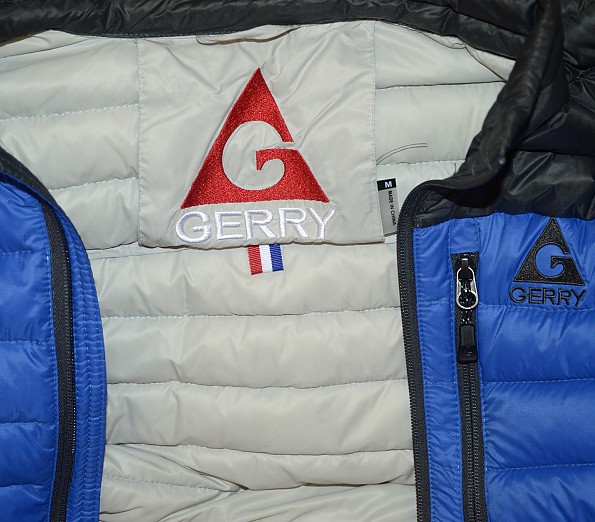 Inside the collar was the Gerry logo from decades ago, plus a smaller one on the outside. We decided to get one for me. We also got a 32° women's jacket for Barbara at $14.99. The 32° company is much newer (that is "32 degrees"), but the quality looked similar.
Details of the design—Depending on how you count them, there are five pockets—two hand pockets with zippers, two interior open top pockets which can hold a pair of gloves, and a zippered shoulder-level pocket, which displays the Gerry logo. The inner and outer pockets back on each other. No stuff sack was included, and unlike many jackets of similar weight and intended use, none of the pockets work as "self-stuffing" pouch.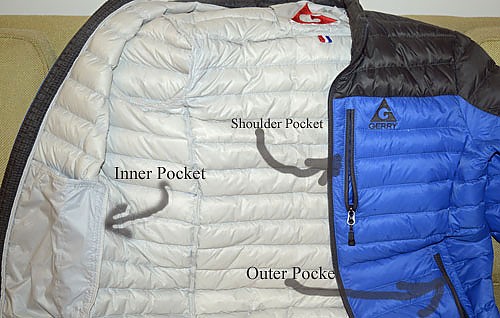 Although there was no indication on the tags of the type of waterfowl feathers, in the 1940s, military jackets from Gerry, Bauer, and others did include a small amount of feathers along with the down, the thought being that the "puff" was aided with the stiffer feathers. In my preliminary trials, the down-filled tubes seem to work well. Note that the tubes are sewn-through. Although heat can be lost from sewn-through clothing, the jacket seems as warm as similarly-styled jackets from other companies.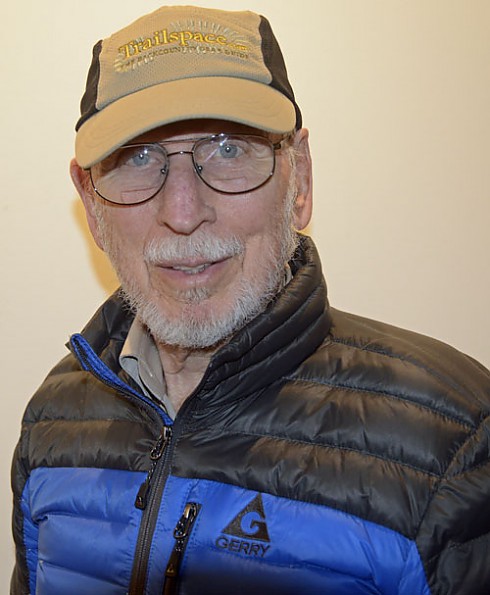 Thanks to El Niña, and huge wildfires here in both Northern and Southern California, my preliminary wearings were in fairly mild weather. Early fall in the SF Bay area this year has been in the 40 to 60 degree range, with moderate breezes and a fair amount of rain. I did get to try the jacket in 30 to 40° breezy weather. I found the jacket to be quite comfortable in those conditions when just standing around. The nylon shell allows moisture to pass through without getting the down damp even when hiking fairly rapidly up the steeper trails.
And then there were the fires in Southern California, one of which I just looked at on the TV news is (so far) the second largest wildfire in California. The winds around the low pressure areas have been carrying the smoke all along the California coastline.
As time has progressed, our weather has shifted to windy (around 20-30 mph) and in the evenings lower temperature (we are now past the Hibernal/Winter Equinox). I will add more as the winter progresses and while I am in the Wasatch). The outside temperature at this writing is 30°F.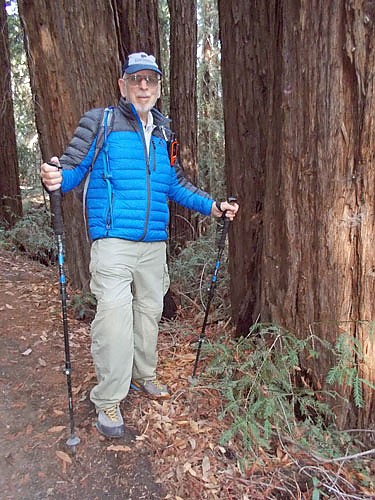 Trying the jacket out in one of our local parks on a moderately cool day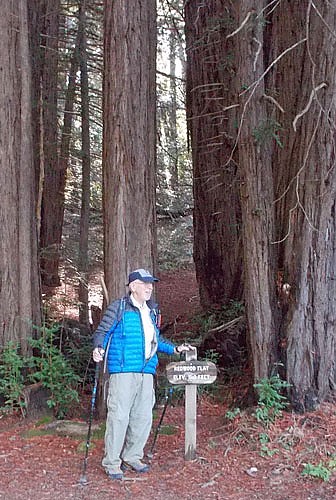 A copse of giant redwoods (Sempervirens)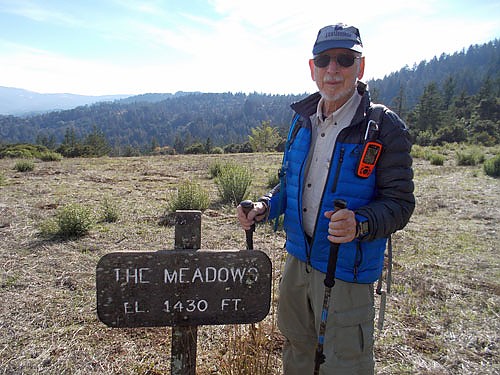 This hike is in Wunderlich Park. The total altitude gain from the trailhead to the top of the ridge is about 2000 ft. From here in the meadows, the winds were picking up. Although it was cool (and got colder as we continued up and the winds on the ridge were stronger), I found unzipping to make things more comfortable.
In some sense, this review serves as a review of Costco as well as the jacket. Over the past few years, we have been finding that they have been carrying a number of items of outdoor clothing and gear. An example is in the review I did of Cascade Mountain carbon fiber trekking poles awhile back.
We still prefer to get our outdoor gear, not from chain stores, but rather from the Mom and Pop stores that Eddie Bauer, Gerry, and others used to be. Yes, we have gotten a few other items of gear from Costco and some other chain stores. And yes, we have seen some of our favorite outdoor stores being shuttered, including just a couple months ago when Sunrise Mountain Sports, a family store across the Bay in Livermore that we have patronized for 30 years, sold their last few items at 50% discounts.
Still, having stores like Costco and the outdoor oriented stores like REI, do help with availability of some good outdoor gear.
UPDATE 2/2018: 
I got to give the Gerry Down Sweater in much more challenging conditions, thanks to weird weather plus a ski trip. Normally, at this time of year, I would go to the Winter version of the Outdoor Retailer Winter Show. However, the Governor of Utah decided that Utah has such a plethora of open spaces with potentially a lot of coal and oil to be removed from the ground plus lots of land to attract "adventurers" (such as hunters and 4-wheel off road speedsters) that by his decree all that unused land should be changed to playgrounds and several Natural Monuments would be chopped in half in size.
The result of this was that the Outdoor Retailer tradeshow was moved to Denver, Colorado, along with several of the major Outdoor companies. In my case, going to the new location would have meant an extra 1,000-mile drive (since I get no payment to attend the show, I have to pay for all transportation out of my own pockets, although on the "old route"(Interstate 80), I got to visit with climbing partners and other friends along the way to and from Salt Lake.
This time, my wife, son, and I congregated at the Alta Ski Resort for a week of skiing (our local California ski areas have been pretty bare of snow). This worked out well (we have friends who have visiting facilities, hence lowering the costs).
We had temperatures that dropped into the -5°C range during the day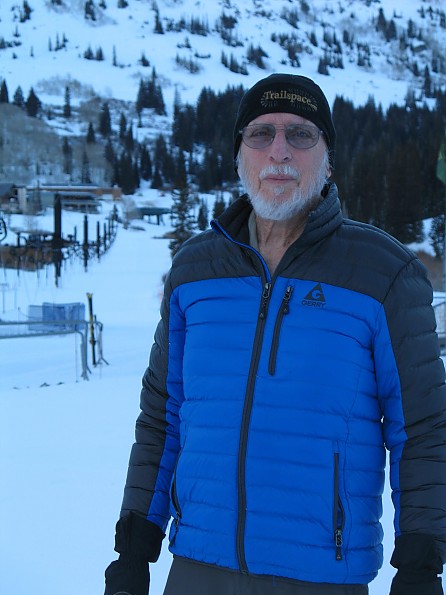 Rope-tow in the background


                                           3PM temperatures
Source: bought it new
Price Paid: $29.99

For the price, it's a super jacket—and irrespective of the price, it's a super jacket!
Pros
Smart
Lightweight
Warm, versatile, hardy
Inexpensive
Washable
Well what a super jacket this turned out to be. The missus brought me this, unrequested, from Costco and while I liked its compact and  smart design, when I found out its cheap price I doubted its quality. Now after several years use, it's a favourite jacket. 
While I wouldn't use it for dedicated hiking, it's great for shortish walks, especially when you want to transition to a more social environment straight afterwards—as it looks so smart. It's surprisingly warm and tough for its weight, and then super easy to look after as it's washable and quick to dry.
I'm just trying to find a spare now (and maybe in another colour)—but struggling!
Background
Lots with similar products.
Source: received it as a personal gift

Since I've been referenced in some of the comments, I guess it's incumbent that I weigh in a bit. I researched and wrote the book "GERRY: TO LIVE IN THE MOUNTAINS" back in 2008 and with an update in 2011 after Gerry Cunningham passed away.
Pros
Low to medium prices
Good basic construction
Cons
There is no statement about guarantee on the labels
There is no company contact info on the lablels
Where would you return this if there was a problem?
As the researcher and writer of the GERRY book, my chief sources were Gerry himself, his daughter, and one of his sons (Pete). I also had much input from other of Gerry's peers in the Boulder, Colorado, area where he lived and worked, up until he got absorbed by a corporation and dropped out of the outdoor business circa 1970.
I can provide only a little insight on some of the questions about these current GERRY-branded garments. The original company went through a number of corporate hands after Gerry himself left. There appeared to be gaps of years wherein no one was making anything. Finally the name appeared to have been bought up by StudioRay circa 2010. I consulted with them about the history and timeline of the brand.
I'm glad to see that the hangtags accurately reflect the timelines that I gave them, but when I tried to email my contact there today, the emails came back undeliverable. I tried Studioray.com, and it comes up blank. I tried Gerry.com, and it, too is blank now. The GERRY garments on sale now (eg. at Dick's Sporting Goods) may indicate that once again the brand is out of a home.
Source: tried it in the store

I hate to wear heavy, bulky jackets, especially when I'm driving. This jacket is amazingly lightweight, yet warm and wind proof.
Pros
Lightweight
Warm
Easily packable
Three zipper close pockets, plus two inside pouch pockets
Great price
Cons
It could use a combination up and down zipper closure
Comfortable, warm, lightweight, plenty of pockets, and great to wear while driving.
Background
I have several North Face jackets
Source: bought it new
Price Paid: $29.99

Your Review
Where to Buy
Help support this site by making your next gear purchase through one of the links above. Click a link, buy what you need, and the seller will contribute a portion of the purchase price to support Trailspace's independent gear reviews.
You May Like
Specs
Price
MSRP: $29.99
Current Retail: $49.99
Historic Range: $38.88-$49.99
Reviewers Paid: $29.99

Recently on Trailspace