Glade Challenger Goggles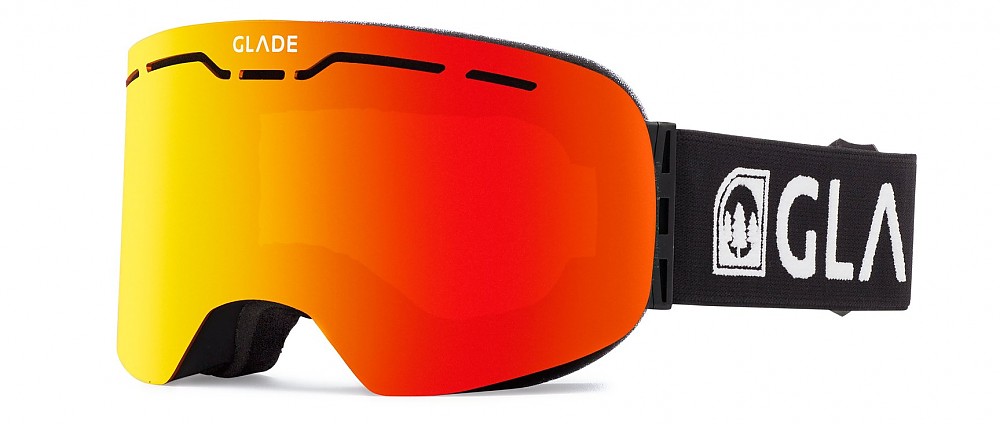 The Challenger is Glade's best-selling, flagship goggle. It's offered in a range of lens options to cover conditions from bright sunny days to flat, low light. It features anti-fog coatings that work well, and is a comfortable and surprisingly affordable goggle at under $100. Glade is a small, independent company, so they don't offer as many style options in frame sizes or colors as the big behemoth brands, but their offerings are increasing and are well made, good-looking, and very affordable.
Pros
Range of lens options from 8.4-54% visible light transmission
Little to no fogging
100% UV protection
Grippy strap stays put
Price (less than $100)
Cons
One minor scratch
Only one polarized lens option
Despite numerous lens options, only one is offered as a separate add-on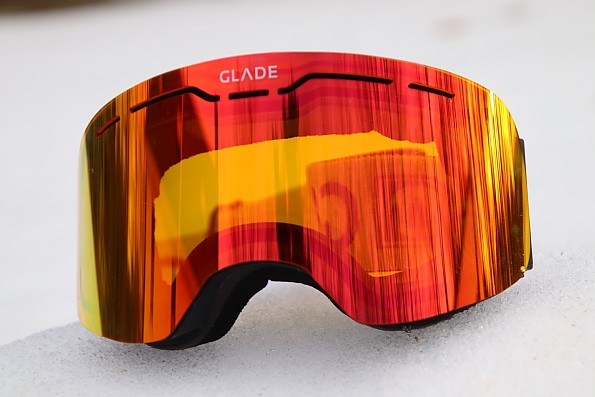 Glade, a small, independent company located in Colorado, currently offers three goggle models: the Challenger (its flagship mode), the Pulsar (magnetic lenses), and the Adapt (photochromic). I've been using the Challenger and Pulsar and exclusively all ski season and have been impressed by their quality, performance, and value.
Lens Features
All Glade lenses feature the following:
Anti-Fog Coating: The lenses have multiple anti-fog coatings, and they work! 
Mirrored Coating: A mirrored coating on the outside reflects more light than a non-mirrored coating, meaning the lens will tend to block more light.
Anti-Scratch Treatment: I have minimal scratches on either pair of Glade goggles.
100% UV Protection: All sunglasses and goggles from any brand should have 100-percent UV protection for both UVA and UVB rays. Glade does.
Challenger Lens
The Challenger is Glade's best-selling model and its most specialized, due to its wider range of lens options. It's also the first goggle that the company says it did serious R&D on. "Tons of customer surveys went into creating this goggle to incorporate the things skiers and snowboarders actually care about in a goggle," said founder Curt Nichols. So, let's see how they perform...
Fit & Comfort
Sizing
Each of Glade's goggles come in one size only. Of its three goggles the Challenger is smallest (though not diminutive), the Pulsar is the biggest, and the photochromic Adapt fits in between. Nichols says that the company's one-size-fits-all model lets them cover the vast majority of the North American market, and that focusing on a standard size allows the company to fuel growth.
The Challenger's frame is a mold injected ergonomic TPU frame. It's soft, a little flexible, and comfortable on the face. While it's Glade's smallest option, it's not tiny and still fits an adult. I have a larger head and tend to wear medium to larger helmets, but still found the Challenger's field of vision more than adequate. Though I preferred the Pulsar's wide view, the Challenger still fit fine, and I expect some normal-headed folks, including women and children, will prefer this size.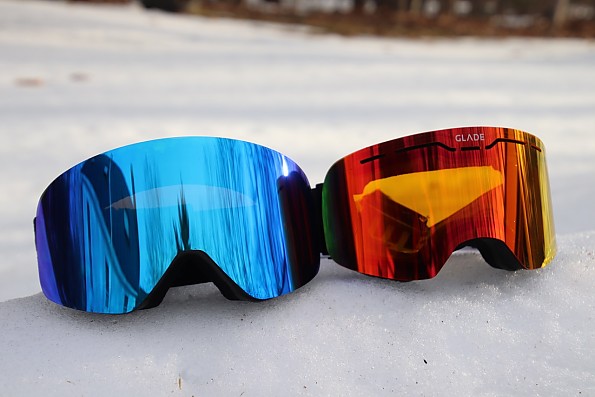 Pulsar on left, Challenger on right
Helmet Fit
I've worn both the Challenger and Pulsar goggles with my Scott ski helmet this entire ski season. I've also tested them for fit with my kids' POC and Shred helmets with no fit issues. If you like to be brand-coordinated and ensure no gaper gap Glade has its own helmet, the Tenmile (available in two sizes). But, it's not necessary to match for fit.
No Fogging
All Glade goggles come standard with anti-fog coating on the inside of the lens, a dual-lens system to prevent large temperature differentials, and vents on both the top and bottom of the frame for "a fog-free experience."
It works! The goggles vent well while skiing, or just sitting on the chairlift. The only times I've experienced any fogging were very cold days or wet when I've had my balaclava or jacket up around my nose, trapping in my breath. It's been minimal though and clears up as soon as I move the fabric and let the goggles vent. 
Glade says you can use an anti-fog cleaner if you want, but you don't need to (I have not).

Grippy Strap
The Challenger is offered in either a white or black strap (if you care about such things). The strap is plenty large to fit comfortably around helmets and is straightforward to adjust. It has numerous silicon strips on the inside to keep the goggles in place. The strips have a lot of grip and the goggles do not budge. For 2020-21 Glade is updating to an even more robust silicon grip system for even better sticking to the outside of helmets. That said, I never had an issue with the strap sliding around on the current model.
Vision
So, how well can you see while skiing with Glade's Challenger goggles?
Very well! Glade claims the Challenger offers "clean, vibrant vision in flat light, bluebird conditions, and everything in between" and I think that's a fair statement.
The Challenger has quite a few lens options, including two new ones forthcoming for winter 2020-21:
Polarized Silver (8.4% VLT)
Dark Red (12% VLT)—new for winter 2020-21
Gold (16.6% VLT)
Blue (18.4% VLT)
Green (24.3% VLT)
Burnt Orange (25.4% VLT)—the ones I'm testing
Rose (30% VLT)—new for winter 2020-21
Low Light Nova (54% VLT)—only available as an add-on lens
VLT stands for visual light transmission. Lower VLT percentages are best for sunny days and higher ones are best for cloudy or overcast days. 
I'm testing the Burnt Orange lens (25.4% VLT), which falls in the middle of the Challenger's options. They've worked well for me for most mildly sunny to overcast and cloudy days here in Maine. I put them on and don't think about them for most conditions, particularly on days that veer from clear to cloudy to various precipitation. However, on sunny days I'd prefer a lower VLT. If these were my main goggles I'd probably drop down to the Gold level.
Note that the Low Light Nova is only available as an add-on; all other lenses are only available as goggles, not separately. I'd like to see more of those options as add-ons, so I asked Glade about this. Nichols said they found a two-lens system to be the most practical setup. "We originally sold all our lens options as extra lenses, but found that people don't like carrying more than one lens at a time in their pants or jacket. There is overlap between all our lenses and the low light lens, so there isn't any two lens setup that leaves a gap in the light transmission spectrum."
The Challenger also only has one polarized lens options. So, if you prefer more polarized options check out the Pulsar; all four of its lenses are polarized (10% to 54% VLT). And if you want a photochromic lens, look at the the Adapt (30% to 84% VLT).  If you're not sure what frame/model and lenses are best for you, Glade has a Goggle Finder selection tool.
Glade also offer free exchanges if the lenses get scratched or damaged. Nichols says that "with thousands of units sold, our return rate on them is less than one percent." 
When not in use I store my goggles in their goggle bag, inside my helmet, inside my ski bag. While I aim to take reasonable care of optics and other breakables, I don't baby them either. They get packed into a very full bag of gear and clothing and then get used without special consideration.
Both pairs of Glade goggles show only minimal signs of wear and scratches after several months of use during a Maine winter. They have experienced snow, sleet, and even freezing rain, as well as a good hard fall with the Challengers which left scratches on my helmet but no immediately obvious damage to the goggles.
The Challengers do have a small scratch on the lens, so minor I couldn't capture it in a photo and I never noticed it until looking closely. I'll keep monitoring the goggles for long-term durability, but at this point feel they are holding up well, especially for the cost.
Glade does sell a hard storage case for $25.
The Company
In the optics world where an astonishing number of sunglass and goggle companies are owned by a few global conglomerates, Glade Optics stands out as a small independent. Nichols built the brand while living in Boston and skiing the Mad River Valley of Vermont. "All of our prototypes, testing, product development, and content was done in Vermont during our first two seasons," he says.
Now based in Breckenridge, Colorado, Glade sold its first goggles, directly to consumers, in 2015. They are now beginning to roll into specialty shops around the United States because, as Nichols says, "it is important to us to be wherever our customers prefer to shop, and there is certainly a subset of skiers that prefer to touch and feel the gear before purchasing."
My goggles came with some stickers and a printed thank-you from Nichols with his number to text to "get some turns together" if ever in Breckenridge—a nice personal touch. The company is continuing to expand its line, adding sunglasses for spring and expanding its goggle lens options for winter 2020-21 (see above).
Conclusion
I've been pleased by my experience with the Glade Challenger Goggles this winter. They've performed in a variety of light levels and weather conditions, and have held up well to skiing in Maine this winter. With a larger head I preferred the Pulsar's wider field of vision, but smaller to normal-sized noggins will fit fine. I'd also like to see more of the Challenger lenses offered separately, but understand how that can be a hassle for the company to stock. I'll be keeping an eye on both pairs of goggles for long-term durability, but at this point consider them an excellent value, especially with an MSRP of $94.
I'd recommend Glade goggles as a solid, affordable option for skiers and snowboarders. The goggles perform well, ensure good vision on snow in various light levels, hold up to regular use, and don't cost a fortune. I'll keep using these goggles and monitoring their durability. I'm also interested to see how the company and its line grows in coming seasons. 
Background
I've been skiing for more than three decades, which means I've been wearing goggles while skiing for that long. Other brands used include Smith, Oakley, POC...
Source: received for testing via the Trailspace Review Corps (Sample for testing and review provided by Glade)

Your Review
Where to Buy
Help support this site by making your next gear purchase through one of the links above. Click a link, buy what you need, and the seller will contribute a portion of the purchase price to support Trailspace's independent gear reviews.
You May Like
Specs
Price
MSRP: $93.99
Current Retail: $69.00

Polarized Silver
8.4% VLT

Dark Red
12% VLT—coming winter 2020-21

Gold
16.6% VLT

Blue
18.4% VLT

Green
24.3% VLT

Burnt Orange
25.4% VLT

Rose
30% VLT— coming winter 2020-21

Low Light Orange
54% VLT

Recently on Trailspace