Goal Zero Guide 10 Plus Mobile Kit

Top 25 in Solar Panels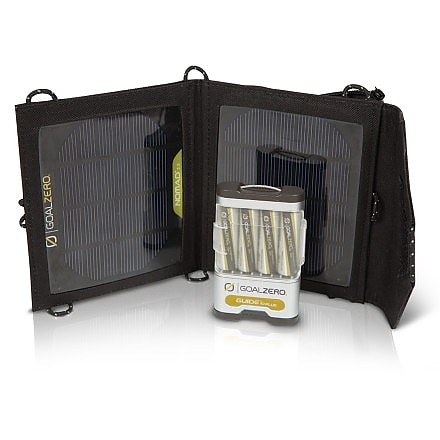 This panel can collect up to 7 WATTS! (far more than most other systems – but even then it takes about 4 hrs of FULL sunlight to fully charge the 4 AA 2200ma batteries in the Guide 10 plus from empty).
This kit is an awesome value! I did a good amount of research before buying this and am quite convinced that in Q1 of 2012 this is the BEST solar charging kit on the market in terms of BOTH performance and value. (The whole thing weighs about 1.5 lb and I hope to have surplus power to help recharge devices of others around me on the trail as well as my own devices.)
I got mine from Amazon for about $90. It includes the GoalZero Nomad 7 solar panel and the GoalZero Guide 10 Plus. (as well as 4 high capacity NMH 2200 AA batteries) It has multiple attachment points on the Nomad 7 panel making it easy to attach the panel to the top/back of backpack. It has 3 connectors coming off the panel for feeding the Guide 10 power pack, USB out for charging USB based chargers, and a 12Volt car type connector for charging small devices off the panel.
Pros
Highest power panel I could find
monochrystalline panels are the kind you need. Other tech is not quite there yet.
Cons
Weight. 1.4 lb for "full system" including batteries in power pack
Some people have reported finicky charging behavior with iPhone / iPod.  I was able to successfully establish a charging connection with a couple of co-workers' iPhones, but will be using Android based phone myself. (Holding off waiting for a Sprint variation of the Galaxy Note or Galaxy SIII.)
I have not yet taken it on an extended trip but am quite happy with the kit so far. Do not waste time on the other options out there. This is the one to go with if you want a solar charging / power pack solution.
This whole kit ($90) was cheaper on Amazon than just the Nomad 7 solar panel by itself if purchased directly from GoalZero. 
I was so impressed with the GoalZero Guide 10 kit that I hope to add the Nomad 13.5m panel for about $120 that is daisy chainable with other GoalZero panels for faster charging.  (I will not use the 13.5m for backpacking but keep it around "base camp" when the grid is not available)  The Nomad 7 daisy chained with a 13.5m should be able to fully charge the Guide 10 plus power pack in less than 2 hrs in FULL sunlight.  
I may eventually want to get a Sherpa 50 as a power station when car camping / 4 wheeling to supply city slickers with "juice" for their electronic gizmos.  (With 5 times the capacity of the Guide 10 Plus it should be able to charge almost every gizmo in camp)
Source: bought it new
Price Paid: $89

Very well-built solar kit, best suited to tropical and desert conditions.
Pros
Construction
Universal USB support (small devices only)
Simple to use
Cons
Relatively heavy
Not as good as thin film panels in shade/overcast/trees
Cannot handle dSLR cameras
Goal Zero makes top-quality gear. This is their most basic kit, and it is designed to support USB devices. It is easy to use (plug & play), and performs well in the conditions it was designed for.
The Nomad panels all come with great attachment loops to help you attach it to your backpack, or secure it to the side of tents, bike panniers, etc. Note that the max power of the Nomad 3.5 panel is not sufficient to charge many smart phones directly from the sun... you really do need to use the Guide10+ battery pack as the storage/delivery interface for your devices. But that's fine, because if you need to charge something in the evening, you need the solar storage battery.
The Guide10+ battery pack is excellent. It stores your solar power in 4 low-self-discharge AA NiMh batteries which can be easily replaced, or use your own NiMh rechargeables. The Guide10+ supports all small USB devices, and will power tablets like the iPad, but will not 'charge' these larger USB devices (due to limited output power). One drawback is that you must use 4 batteries. So I advise that you use only quality batteries because if one goes down dead, the Guide10+ will not function.
Performance...
The crystalline cells used in the Goal Zero solar panels are best suited to hot, sunny locations. Africa, deserts, Southwest USA, etc. Crystalline panels are not very good at partial shade, overcast, and ambient light conditions. Look to thin film panels for your trekking in temperate zones & mountains.
Source: I work at Modern Outpost, and try each product in order to be able to consult to trekkers & expedition groups

Your Review
You May Like
Specs
Price
Historic Range: $74.93-$119.93
Reviewers Paid: $89.00

Recently on Trailspace