Goal Zero Guide 10 Plus Solar Kit

#9 in Solar Panels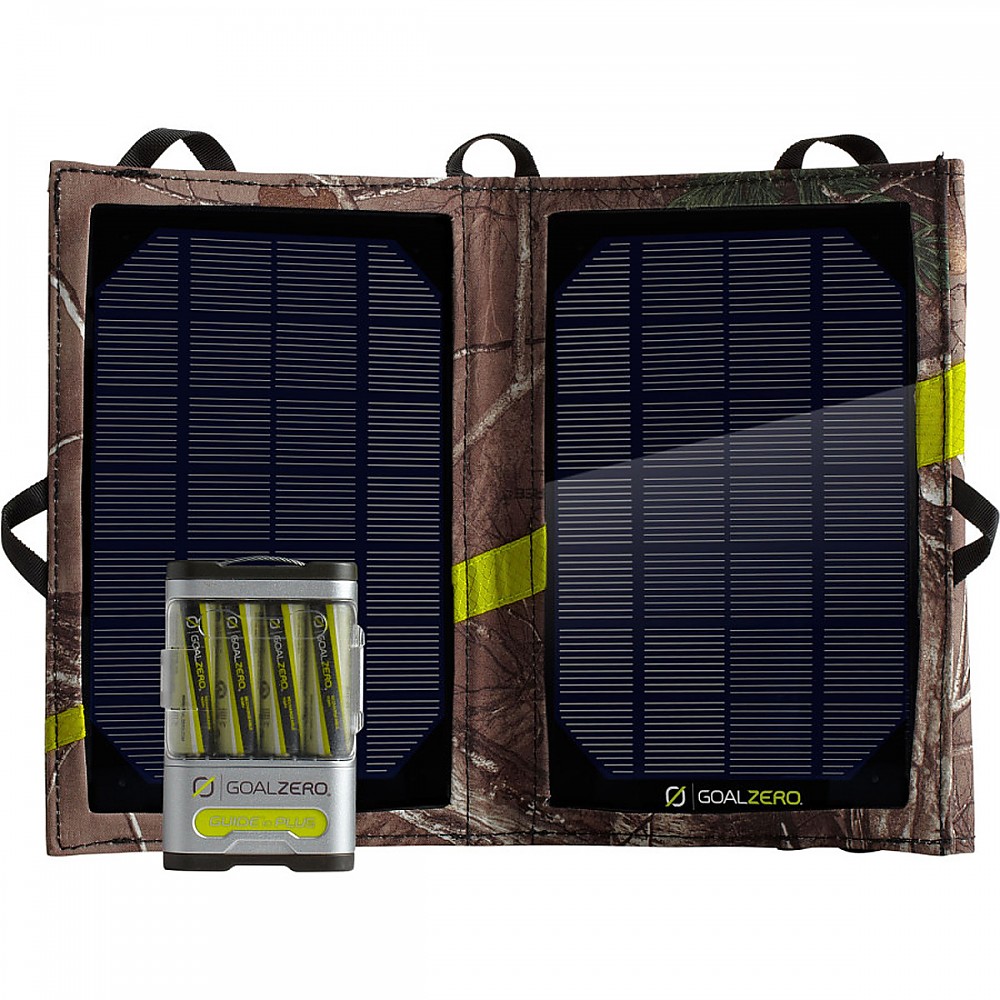 Specs
Price
MSRP: $129.98
Historic Range: $59.77-$127.96
Reviewers Paid: $55.00-$119.00

Reviews
5

reviews

5-star:

2

4-star:

2

3-star:

0

2-star:

1

1-star:

0
The concept of capturing solar energy for charging electronic devices WHILE HIKING, in theory, is admirable. In practice, however, hiking and solar energy may not necessarily be a marriage made in trail heaven.
Pros
Harnesses the sun's solar power
Cons
Objectively heavy in weight
Works ONLY in direct sun
The concept of capturing solar energy for charging electronic devices WHILE HIKING, in theory, is admirable. In practice, however, hiking and solar energy may not necessarily be a marriage made in trail heaven, yet.
As a quick note… I utilized the Goal Zero Guide 10/Nomad 7 Adventure kit back in April 2012. I've decided that my review, at this time, warrants enough value and relevance for objective consideration. My review, today, is spurred by a Goal Zero consumer display I very recently observed in a local warehouse store.
Auspiciously, the Goal Zero Guide 10/Nomad 7 concept rocks. However, my experience with this kit left me destitute. I first used it on a single night backpacking trip near Tucson, AZ, where the sun regularly shines at least 85% of the time during daylight hours. Therefore, my assumption of harnessing solar power while hiking, that is, capturing and storing solar energy for future use during the course of movement, with the solar panels strapped to the top of my backpack, in theory, is fully substantiated. 
In practice, however, there is an entirely different story. Here's the problem… unless you're hiking due north all the time the solar rays will never strike your panels 100% of the time. Let us consider this for a moment… If you are hiking due north all the time, your solar panels would indeed capture and harness solar energy 100% of the time you are hiking. If you are hiking due east and/or west, while changing direction with your back always facing south, you're likely to harness solar energy, conceivably, conservatively, close to 100% of the time, providing your panels are in direct sunlight.
Heading south? Forget it. You're likely, at best, to harvest 50% of the suns rays due to the nature of your bearing (unless your head is similar in size to Beetlejuice, or by uttering "Beetlejuice" three times you're able to summon the full faith and credit of solar capacity beyond natural capability).
In all sensibility, will anyone ever really hike due north 100% of the time? Plausibly, no, unless you go your own way, off-trail, blazing heroically through the maze of morass, which, incidentally, is too much fun, heading in any direction, in Southern, AZ.
Thus, consider now, cloud cover, changing direction and encumbrances of any kind. In the event you're not hiking due North 100% of the time, you're likely to be hiking in any one of 359 (15 alternately possible points) alternatively possible directions. Cloud cover, changing direction, position of the Earth relative to the sun and consequently the time of day, hiking below tree canopy, cliff obscurity, etc., each presenting a serious problem. And, if any one of these particular dilemmas decide to hasten your solar collection activity, you're essentially, laboriously, hauling equipment you would have been better off without.
This was my problem during my overnight backpacking trip in Southern, AZ where the sun shone for two whole days, and similarly for my day hike down into the Grand Canyon. There may not have been cloud cover but changing direction, position of the sun, tree and cliff cover had all presented a problem. And, considering our latitude I would expect better results than any position north of Arizona.
Due, in part, to all of these obscurities I had been unable to achieve a good charge on either the battery pack or my camera, which, incidentally, was attached via USB. Considering all obscurities, my Goal Zero panels were in direct sunlight less than 50% of the time, and quite a bit less, in fact!
By simple law of solar dynamics and encumbrances, I'm making this part up, sort of, or by creating an unfamiliar, new physical natural law, it is essentially irresponsible to expect these solar panels, in this setting, to obtain a sufficient charge while in movement, considering all possible obscurities.
I, objectively, made this mistake and subjectively needed to express my results so that you may decide for yourself, with your set of circumstances, how solar panels may work for you, based on my experience. This, incidentally, is not a review against Goal Zero or solar energy as much as it is the application of using solar panels in the field while hiking.
In contrast, following my day hike in the Grand Canyon, I returned to camp on the rim and spent the next day in camp making every attempt to maintain direct sunlight on the Goal Zero. There were many trees in camp, thus, challenging me, approximately every 15 minutes, to find the best available direct sunlight. The result… I acquired a substantially greater charge, or for that matter a charge, than I did while hiking!
Conclusion… I do not recommend this product for expectations of charging the battery pack or electronic devices while in movement, hiking. If you're going to carry the solar panel kit anyway, go ahead and strap it to the top of your pack but be prepared to be frustrated when needing to get into the top of your pack and the panels are impeding your progress. I admirably support solar energy and obtaining solar, albeit immobile, while at camp.
Thus, this review and rating of two stars is entirely based on my expectation of acquiring a solar charge while hiking. And, a rating greater than 1 star only because the potential does exist that the panels will obtain minimal charge while hiking, but not enough, in my experience, to obtain a useable amount of energy. This review is exclusive of all features associated with this unit!
Reach Your Summit!
Source: bought it new
Price Paid: Full Retail Price

Great for hiking. And I use it all the time.
Pros
Good to have fresh batteries on hand
Simple and rugged
Can use any rechargeable aa or aaabatteries
Infinite power limited only by how many batteries you carry
This is a great piece of equipment to have if you use a lot of batteries and rechargeable toys. Will also work with any store bought rechargeable batteries. So you are only limited to the amount of energy you can store by how many batteries you choose to carry. The charger itself can also be used to charge devices and other rechargeables via USB.
I am very pleased with this product and have also had no issues with it charging in low light conditions.
Source: bought it new
Price Paid: $55

Latest and greatest version. As long as the sun shines you got power! Great way to power up naturally, while enjoying the sun. Each one gets better and better.
Pros
Powered by the sun
Can add panels to it
Still charges on cloudy days
Cables now attached to unit
Can wear it on your pack
Charges a good variety of items
Cons
Powered by the sun
Charging block still bulky
I purchased the latest and greatest model of the Goal Zero Guide 10 Plus.
The  minor changes: The Velcro seal has now been changed to a magnetic closure. The charging port for all you cords has been updated from the square block to a triangle shape rounded at bottom where the cords are now attached, so you don't lose them. The usb connection is the only one which can be removed so you can use your own based on what product your trying to charge.
I have tried all my gadgets and toys and 90% of them can be charged with this solar panel! My only failures were my JBL Flip due to its weird proprietary plug which is not usb for some reason, and of course my Bose soundlink for the same reason. No problems with my iPhone 4s, iPod Touch, Garmin hiking gps (but must use their usb only), and my Contour helmet cam.
I did not have any trouble charging even in cloudy settings. Yes, it does still take a little longer to charge, but still
love this little thing.
My only suggestion to Goal Zero would be to somehow shrink down the plug port as it makes it bulky still on one side. It's only 1/2" thick but it's still bulky. The weight is 1.20 lbs with all cables connected including the cigarette attachment but not including your own usb.
It's a ridged unit, very solid which probably adds to its weight vs. the roll up models available, but I'd expect more durable and better charging from it as well. I had no problems charging through my car windshield worked great for me, they do say your uv protectant in your windshield can reduce charging abilities, just for your FYI.
I also purchased backup rechargeable batteries from Duracell, as some quality questions have been voiced on other reviews, but so far no trouble for me, but nice to have extra batteries depending on where you're lugging them too!
This was purchased from Ebay as Amazon does not have the latest version yet as it just came out a few weeks ago. There does seem to be improvement in the panels' ability to hang on to the sun, so to speak, as it was very easy to get a charge and for me, the times were lower for charging my phone and iPod.
The customer service from them is top of the line! But also as others have noted, be very diligent in checking to see if box was previously opened. As my first one was, it was re-closed with another clear GZ sticker, the first unit was terribly damaged, but they let me use it until they shipped out a new one, now that's customer service. They put the burden on themselves rather than the customer! The second unit I got was great! So just inspect the unit the day you get it. I've included a couple of photo's check them out! Happy travels!
Source: bought it new
Price Paid: $119

I would recommend this for anyone with small devices to charge. It worked quickly with direct sunlight. It's my "if I could bring one luxury item backpacking.."
Pros
Ease of use
Quick and efficient
Cons
Adds more weight than I would like
With gear we often "buy and try" only to buy another type. This is one piece you don't have to do that with. I took my Garmin 910 on a 4-day trip in Glacier National. We were with a guide so I didn't need my GPS navigation. I just wanted my track for later and monitor the distance as we hiked, so the Garmin was all I needed.
I drained from 25%-50% of the Garmin's "50 hour" battery each day. Each morning, I took out the Goal Zero, plugged in the watch and 10-30 minutes later while we ate it was fully charged.
We had sun every day and no rain, so I did not get to see how inclement weather would effect the charger. I did not get a quick charge without direct sunlight, but since I had sunlight I did not try without it.
I didn't need the Guide 10 (although I brought it), the solar panels were enough. I only had the one device to charge.
I only wish it was lighter. It adds more weight than a backpacker looking to shed ounces will probably want. But if you are going into the back country or will be without power and either need small electronics for a particular purpose or just really want them like me, this is a must have.
I used to select cameras, watches, etc. with regular batteries and make sure I had enough spares for the entire trip. With the Goal Zero I can use re-chargeable batteries and devices.
Source: bought it new
Price Paid: $99.99

Excellent state-of-the-art portable solar power generator for hand-held devices, up to and including the new iPad from Apple.
Pros
Small footprint
Various charging options
Cons
Cables + Guide 10 pack don't fit in storage pouch together
This is a great product and has proven itself (to me) by charging my new iPad (iPad 3). It has several charging options and can be used while hiking or backpacking by attaching it to your backpack/back.
I like the Guide 10 charger pack and a huge plus was the included AAA battery adapter; however, 4 AAA batteries aren't included. The Guide 10 comes with 4 AA batteries so why not include the AAA batteries as well?
All around great product and does what it says.
Source: bought it new
Price Paid: $90

You May Like
Recently on Trailspace