Goal Zero Lighthouse Mini Lantern

#5 in Battery-Powered Lanterns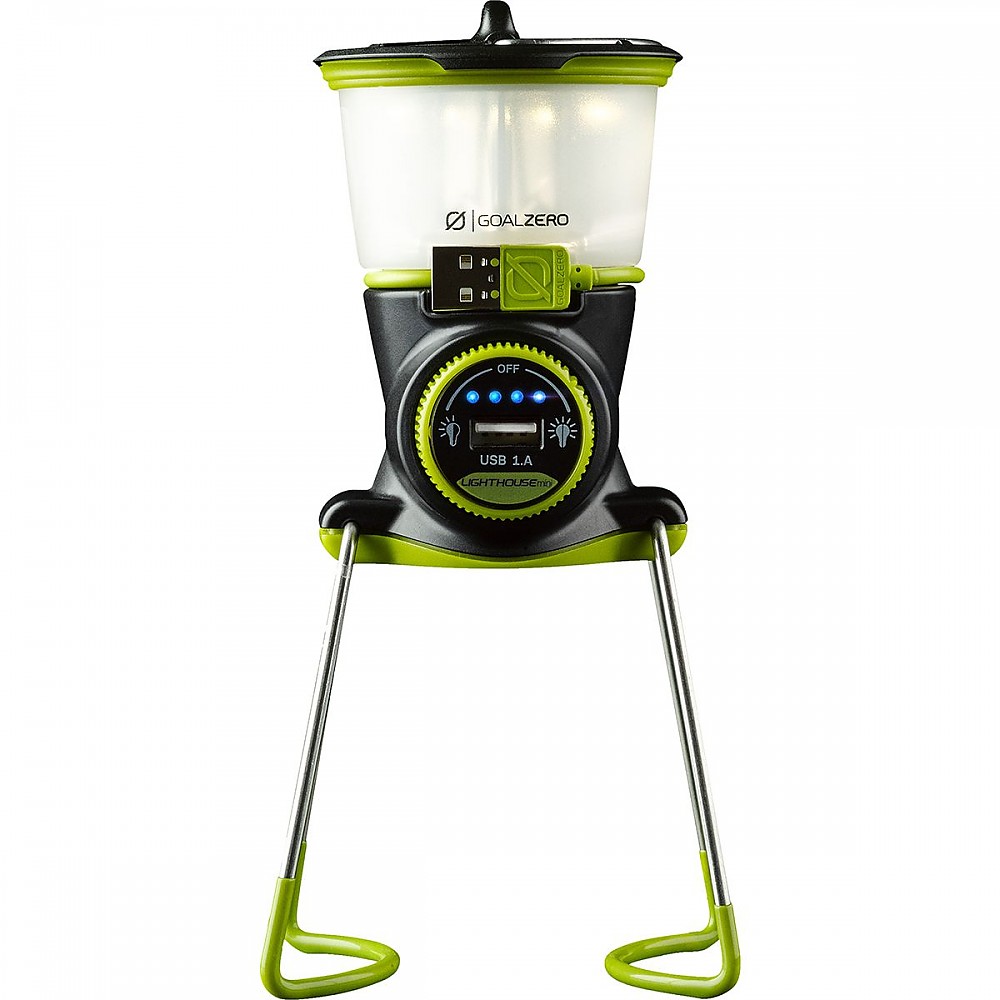 Specs
Price
Current Retail: $39.95-$39.99
Historic Range: $27.47-$59.99
Reviewers Paid: $49.95-$50.00

Reviews
2

reviews

5-star:

1

4-star:

1

3-star:

0

2-star:

0

1-star:

0
A compact, lightweight, and versatile camp lantern suitable for short-to-medium length backpacking trips.
Pros
Compact, light, and bright enough for outdoor camp use
Versatile light settings and standing/hanging options
Rechargeable and replaceable Li-ion battery
USB in and out, can be used as a backup battery
Cons
No stop for minimum power on control knob
What weighs 8 ounces, fits in the palm of your hand, throws enough light for cooking and reading, and will burn for hundreds of hours? Not so many years ago the only thing that would meet those specs would have been an old-fashioned candle lantern (with some extra candles), and the cooking and reading part might require some close maneuvering. But nowadays there might be a few contenders for that title, and the Goal Zero (GZ) Lighthouse Mini leads the charge.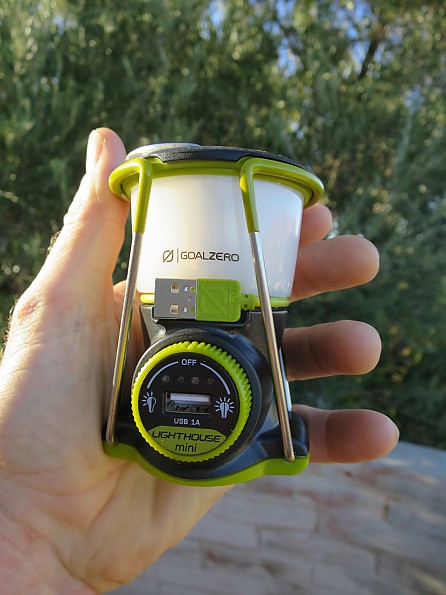 The lantern has two basic modes, full-on where both sides light up, and half-on where only one side lights. In each mode it can be dimmed via the single control knob continuously from full to low light mode. This gives a lot of versatility for lighting in different situations such as in a tent vs. outdoors and for conserving the battery.
One little niggle is that there is no stop at the minimum light level and the knob tends to snap into off position, so it takes a light touch to find the minimum light position on both sides.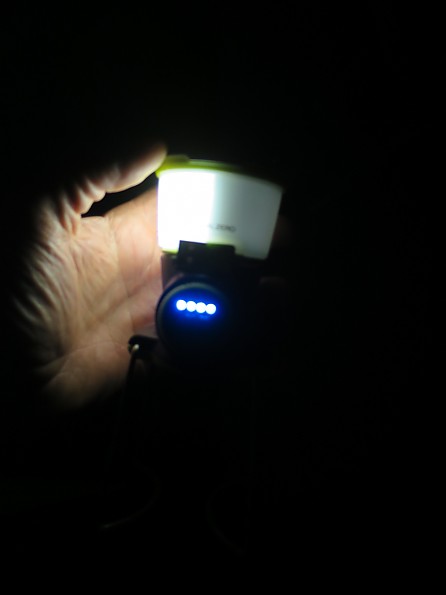 It has a rechargeable and replaceable 3000 mAh Li-ion battery. The battery has  concentric + and - terminals on both ends, so it can be inserted either way. GZ says it will run for 4 hours at full power on both sides, 7 hours at full power on one side, and 400+ to 500+ hours at low light on both or one side(s), respectively. The battery level is indicated by the line of four blue LEDs on the control knob.
I have run it down to one LED after about 3 hours at full/both, very much in line with the spec. I haven't, however, tried leaving it on for 400-500 hours at low power; we'll let that one slide.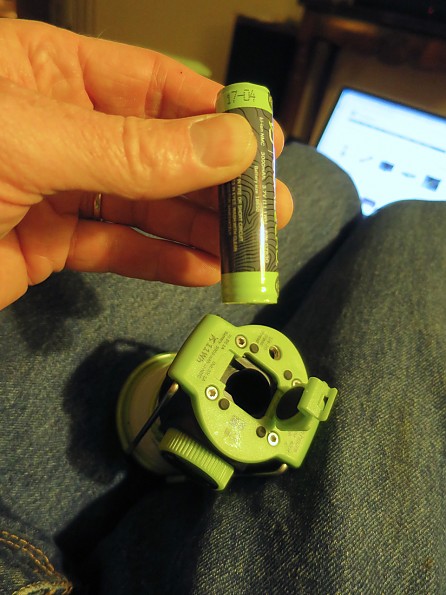 The ca. 30 cm /12 inch USB recharge cable is built-in, so there's no need to carry it separately. It wraps into a groove around the lantern's midsection and the USB connector is held in place by a small magnet -- very tidy, and I've had no problems with the cable coming loose in my pack. The charge time is supposed to be about four hours, and my experience so far supports that. On a recent trip, we kept it charged up for car camping using a car lighter socket USB charger, and it was usually topped off in an hour or two of chargeing after running it down to one or two indicator LEDs.
There is also a USB outlet in the center of the control knob, so it can be used to charge other USB devices. I ran my iPhone down to about 50% charge then charged it up off the lantern battery in about two hours; surprisingly all four battery charge LEDs were still lit when the phone reached full charge. GZ says it should be good for one smartphone or three headlamp charge-ups, so that seems to ring true.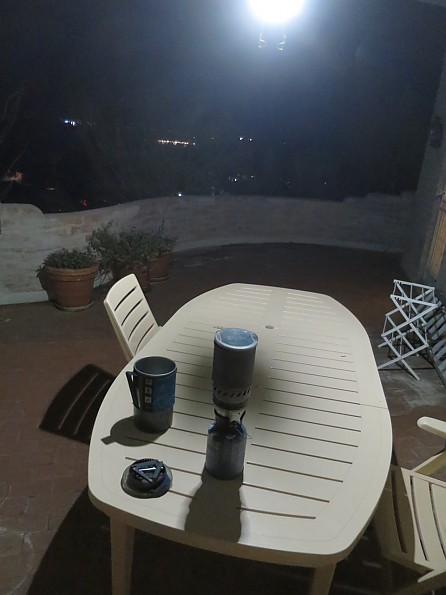 Full power is supposed to give 210 lumens. I have no good way of testing that, especially because the light is diffuse and spread out in wide circle or semi-circle. We'll take their word on that one, too. The legs flip down for getting it up about 10 cm / 4 inches higher when placed on a table or rock, helping to spread the light a bit further.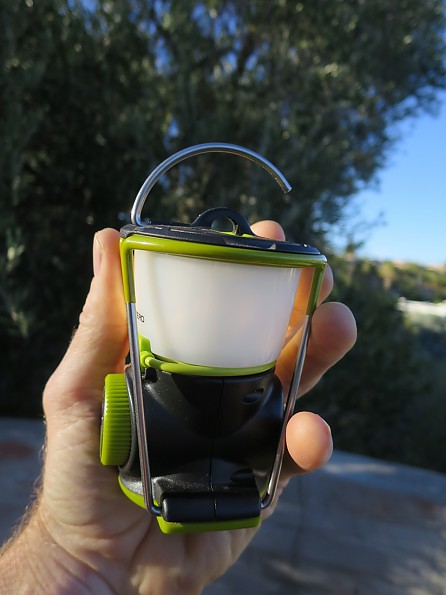 It has a flip-up semicircular hanger on the top for hanging in a tent or other ready-made loop, and there is also a solid loop molded in the top so it can be hung by a cord or a small utility 'biner. With it hung at height of 1-2 meters over a picnic table and at full power, it throws plenty enough light for cooking, journaling, or a friendly game of cards.
There is a small, dark circle directly underneath but the flared design of the diffuser and opaque top help get the light where it's needed most. I haven't opened it up, but if it's like other camp-lamps I have seen there are some reflectors in there around or above the LEDs to help shape the light cone. You'd want to have it somewhere over your shoulder and within 1-2 meters for reading or map study outdoors without eyestrain. For reading in a tent you might even be able to turn it down a little.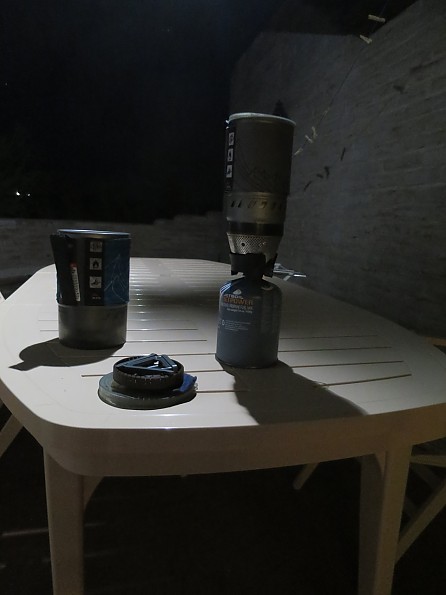 With the legs folded, it's a little under 7.5 cm / 3 inches in diameter and a little over 10 cm / 4 inches in height, small enough to fit in the top pocket of my pack or inside a 500 ml / 16 oz mug for a little more protection. I haven't tried throwing it at a brick wall or driving over it, but it seems quite tough.
I weighed it in at 232 g / 8.2 oz, just a bit over GZ's 8 oz spec. That's light enough to take along on a winter/shoulder season backpacking trip where it can help extend the useful part of the day and maybe even keep you out of the sack for an hour or two. It was a welcome addition on a recent, four-night winter solstice trip in the Grand Canyon.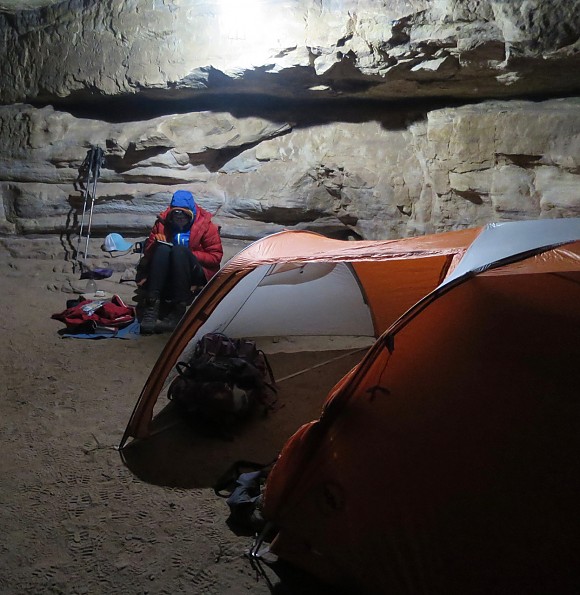 The bottom of the lantern has a couple of little add-ons: a magnet and threaded hole for mounting it on a tripod. The magnet is strong enough to hold the lantern in place sideways or upside down on a steel surface like a refrigerator or car roof, maybe not a common need for backpackers but it might be welcome in a power outage, stalled car or other total collapse scenario. And if you happen to have a tripod along, well, there it is.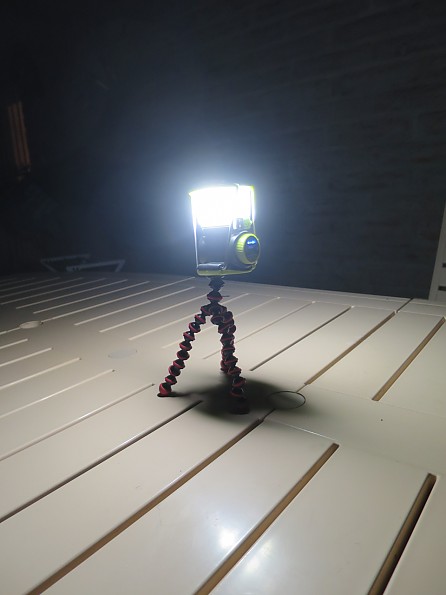 I purchased my Mini recently and have used it on a five-day backpacking trip and a five-day road/car camping trip, both in the short days and long nights of late December.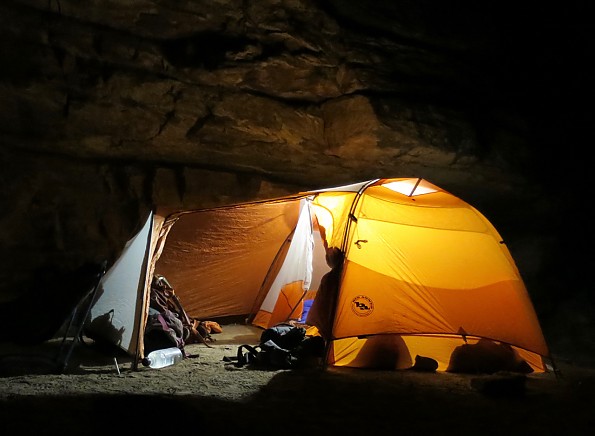 I haven't used its big brother, which looks to be too big and heavy for backpacking but might be a better choice for base or car camping. While a soloist might not want to take on the weight, couples and small groups can share both weight and light. As my rating shows, I think this lamp really delivers as a reasonably lightweight and versatile lantern in the backpacker class.
Addendum 13 January: In response to a question below, here is a close-up of the USB charge cord attachment. The cord comes in at an acute angle so that there is no sharp bend or kink when you wrap it round. It wraps around twice, fitting into the groove, then is held in place by the magnet underneath (see first photo). Seems to be pretty well thought-out.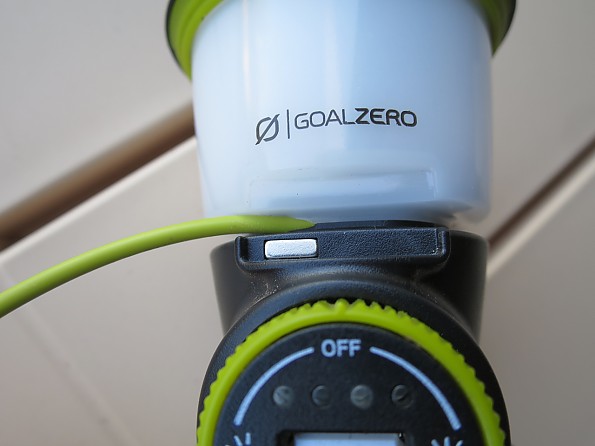 And here's the cord unravelled: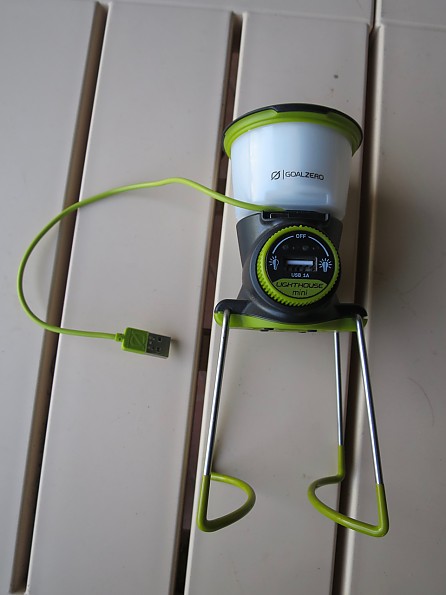 Source: bought it new
Price Paid: $49.95

Versatile light and power source, especially for emergencies and power failures. Not my first choice for backpacking where a headlamp is preferable.
Pros
Light and recharge ability for small appliances
Easily replaceable battery can extend service life
Well constructed
Magnet on base extends capability
I have used these lanterns during routine power outages and also during a recent hurried home evacuation. They served very capably. I have also used on a two-week field project, camping in the back country where the USB charging worked quite well.
I also like the high capacity "no brainer" replaceable batteries. You can insert either end of the battery into the unit, something which will be useful some dark night. Just an extremely capable bit of gear.
Source: bought it new
Price Paid: $50

You May Like
Recently on Trailspace