GoLite Odyssey

GoLite is no longer in business, and the Odyssey has been discontinued. If you're looking for something new, check out the best expedition packs for 2023.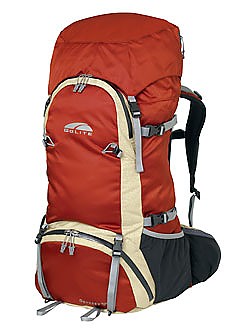 I love this pack. Fits perfectly and easy to adjust. Gear is easily accessible w/ the sleeping bag compartment on the bottom. Great water bottle pockets on the sides. Very comfortable.
This is a great affordable pack. It is nice and lightweight for women.
Source: bought it new

Bought my GoLite Odyssey about three years ago, and have used if for 5-6 week-long hikes.
Holds a ton well. Commonly I carry about 40-45 pounds for a week, no resupply. I like the separate sleeping bag compartment. I bought it because of this feature.
The only bad thing I can say about it is the bottom. It is real thin material, and from all the setting down on boulders, tree trunks, etc, it has a few holes worn in it. Thank God for duct tape. Looks like hell, but works to protect the thin bottom.
Price Paid: $179 online

I am so glad I have finally found a pack that is light and will carry enough gear! I am an avid lightweight fan but my load doesn't quite pack down to the Jam line of packs... this was perfect. It feels comfortable and the green color is great. My torso is 17.5 and I got a Medium, it fits great... the straps seem secure unlike on the cheapy pack I've hiked the PCT two summers with. This one is about 1/3 the weight while still big enough. I love how it compresses down.
One thing to consider though is hip size... I think I'm about average or on the narrow side (33 inches circumference) and the padding just barely covers the bony part, if I had a bit wider hips I think the hip belt would rub on the sticky out part of my hip bones... which fortunately it doesn't , but the padding doesn't go around as far as on any other packs I've seen.
Overall a good solution for fast paced hikers that need a lightweight highly compressible big journey backpack ! I 'm taking it into the Andes next, we'll see how it holds up!
Max. Load Carried: 25 lbs
Height of Owner: 5' 8"
Price Paid: $151

This pack does well if you have a lot of lightweight gear as I do. Don't load it over 50 pounds and you will like it. If you need to haul heavier loads buy a Bora 80 or another such monster.
This is an odd niche pack, light construction and large capacity. I like this pack for its uses but a little beefier harness would have made it 5 stars in my opinion. The hip belt is a little short, my waist is 32in and the padded portion of the belt just covers my hip bones, so if you are much huskier than that it wouldn't pad your hips too well.
It compresses smartly to a day pack size and is plenty durable with nice little features. Get light gear to fill this and use for its intended use (light and fast with some room for big jacket and sleeping bag).
Size: large
Max. Load Carried: 45
Height of Owner: 6-1
Price Paid: $199

I bought this pack after my son and girlfriend bought similar models. I also used my son's pack for a trip and liked it. I got this larger size version because my girlfriend has trouble carrying much more than 25 lbs. On my first trip, a weeklong trip. I started out with 55lbs. With this weight the pack was comfortable, but to my surprise the shoulder strap began to rip where it attaches to the pocket on the hip belt.
After examining the pack carefully I discovered that the strap attaches differently to this model than the other two Golite packs I had. Rather than transferring all the weight straight to the hip belt it attaches to the pocket, then jogs sideways then continues to the hip belt. If you open the pocket and follow it through you'll see what I mean. The other packs didn't jog sideways. Because all the weight is transferred to the pocket instead of the hip belt the pocket rips. I don't think it would be a catastrophic failure though, I suspect after the strap pulled away from the pocket it would still be held by the hip belt.
I thought this was a design problem so I called Golite carefully explained the problem and they suggested I send it in. After a month or so they returned it. Instead of straightening out the strap they just sewed it more securely to the pocket. I called them up and they apologized for not understanding the problem. The said they could send me a replacement. When the replacement arrived it had the same design problem.
Still not deterred I asked if they could ask the design team if it was a design "feature" or a "flaw". Months later after not hearing from them I called them back. They confirmed it was a feature.
I plan to sell the pack on ebay and buy a different brand since this one will rip if you carry a full load.
I suspect that they will eventually realize the problem needs to be fixed. So before you buy this pack you should open the pocket and see how the strap attaches to make sure the pocket doesn't take the full weight instead of the hip belt. 
Price Paid: $200

This is my winter backpacking bag and is a good pack. I do not like the sleeping bag separate compartment and wish they would of left it out. I can hang all my winter stuff off it though and it is comfortable with 50 to 60 lbs of stuff. The straps are comfortable and feels all right on long winter hikes. It seems like it will last and is steady on back on uphill/downhill approaches. I would have given 5 stars except for the compartment idea.
Price Paid: $135

Your Review
You May Like
The Odyssey is the largest of three full-suspension backpacking, trekking, and mountaineering packs in GoLite's Venture Series. The Venture packs (Pursuit, Quest, and Odyssey) feature internal frame sheets that can accommodate 40-, 50-, and 60-pound loads and all are 3-liter hydration-compatible.
The Odyssey is GoLite's lightest full-on load monster and is designed for all-season backpacking, mountaineering, and alpinism. It features two side hydration openings and an internal hydration sleeve; a sleeping bag compartment with removable interior shelf; a front pocket to hold a shovel, shovel handle, skins, or probe; a removable lid with welded watertight zipper for the top pocket; two angled side mesh pockets; the ability to carry skis, snowboards, or snowshoes using side compression straps; a frame sheet with two adjustable aluminum stays; a shaped back panel and hip wings with padding to contour the back and hips; and a contoured, compression molded hip wings that cushion and cup the hips.
The Odyssey uses GoLite's ComPacktor system, which lets you reduce the pack's volume through two fixed compression anchor clips that convert a multi-day pack into a day-tripper.
Specs
Men's
Price
MSRP: $200.00
Historic Range: $89.00-$200.00
Reviewers Paid: $135.00-$200.00

Use
all-season backpacking, mountaineering, alpinism

Women's
available in Small and Medium

- Capacity
5000 cu in, compacts to 1350 cu in

- Weight
3 lb 5 oz (1500 g)

Men's
available in Medium and Large

- Capacity
5500 cu in, compacts to 1600 cu in

- Weight
3 lb 8 oz (1590 g)

Women's
Price
MSRP: $200.00
Historic Range: $89.00-$199.95
Reviewers Paid: $151.00

Use
all-season backpacking, mountaineering, alpinism

Women's
available in Small and Medium

- Capacity
5000 cu in, compacts to 1350 cu in

- Weight
3 lb 5 oz (1500 g)

Men's
available in Medium and Large

- Capacity
5500 cu in, compacts to 1600 cu in

- Weight
3 lb 8 oz (1590 g)

Recently on Trailspace