GoLite Pinnacle

GoLite is no longer in business, and the Pinnacle has been discontinued. If you're looking for something new, check out the best weekend packs for 2023.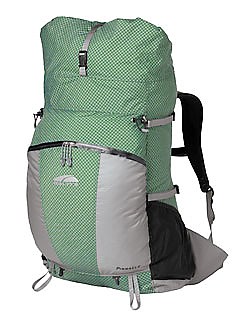 I bought this pack on whim from a discount gear site, and I am very glad I did.  After experimenting on different methods of packing, I discovered just how comfortable this pack could be.  My biggest advice is make sure make sure the bulk of your weight is near the center of your back and that your gear is secure inside of the pack.  
My first trip I took it on was a 3 day/2 nighter and I had more than enough room for all of my things. I mean I had a 3 person tent on the inside and I still had room to spare.  My base weight before food and water was 18 pounds so I was only looking at around a 25 pound pack at the most.  The company's website says the max load for comfort is around 40 pounds but I would never dare and try to go that high, mostly because I don't see why your pack needs to weigh that much to begin with.  
I'm 5'9" and the medium fits me like a glove.  I would just watch how your sleeping bag at the bottom of the pack because the bottom tends to curve out if not packed just right.  I also enjoy the compression side straps and the hook and loops on the bottom to make the pack lighter if need be.  It's simple to make the pack go from a weeklong pack to daypack.  
This is my 1st pack without a "frame" (some reviews I have read call this frameless and true lightweight enthusiasts call it an internal frame because of the plastic sheet along the back, but to each his own).  I think it is the perfect amount of support for my load and the sheet can be removed if you want to truly make it a frameless pack.  
But as I said, I am glad that I ever bought it, I have taken it on 4 backpacking trips as of now (the longest being a week), and it is still holding up very well without any signs of wear and tear.
Price Paid: $70

I year and a half ago, I wanted to get into backpacking, but didn't want to spend a fortune on gear.  I also knew that since I was hoping to thru hike the AT soon (ended up doing it the following summer) and I liked the ultralight style of backpacking, that I wanted a pack that would lend itself to both. 
I'm 5'10, 145lbs.  It fit all my gear, and me. It held up amazingly, with only one small puncture in the side mesh pocket (which to be fair is from shoving my trecking poles in there when I hopped into town, not from snagging on anything.) 
It's not waterproof, so pack in waterproof bags, and/or get a pack cover.  I love the simplicity of the design - one main compartment, an outside zippered pocket, and 2 mesh pockets for my waterbottles. 
Note: I think I bought the 2009 model. The back and straps do not have the same mesh as the 2010 model did. Some thru-hikers had the newer model and complained that the mesh rubbed them the wrong way. 
I did not give it 5 stars because there is very little padding on the hips which sometimes can be a little uncomfortable when my pack is at capacity, and I would like to see either pockets on the hipbelts (which I know would add weight) or for GoLite to develop a way to attach hipbelt accessories (ie: granite gear puts loops on their hipbelts, and all the accessories slide into them.) I needed a convenient place to carry my camera and a snack or two on the trail.
Overall, have recommended this pack and this company to friends, and will continue to do so! 
Price Paid: $80-ish

This is a great pack. Yes, it does weigh more than my GoLite Gust or Six Moon Sarlite (Also excellent packs) but the extra features and load capacity are worth the extra ounces. Especially when hiking cross country and peak bagging.
My men's medium easily swallows my bear canister as well as enough gear for short winter trips and summer trips up to nine nights. The outside pocket is large and handy, the hip belt pockets hold my lunch, snacks, deet & GPS.
My solo base weight is 17 pounds, plus 1.5 pounds per day of food and 2 liters of water. This pack is very comfortable when loaded to no more than 35 pounds. It follows the curve of my spine and the nicely padded hip belt rides high on my sits bones. The ice axe loops and retainer clips work well and the large side pockets & compression straps handle my trekking poles when scrambling.
Like all light packs, the Pinnacle is a delicate relative to say a Osprey Ether 60. Care is needed in talus and brush (don't even think about butt sliding) and I always carry heavy thread, needle & ripstop patches for trail repairs.
My only complaint is that the buckle over the top of the bag is weak and it tends to pop open at the worst moments like when talus hopping -- don't carry anything under the top strap.
Finally, I love that the volume can be quickly reduced, turning it into a great daypack. This pack rocks!
Price Paid: $175

I am amazed at this lightweight yet very strong pack!
I am learning to go lightweight and this helps a lot to cut weight. I have packed it now ready for a three days hike up in high alpine. I have 21 lb now before I add water and food. I have enough space so I can even take fishing gear with me.
Design is excellent with no extra frills that you most likely won't use anyway. It sits very comfortably on my back. I am 5'9".
I will soon go out and test it in the mountains, so I will update this review later.
Update: September 10, 2007
Now the pack is tested for three days in the mountains, with approximately thirty pounds. I am very pleased with this pack. I have always used packs with much larger volume and aluminum holds in internal frame. This one has a soft cell foam to the back that is removable and the shoulder straps are sewn to the back part so it isn't possible to adjust the torso size.
I am 5'9", my torso is 17-18" the men's GoLite Pinnacle in size medium fitted me perfect. It has all the adjustments as other packs have except for the torso height.
With the pack full of hiking equipment I noticed that it tended to slide down on my hips even after I tightened the hip belt tight. This makes the weight more pronounced on the shoulders, and I had to adjust the hip belt often.
I found that if I tied my raincoat around my waist this problem was solved. The hip belt rested on the arms of the raincoat and didn't slide down.
After a while I didn't think of the pack and I could enjoy the hike much more than with other packs I owned. I could look up and enjoy the views more than with other packs.
I think the pack is very well made with strong material. It looks good and it doubles as a mattress for the lower body if you use 3/4 length sleeping pad. I had the leg-part of my sleeping bag inside the pack so that the condensation moisture from my single wall shelter didn't come in contact with my sleeping bag.
I highly recommend this pack for anyone who would like to save weight while hiking and backpacking.
My last pack weighed 6lb 8oz so I saved a lot of weight just by buying this backpack.
Design: Top loading internal soft backpack
Size: Men's medium
Number of Pockets: two mesh pockets and main compartment
Max. Load Carried: 30lb
Height of Owner: 5'9"
Price Paid: $130

I bought the Pinnacle last summer after camping and hiking with a smaller, heavier pack. With a move to Thunder Bay coming in the fall, with unlimited opportunities to explore the north shore of Lake Superior, I decided to buy a lightweight, convertible pack - and the Pinnacle won the draw. It has been used to haul gear on rappels, ice climbs, air transport, weekend trips, winter camping, the gym, and even the occasional load of laundry.
The women's-specific style (size small) fits my 5 foot 4 inch, 115 lb. frame perfectly, and the Compacktor system makes for a very small-sized pack when one is needed. The Pinnacle's outer pocket holds a climbing or bike helmet with ease, and the ice axe loops do actually work well, in spite of their bare-bones appearance.
Compression straps are long enough for sleeping pads or small tents, and their quick-release buckles are handy when wearing heavy gloves. The shoulder, waist and chest straps are luxurious compared to the pack's overall simplicity; even when fully loaded with 30 lbs, the pack is very comfortable to wear for long periods. I was initially a bit concerned about the fabrics used in the pack, but after scrambling up cliff faces and bushwhacking repeatedly, the fabric has yet to fray, never mind rip.
If the Pinnacle has any limitations, the lack of waterproofedness is definitely one of them. The pocket zipper is waterproof, but the rest of the pack definitely is not. In a moderate drizzle, it soaks through in a matter of minutes, requiring the use of a dry sack or plastic back to keep the contents dry.
It's also important to remember that the Pinnacle is designed for ultralight use, so when winter camping, plan on building a snow cave, using firewood for fuel, and not having a lot of creature comforts with you!
For 3-season use, though, the Pinnacle has ample space for multi-day trips, and is definitely my go-to pack for all my excursions!
Design: Frameless backpack
Size: 61 litres
Number of Pockets: 1 main pocket, 1 hydration sleeve, 2 side pockets
Max. Load Carried: 35 lbs
Height of Owner: 5 ft 4 in
Price Paid: 130 USD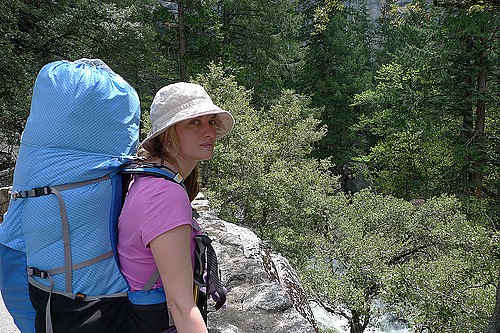 I like this sack. It's very light and comfortable. I am 5'5" and I ordered the medium woman's backpack. At first it was uncomfortable, but I was able to adjust the straps, and now I can walk for several miles without any discomfort. My max pack weight was about 30 lbs with bear canister and snow shoes.
My only issue is that the black buckle on the left side of the chest strap comes off unexpectedly and can get lost. I know that I am not the only person with this issue--two of my backpacking friends on the last trip had the same issue.
Overall, I am very happy with this bag.
Design: internal frame backpack
Size: 3700 cu in
Number of Pockets: 3
Max. Load Carried: 30
Height of Owner: 5'5
Price Paid: $110

Great light pack, no frills.
Pros
Lightweight
Side straps
Great volume
Cons
Top loading only
Not waterproof
Hip belt doesn't adjust enough
I've been using this backpack for the past 2-3 years mostly for backpacking but also for some day hikes (it's definitely light enough to do that). I'm 5'1" and about 100 lbs and use a women's medium. While the shoulder and chest straps adjustments work well for me, I do wish the belt would go a little more narrow.
My biggest pet peeve is that I have to unpack any big stuff (eg bear canister or sleeping bag) and that involves taking everything out of the top loading backpack to fit a full 3 L Platypus in. It's annoying but everything does fit in the end, and if it doesn't fit: that's what those side straps are for.
Aside from those gripes, the backpack has stood up very well to three-season hiking without a snag: rain, scrambling, sliding down some rocks, even some snow. I do put everything inside into a big garbage bag though.
Source: bought it new
Price Paid: $100

I have written other reviews on this pack in 2007. This is a follow up after more than one year.
I have used the pack on several day trips and trips on 2-5 days long. I still like the pack very much although now I found a weakness with the pack.
I used it on a 5 day hike in Northern Minnesota last October. On day 3 we had a heavy rain the whole day and through the night. I used a rain cover but as predicted things get damp. Perhaps I didn't pack as carefully as usual because of the conditions with the heavy downpour.
My pack started to become less comfortable as the day wore on. I couldn't understand why until I had a look at it late in the evening in the tent. It turned out to be the foam that had bent and the weight of course wasn't hanging on my hips but was all on my shoulders.
I have now done a home-made modification to the foam stay that can be seen here: http://www.flickr.com/photos/88313186@N00/?saved=1
I have not tried this modification yet but I can follow up with review in the future. The modification didn't add much weight.
Design: Internal Foam Stay Top loading
Number of Pockets: Two mesh pockets and one big front pocket
Max. Load Carried: 30 lb
Height of Owner: 5'9

Good pack for UL backpacking.
Pros
lightweight
simple construction
cheap
Cons
fragile
uncomfortable if not packed with extra care
Tons of room in this pack. This is a frameless pack and for the neophyte it takes time to learn how to be comfortable. I'm still learning... I wouldn't recommend a load more than 30-35 lbs.
The ice axe loops can be useful, and I love the way you can reduce the pack size using the bottom loops and hooks. Love the pockets on the waist belt too.
Being lightweight, it is also a a fragile pack. After a year of light use, the seam of the top closure strap is weakened and needs repair before it rips off.
I'm 5'8" and slim, and the medium size feels like it's too small for me. I always have to loosen the shoulder straps almost to the max, and even then the waist belt is too high.
Source: bought it new
Price Paid: $110

I owned and used the Golite Speed before purchasing the Pinnacle, and I loved it too, but I think the Pinnacle is better designed and fits me better. It also seems to have a stiffer backpad and thus transfers the weight to the hips better than the pack.
I recently used it on a three-day backpack trip into Dominguez Canyon in Colorado, loaded with 25 lbs. and it performed above my expectations. I also like that fact that Golite retained the side pockets for water bottles and other sundry items that you need to get to quickly like cameras etc. The pockets are easily accessible without having to take the pack off to get to them.
This pack has now become my "don't leave home without it" pack. My daughter has also used it and loves it, so she'll be getting one soon.
Design: top loading
Size: medium
Number of Pockets: two side pockets, one front
Height of Owner: 5' 9"
Price Paid: $80

LOL, the new Pinnacle is nowhere near 1 lb 7 oz. What a joke. Golite has been steadily increasing the weight of all of its packs to add "features" and make them more durable. I expect this from The North Face after they were bought out by Vanity Fair, but GoLite? Original Jam was 22 oz, Jam2 - 26 oz, the new "Jam" (why not jam 3 or cubed?) 31 oz. Are you kidding me 31 oz, for a frameless pack?!
The size on this pack runs small, my son is a medium for all Osprey and Gregory packs, but a medium in this pack is too small (He is 5' 7"). The curved foam "frame" won't please eveyone and watch out if it gets wet! It starts to change shape and then the thing is damn near useless.
Design: Internal Frame
Size: Medium
Number of Pockets: 3
Max. Load Carried: 20 lbs
Height of Owner: 5' 10"
Price Paid: $125

After 35 years of traditional weight backpacking and knee surgery this past winter I decided to put my gear on a diet and start going ultra light. I have backpacked over one hundred miles on the Finger Lakes Trail in upstate New York this summer and this pack has held up better than I expected and was well worth the money.
I have found the quality of the Pinnacle to be outstanding. The recommended maximum load for this pack is thirty pound; my pack was twenty-five pound using an external, so less than thirty pounds was not going to be an issue for me. Besides, if you're carrying in the neighborhood of thirty pounds I'm not sure you can call it light weight backpacking.
I would highly recommend this pack to anyone looking to lighten up their gear.
Design: Ultra-light frameless backpack
Size: 4400 ci.
Number of Pockets: 3
Max. Load Carried: 17 lbs
Height of Owner: 5'7"
Price Paid: $114.97

Very much a fan of this pack! i had to learn the value of it the hard way. light weight back means no back support. I took it on a winter trip, which always includes more gear, i came home with killer back pain.
DON'T OVER LOAD THIS PACK! its gargantuan size allows the easy misconception of throwing in that extra item. Check its carrying capacity with what you fill it with. 3 months later, still I have back issues three months later. thats my own fault, thinking everything lighter is better. otherwise, GREAT PACK!
Height of Owner: 6.1

What the heck are the two loops for at the back bottom of the pack, along with the two plastic nub/hooks that don't actually hook into anything? I would like to be able to carry my tent strapped to the bottom back of the pack, but it's just wasted, unusable space.
Source: bought it new

I bought this pack about three years ago from Campmor. I really like it, it does what I need it to do.
Price Paid: $80

Your Review
You May Like
The Pinnacle is the largest of three packs in GoLite's Ultra Series, designed for the core ultra-light customer. The Ultra packs (Ion, Jam2, and Pinnacle) offer maximum comfort at minimum weight for minimalist fastpackers, thru-hikers, backpackers, peak baggers, climbers, travelers, and day hikers.
For high and cold adventures with light but bulky loads, the Pinnacle is designed for all-season backpacking, alpine-style backpacking, mountaineering, and backcountry skiing. It features a large front pocket with watertight zipper, foam back pad and hip belt wings, cord lock to secure the top, top compression strap, two angled side mesh pockets, ice ax loops, two side compression straps, a haul loop, and 3-liter hydration compatibility.
The Pinnacle uses GoLite's ComPacktor system, which lets you reduce the pack's volume through two fixed compression anchor clips that convert a multi-day pack into a day-tripper.
Specs
Men's
Price
MSRP: $175.00
Historic Range: $73.46-$175.00
Reviewers Paid: $70.00-$175.00

Use
season backpacking, alpine-style backpacking, mountaineering, backcountry skiing

Women's
available in Small and Medium

- Capacity
4000 cu in, compacts to 1300 cu in

- Weight
1 lb 7 oz (650 g)

Men's
available in Medium and Large

- Capacity
4500 cu in, compacts to 1500 cu in

- Weight
1 lb 9 oz (710 g)

Women's
Price
MSRP: $175.00
Historic Range: $56.95-$175.00
Reviewers Paid: $100.00-$130.00

Use
season backpacking, alpine-style backpacking, mountaineering, backcountry skiing

Women's
available in Small and Medium

- Capacity
4000 cu in, compacts to 1300 cu in

- Weight
1 lb 7 oz (650 g)

Men's
available in Medium and Large

- Capacity
4500 cu in, compacts to 1500 cu in

- Weight
1 lb 9 oz (710 g)

Recently on Trailspace