Good To-Go Kale and White Bean Stew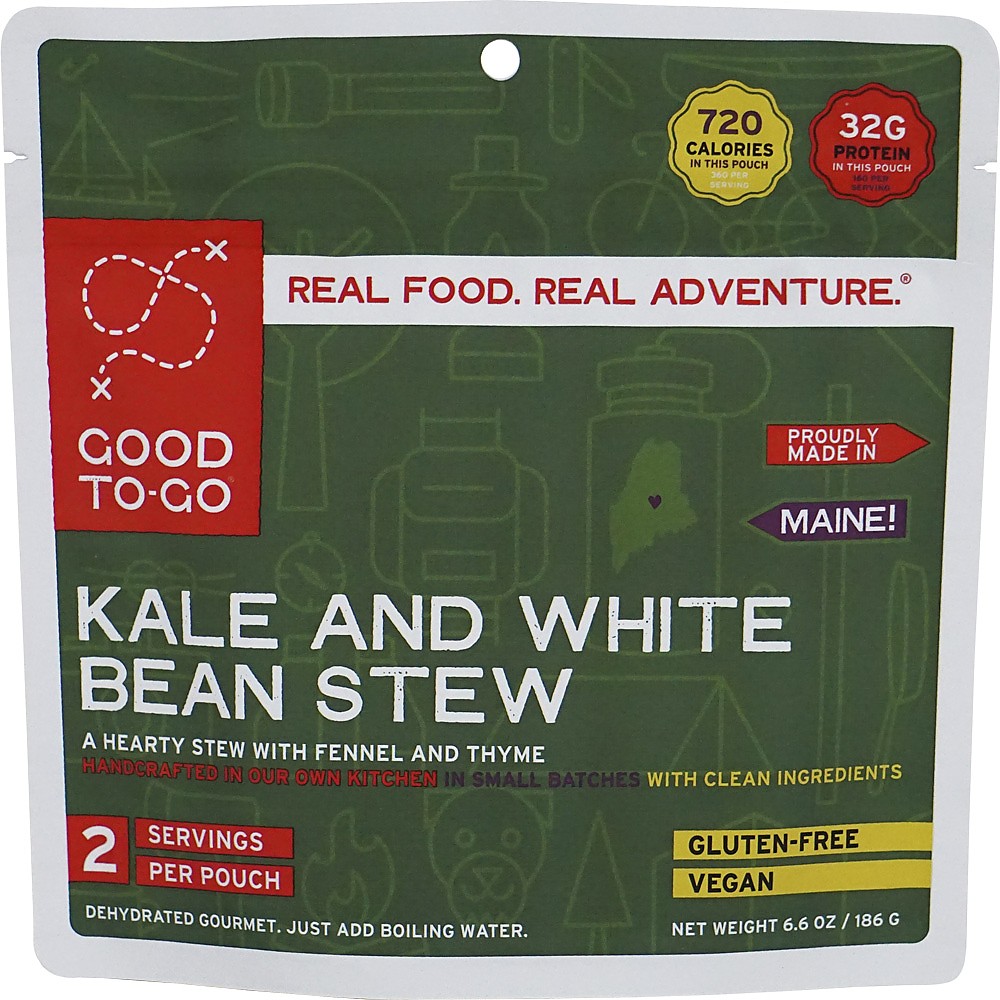 Good To-Go Kale and White Bean Soap is good option for people looking for a reasonably lightweight backpacking food that tastes and looks like real food (because it is), is good for you, is gluten-free, and a vegan product.
Pros
Tastes good and is good for you
No preservatives are used
There are vegan and vegetarian options
Most options offer 100 calories per ounce
Packaging works well as warming pot
Good shelf life—two years
Cons
Have to carry out packaging and absorber
The "Remove" absorber text is hard to read
Overview
First off I need to confess that I am not in any way a foodie and am one of those people who get excited when the McRib is back on the menu at McDonalds, so keep that in mind as I share my thoughts on Good To-Go's Kale and White Bean Stew.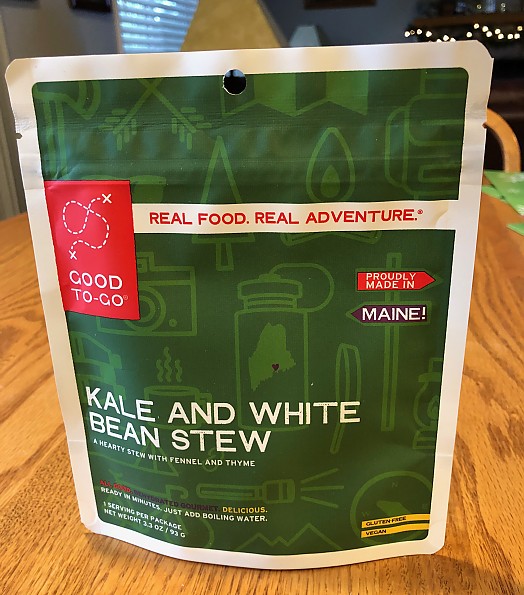 The Good To-Go Kale and White Bean Stew is one of several products available from Good To-Go where the focus is on providing backcountry meals that taste good and are truly good for you. From my experience with this one meal, I think Good To-Go delivers on what they set out to provide
I always find it interesting to learn a little more about the smaller companies making outdoor products and I found the information on the Good To-Go website on their Mission, History, and their Chef, interesting and worth the read: https://goodto-go.com
What's in this meal that makes it so good for you?
The picture below is of the backside of the Good To-Go Kale and White Bean Stew package and you can see by looking at the list of ingredients that there are no preservatives and the meal consists of very simple ingredients.  It's also worth pointing out that when you look at the "best by" date in the upper left corner that Good To-Go is able to achieve a two-year shelf life for the meal without the use of artificial preservatives, which is pretty impressive.
A couple of things worth pointing out with the packaging:
The package is easy to open by just tearing off the top, but contains an integral zip lock style closure so that once it is open it can be closed.
There is a fill line on the package so if you didn't happen to bring a measuring cup (who does?) you have something to go by when adding boiling water.
With the directions, the guidance in the first step uses a very dark font color for "Remove" that makes it hard to read against the dark green background and I could see people like myself who don't focus to much on directions missing that instruction and possibly leave the oxygen absorber in with the meal. From my perspective Good To-Go should really be using the yellow or red font color for the word Remove.
There is also Nutrition Facts information provided on the package, which I'm sure that those in the know will agree that the Good To-Go Kale and White Bean Stew provides all the good stuff you need while out in the backcountry.
Weight & Physical Size
I found the single serving Good To-Go Kale and White Bean Stew package with ingredients to weigh 3.8 ounces.  After I had cooked the Kale and White Bean Stew I weighed the cleaned and dry package and oxygen absorber and found them to weigh about 0.45 ounces, which meant that the ingredients within the package had weighed a little over 3.3 ounces which is right in line with the information provided on the package. 
From a strict calorie per ounce perspective the Good To-Go Kale and White Bean Stew comes in very close to the 100 calorie per ounce that most people look for when selecting meals for backcountry trips.
The overall dimensions of the package were a little under 8.0 inches by 6.5 inches and it was about 1.0 inch thick.
Cooking and Tasting
To save weight I stopped bringing a stove on backcountry trips a couple of years ago, so I haven't had an opportunity to try this meal out on a trip, but it was cold and wet here in western Washington recently and stew sounded like something nice to have for lunch, so I decided to cook up the Good To-Go Kale and White Bean Stew provided to me by Trailspace.
I put some of the ingredients in a bowl to show what they look like before being cooked.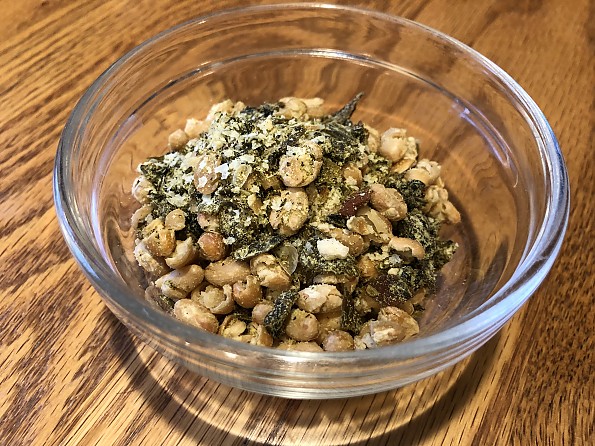 I put all the ingredients back in the package and then followed the directions and added the appropriate amount of boiling water directly to the package and stirred as directed. After the appropriate amount of time and a second stirring the Good To-Go Kale and White Bean Stew was done. I placed some of the stew in a bowl to show you what the final meal looked like below.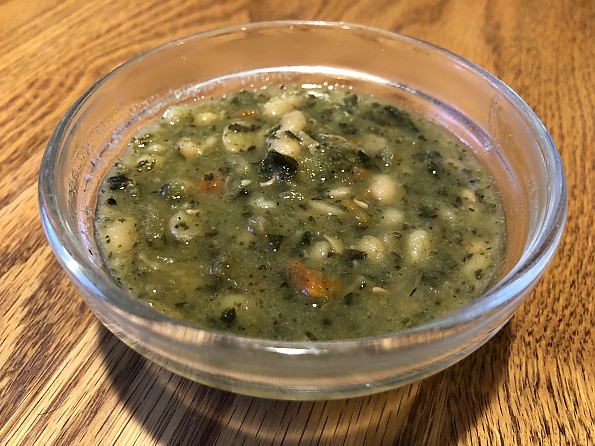 The Good To-Go Kale and White Bean Stew tastes as good as it looks, which is very good.  As far as seasoning goes I personally prefer my food to be more on the bland side, and while the Good To-Go Kale and White Bean Stew is seasoned, it is not too much that would it drive away someone like myself with a McRib loving palette, but should be flavorful enough for even the most discriminating foodie.
Another nice feature of the packaging is the way the bottom is designed. The basic material used and the folds in the bottom are designed that even with the appropriate amount of boiling water added to the package, there is till an air gap at the bottom that insulates the food as it rehydrates and the package easily stands on its own.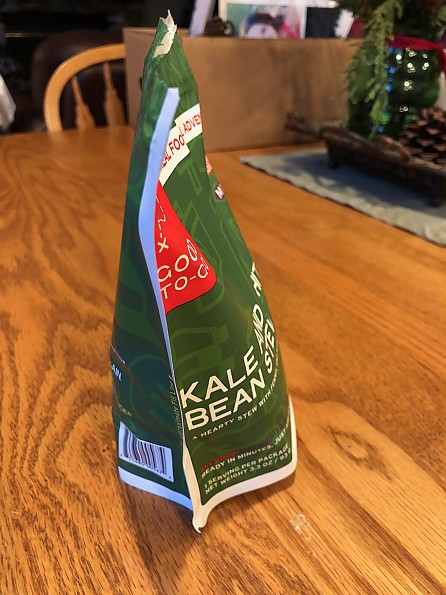 I was fortunate enough to be given a couple of packages of the Good To-Go Kale and White Bean Stew to evaluate which came in handy as the second package made a nice lunch during a recent snowshoe trip out to practice building igloos.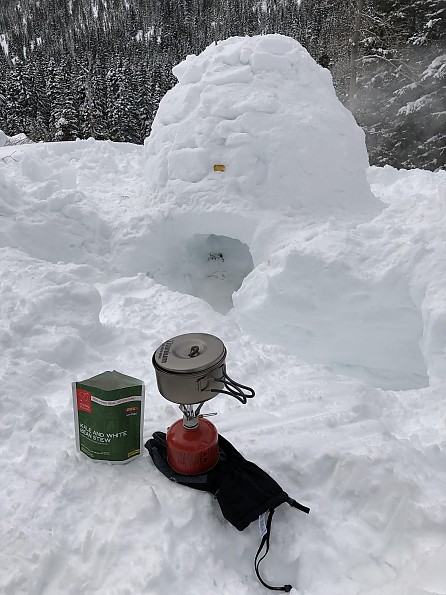 Price
The list price of a single serving package of the Good To-Go Kale and White Bean Stewis $6.95.
Summary and Recommendation
I think that the Good To-Go Kale and White Bean Stew is a good option for the backcountry traveler looking for lightweight meals that are both flavorful and healthy and a good alternative to the other freeze dried options that have been the staple for backpackers over the years.
Many thanks to both Trailspace and Good To-Go for the opportunity to try out the Good To-Go Kale and White Bean Stewfor the Trailspace Gear Review Corps!
Background
This is my first time using a Good To-Go meals, but I have used other freeze dried back country meals made by Mountain House for a number of years in the past. For most of my current backcountry trips, I tend to only bring food that does not need to be cooked as my primary focus is keeping the weight in my pack as low as possible and the majority of the time my stove stays at home.
Source: received for testing via the Trailspace Review Corps (Samples for testing and review provided by Good To-Go)

Vile, horrid and unfit for consumption.
Pros
Cooks fast—just add boiling water and let sit
Resulting flatulance warms your sleeping bag
Resulting flatulance repels wildlife
Thankful it was only a single serving
Cons
Flavorless
Harsh metallic aftertaste
Resulting flatulance repels people
Eat (if you can) before it cools to a lump of gelateanous glop in your bowl
There's nothing redeemable to say about this, even though it was "free" as part of a sample pack...couldn't even return it for credit.
I added bacon bits to try and taste something—the white beans or kale even absorbed that flavor.
Background
just...don't
Source: received it as a sample, freebie, or prize (a local outfitter)

Your Review
Where to Buy
Help support this site by making your next gear purchase through one of the links above. Click a link, buy what you need, and the seller will contribute a portion of the purchase price to support Trailspace's independent gear reviews.
You May Like
Specs
Price
Current Retail: $8.60-$15.50
Historic Range: $7.25-$15.50

Recently on Trailspace