Good To-Go New England Corn Chowdah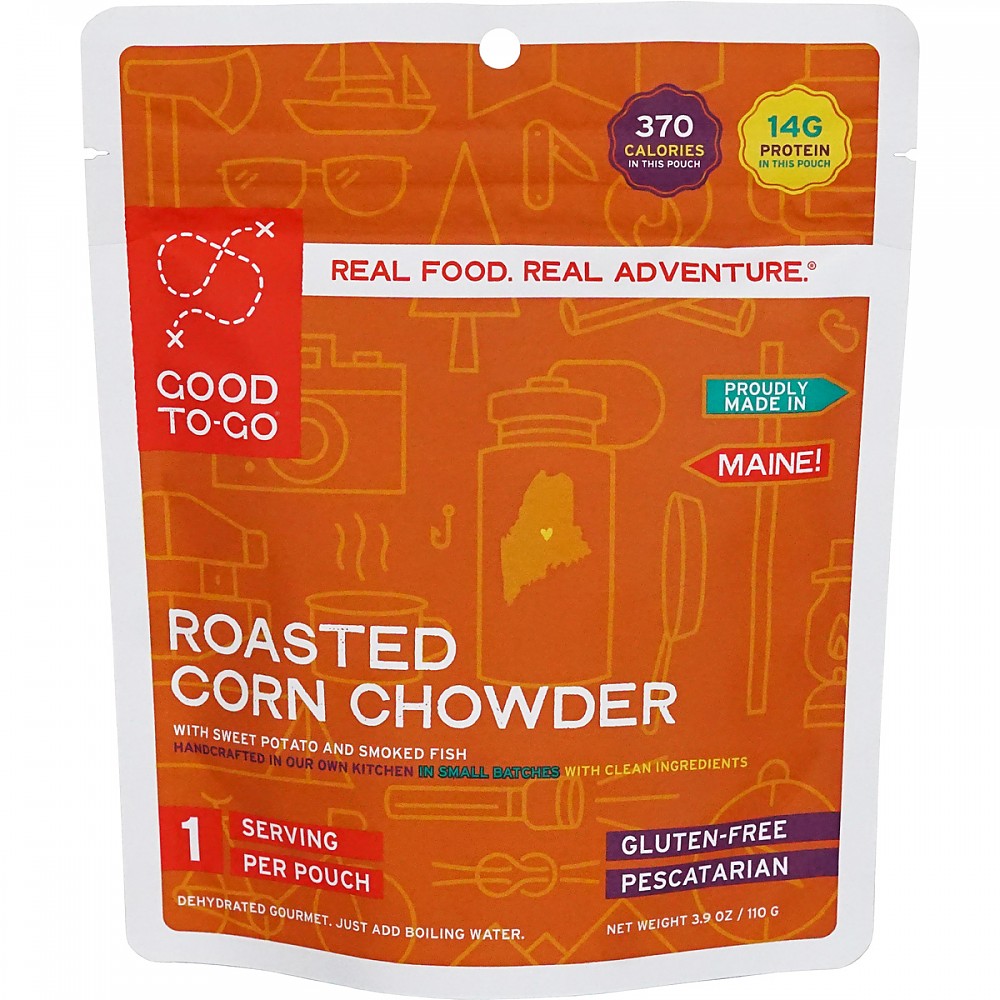 With complex flavors and an intoxicating aroma, this meal is particularly well-suited for winter backcountry trips. C'mon, who doesn't love a good chowder after a day in the snow? It includes dehydrated fish flakes, which was a pleasant surprise, but I did experience some rehydration issues with other ingredients.
Pros
Intoxicatingly pleasant smell
Complex flavor
Easy to pack-in and pack-out
Resealable pouch
Simple instructions
Cons
One ingredient doesn't rehydrate like the rest (it's either carrot or sweet potato, but I can't tell which)
Low-contrast text on front of packaging
Would love to see the fill line added to the inside of the package.
To give you a little background on how and in what conditions I tested this meal, below is a description of two separate tests.
Testing Meal #1 - After a 3.5-mile sunset hike in chilly, windy conditions (30°F), my wife and I sat down lakeside to relax and cook up the New England Corn Chowdah (yes, that is how the manufacturer spells it because that is apparently how New Englanders say it, "chowdah" instead of "chowder"). Being lakeside with the winds beginning to worsen and the sun already set, it was hard to wait the necessary 15 minutes for the meal to rehydrate (and that is already after waiting for the water to boil), but we somehow managed.
We shared the meal and both noticed that while everything else seemed very chowdery (you know, like a thick soup), one ingredient had not fully reconstituted. It was either the carrot or the sweet potato (couldn't tell which, but it was definitely small bits of something orange). This didn't make the meal bad or anything, but just stood out as a bit crunchier than the rest of the chowder. I thought that maybe we just hadn't waited long enough, so I vowed to wait at least 20 minutes next time.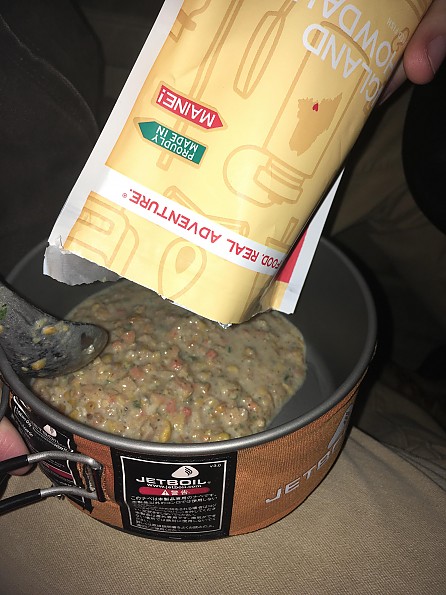 Test #1 turned out pretty chowdery and yummy!
Testing Meal #2 - Just past the mid-way point of an 8-mile loop that included a scenic vista, my wife and I sat atop the mountain, enjoyed the view, and started boiling water for the chowdah. The temps were pretty chilly atop the semi-exposed vista (upper teens-low 20s F) with the snow still slowly falling after a fresh coat of powder had fallen the night before. After boiling water and taking a couple swigs of hot cocoa that we had brought along, I ripped open the package of chowder and poured in the boiling water, stirring much more vigorously than the previous attempt, sealed the pouch, stashed it in an external pocket on my pack, then took off down the mountain, estimating that it would take no more than 30 minutes to get to the intersection of a lower trail where we decided would be a good place to stop and eat (i.e. less exposed to the wind down there).
In 25 minutes, we were at that intersection and pulled the meal out of my pack, ready for some warm chowder. Thankfully, the resealable top held steady and there was absolutely no spillage during the downhill hike. However, this time, the chowder was much thicker than before, requiring more of a bite than a slurp. Looking back, perhaps my cold hands mistaken spilled some water or maybe waiting 25 minutes instead of 15 minutes was a mistake, but the chowder wasn't very chowdery. It was drier than it should have been, but we resolved to eat it anyways since the weather was cold, we were hungry, and we weren't about to boil more water. The meal was still very delicious.
Aside from being drier, that one mysterious orange-colored ingredient was again stiffer than anything else in the pouch. It could have been the carrot or the sweet potato, but either way, it was tough (for what it's worth, my money is on the carrot being the culprit).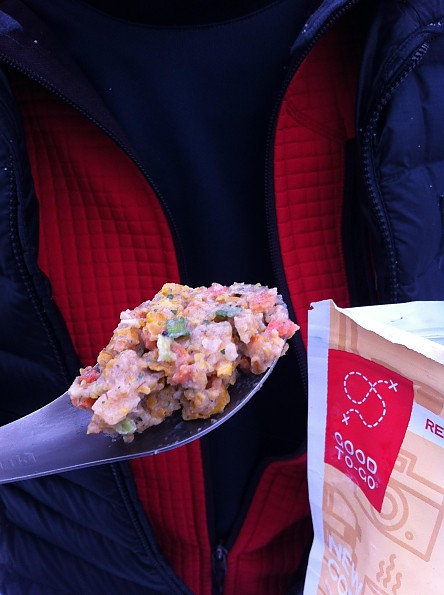 Test #2 was much thicker and not entirely rehydrated. Not sure if I misjudged the water or waited too long to consume it. Regardless, the chowder did taste good, especially amidst the chilly temps.  
Conclusions:
Taste:
Before I get to the taste, I would be remiss if I didn't mention the first noticeable thing about this meal...the smell! The New England Corn Chowdah has an intoxicating aroma that will have tent mates or nearby hikers stopping and asking, "What is that? That smells absolutely gourmet!"
Yes, the smell is that good, but what about the taste? After all, we have to eat in the backcountry, not just smell.
The taste is pretty complex...far more complex than I had imagined New England corn chowder to be. Granted, I'm not a New Englander, but I've had plenty of corn chowder to date and none with this much flavor complexity. If you are expecting merely the flavor of corn, you'll be disappointed. Instead, the most noticeable flavors are those of corn, sweet potatoes, smoked fish, onions (actually the ingredients are leeks and shallots, but tastes like onion) and pepper.
Prep:
To prep the meal, just boil water, dump the water in the bag, stir it well, and play the waiting game (15 minutes) until the rehydration process has finished. Stirring it a couple times throughout the 15-minute waiting period will help ensure the contents are well-mixed and fully rehydrated. I learned this was an important step when I assumed the jostling of the bag being in my pack for 25 minutes would adequately mix up the contents, but I was wrong. There was some still dehydrated powder at the bottom of the bag. That was my fault for not stirring more than once.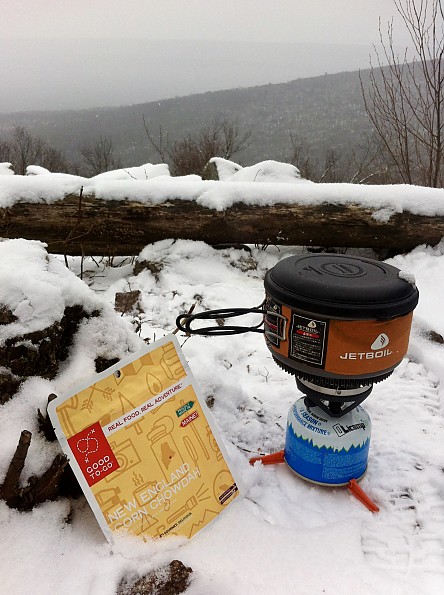 Boiling water atop a windy but scenic vista in Central Pennsylvania.
Satiety and Energy:
As I mentioned before, my wife gladly helped me test these meals. However, both packs were the single serving size (3.3 oz./93g), and not the larger double serving size (6.6 oz./ 186g) which are also made by Good To-Go. Regardless, the meal was sufficient for us to share, but neither of us were particularly low on fuel to begin with. We had eaten well before each trip and during the second test, had an additional granola bar afterwards as a dessert.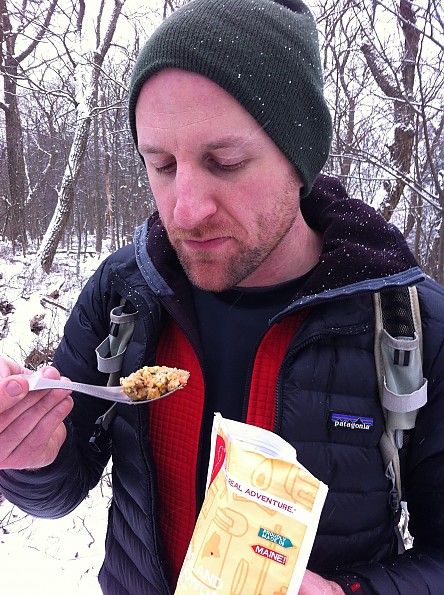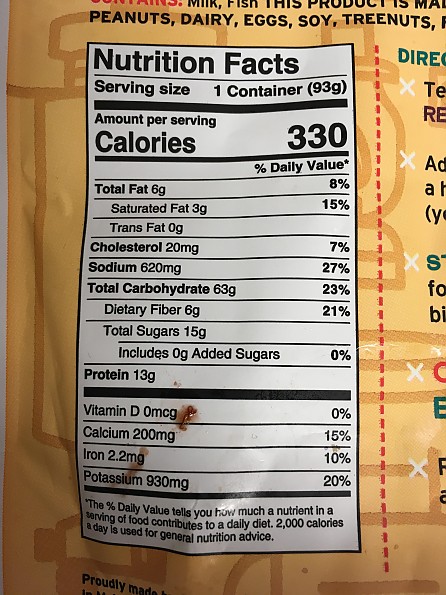 Dietary Restrictions and Preferences: 
The New England Corn Chowdah is considered gluten-free and pescatarian.
While I don't have any dietary restrictions or allergies, it may be worth noting that this gluten-free meal does include whole milk powder and dehydrated fish flakes, among the plethora of vegetables and seasonings. The fish, in particular, surprised me as an ingredient, but I do believe it adds a lot of value to the meal, enriching it with a subtle smokiness and likely increasing the protein content of the meal. 
Packaging:
Good To-Go has a nice package, with an easy-to-tear top (even with frigid fingers) and a resealable closure that actually reseals with ease. The package has easy to understand instructions as well. However, the color choices for the packaging a bit perplexing to me. With small white text on a yellow background, there just isn't enough contrast to make some items easily readable (and my vision exceeds 20/20). My recommendation would be for the manufacturer to change the white text to something much darker, like that which is found on the back of the package.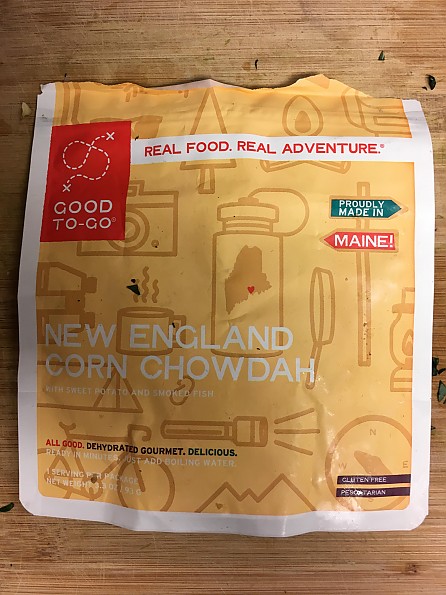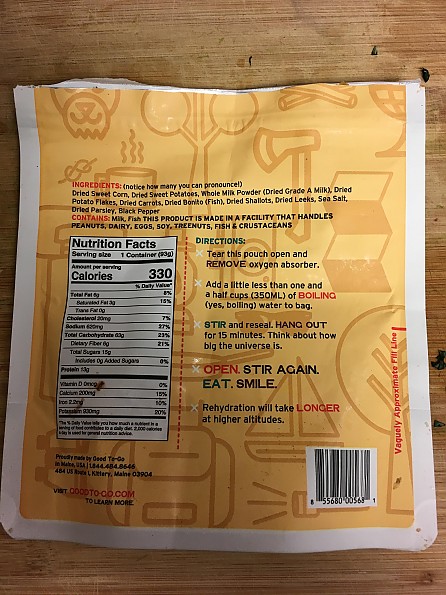 Recommendation:
I may be a little biased based on the time of year I tested these meals (i.e. snowy winter), but I think this meal is best for when a warm and hearty meal is called for. As a winter backcountry meal, the Good To-Go New England Corn Chowdah is a very tasty choice, although I experienced some inconsistent rehydration. I recommend following the provided instructions on the packaging as closely as possible for best results. For what it's worth, I've had other Good To-Go products, like the Thai Curry and the Smoked Three Bean Chili, among others, and generally experienced better rehydration results.
All gone! 
Background
I'm typically a make-your-own-meal kind of guy, but I do, on occasion, take a dehydrated meal into the woods for either convenience or weight savings. When I do, I tend to stay away from those found in big box stores since they kind of taste like plastic. Instead, I splurge for the better-tasting varieties, which I consider Good To-Go to be firmly in that category based on the 4 or 5 meals of theirs I have tried in the past.
Source: received for testing via the Trailspace Review Corps (Samples for testing provided by Good To-Go)

Your Review
Where to Buy
Help support this site by making your next gear purchase through one of the links above. Click a link, buy what you need, and the seller will contribute a portion of the purchase price to support Trailspace's independent gear reviews.
You May Like
Specs
Price
Current Retail: $8.60-$15.50
Historic Range: $4.93-$15.50

Dietary Info
Gluten-free, Pescatarian

Recently on Trailspace