Good To-Go Pad Thai

This is the latest addition to a line-up of six Good To-Go "all natural, dehydrated gourmet" meals. I found the product to be a fresh, healthy, and tasty alternative to the ever-growing line of pre-packaged, dehydrated backpacker meals on the market.

I would highly recommend this product for those looking specifically for an all-natural, gluten-free, pescatarian option. And since I'm a huge fan of Thai food, this is a well-received addition to my own outdoors pantry.

The only downsides are the higher retail cost and the longer re-hydration times when compared to other similar products.


Pros
Real, natural ingredients
No added chemical preservatives
Made in Maine/America by a small family start-up
Comes in single or 2 serving size packages
Resealable package can be used directly to hydrate contents (no need to dirty dishes)
Slim, durable packaging
Cons
Some ingredients take a little long to rehydrate
Not as long of a shelf life as some alternatives (roughly 2-3 years, due to lack of preservatives)
Slightly more expensive than some alternatives
I tested the Good To-Go line of dehydrated foods two years ago when they were first introduced. At that time, only three options were offered. The company seems to be experiencing success and growth, having since added three more meals.
This time around, I tested the Pad Thai and Indian Vegetable Korma meals, both in single and double serving sizes. This review is of the Pad Thai. Please see my other reviews of the Thai Curry, Smoked Three Bean Chili, Herbed Mushroom Risotto, and Indian Vegetable Korma on Trailspace.com.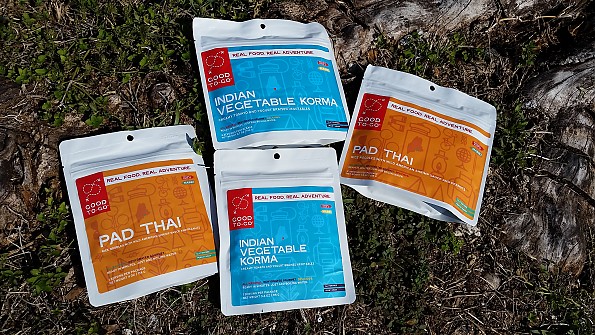 Taste and Quality of Ingredients:
I'll admit to one bias up front: Pad Thai is one of my top-five favorite dishes. So I knew this meal would either be a big hit or something that I would at least like better than most backpacking meals. On the other hand, it had the potential to be a big disappointment.
In previous reviews, I described in some detail my minimalist approach to backcountry cuisine. I won't go into that detail again but I will say that this product continues to improve on the list of healthier, all-natural alternatives in dehydrated meals. I now pay better attention to calories/oz. or gram, protein, salt, preservatives and whole-food contents.
Those that have put in a hard day in the backcountry can side with me when I state that most any food will taste good when you're hungry enough. But that taste often comes at the cost of lots of added salt and preservatives, which is usually not a good thing.
So first and foremost, I would say that the GTG Pad Thai excels in having only 340mg of sodium or 14% Daily Value (DV) per serving. I've seen other similar products with as much as 45% DVPS sodium. For those that have ever treated a double serving package as a one person complete meal (a reasonable prospect for most long-distance backpackers), it's easy to reach a max sodium DV in just one sitting.
Secondly, despite having relatively little added salt, the meal also excels in taste. Perhaps this is because the added salt comes in the form of fish and shrimp salt. I use fish sauce in many stir-frys, so I know just a little goes a long ways. It also gives this dish one of its signature flavors, so I'm glad GTG decided to include it instead of making this a strictly vegetarian dish.
Other classic ingredients such as bean sprouts, eggs, carrots, peanuts, cilantro, and rice noodles all come together to create a delightfully textured and savory outcome. Before and after dehydration, the contents even look delicious.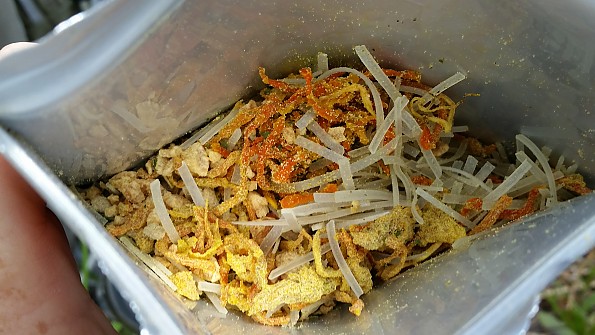 Though the dish easily stands on its own, it's flavorful enough that I would consider adding some fresh veggies (broccoli for instance), just to stretch the value and increase the filler. But I would advise against adding other seasoning…it doesn't need it.
In fact, I brought a packet of dehydrated lime juice thinking I might need to add some zest but the incumbent lime seasoning in the dish was plenty. (Lime is another flavor that I like add to just about everything, especially in lieu of salt.) I think canned tuna or salmon would also pair well with this meal, but I didn't try it. Perhaps the best company would be a fresh caught and cooked trout...YUM!
Satiety/Energy:
I felt very satiated when I ate these meals. I had the single-serving for lunch on a day hike and the double-serving shared with my husband for dinner during an overnight backpacking trip. I ate the same supplementary kinds of snacks and meals that I would normally eat for such moderate activities. I did not feel hungry or wanting more after either meal.
A lot goes into this equation, so it's hard to say if my experiences would translate into similar experiences for others. I was also hoping to provide some comparisons to other backpacking meals, but in looking at the fairly large collection that I have in my pantry, I realized that there is just too much variation among manufactures and among different meals by the same manufacturer to make any fair conclusions.
What can be standardized is the calorie content per serving, and if you're really focused on getting the best bang for your buck, calories per ounce. GTG states that all their meals have an average 375 calories per serving. The Pads Thai comes in at 430 calories per 109g. This equates to about 112 calories per oz. To put things into perspective, almonds offer about 160 cal/oz. and a ProBar 125 cal/oz.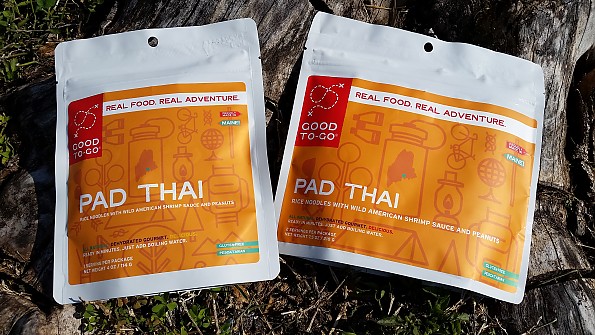 (A comparison of the Single and Double serving packaging)
Prep & Packaging:
GTG meals all come in resealable, foil-lined packaging that is slim (for easy packing) but with an expandable, flat bottom (so they can stand upright). The idea here is that the user just has to add boiling water (250/500ml), mix, reseal the bag, and wait while the contents cook/rehydrate. The packaging is durable with smooth interior contours, facilitating those well-endowed with a long handle spoon to scrape every last bit from the bag.
The downside of this well-designed and multi-purpose packaging is that it is relatively heavy. Empty, a single serving package (including moisture-absorber pack and the foil pack separating the peanuts) weighs 21 grams or .7 oz.; a double serving of packaging weighs 32 grams or 1.1 oz.
Those concerned about such weight would do well to repackage the contents in a lightweight zip-lock bag and employ either the cook-in-a-pot or zip-lock/cozy cook methods. The former might well be the best method, given what I am about to report next.
The biggest downside to GTG meals is that they take longer to rehydrate than many comparative options. This meal calls for a minimum of 15 minutes, while other meals take as much as 20. Passing the time while starving is one thing but the bigger concern here is how ambient temperatures can turn your meal into a cold one if proper precautions are not taken.
My first test took place midday of a Florida summer hike, so after 15 minutes, the meal was still steaming hot. Conversely, a brisk evening at elevation in Colorado resulted in a lukewarm meal. Such cooler conditions necessitate the use of some sort of cozy to insulate the meal. In a pinch, even a sleeping bag will do…but then again, in bear country, it's best not to ever mix the two. Here is where the two aforementioned methods of cooking the contents in a pot or in a zip-lock w/ cozy may make the better sense.
Further, some of the other GTG meals do not fully rehydrate in the allotted 20 minutes. In such cases, I would consider bringing the water to a boil in my pot, adding the contents, cooking on low heat for an additional 2-5 minutes, and then setting the pot aside inside a cozy for the remaining time. This means that some extra fuel is required and a pot has to be cleaned, but this may be negated by the weight saved in packaging and better outcomes in the consistency of the meal.
Claims:
Since publishing this review, I have updated this section to reflect a few changes. Prior to the review, I was puzzled to read on the company's website that all their meals are cholesterol-free, yet the Pad Thai meal has a 35% DV of cholesterol. At the time, the product was very new and was also the first to have cholesterol (due to the added peanuts); thus, the claim had not yet been updated. The company was quick to respond to this discrepancy by changing the claim, which demonstrates that they are responsive to customer feedback and concerns.
Also, the package discloses that the product may contain sulfite, which is a preservative but is also found naturally in some foods. GTG states that their products have no added preservatives and further clarified that this statement is derived from the production and sourcing of the shrimp.
In summary, I found their claims of "natural, healthy, tasty, and low in sodium" to be true.
Readers of this review might also be interested in a follow-up of the company's credentials...or more specifically the co-founder's culinary credentials. Not many backpacker meals can boast having an acclaimed chef as their head creator. More information may be found on the website: http://goodto-go.com/
Best For:
The GTG Pad Thai is a good option for those seeking a healthier alternative in backpacking meals. It is also a great option for anyone that relishes Thai food in the backcountry (or even at home). There are other backpacking meal companies that have attempted this dish and they have all been a disappointment…until now.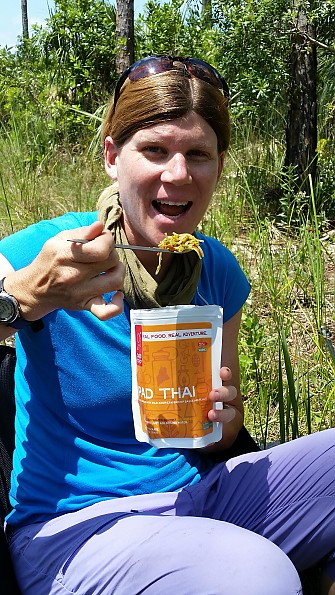 The Pad Thai is not an option for vegans or vegetarians, as it contains eggs and some seafood products. Personally, I prefer the product with these additions but perhaps the company could add a vegetarian/vegan option of this very popular dish. They do make several other vegetarian options, so please see my other reviews if this interests you.
I give this a high rating because I can say with confidence that I will be including it my repertoire of backpacking meals in the future.
Price:
Retail for these meals is $6.75 for a single serving and $11.50 for the double. For that you get 4 oz. and 7.5 oz., respectively. Given the small size of the company and quality ingredients, the higher price is understandable. What I would really like to see is a bulk packing option…say a 20 or 30 serving bucket. This would reduce the cost of packaging and hopefully make the meal more affordable for diehard fans that want to portion and package themselves.
Source: received for testing via the Trailspace Review Corps (Sample provided by Good To-Go for testing and review)

Your Review
Where to Buy
Help support this site by making your next gear purchase through one of the links above. Click a link, buy what you need, and the seller will contribute a portion of the purchase price to support Trailspace's independent gear reviews.
You May Like
Specs
Price
Current Retail: $6.95-$15.50
Historic Range: $6.75-$15.50

Recently on Trailspace