GooseFeet Gear Custom Down Jacket

#1 in unisex Down Insulated Jackets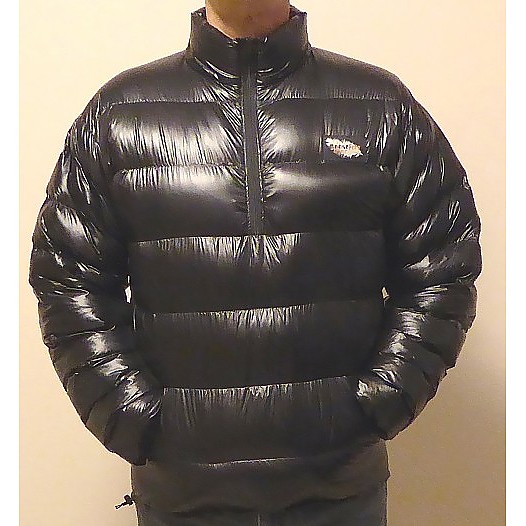 Specs
| | |
| --- | --- |
| Price | Reviewers Paid: $265.00 |
Reviews
1

review

5-star:

1

4-star:

0

3-star:

0

2-star:

0

1-star:

0
Goosefeet Gear makes the lightest warmth-to-weight down jacket on the planet, period. All jackets are customized for each client, based on multiple body measurements and customer preferences for amount of fill, fill power, colors, and specific features. Quality is top-notch.
Pros
Uber-ultralight (my finished jacket is under 6 oz!)
High ratio of insulation weight to overall weight
Thus, extremely high warmth-to-weight ratio
Customized to your measurements and preferences
Very warm
Top quality
Cons
Production time
I paid $265, not a bad price for what you're getting so not really a "con", but still a good chunk of money
This is a review of the customizable Goosefeet Gear ultralight down jacket. Goosefeet Gear (GFG) is a cottage shop located in Georgia that makes high-end, ultralight down apparel, owned and operated by Ben Smith. I am not affiliated with GFG in any way. I paid retail for this product and purchased directly from the manufacturer.
GFG does make some "stock" products, but also is glad to customize an item for you. All of their jackets are customized to each customer's specs, there are no "stock" jackets. Overall, their down jacket provides the best warmth-to-weight ratio I have found anywhere.
I wanted a new down jacket for around camp in three-season conditions but might also use it for winters here in the Southeast. At night I stuff the down jacket into a pillow, or if extremely cold I can wear it inside my quilt.
Besides featherlight weight and a reasonable price, my main spec was a jacket with 3 oz of high fill-power down insultation. That actually is hard to find—it seems most down jackets are either around 2 oz (falling into the "down sweater" category, very light but sometimes not warm enough) or around 4+ oz (for a more robust jacket for truly cold temps, but much heavier and bulkier).
I wanted something to span this gap, warmer than the standard down sweater but still light and trim. The Goosefeet Gear jacket fills this niche perfectly for me.
The custom specs for my jacket are:
Hoodless
Half-zip anorak pullover
10D fabric (was subsequently switched to a new 8D), black/black
950fp Downtek down
3oz fill weight
Insulated kangaroo front pocket
High collar
Elastic cuffs
waist drawcord
No inner pocket
Generally, my jacket is comparable to a men's size M, but the body measurements are customized to fit me perfectly. Ben asks for measurements of chest, waist, hips, neck, body length, and sleeve. In addition, my build is on the muscular side so I wanted a little more room in the chest and armpits. I also wanted a little extra body length and extra sleeve length. Ben was great to work with in making sure I got it just right.
BTW, Ben lists his phone number on his website, and he answers the phone himself so it's easy to reach him. He also shipped the jacket uncompressed, which I appreciate.
This jacket, customized to my measurements and preferences, only weighs a jaw-dropping 5.96 oz on my scale. That means that more than half of the overall weight is insulation. Compare that to other down jackets on the market, even in the ultralight category, that offer a ratio of only 25-30%.
While I only just received it and haven't had it out in a good chill yet, still I can tell that this jacket is very warm, much warmer than jackets weighing 25-50% more. My previous ultralight down jackets included a Backcountry Hadron and a Mountain Hardwear Ghost Whisperer, both excellent jackets at around 7.4 oz overall weight, but my new GFG jacket not only weighs considerably less but also is warmer, for several reasons:
More overall insulation weight (3oz vs. 2-2.6oz)
Higher fill-power insulation, which translates to about 11-18% more down per ounce of insulation (950fp vs. 800-850) and thus greater loft per ounce as well.
Extra length in the body means the jacket bottom is less likely to let heat out
Having only a half-zip means there is continuous insulation across my abdomen, no zipper cold spots.
The quality and craftsmanship are top-notch. The construction on my jacket is horizontal sewn-through baffles (Ben does offer chambered baffles). The baffles on my jacket are full and plumped so I'm not concerned about significant cold spots even at the sewn-through baffle seams.
The fabric feel is soft and satiny, a little slippery and plastic-y but overall nice against the skin. At 8D the fabric is expected to be a little fragile, so this jacket is not for scraping against granite and tree bark, but around camp it's fine.
I really like the insulated kangaroo pocket. It has down insulation all the way around the pocket to keep my hands warm when in the pocket but also to prevent cold from getting to my abdomen when my hands are not in the pocket. The pocket opening is ample for my hands, even with fleece gloves on, but not too big, which is good because when I put my hands in the pocket my sleeves fill the pocket openings and seal them off pretty well.
The sleeves are plenty long—even with my arms fully extended, the sleeves can cover my hand and past the first knuckle of my fingers, so I don't have to worry about the sleeves sliding up on me. And the elastic cuff prevents them from feeling too long, holding them comfortably at the wrists—the right balance of gently tight enough to seal in the heat and seal out drafts but not so tight as to dig into my skin.
My only concern with the jacket is that it might be too warm at times. As an ultralighter I don't carry redundant clothing layers, so this jacket will be my only true warming/insulation layer. I'm wondering if there will be cool-ish evenings and mornings where my daytime clothes aren't warm enough but this jacket will be too much. Especially with only a half zip I can't vent it as well as a full zip, but I considered this choice when ordering the jacket, and I'm happy with the choice I made.
Cost is based on your particular specs. As mentioned, mine priced out at $265. While that is a good chunk of money, I think that price compares favorably to products from Patagonia, Montbell, Arc'teryx, etc. while offering more warmth for the money. So on balance I feel GFG offers reasonable prices for what you get.
You should note that this jacket does not come with a stuff sack, and my configuration does not include a stuff pocket. That's OK by me, I prefer to pack my jacket and quilt loose in the bottom of my pack and also to store them at home loose/uncompressed, just noting that if you order a GFG jacket and want a stuff sack you'll have to ask for it.
I did have to wait a long time to get this jacket. Ben's normal turnaround is 6 weeks, and after that amount of time from when I finalized my order Ben told me that he was switching from the 10D fabric he had been using to the new 8D fabric that had just arrived, but instead of the black he had ordered he received a midnight blue. He asked if I wanted the jacket in that blue or wait for the black, I opted to wait so it was another 7 weeks before the jacket was ready.
In hindsight, the only thing I can think to have done differently is that I wish I had asked Ben to stitch a small hang loop on the inside of the jacket at the back of the neck. Occasionally on a trek I'll go into town for lunch or something, and it would be nice to be able to hang the jacket on a hook if needed. No biggie, I probably can figure out a way to add something simple like that on my own if I want.
All in all, this is an amazingly light and warm jacket that I look forward to using for years to come!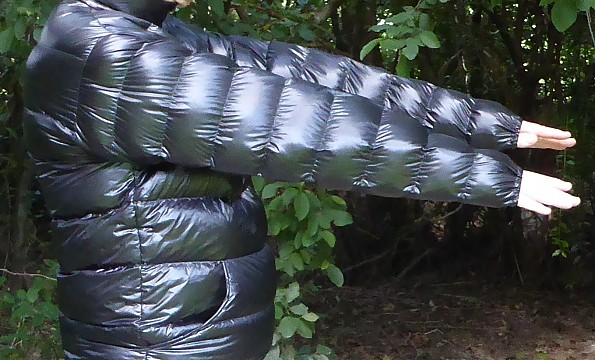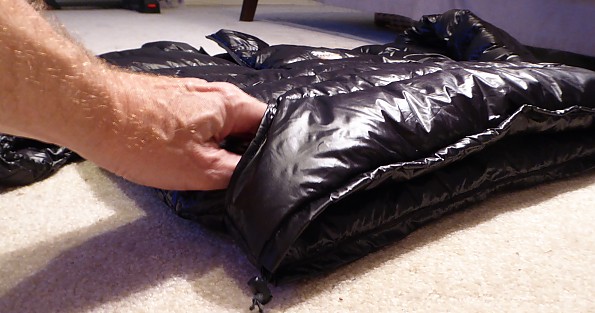 Two down jackets laid out bottom-to-bottom. On the left is the Goosefeet Gear with 3oz 950fp down (total weight 5.96oz), on the right is the Backcountry Hadron with 2oz 850fp down (total weight 7.4oz). 

Source: bought it new
Price Paid: $265

Your Review
You May Like
Recently on Trailspace