Grand Trunk Nano 7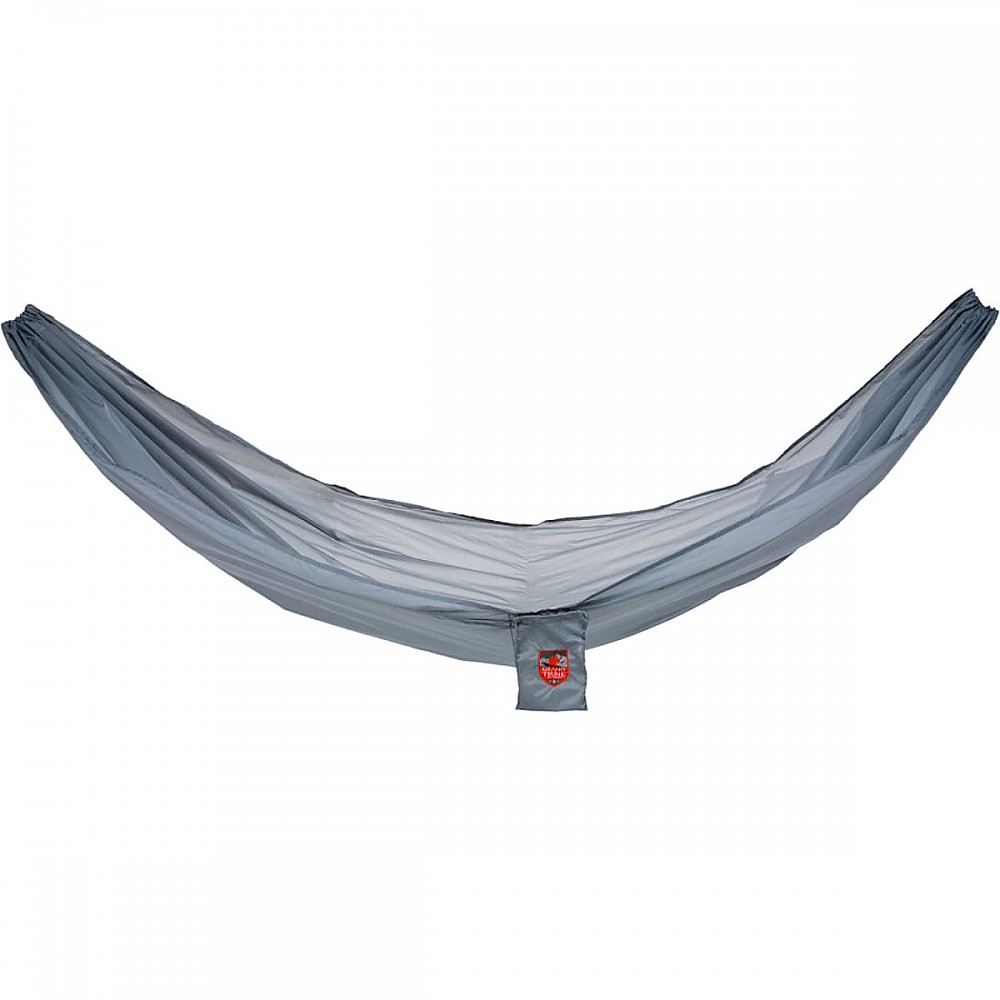 Grand Trunk's Nano-7 is an ultralight hammock that is well-made. However, this user found the dimensions too small to be of any value to me. I would recommend this hammock for those who are several inches smaller than I am or those who don't mind a "banana hang" in their hammock.
Pros
Well-made
Ultralight
Packs down to the size of a baseball
Cons
Too narrow to find the "sweet spot"
Too short
Note: While I did purchase this product new, I bought it with the CampSaver Gift Card I won from Trailspace in June 2014. Thank you, Trailspace! Now to the review...
About the Reviewer
I'm 6'2" tall. At the time of the review, I weighed 195lbs. I find hammocks to be the most comfortable thing to sleep in, preferring a hammock to my own bed. I would sleep in one at home, if my wife would let me hang one in our bedroom. I frequently hang a hammock in the garage for Sunday afternoon naps.

_________________________________________________
Hammock Hanging 101
As I regularly encounter folks who don't know the optimal way to lie in a hammock, I thought I would start with a bit of tutorial. Most new hangers climb into a hammock and hang folded like a banana. They put their head at one end and their feet at the other, lying in a straight line. This is how I started sleeping in a hammock, and I complained about my sore back.
The right way to sleep in a hammock is at a diagonal slant to the hammock. This lay flattens the hammock out, making for a comfortable night's rest. Hammock hangers call this the "Sweet Spot." During winter hiking, I have spent as much as 12 hours lying in a hammock (sleeping, reading, etc.) without any of the discomfort I find in lying in my bed too long.
Here's an illustration I made up for you visual folks:
Some folk attempt to get a flatter lay by tightening the hammock so it is already hanging flat. However, this puts too much sheer force on the hammock, lines, and trees. I have read several accounts of folks ripping out an overly-tight hammock. Derek Hansen has a terrific tool to help you figure out the right angle for hanging your hammock over at his website: http://theultimatehang.com/hammock-hang-calculator.
_________________________________________________
The Nano-7
The Nano weighs a mere 7oz. Included in that weight are two bent wire carabiners which are attached to the hammock for connecting hanging hardware (not included). The body measures 9' long by 4' wide and is made of an ultra-thin ripstop nylon. (Grand Trunk does not list the denier of the material; I'm not sure where other reviews are coming up with the 1.7 number. I'm guessing it is closer to a 1.1oz.)
What is really surprising is that such a light hammock is rated for up to 300lbs. Many lightweight hammocks hold their ratings to only 200lbs. However, I can't imagine a larger person using this hammock, and that is my chief con to this hammock.
My 6'2" frame was simply too large for this hammock. In the picture below, you can see me struggling to get a comfortable diagonal lay. My elbow and knee are fighting to keep the sides from wrapping around me. I've got a banana back going on, and I'm feeling a bit claustrophobic.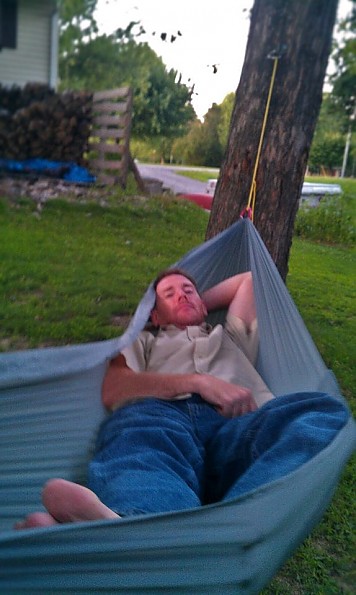 If there's a sweet spot, this 6'2"
hanger can't find it.
_________________________________________________
For comparison
Consider this picture taken in my Grand Trunk Skeeter Beater (measures 10'6" x 5', weighs 30oz, holds 400lbs, has a bug net). I have a flat, diagonal lay. My shoulders have plenty of room. I'm not fighting off the constriction of the hammock.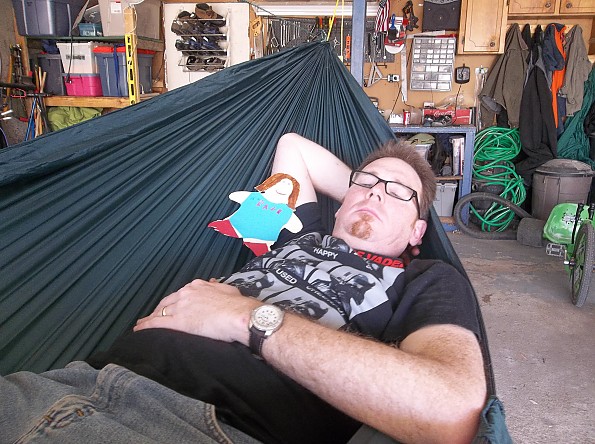 That weird thing with me in the hammock is my niece's
"Flat Stanley" project. http://www.flatstanleyproject.com/
Or how about my monstrous Dream Hammock DangerBird (measures 11' x 6', weighs 29oz, has both a retractable bug net and a retractable over-cover, making it a four-season hammock). This piece of beauty simply swallows me up in the best possible way!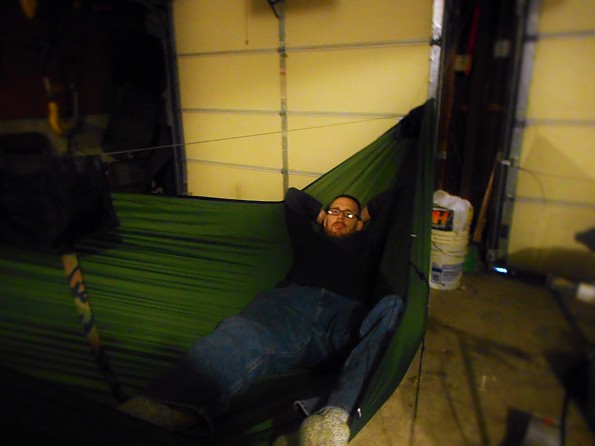 _________________________________________________
In Conclusion
If you are tall or wide, I don't recommend the Nano-7. It is simply not going to provide the comfort you need for a good night's sleep. However, if you are a smaller person looking to significantly cut weight on the trail, Grand Trunk may have what you are looking for here.
CampSaver provided a good return policy on this product. If you are considering the Nano, I would suggest using a company with no-hassle returns. You may find it is too small for you as well.
Source: bought it new
Price Paid: $70

Loved this hammock and used it despite being almost 6' 2", until it ripped... Wish it were a bit more durable as I loved the stuff size
Cons
Small, and can be uncomfortable
Delicate and ripped on me
Expensive for durability
After having the hammock for 2 1/2 years of minimal use (2 or 3 nights in back yard) + 6 nights with my son in it for backpacking (he's 8 and weighs less than 50 lbs) the hammock fabric ripped on me while I was sitting in it.
With the questionable strength I'd go with a parachute nylon vs. this ripstop nylon for durability. Also the cheap $20 parachute hammocks seem better quality to me.
Source: bought it new
Price Paid: $69

Lightweight and easy to pack.
Pros
Lightweight
Attached stuff sack
High quality carabiners
Cons
Does not come with tree straps
This hammock, like most, requires you to buy separate tree straps in order to use it. After choosing a set of tree straps, this hammock is easy to hang.
It's made of 1.7 rip-stop nylon and is very lightweight. The width is reduced to 4 feet to save weight and the length is 9 ft. The weight without tree straps is 7.4 ounces, Grand Trunk claims it's the lightest in the world. 
I've had many friends and kids lay and swing in this hammock. The durability of this hammock has amazed me.  Everyone who has laid in it enjoys it.
I would definitely recommend this hammock if weight is important.
Source: bought it new
Price Paid: $70

Looking for the ultimate hiking accessory? This is it. The Nano-7 hammock is light enough at just 7 oz to put in your pack to use for breaks throughout the day or after a long day of hiking.
Pros
Very light
Compact
Comfortable
Pair it with Whoopie slings and Bliss tree straps and you have an 11 oz wonder of comfort! So go ahead and put your feet up...they'll be glad you did.
Source: bought it new
Price Paid: $79

This hammock is very light and great for backpackers.
Cons
Thin
Not durable
Not waterproof
No bug net
This hammock I have used all around, from indoors to 10' up in a tree to the Canadian back-country, and though it is better than a tent, this is not what I would buy.
In the land of Canooks, I was stuck 4 hours out, by train, with my troop. Me and the other boy all had hammocks and the bug population in one square foot was more than the human population. Well we spent the night out there, and if it hadn't been for our parents, we would had not slept a wink.
If I were to get a new shelter it would most likely be one of those hanging tents.
Source: received it as a personal gift

Your Review
Where to Buy
Help support this site by making your next gear purchase through one of the links above. Click a link, buy what you need, and the seller will contribute a portion of the purchase price to support Trailspace's independent gear reviews.
You May Like
Specs
Price
Historic Range: $22.00-$79.99
Reviewers Paid: $69.00-$79.00

Recently on Trailspace