Grand Trunk Ultralight Hammock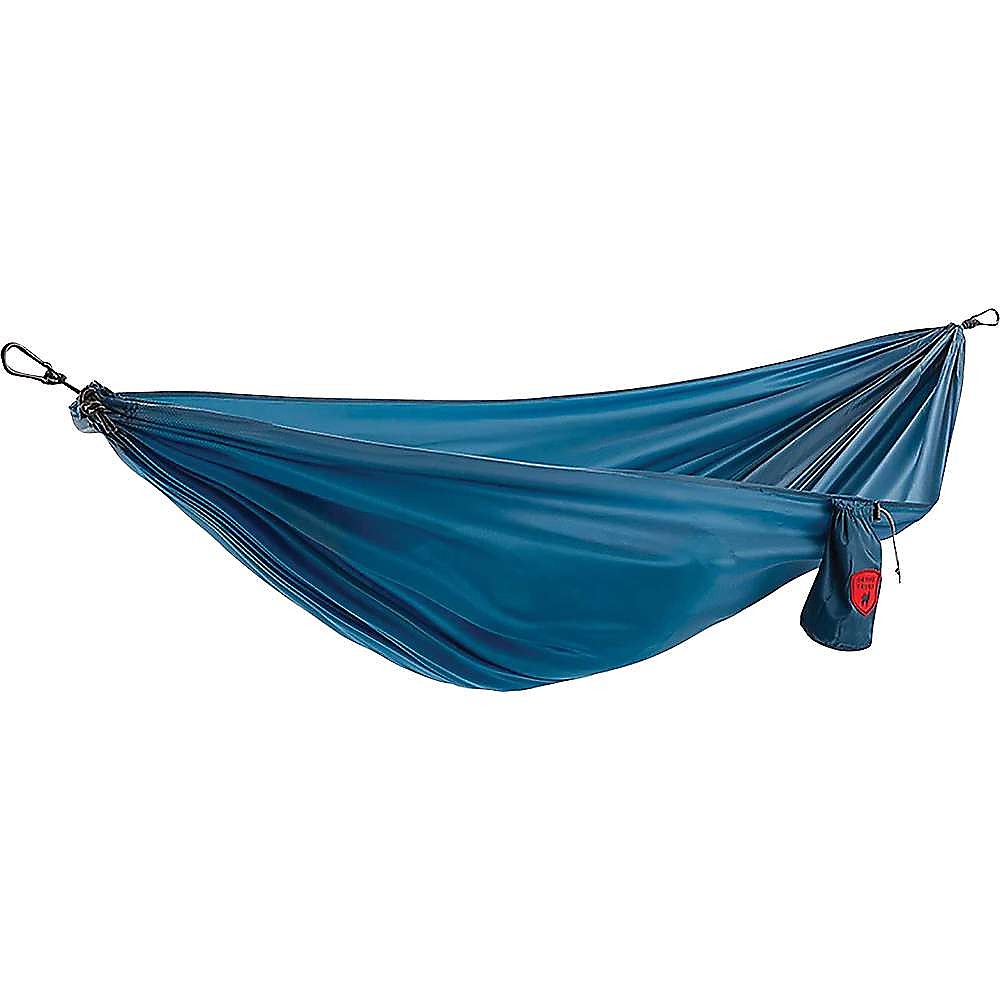 I don't always sleep in a hammock, but when I do, I sleep in this one.
Pros
Very light
Easy to hang
Packable
Comfy
12oz, same as a bottle of beer
Cons
No roof
Hard to use above the treeline
My son and I found this hammock tangled up thirty feet in a tree in the middle of nowhere. I have no idea how it got there (windstorm?), but retrieving it was pretty challenging. Gear adrift is a gift, as they say in the Marines.
I have just kind of kept it around and never got to use it till this summer with the clones on an easy hike.
I stuffed it in Child #2's pack, because there was no room in the tent, and made him the guinea pig.
This hammock comes with hooks for attaching it to your tree wraps and a nice stuff sack that stays attached which also gives you a place to keep small items you may need as you sleep (headlamp, water, pistol, etc).
#2 loved it so much that I kicked him out and tried it myself during the second night.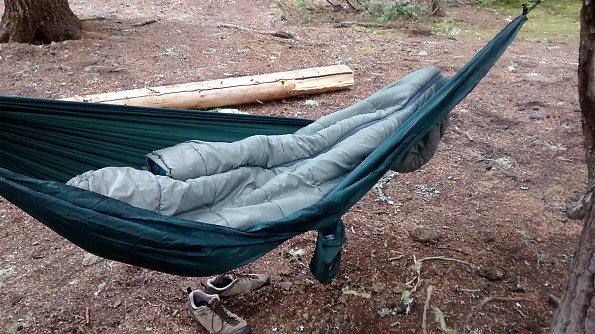 #2 slept so well, he required promises of coffee and huckleberry oatmeal before he would leave the hammock (ya, I give my older kids coffee sometimes)
I placed my RidgeRest under me and, besides the occasional idea that I may resemble a bear-burrito, I slept great; so much nicer than the hard ground. 
As long as I A) don't anticipate rain and B) plan to camp where there are trees (no alpine trips), this is a really cool option. I might be a semi-convert. 
Weight: At 12oz it's hard to beat.
Durability: It feels flimsy but it survived whatever got it up in a tree (for how long I don't know) and it held me (185 lbs) with no sign of wear at all. The s-hooks and hang lines seem sturdy enough. I feel like someday the thin fabric will split in the middle of the night dumping me on the ground and the woods will echo with my expletive scream. For now it looks fine though.  
Packability: It can easily fit inside a Nalgene bottle when packed, a win here.
Comfort: As long as you sleep diagonally like you are supposed to, it's perfect. Best sleep I've had in the mountains in a while.
Length: I'm 5' 10" and had no issues. A six foot guy could also fit just fine. 
Who needs this:  People who hike in the trees and don't mind hanging a tarp over themselves in case of rain.
Source: I Found It!!

Great ultralight hammock for backpacking. Simple to set up, packs down very small into its own storage pouch.
Pros
Lightweight
Simple
Comfortable
Cons
Due to lightweight fabric I worry it will wear faster
No insulation for colder weather
I purchased this hammock on an impulse buy back in 2014. It was under $20 dollars and I wanted it for an upcoming camping trip. I am glad I did! This hammock is simple to set up, and so far seems durable.  
I also purchased a pair of tree straps, but you could use a thick rope to wrap around a tree (just protect the bark, Leave No Trace style). The tree straps are about 6 feet long and have a loop on either end that connects to the S hook on the end of the hammock. This makes it rather simple to set up the hammock and easy to adjust if needed.  
The hammock material is a very lightweight parachute style material and I am constantly worrying that it will rip, but so far I have not had any problems and I weigh 200 lbs.   
The entire hammock packs down to a small size and fits into the pouch that is sewn onto the side of the hammock.  
Even though this is considered a 'single' hammock there is still quite a bit of fabric. I have found that I could almost wrap myself completely inside the hammock like a burrito with all the excess fabric.  
Why is this good? Well, in order to get a decent sleep in the hammock you want to lay sort of on a diagonal so that the hammock stays more or less straight and does not curve too much like a banana.  
I have used this hammock in addition to a Kelty Tarp and a insect net and it worked great for sleeping out overnight. I love how comfortable it is compared to sleeping on the ground.  
If you plan on sleeping in it in colder weather make sure you bring a roll up pad to put underneath you as there is no insulation and the sleeping bag insulation gets compressed. Otherwise you could add a hammock quilt which goes completely over you and the hammock but I have not tried that yet.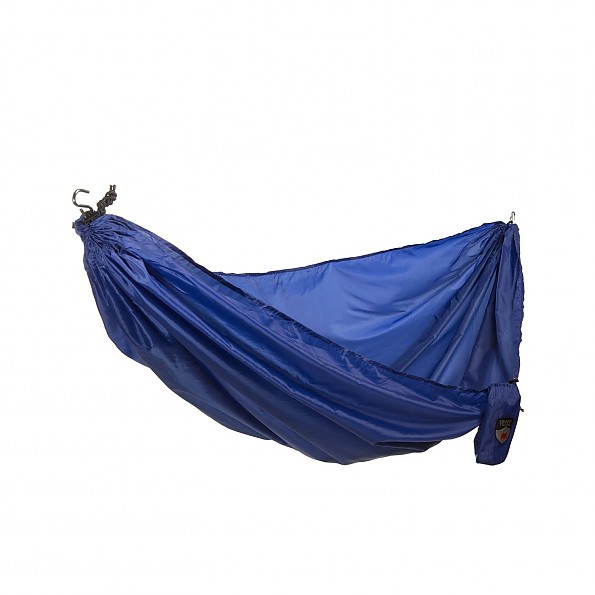 Source: bought it new
Price Paid: $19.95

A great deal on a decent lightweight hammock.
Pros
Lightweight (wouldn't call it ultralight)
Cheap
Mine came with suspension
Longer and wider than true "ultralights"
Cons
Cheap, short suspension
Smaller than "camping" hammocks
After enjoying a post-hike hang in a buddy's hammock my last time out, I'd been thinking of getting a lightweight hammock. I ran across the Grand Trunk Ultralight at Cabela's for $19.99 and couldn't resist.  Unlike the reviews below, mine came with a suspension.  
The hammock itself is polyester, 114" long, 54" wide, and weighs in at 12.2 oz. including the two S-hooks which weigh 1 oz each.  The integrated stuff sack serves as a pocket while hung.
Being a weight freak, I'm looking for lighter weight alternatives to the stainless S-hooks. There are significantly lighter hammocks available from several companies including Grand Trunk, but they all are smaller. The hammock did feel a bit small for sleeping. I figure it's a cheap introduction to "hammocking" at a relatively light weight.
The suspension consists of two ropes (one for each end) with two knots tied in them and weighs 3.8 oz for the pair bringing the total system weight to 16 oz. The ropes work by looping around a tree and connecting the hammock's S-hooks at the appropriate knot to adjust the hang.
There are no slings like many suspension systems to protect the tree and at 55" in length, the ropes are too short for many situations. The ropes are not exactly tree-friendly either and could damage the bark.See pics below: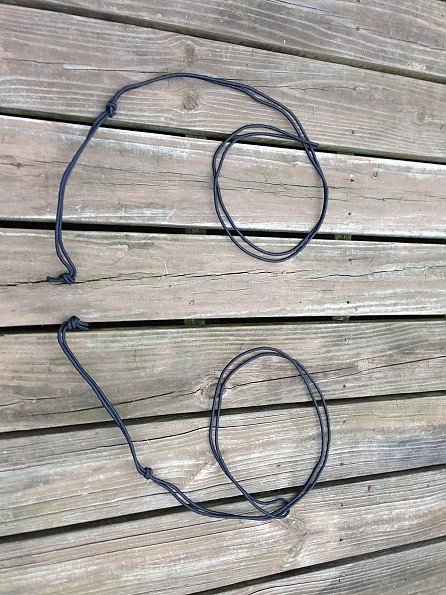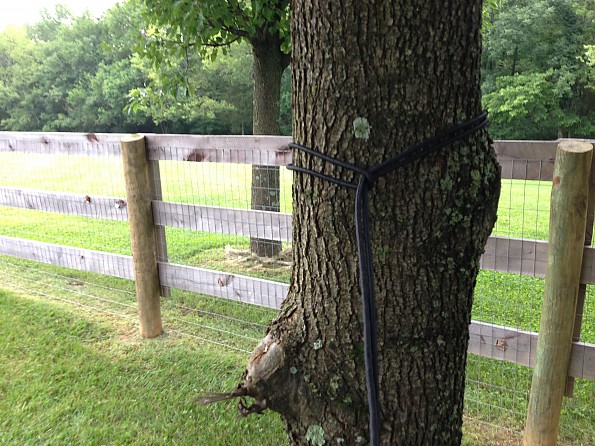 I replaced the included rope suspension with an ultralight suspension: "Tree Straps" system from Hummingbird Hammocks (2.2 oz, $30). Hummingbird's Tree Straps consist of two 60" straps each paired with a 40" Spectra "whoopie sling".  The straps are more tree-friendly and, paired with the whoopie slings, are far more adjustable than the ropes included with the hammock.
The whoopie slings work like a Chinese Finger Torture device, tightening down on itself as it's pulled on. As I learn more about hammock camping, I'm finding there are a wide variety of ways to suspend a hammock. Hummingbird Hammocks has an ultralight, off-the-shelf option here.
See pics below: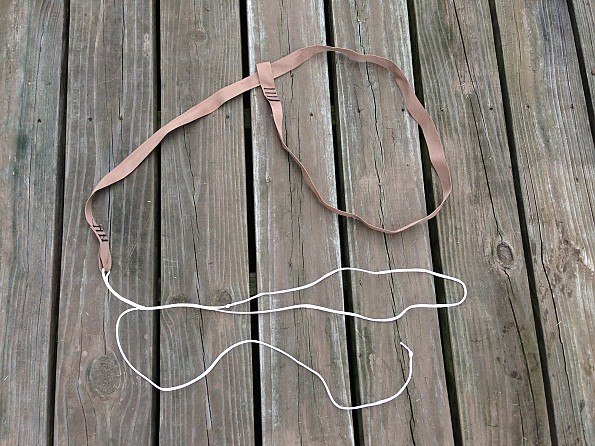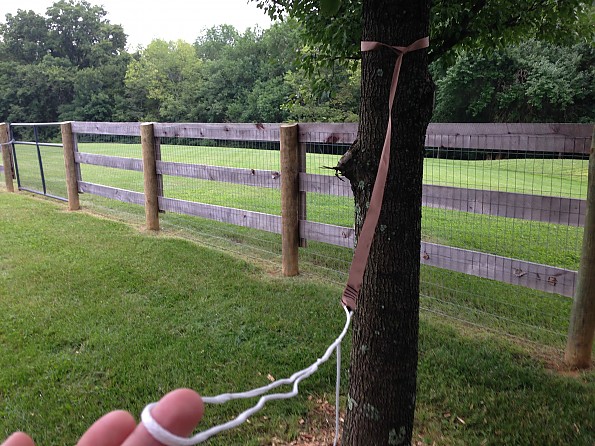 Replacing the included suspension with the Tree Straps dropped the total system weight to 14.4 oz.  There's another one to two ounces to be shaved off by replacing the hammock-to-strap connections.  I'll replace stainless S-hooks with titanium "Dutch Biners" and the heavy rope connectors with Amsteel continuous loops, both from dutchwaregear.com.

Source: bought it new
Price Paid: $20

For very minimal use.
Pros
Price
Comfort
Lightweight
Rumored to have impeccable customer service
Triple stitched on the ends
Cons
Questionable durability of fabric
Didn't come with straps (not a con, just a warning)
Way too small for any real use
The material seems somewhat plastic-ish, sort of like the material that cheap tents are made of, but maybe slightly better. I felt like I was going to fall through it the first time that I sat in it (and most times since), but I've slept in it a few nights so far, and it's worked.
I have a larger parachute-type hammock that feels much more stable, durable, is much larger, and is significantly more comfortable in my opinion, but it's also about twice the weight. The larger hammock also holds my inflatable sleeping mat very well, while the Grand Trunk is a little too small for the full sized pad.
If you're looking for durability and unquestionable reliability for long-term trips or rampaging children, I'd recommend looking elsewhere.
If you have $20 and are quickly looking for a basic minimal hammock for summer time lounging, I would say maybe try this one out, but again, not for any real use.
Source: bought it new
Price Paid: $20

Very well constructed lightweight hammock.
Pros
Lightweight
Durable
Easy setup
Compact
Cons
Not very good for camping
This hammock weighs about 9 oz and packs down smaller than a football. I have slept in it before but I think a Hennessy or an ENO would be better for camping (personal preference) because I'm more of a tent person. However this hammock is great for naps or as a hammock chair or a seat off the ground in the woods.
Source: bought it new
Price Paid: $20

I highly recommend this hammock to beginning hammockers because it's affordable, and gives you an insight to whether or not you could be a hammocker. It's lghtweight, and packs down very small.
Pros
Lightweight
Small
Affordable
I recommend this hammock to anyone who wants to get into hammocking. Hammocking can be very rewarding, and easy to use. Sadly though, not everyone can sleep in a hammock, where others hang hammocks in their rooms because they sleep better than in their bed. Whenever someone says "Where can I get a hammock, and which one should I get?" I always point them straight to this hammock, and a pair of DIY Paracord straps. For  about 25$ you can get the straps and the hammock, and see how it works for you.
Set up is very easy with the Paracord straps that I recommend for beginners. All that you have to do is wrap the straps around the tree, and hook the hammock on the desired length o the strap. To make the strap buy a 50' section of Paracord, cut it in half, and tie knots about six inches apart by making a loop, and passing the end  of the rope through it. Caution, the straps I recommend for beginners do stretch significantly.
Like all hammock it's going to be a little wobbly, but your going to have to get used to getting in. It may seem weird at first, but you'll get used to it. When you're first starting out, I wouldn't hang higher than 18 inches off of the ground. Keep in mind, if it feel really small, it is. They do sell larger hammocks, but they are more expensive. I use the Eagle's nest outfitters Double nest.
The Ultralight holds up to 250 pounds, but I wouldn't recommend exceeding 200 lbs too much. It does hold a lot for how small it is. It weighs in at only 12 oz, and packs down to about the size of a grapefruit. It fits very nicely in just about any bag, purse, or even a glovebox.
I hope this review was helpful. Get out there and go try hanging for yourself!
Source: bought it new
Price Paid: 20$

The Ultralight Hammock is just that, ultralight. It is durable as well as portable, and would be great for backpacking. I highly recommend it for smaller people looking for a very light hammock at a very low price.
Pros
Very affordable ($20 at most retailers)
Very light
Packs small
Cons
Small
Does not come with straps
Thin material
The Grand Trunk Ultralight Hammock is a great hammock to keep around all the time. As a college student I keep it in my backpack, ready to sling it up for a nap any time. I've taken it on several camping and hiking trips, and it's extremely easy to set up as long as you have two anchor points.
I bought this hammock for $20 off Amazon.com one year ago. The first thing I noticed when unpacking my hammock is how compact it is. It's very light, at just 12oz, and it packs into an attached 7"x4" stuff sack.
It does not come with hammock straps or rope of any kind so you will have to buy your own. I bought several feet of paracord to set it up with, which is nice because it is strong, light, and can fit inside the stuff sack with the hammock. However it is dynamic rope, which is not ideal for hammocking.
The hammock is hung by two s-hooks, which, unlike carabiners, have no gate. I was initially afraid that I might somehow spin the hammock off the rope, but even the hammock's own light weight is enough to keep it hanging. If you are worried about this it would be fairly easy to replace the s-hooks with carabiners, but I have not found it necessary. 
The material is very thin, which worried me a little initially, but I have had no issues with tearing or puncturing after a year of moderately heavy use. Simply keep it away from sharp objects and sparking fires. It is also very small, less than 5' wide and only about 10' from end to end. I am 5'9" and I can fit comfortably, but I do not recommend it for anyone 6' or taller. It is only rated to hold 250 lbs, but I have fit two people in it, weighing around 300 lbs all together. It was very crowded to say the least and I don't recommend it for more than one person on a regular basis.  
Overall I have been extremely satisfied with this purchase. It has its limitations when it comes to size, but it more than makes up for it with its light weight, small packing size, and most of all its extremely affordable price. At $20 this is a steal.  
Source: bought it new
Price Paid: $20

This hammock does its job. Lightweight, durable, and well worth the $20 price tag.
Super quick to set up. Be sure not to be too far off the ground so you don't lose heat through conductivity. I save money by just using this and a Mylar blanket. Fine in temps of low 50s provided you're dressed appropriately.
No problem in the rain (light drizzle). I used the waterproofing spray and wrapped myself up and stayed dry. Used on 20 or more hikes and still going.
This is my security camp. Even if I plan on using a tent this goes, every time.
Source: bought it new
Price Paid: $20

It's an okay hammock for just hanging around, but not something that I would sleep in. The material is not as good as ENO.
Cons
Hooks instead of carabiners
The hammock is very easy to setup and use, especially if you have the ENO Atlas straps. The material and stitching isn't as good of quality as ENO, but overall it's a decent hammock.
Source: bought it new
Price Paid: $20

It was light and easy to pack and durable.
Cons
You had to lay in it diagonally
I used this on a backpacking trip. It was an easy setup and tear down.
I didn't like that I had to lay diagonally in it, but for the price I couldn't beat it. An ENO hammock, if you can afford it, is more comfortable for sleeping in.
Source: bought it used
Price Paid: $12

Perfect starter hammock.
Pros
Lightweight
Compact
Affordable
If you are looking for a compact, lightweight, affordable, and well made hammock... look no further. This is a great hammock you can throw in your bag whether you are going to the beach or on a backpacking trip. Super easy to set up.
The only downside is the S hooks that come with it. They work great, but they don't have clips and are a touch heavy... but other than that, this is great buy!
Source: bought it new
Price Paid: $19.99

Extremely inexpensive intro hammock that seems to have a very solid design. I would recommend it for anyone looking for a way to launch into hammock camping.
Pros
Lightweight
Stuff sack sewn to hammock
Cons
S hooks are heavy and need to be replaced
No cables or hardware for hanging
Very thin
Just like most hammocks, this item is extremely easy to setup if you have the right hardware (whoopieslings!). 
The key thing to keep in mind is that this is an ultralight, ultra thin hammock. Be extremely careful with the care of this item as it has been known for some people to split down the middle. 
My hammock is still operating fine after a few months use.
Source: bought it new
Price Paid: $16

Your Review
You May Like
Specs
Price
Current Retail: $29.95-$29.99
Historic Range: $12.38-$63.96
Reviewers Paid: $12.00-$20.00

Recently on Trailspace