Granite Gear Latitude Vapor

The Latitude Vapor has been discontinued. If you're looking for something new, check out the best weekend packs for 2020.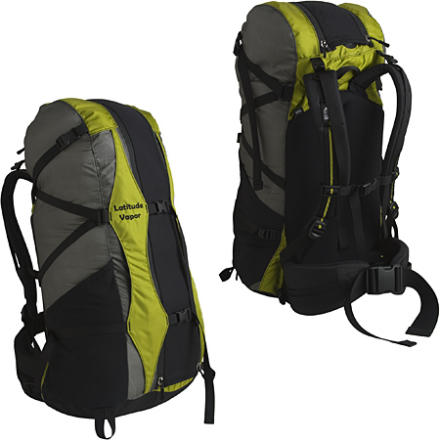 Specs
Price
Historic Range: $89.95-$195.00
Reviewers Paid: $135.00-$150.00

Reviews
4

reviews

5-star:

2

4-star:

0

3-star:

0

2-star:

2

1-star:

0
I was in Boone, N.C., several months ago skiing and I stumbled into the Mast General Store. Prior to leaving on the trip I had ordered a brand new Lowe Alpine Contour 60 hyperlite pack for my wife to use (while I was currently using an old, but still in great shape Lowe Alpine Voyageur 60).
While I was in Mast I came across their stock of backpacks and I found a Granite Gear Vapor Trail. Hadn't even heard of Granite Gear prior to going to this store...I'd heard of Lowe Alpine, Kelty, Gregory etc. -- just figured they were the major players in the game.
I tried on the Vapor Trail and LOVED the suspension...way more comfortable than my L.A. bag. BUT too small I thought? I then did an inventory of my gear... 1) an MSR Hubba Hubba tent; 2) Slumberjack Baffin 0 degree down sleeping bag; 3) MSR Pocket Rocket stove w/MSR duralite fry pan; 4) Mountain Hardwear Epic Jacket (highly compressible); 5) Thermarest Prolite 4 sleeping pad.
As you can see, I'm definitely in the Ultralight range as far as gear goes. Why have I been carrying around a 9 pound bag loaded with about 20 more pounds of gear when I could have fit most of this stuff into a bag like the Vapor Trail.
Well, we bought it. ...took it home and cancelled the order on the new Lowe Alpine bag and eBay'd my old Lowe Alpine bag. I think decided that top loading wasn't for me, but I wanted a suspension just like the Vapor. ...enter the Latitude. It's basically a panel loading Vapor...and I love it. I've been extremely happy with its performance, durability, comfort. Heck, I almost miss wearing it when it's not on! I have literally found myself several times in recent weeks putting it on and biking up to the grocery store instead of taking the car! ...just because I want to use it (weird, huh?).
As for my wife, we decided that she needs a short torso size pack...the Vapor Trail we bought was a regular so we sent it back to Mast for a refund. At the time of writing I'm debating on getting her a Latitude as well, or waiting on the new Vapor Trail for '06 which has blue + black for the colors.
More about the Latitude...again, extremely comfortable. I find it very durable. I love the fact that the zippers are taped for waterproofing--that is something I've valued in Mountain Hardwear's gear for a while...definitely a nice thing for a pack. I've hiked with it several times...no real long trips yet (we're doing Colorado this summer for about seven days) but I can tell you so far it's been a huge improvement from my Lowe Alpine bags...they were great, but if you're an ultralighter, this is the way to go!
Find a great deal if you can--I got my Latitude for $135 new incl. shipping from Modern Mountain Man.com. Ebay has listings from time to time for Granite Gear packs.
Design: panel loading internal frame
Size: 3800 cu. in / size medium
Number of Pockets: ?
Max. Load Carried: approx. 25
Height of Owner: 5'10"
Price Paid: $135

Great pack, carried everything I needed for an 8 day, 70 mile backpack trip. Took a while to get used to the front load feature of packing gear as I have used mainly top loaders.
Could be lightened a little by removing the extra portions of things that are not used. Carried great never felt like it was digging in to my shoulders even with about 40lbs of gear. Would recommend it.
Design: front loader
Size: 3800 ci
Number of Pockets: none
Max. Load Carried: 40 lbs
Height of Owner: 5'9"
Price Paid: $150

Good if gear is kept really light, but if, for whatever reason, you're in a position where you have to carry more weight, this pack is horrible. Even if not overloaded, this pack is not very durable.
From working at the local gear shop, I saw a number of Granite Gear packs came back because they were torn or stitching had blown out, some from being over-weighted, some from (claimed) normal use. Taken in total, personal experience and what I've seen, my advice would be to avoid Granite Gear altogether and look elsewhere for ultralight gear.
Design: Ultra-Light
Size: 3800
Max. Load Carried: 45 lbs
Height of Owner: 6'
Price Paid: $150

I was impressed by the reviews of this pack so bought one online unseen, (I live in New Zealand). When it arrived I thought they had sent the wrong one! The pack was WAY smaller than the advertised 3800 cu in, when I emailed Granite Gear they said they measure pack volume with bird seed then calculate the volume from that! I measured the pack dimensions and calculated a much smaller volume. (less than 3000 cu in)
I don't know many hikers who carry birdseed, most carry pots, sleeping bags, food etc, stuff that does not cram into every recess of the pack.
As a result I rarely use this pack as it cannot carry enough for the trips I bought it for, the few times I have used it it has suffered rips and holes from branches etc that have brushed against it.
If you only wanted a lightweight day pack to use in open country it would be fine, but for me, I would never buy another Granite Gear product.
Design: front loading
Size: 3800
Number of Pockets: 2
Max. Load Carried: 13 kg
Height of Owner: 6 ft
Price Paid: heaps

You May Like
Recently on Trailspace