Granite Gear Shoulder Strap Pocket

#8 in Pack Pockets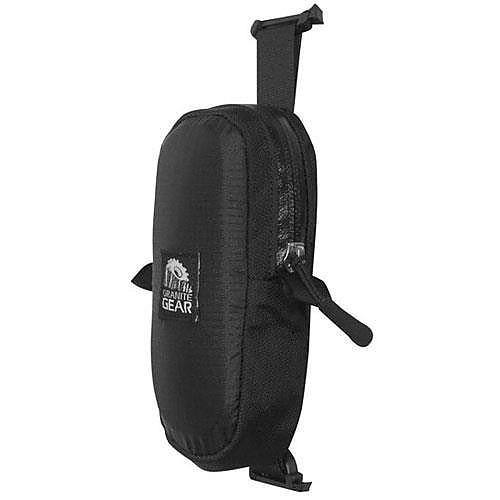 The Granite Gear Shoulder Strap Pocket is a great piece of gear that gives you padded, highly water resistant storage easily within reach at all times.

I recommend this product to anyone that needs a little extra storage space, or anyone that doesn't have hipbelt pockets.
Pros
Inexpensive
Lightweight
Durable
Convenient
Very water resistant
Manufacturer Specs: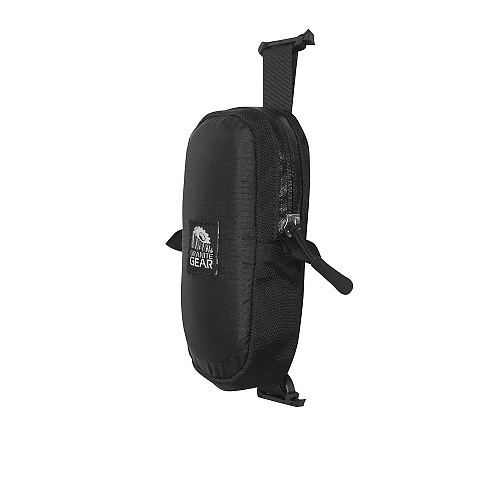 Weight 1.2oz/34g [*My scale reads 1.7 oz/48 g]
Dimensions 6.25x3.25x1.5" /16x8x4cm

These foam padded, ultralight pockets attach to a pack's load lifter webbing at the top, and lower adjustment buckle web at the bottom. They offer extra room, protection and convenience for the items you need close at hand while you're on the trail. On the back is a port for your headphone, ear bud or headset cord. The fabrics are ultralight 70-denier ripstop hybrid sil-nylon Cordura and 210-denier nylon Cordura, and the zipper is a water-resistant YKK. Works on both right and left shoulder straps and includes a free 24" grey web accessory strap.
My Review:
This is another one of those pieces of gear that I have had for so long, and used so often, that I just take it for granted. I really do love these things, and I could go on and on and on about them... but I'll try to contain my excitement ;-)
Depending on the situation, I have used them for:
a compass

a cell phone

a camera

a GPSr

or just for odds and ends that I want to have within easy reach, but don't want in the pockets of my clothing.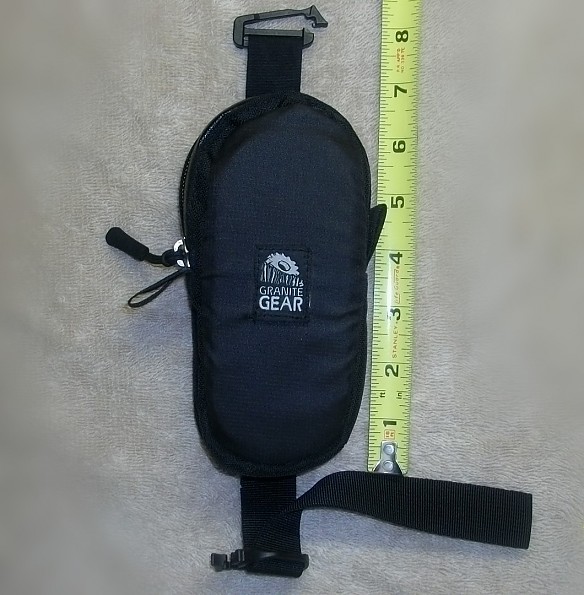 They are just a simple add-on pocket/pouch for your pack, that doesn't weigh much or take up much space.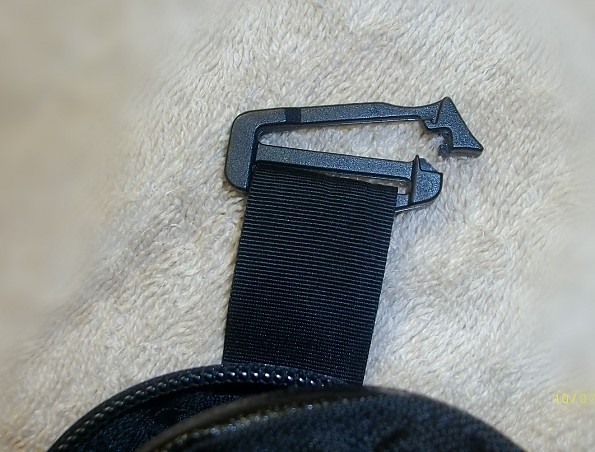 They use Slick Click brand snap bars to attach at the top...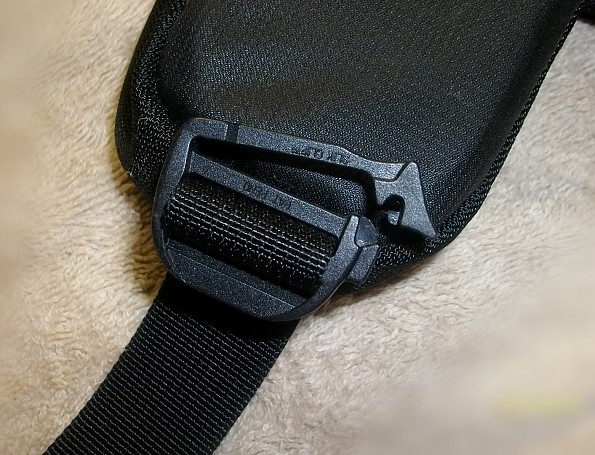 ... and the bottom. The bottom is adjustable.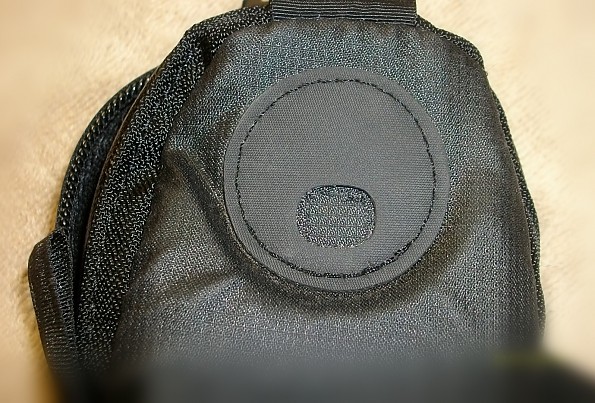 On the back is a "port" for all of your multimedia "needs".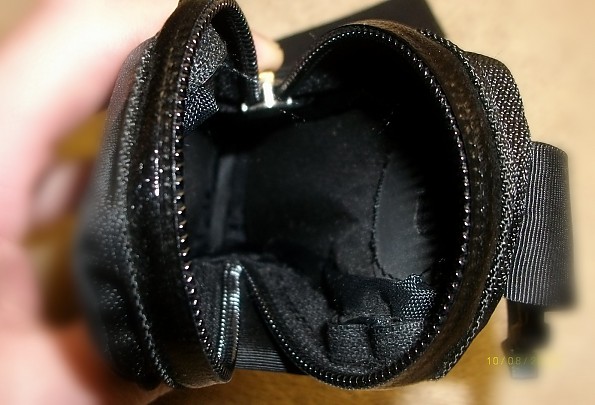 There is nothing really special about the inside, except that there is padding between the inner and outer layers- a little extra protection for your valuables. Sweet!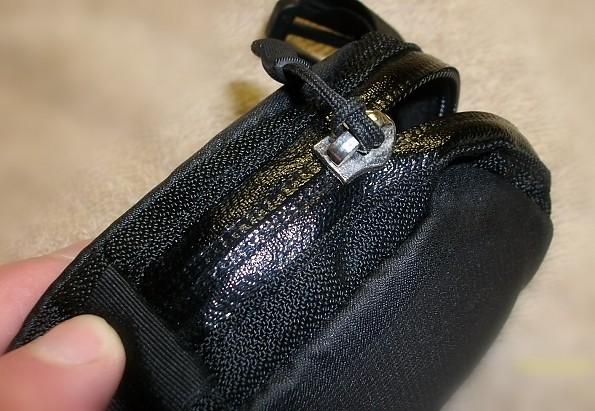 Check out this zipper! Granite Gear says it is a "water resistant" zipper. It sure looks an awful lot like the "waterproof" zippers on my rain jackets!
Okay, seriously... so you probably can't literally put these underwater, but... they may not be totally waterproof, but they ARE highly water resistant!
To give you an example of just how water resistant they are, let me share with you an experience I had with this product on one of my backpacking trips...
Last November (2014) I went with some friends and coworkers on an annual park ranger led, group backpacking trip to Fall Creek Falls State Park (TN) to do the Cane Creek Overnight Trail "lower loop," It's about 13 or 14 miles, is rated difficult, and goes down into, and then up out of, the Cane Creek gorge.
None of us had ever done this trail, so we were pretty excited about it.
Anyway, all was well the first day. The weather was great for backpacking (mid 40's), and we reached the camp area well before dark with no injuries, and no major problems.
The forecast was calling for a cold front with rain storms to come through in the middle of the night, with lows of just below freezing (yes, somehow, here, it can be 30 degrees and raining, or 34 and snowing—go figure). The forecast for the next day was to warm up to the low-to-mid 40's with no rain. Well, as is normal for Middle Tennessee, the weather is never what the forecast says it will be.
That night, instead of the storms and cold front coming in, a warm front blew through and the temp actually went up instead of down. So we roasted in the sleeping bags that we brought "for the cold weather". Lol.
But, the cold front and storms DID finally show up—right behind the warm front. About the time I was taking down the tent and packing up to head out, it started sprinkling (about 0800). Then it started raining.
Not long after we started down the trail, the temp started dropping, and the wind started blowing. Luckily, about that time, we actually headed into the woods and down into a slight valley. So we were fairly protected from the wind, and also the rain (so we thought).
Well, the temp continued to drop, and the rain just kept coming down harder, so that even though we were under the tree canopy, we couldn't tell.
After a few hours, the trail crossed a parking area for viewing one of the many falls in the park. At this point, one (1) of my boots had wetted through at one of the top seams, my "waterproof" gloves had not only soaked through, but were holding water (major FAIL—review coming soon), and I had one little trickle of water run down my neck, back, butt, and all the way to my leg!
And my friends/coworkers were fairing even worse.
The park ranger leading the trip stopped everyone at the parking area, to see who wanted to keep going, and who wanted to ride back to the trailhead. Of the 13 of us who started this trip, all but three (3) opted for the ride back. We were all soaked. And freezing cold. (Turns out it was 34 degrees and we were wet.)
So after the ride back to the trailhead, we threw our packs into the back of my friend's truck, and headed to the Inn/restaurant/conference center to change into dry clothes, warm up in front of the fireplace, and get a sit-down meal before heading home.
After changing, warming up, eating, and sightseeing, we had a two (2) hour drive back to my vehicle that was parked at a friend's house. I then took my pack out of the back of my friend's truck, and threw it in the back of my truck, then drove 45 minutes home.
When I got home, it was still pouring down rain with no sign of stopping. My pack—and the Granite Gear Shoulder Strap Pocket—had now been in the rain for about eleven (11) hours... with my non-waterproof camera inside of it. I had forgotten about it.
I was sure the camera was already ruined, and had actually given up on it hours earlier when I remembered it. So I left the soaking wet pack in the back of the truck (in the rain), and dashed inside for a hot shower and warm bed.
The next day, when it had finally stopped raining, I got the pack out of the back of my truck and started the process of unpacking, cleaning, drying, etc.
To my utter surprise and amazement, there was not a drop of water- or even so much as a hint of moisture- on my camera, or on the inside of the pouch!
I fully expected the camera to be ruined! I couldn't believe it! I just stood there dumbfounded.
(And the camera still works just fine. It took every one of the pictures for this review!)
Okay, so that was a very long winded way of saying, again, that although this product may not be totally waterproof, it is highly water resistant! And that's not just my opinion—it's a fact proven by firsthand experience!
So, anyway, back to the review...
I have two (2) of these. I've had them since March of 2010, and they have been on almost every outdoor excursion that I have been on. I love them. They are awesome.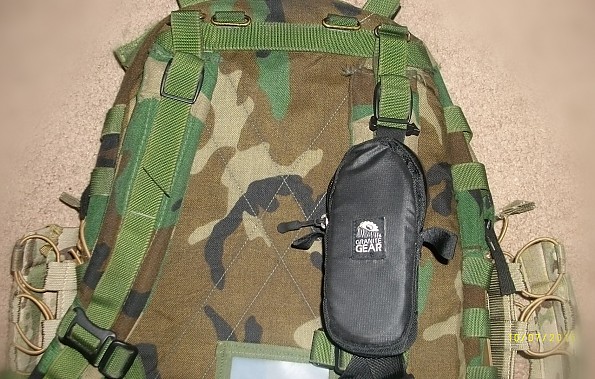 I keep one (1) on my "day" pack (seen above, and below), and the other bounces around from pack to pack, depending on which I am using.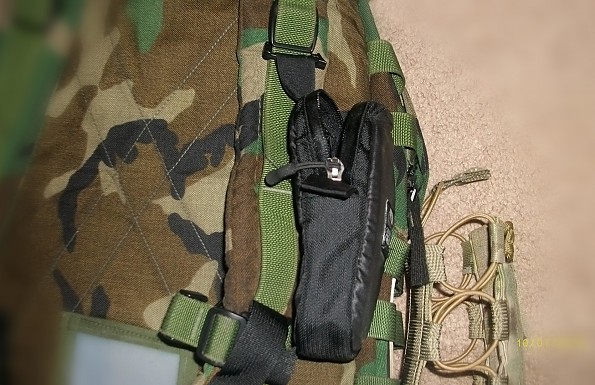 Another view of product on my "day" pack.
My "day" pack doesn't have a hipbelt, and therefore no hipbelt pocket(s). So these are perfect. They still allow me to have whatever I want within easy reach without having to stop, or get in my pack.
And I also don't have to put things in my pants pockets. That's a big plus for me, because I do not like my pants pockets full of stuff when I am hiking/backpacking!
For all of you people that can't be pried away from your cell phone, these are perfect. Instead of being in your back pocket, the phone stays up closer to your head so you can hear it.
Although... I'm not so sure that a typical "smartphone" will fit in these? I don't have one, so I don't know. My little flip phone disappears into these with plenty of room left over for my pen, gum, lip balm, etc.
The downside
My only gripe is that the top attachment strap is a fixed length and not adjustable. The top attachment determines how high or low these ride on your shoulder strap.
Every pack is a little different, so there is no choosing or adjusting the height. It's pretty much dependent upon the pack, and the way the shoulder straps are designed.
So with some packs, you may not like having these attached due to how high or low they ride.
This is the only reason that I didn't give this product a 5-star rating.
Conclusion
I'm not sure what more I could say about this awesome little piece of gear, except that it was a great investment!
So far, I have gotten 5 1/2 years of use from these, and have had no problems with either one of the two (2) that I own.
They are light, inexpensive, durable, and very water resistant. What's not to like?
The Granite Gear Shoulder Strap Pocket—I have 5 1/2 years of pleasurable experience with them that says you, too, should be using them!
Good luck and get out there!
:-)
Source: bought it new
Price Paid: $16 on 3/27/10

Your Review
Where to Buy
Help support this site by making your next gear purchase through one of the links above. Click a link, buy what you need, and the seller will contribute a portion of the purchase price to support Trailspace's independent gear reviews.
You May Like
Specs
Price
MSRP: $19.95
Historic Range: $11.97-$19.95
Reviewers Paid: $16.00

Weight
1.2 oz / 34 g

Dimensions
6.25 in x 3.25 in x 1.5 in / 16 cm x 8 cm x 4 cm

Recently on Trailspace