Gransfors Bruk Mini Hatchet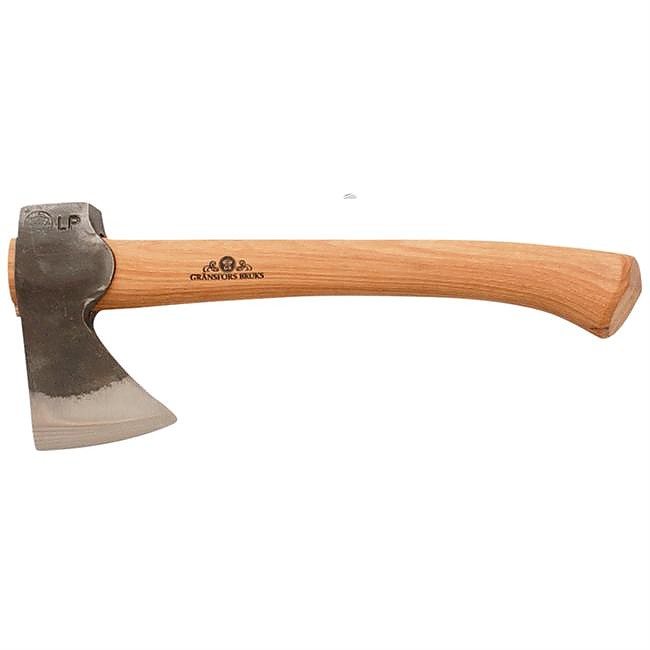 Version reviewed: 410
Definitely a minimalist hatchet. I'd recommend a bigger one for most real hatchet work, or a quality large knife instead.
Pros
Small (sits comfortably on the belt)
Lightweight (about 3/4 lb for packing/carrying)
Very sharp out of the box (it will cut and shave)
Beautiful to look at
20 year warranty
Each one is individually made by a blacksmith, who stamps their initials on the axe upon completion. Mine is marked AS, for Anders Strömstedt.
Very nice leather sheath
Very nice handle, despite the small size.
Cons
Price (quality isn't cheap)
Lightweight (no weight for chopping, causing you to swing harder and making tasks less safe for both you and the hatchet's edge)
Not symmetrical anywhere (it is handmade, but it is expensive. Still perfectly functional, but it might bother some)
Customer service seems to be a myth. (My warranty card is in German, and I sent GB an e-mail for a translation days ago, and still have heard nothing back. This makes me wonder how the warranty itself will be handled if ever needed)
Too small and narrow for splitting bigger chunks of wood, but you can make wedges.
A quality large knife is safer, and more versatile in my opinion and experience
I'm generally a fan of large knives for wilderness tasks. You can cut, chop, split, pry and poke with them, and I've just always had a knife.
Recently I decided that I wanted to try my hand at using a good hatchet instead, just to change things up and to see life on the other side. After a little research, I decided on the smallest hatchet from Gransfors Bruks, the mini/belt hatchet (model 410).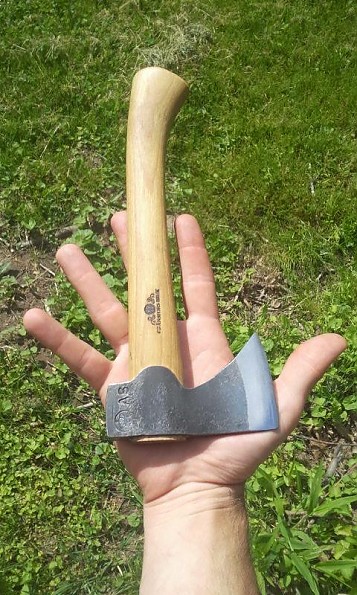 From end to end, mine is 10 1/4" long. The bit is 4" long, and 7/8" wide at its widest, with a 5/8"x1 1/4" poll, and a 2 3/8" cutting edge.  The handle has 9" of gripping room, is 3/4" wide at the bit, and 1 1/8" wide at the widest point of the base. 
I think it would work well for downsizing firewood while camping and backpacking, processing game while hunting and fishing, or removing limbs from trees to clear a path or improve my line of sight while hunting or fishing. It's sharp enough to easily work as a knife, and has the balance of a hatchet for chopping.
After a bit of reading, the only negative things I could find before ordering were complaints about the size and weight, but as a backpacker I like to try for the smallest equipment that I can get away with, and I don't plan on taking down any serious lumber with a hatchet. That's what axes and saws are for. 
So far, after a little bit of chopping on some 2 1/2" down to about 1/2" diameter hardwood branches, side by side with my heavier large knife, I'd say it chops just about equally. The majority of the hatchet's weight is all in the bit, while the heavier knife's weight is distributed throughout the entire knife, giving the hatchet a slight advantage, pound for pound.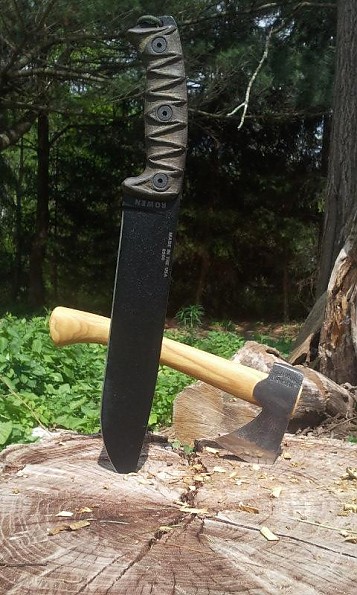 If I were getting a hatchet exclusively for chopping fire wood by the stove, or for camp, I think I'd get at least the next size up for sure, as this is very much a minimalist/traveler's hatchet. If it wasn't made as well as it is, it would probably be almost useless to most people.  It would definitely take a lot of time and energy to do a larger job with this hatchet.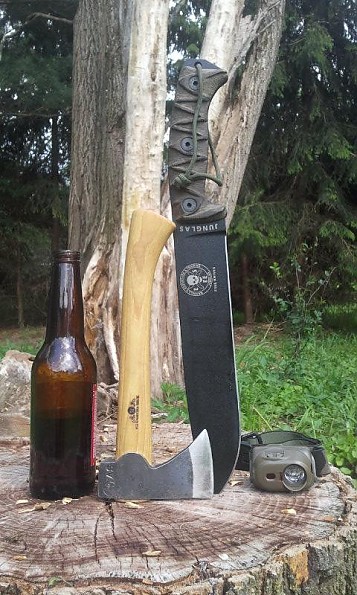 That being said, I feel that it will work fine for me, and for what I plan on using it for, so there is no buyer's remorse here. The large bladed knife is still much more versatile for wilderness tasks in my opinion, but I don't have any plans on taking the giant knife with me hunting, and I have more to learn with the hatchet.
The fit and finish of everything is beautiful, and of high quality materials.The handle feels amazing in the hand, and the bit is incredibly sharp. I touched mine up with two real light swipes on the ceramic sharpener, and it sliced me a little as I was putting it back in the sheath. Very impressive.
If you start to closely inspect mine, you'll start to notice that most of the hatchet is not symmetrical at all on almost any angle (others could be different?). I chalked it up as having character from being handmade because it still works amazingly, and it's a hatchet. Others may look at the price tag and expect cosmetic perfection. Just a fair warning to other potential buyers. 
Also, I ordered mine from the wide world web, and it came from Germany, so everything that came written with the axe is in German. Unfortunately I don't speak a word of German, and there's a 20-year warranty card to fill out that I can't read.  I sent Gransfors Bruks an e-mail days ago asking for a translation, or to just fill out the form online, but there has been no response of any kind.
After looking into the translation issue online, I've found that others have sent e-mails about other topics to GB and have gone weeks without replies. This makes me worry about how their customer service is when it comes to having to deal with an actual warranty issue. It may be possible that I have I misread the warranty entirely, and it's guaranteed to take 20 years to hear from them, and the hatchet itself has no warranty. Only time will tell I guess. 
UPDATE 12/11/2016:
I prefer to use a large knife over a small hatchet for precision and safety reasons in the wilderness. Swinging a hatchet is much more dangerous and less precise than batoning with a large quality blade. A hatchet this small has very few practical uses, despite the quality craftsmanship.
Source: bought it new
Price Paid: $120

I've had mine for over 35 years! I use it instead of a knife quite a bit. Just received a hand hatchet to go with it. Not much I couldn't do with these, short of felling a large tree.
Cons
None if you use it as it should be used.
Just a great all around tool to get most chopping cutting chores done.
Experience
I use it for camping, fishing, and hunting. Great for using as a defensive weapon in a pinch due to its light weight.
Source: bought it new
Price Paid: $159

Your Review
Where to Buy
Help support this site by making your next gear purchase through one of the links above. Click a link, buy what you need, and the seller will contribute a portion of the purchase price to support Trailspace's independent gear reviews.
You May Like
Specs
Price
Historic Range: $151.00-$159.95
Reviewers Paid: $120.00-$159.00

Recently on Trailspace