Gregory Contour 50

Top 50 in men's Weekend Packs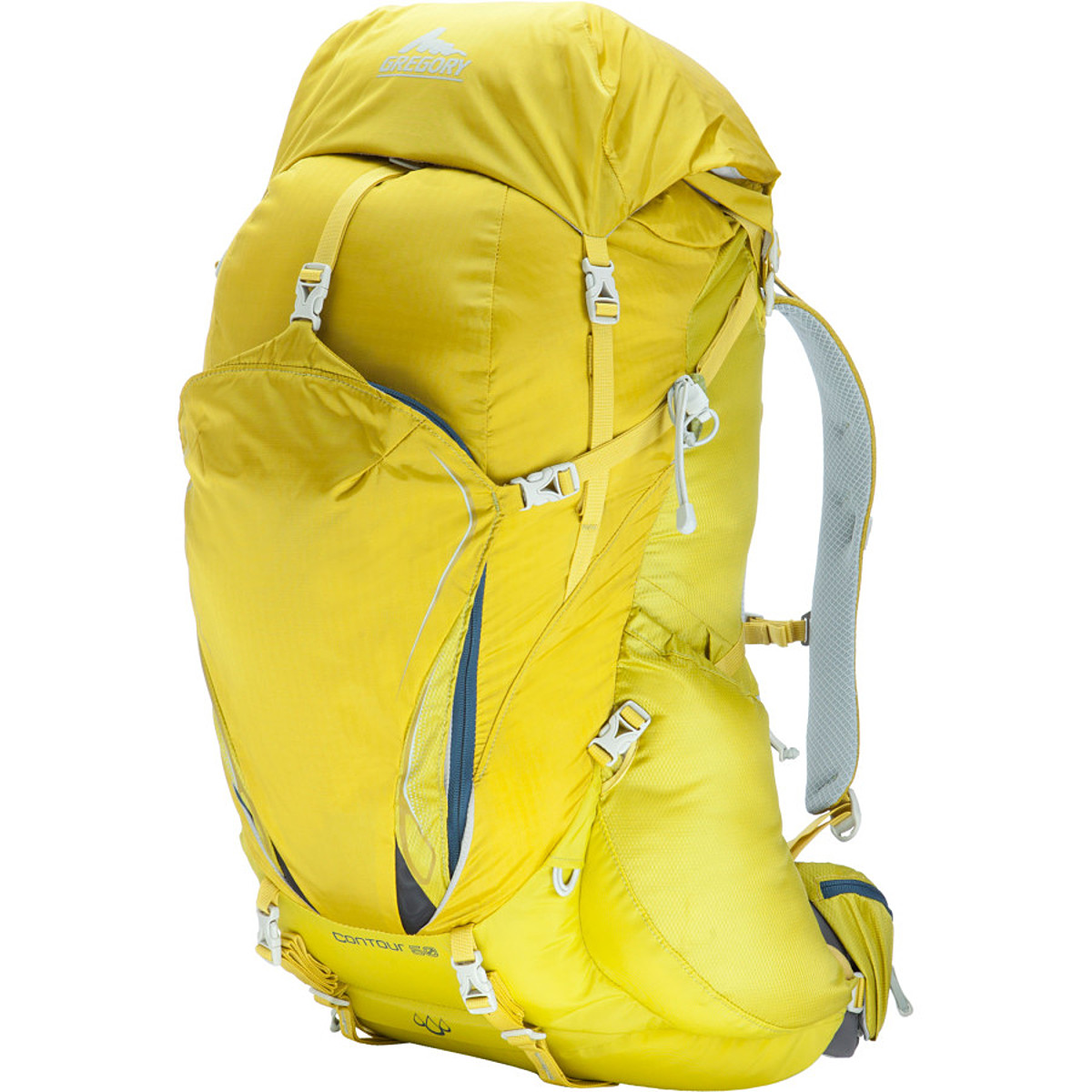 Specs
| | |
| --- | --- |
| Price | Historic Range: $90.63-$259.00 |
Reviews
1

review

5-star:

0

4-star:

1

3-star:

0

2-star:

0

1-star:

0
The Gregory Contour 50 is a small, lightweight, well-built backpack featuring Gregory's Trail Smart Packing System with organization for Camp, Trail, and On-the-Go. It is designed as a weekend pack and carries moderate loads very well.
Pros
Well made
Comfortable if not overloaded
Offers innovative packing system that works
Waterproof top pocket
Cons
Hydration pocket hard to use with a full pack
Water bottle pockets too tight
Some people may want more padding
Boasting an innovative way to organize your pack with three different packing zones for your gear – around camp, on the trail, and on the go -- the Gregory Contour 50 makes packing and accessing your gear quick and easy.  
It provides a main compartment for storage, a zippered front pocket, and a good-sized dump pocket.  Also included are two side water bottle pockets and two hip belt pockets. The Contour also comes with an external hydration sleeve, giving access to a water bladder quick and easy.
Capacity & Weight
Weighing in at 3 lbs 15 oz / 1.79 kg (4 lbs 2 oz / 1.87 kg with the included rain fly) and a volume of 52 liters / 3173 cubic inches (medium size), the backpack isn't designed for extended trips or for carrying heavy loads.  Gregory claims its comfort level is 45 lbs / 20 kg, but, personally, I found this to be a bit much for the pack.  I did find it to be comfortable with loads upwards to 35 pounds.
Speaking of comfort, the Contour incorporates a lightweight hip belt, and thinly padded shoulder straps.  While not uncomfortable, a bit more padding would be welcome, especially while carrying heavier loads.  The hip belt is easily adjustable and molded to my body well.  Internally, the backpack sports a wire wishbone frame.  I found the pack to be quite stable while carrying loads less than 30 pounds, even while scrambling over trail-less terrain in the southern Utah desert.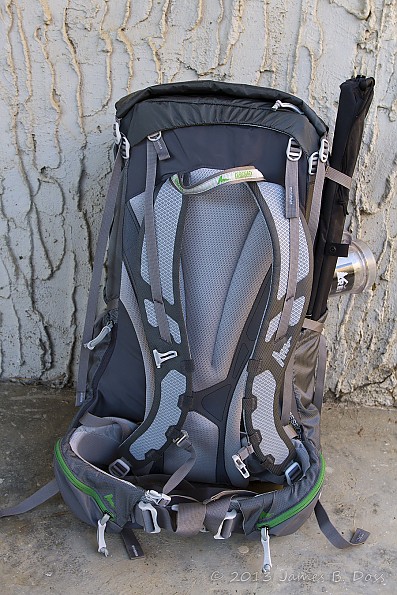 Comfortable, but thinly padded back,
shoulder, and hip belt

Main Features
Getting back to the Trail Smart Packing System, I found the Contour 50's three dedicated packing areas to be well thought out and easy to use. The main compartment, accessed via the top, is the area designed for items you would need around camp, i.e. tent, sleeping bag, cookware, stove, etc. This compartment takes up a little over half of the pack's available space.  It is also accessible by a side zipper running down the left side of the pack for about 16 inches.  It makes getting to items stored in the bottom of the pack much easier.
The zippered front pocket, the dump pocket, and the very nicely designed top pocket are designed for items you'll need access to while on the trail. This is where you'll most likely store your rain jacket or coat, extra layers of clothing, trail food, and the like. I found this worked quite well. I appreciated the mesh divider and small zippered pocket included here.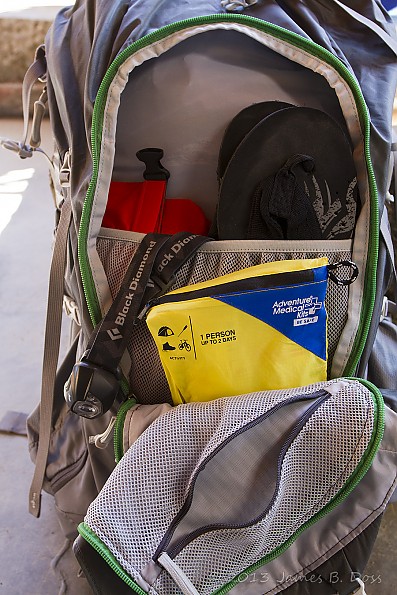 Zippered front pocket for trail-needed gear

The top pouch has water resistant zipper which folds and rolls under, giving it less chance to leak if wet.  The top pocket is also constructed of two layers of material, giving it even more waterproofness.  There is also a zippered compartment under the lid.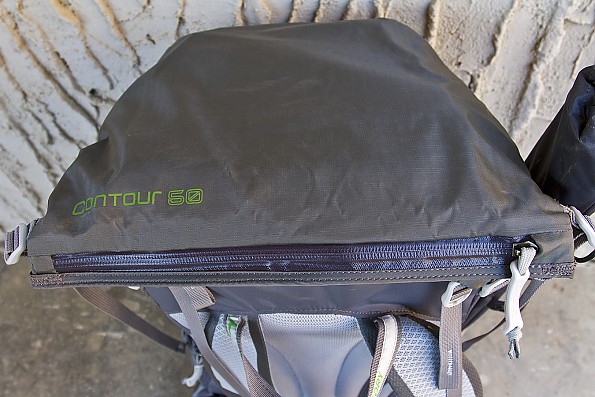 Nicely designed waterproof top storage pocket

The third and final dedicated packing areas of the Contour's Trail Smart Packing System are the side water bottle pouches and the hip belt storage areas.  This is where you will most likely keep a water bottle or long items such as tent poles, and perhaps trail snacks (hip belt pockets).  I found the side water bottle storage areas too tight to get a standard quart-sized water bottle in and out easily, especially when the pack was on and even more so when the pack was stuffed full.  This may not be an issue with a larger capacity version on the Contour, but it is with the Contour 50.  The hip pockets are a tad too small to carry a smart phone, GPS, or point-and-shoot camera.  Their zippers do function well on the pockets, which are best suited to very small items or snacks.
The Contour also has a small, zippered side stash pocket located on the right side, and below the water bottle pocket.  While it's not the easiest thing to access, it's usable and made a great place to store a beanie cap and lightweight gloves.
The Contour's external hydration sleeve is a feature that I find difficult to use, especially when the backpack is full.  Internal contents pushing out on the sleeve make getting a full bladder in and out very hard.  Again, perhaps this is due to the pack's small size and might not be a problem in the Contour 60 or 70.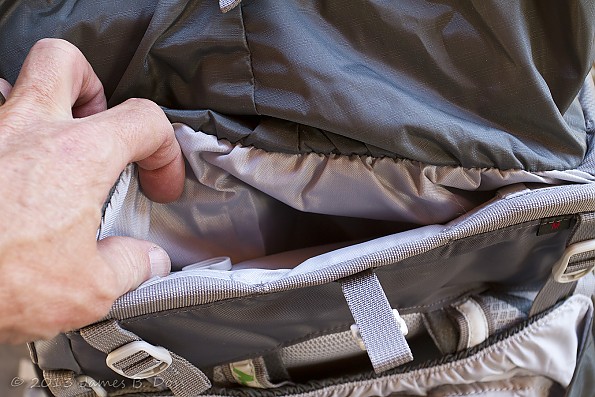 Hydration pocket is hard to access with a full pack

Overall Comfort
I found the Contour 50 to be pretty comfortable when carrying loads up to 35 pounds or so. The padding along the back of the pack isn't overly stuffed, but it does have a nice feel.  It's airy and provides some standoff of the pack from your back. As mentioned, the shoulder straps and hip belt are thinly padded, but do their job with moderate loads.  Each side of the hip belt is independent of the other, allowing for a bit of individual movement – a nice feature.
Usability
Usability is not something I'd normally mention in a backpack review, but I wanted to say that I found the pack a bit overwhelming at first.  The first thing I noticed was the overabundance of straps and connectors. There are multiply sets of tie downs, compression straps, and connectors on this pack.  After getting it loaded, all the straps made sense, but still, there are lots of them. 
Also, the whole premise of this pack, with its three part Trail Smart Packing System may seem geared toward the backpacking neophyte, and perhaps it is, but don't let that deter you from seriously looking at this backpack if you are in the market.
I did find that the Contour 50, due to its smaller size, is best suited to overnight backpacking trips -- perhaps two nights if you are careful how much you pack.  I found that it filled up rapidly.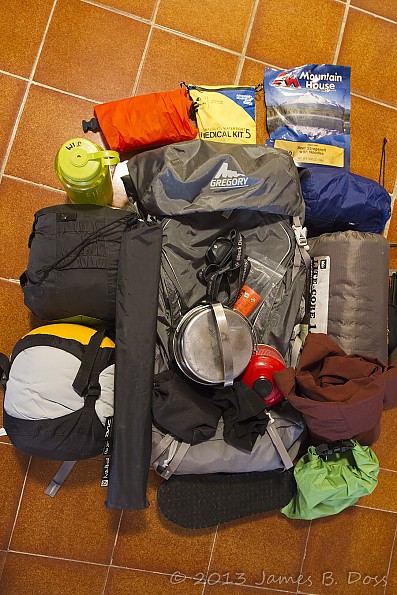 Gear load for weekend hike

Conclusion
The Gregory Contour 50 is a well thought out, well-made, lightweight backpack. It's stylish, has plenty of room for one or two day's gear and food, and is very comfortable with moderate loads. The integrated packing system works well in helping you organize your gear.  The included rainfly is well designed and fits well.  I was not happy with the usability of the external hydration sleeve and the water bottle pockets, but this was by no means a deal killer. 
I'd recommend this pack to beginner and seasoned backpackers, alike.
Source: received for testing via the Trailspace Review Corps (Sample provided by Gregory for testing and review)

You May Like