Gregory Denali 100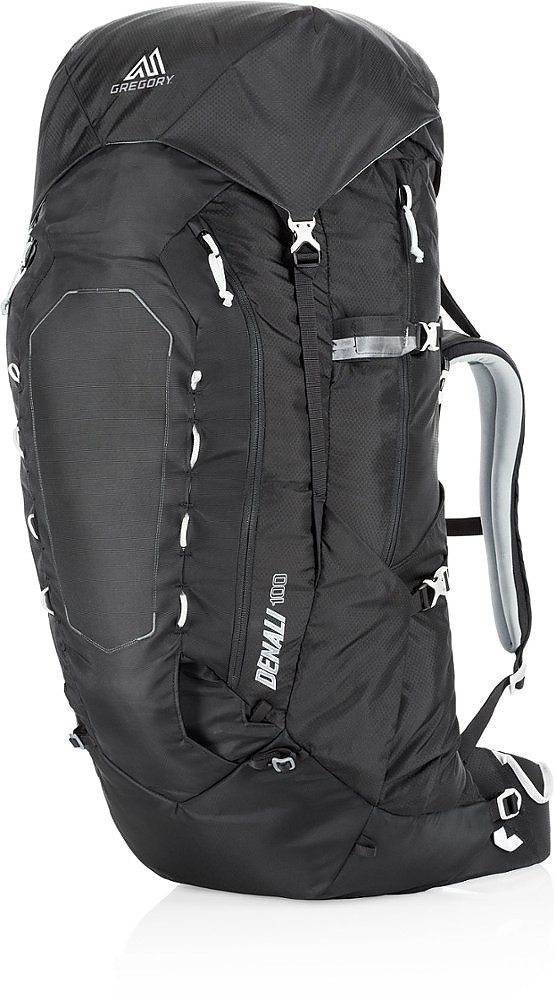 The standard-bearer for long walks and hard climbs gets a worthy redesign. The ability to still carry 70lb-loads while shedding a pound of weight and $100 in price from the old pack is a good start.

Gregory's legendary Autocant harness is as effective as ever, though an adjustable torso would be welcome. That said, this is a good backpack. If you find yourself needing anything more for your big trips, you're probably being picky. Now wanting?
Pros
Harness system makes monster loads feel as close to "comfortable" as they get
Well-engineered design with effective compression and stability even in full "SkiMo" mode
Strippable components allow you to take only what you need
Very efficient organization (read: a few good pockets) keeps your essentials close at hand
Side zip means you don't have to take out your food and clothing to get your dopp kit
You've got to love a white interior for helping you find things in the dark
Cons
Can't fine-tune torso length
Hypalon in all the wrong places
They still can't make the thing waterproof…
Best For: Year-round adventurers wanting a dedicated "winter" pack. Dads who know they'll be carrying the kids' stuff. Military folks who need a big black backpack.
Design: This redesign has been a long time coming, and it may be too late. I'm glad to see a streamlined bottom to the pack; one that helps better distribute the weight on your back, shifting it upward. Modern backpackers probably don't need a sleeping bag compartment anymore, and so it's gone...No external zipper, no internal divider, and no lash straps. The side pockets have been revamped too: big enough to accommodate a wet tent or sleeping pad, though they cinch down around 1L water bottles just as well.
Gregory Denali 100 on the way out the door...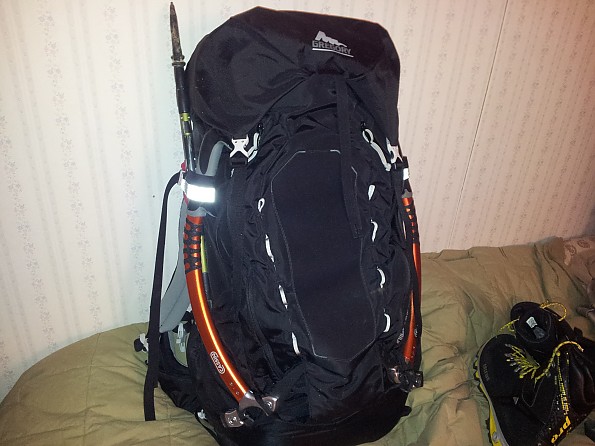 The main fabric used is black 210-denier ripstop nylon, with a white PU coating to aid in finding things inside the pack. This fabric is doubled up on the bottom panel, with a 1/8" layer of closed cell foam sandwiched in there to aid with durability. 2" long webbing pulls on every zipper let you keep your gloves on when digging through the side-zip (thank you!) to confirm that yes, you did forget your goggles again.
The front panel, where one is expected to strap crampons or snowshoes, also uses this padded nylon where one would expect to see Hypalon, as if the contents of the pocket underneath need protection at the expense of the pack itself. The attachment points are well-anchored, however, and there is room to lash crampons, ice tools, and snowshoes simultaneously.
Laminated Nylon front panel...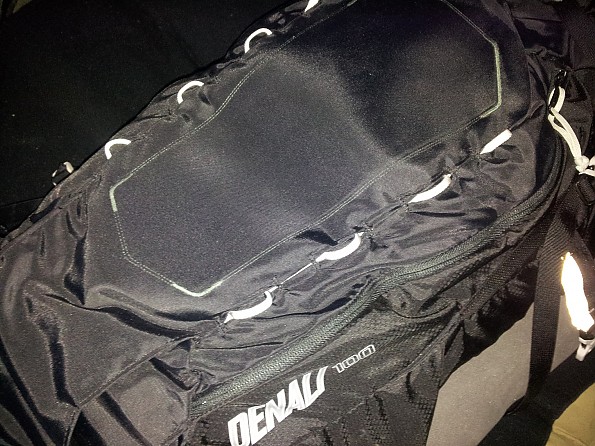 I'm always happy to see load lifters coming right off where the internal stays end. Too many modern packs add useless load lifters as an afterthought. The stays themselves are stiff aluminum integrated directly into the plastic bits that make up the hip belt assembly, providing effective weight transfer at minimum weight.
The hip belt and shoulder straps are very well-contoured, with multi-density foam padding quite similar to memory foam and a soft, stretchy lining. The Denali employs Gregory's latest version of their Autocant harness, which uses rotating anchor points to allow the pack body to move with you rather than against you.
Thing is, you can't adjust the torso length of the Autocant harness (see what I did there…) and so the Denali comes in three torso lengths in two-inch increments. If you happen come in right in the middle, you might be out of luck.
Rotating Autocant Harness means fixed torso lengths...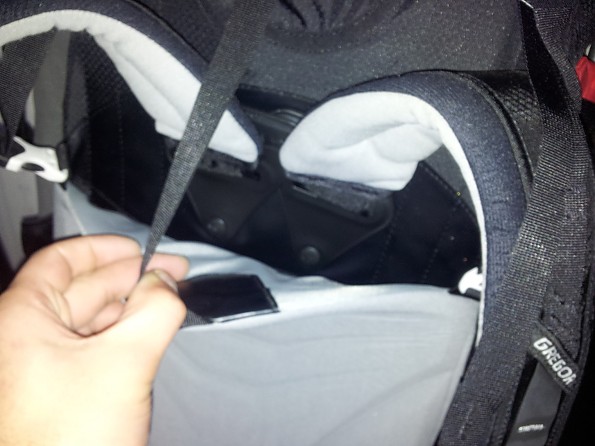 A single hip belt pocket stores your headlamp, a compass, and some GORP, while a webbing loop provides space for your 'draws…because everyone ice climbs with a 100-liter pack. Maybe this is what they need on Mt. Logan; I don't know.
Differential cut on the hip belt pocket...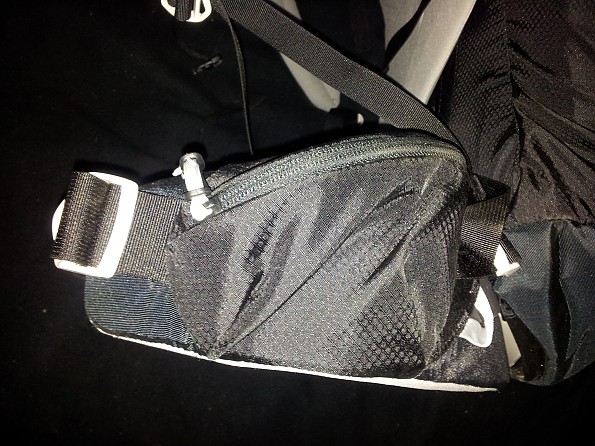 Up front, the removable sternum strap is mounted on a strip of Hypalon (for some reason), and that track, in turn, is bar-tacked every inch or so to the shoulder harness — a design that will keep the track from slipping off of the padding of the harness, as it is wont to do under load. Also included on the harness are keepers to hold your hydration tube in place.
Removable chest strap and elastic tube keeper...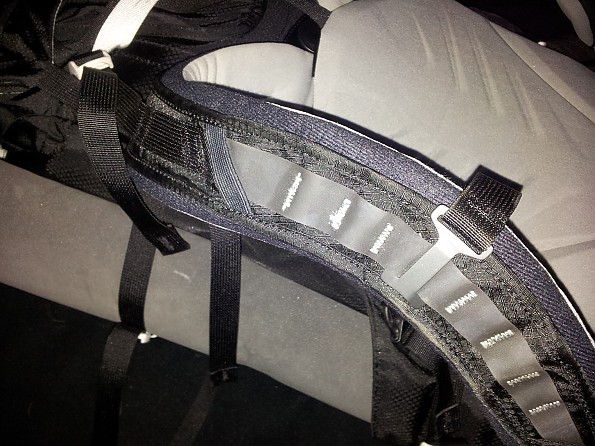 The lumbar pad is pretty neat. It uses a silicone-reinforced fabric that really grips your lower back, in a well-purposed effort to keep the pack from sliding down your hips. Grippy lumbar pads help keep you from having to cinch the hip belt too tightly, hopefully staving off the dreaded "buckle line problems" common on longer trips.
Will hold you tight during long walks...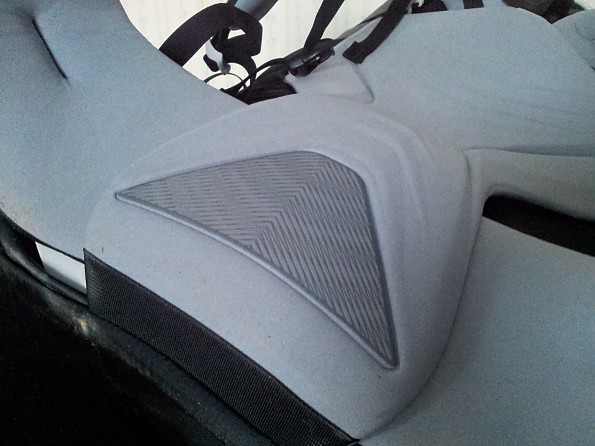 I really like how the pack closes. There's an extension collar and a simple floating lid. The lid does not transform into anything; it does not make coffee for you. It holds the few larger things you want easy access to. It has two divided pockets and it keeps water out of your pack. Awesome.
Performance: "Is it comfortable?" should be the first question everyone asks themselves when finding a new pack. It is a simpler way of asking "Does it fit?" or "Will I like this in 10 years?" You see, in all my time backpacking, I find myself valuing a well-fitting pack almost above all else. That is, a pack that fits me is far more important than a light pack, or a durable pack, or a neat pack.
Gregory has spent most of its effort over the years making extremely comfortable packs, and the Denali 100 is the current acme. It rides like a dream. It's the pack that makes you realize that, all things considered, putting an extra pound or two into a well-engineered frame and suspension is the best way to use that pound or two.
The fabrics are perfect for their intended purpose: burly enough for years of actual use, and light enough to help the Denali 100 save over a pound of weight compared to the outgoing model. The stretchy fabric lining the harness seemed fragile at first, but it has proven itself to be a great choice. I also had reservations about the fabric used on the crampon attachment area—as I'm used to seeing Hypalon there—and I still have them.
The front panel pocket is brilliant in use. Featuring a removable divider, it reminds me of the dual tube pockets the old Dana packs had, but modernized. The pocket is accessed by two vertical zips on either side of the crampon panel, and is both volumous and well-protected. The zippered divider allows lots of options for organization; keeping wet stuff away from dry stuff, or clean stuff away from dirty stuff, is very intuitive with the Denali.
The purposeful pocketry continues with the Denali's lid. One pocket accessible from the top, and one from the bottom, both full-length. Stuff a rainshell, vest, and all the maps you want in there. The floating design adjusts to cinch down even largest loads, which end up around 115 liters with the extension collar bulging.
The strippable components are nice, but most of them are probably unneeded in an expedition pack like this. Few people are scaling mountains without a lid to keep spindrift out of their pack, and no-one is wearing this pack without a hip belt. The removable bivy pad is nice though, as I often like to put a piece of closed-cell foam under my feet during rest stops to insulate them from the ground.
When in full ski mountaineering mode, the Denali 100 does not skip a beat. I'm a splitboarder at times, a XC skier at times, and a snowshoer inbetween; you might be happy to know that the Denali can still hold all the gear you might want to strap onto it, and not sag. I've loaded it with crampons, ice tools, and snowshoes simultaneously without issue.
Cleanup & Maintenance: Spot clean only. Do not put this in a washer or dryer. Use an old toothbrush to take care of problem areas. The lining of the harness and back-panel will pill over time, and you'd do well leaving it alone, unless you have one of those awesome battery-powered fuzz-busters that my mom has…
Dry it outside in the sun for a couple days after long trips, then store it hanging by the haul loop, in a closet. If you feel certain areas of the pack could use reinforcement—as I kinda do—look for a product called Shoe Goo and apply it with a paintbrush in light coats.
Conclusion: Am I supposed to get excited about a white interior at this point? (Shouldn't that be standard on all packs?) Does Gregory expect me to get all jazzed up about a new way to attach my ice tools? (Why fix something that ain't broke?)
Now don't get me wrong. I think the redesign is an improvement over the outgoing pack; I just wonder if the designers should have listened to their beta testers a bit more, or if their betas should have been a bit more vocal with their criticisms.
If Gregory put out a $400 expedition pack out of full spectra—like Kelty did 25 years ago—or one of the cutting-edge, laminated non-woven dyneema fabrics like CiloGear uses, it'd weigh 4lbs, be fully waterproof, and there's no way I couldn't give it five stars. If Gregory can't do it, then who can?
Am I an idiot because I expect such things? Such progress? Yes, the Gregory Denali is still the standard, and maybe that shows just how far the standard has fallen.
Testing Conditions: Hiawatha National Forest, Pictured Rocks National Lakeshore Trail, in Michigan's incomparable Upper Peninsula: Late Fall and Winter temperatures ranging from -20 to 40 degrees Fahrenheit.
About the Author: Vince Contreras has been working as a professional Forester and Ranger for various federal land management agencies since graduating with a Bachelor's Degree in Forestry from Southern Illinois University in 2010. He currently resides in Michigan's Upper Peninsula, a Forester and Wildland Firefighter for the US Forest Service. He enjoys rock climbing, backpacking, and German Idealism. Other hobbies include leatherworking, bushcraft, and really, just creating original things.
Source: received for testing via the Trailspace Review Corps (Sample provided by Gregory for testing and review)

OK pack, but not for the heaviest loads and longer trips due to some weak parts of the carrying system (described below) and too small volume, narrow bottom, and side pockets.

In wintertime when carrying a bigger sleeping bag and generally more equipment this pack will, in my opinion, be too small for more than a couple of days outdoors.
Pros
Comfortable carrying system
Easy to adjust
Fits well
Stable on your back
Cons
Narrow bottom
Narrow side pockets
The volume could have been a little bigger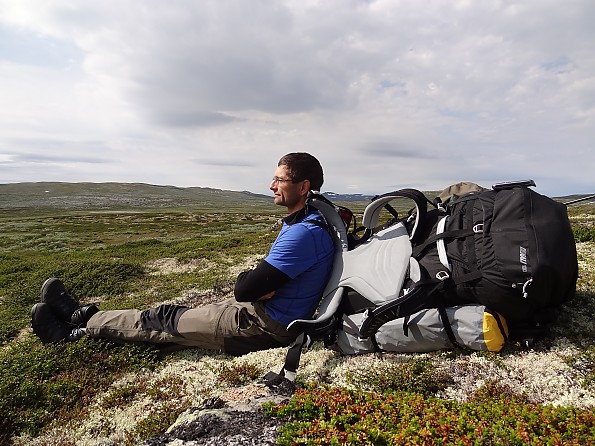 I bought this pack summer 2015. Used it on some weekend trips in forest regions and one 17-day trip tenting in the mountains.
What I don't like is the narrow bottom of the pack. It's impossible to fit a sleeping bag there as you usually do when you pack, and because of this shape the Denali is almost impossible to just put onto the ground without it falling over. You have to lean it against something.
Also the side pockets are too narrow. You can fit a bottle into them at the upper part of the pocket, but they get narrower downwards and in the bottom part you really can't even fit the tent poles if the pack is fully loaded. I don't understand why they made them like this. I find the pockets almost useless because of this design. My bottle fell out several times.
I think the hipbelt could also benefit from a little more padding. It's quite hard, but this will be a matter of personal preference. After my 17-day trip both of the aluminum poles in the carrying system inside the pack had worked their way through the top of the webbing creating a hole in each of the alu-pole-compartments, most certainly this happened because of the load transferred from the hipbelt and the movement in it over time. A single plastic-cap on top of the alu-poles would have solved the problem I guess. The maximum weight carried was about 28 kg's which is well within the weight limit the Denali is supposed to handle.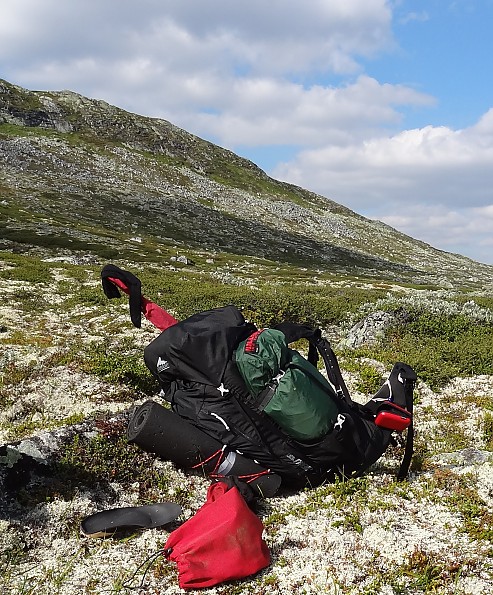 I had the old Denali Pro and I find that model much more comfortable, especially the hipbelt. When you tightened it, it did not slip downwards on your hips, the new one does to some degree. Also the Denali Pro had a bigger volume, I have some problems fitting all my gear for say 14 days in the new one.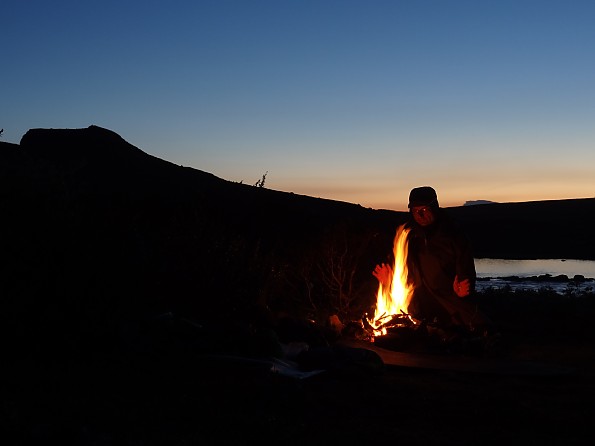 Source: bought it new
Price Paid: 3000 nok (Norwegian kroner)

Your Review
Where to Buy
Help support this site by making your next gear purchase through one of the links above. Click a link, buy what you need, and the seller will contribute a portion of the purchase price to support Trailspace's independent gear reviews.
You May Like
Specs
Price
Current Retail: $399.95-$439.99
Historic Range: $234.95-$439.99

Recently on Trailspace