Gregory Deva 60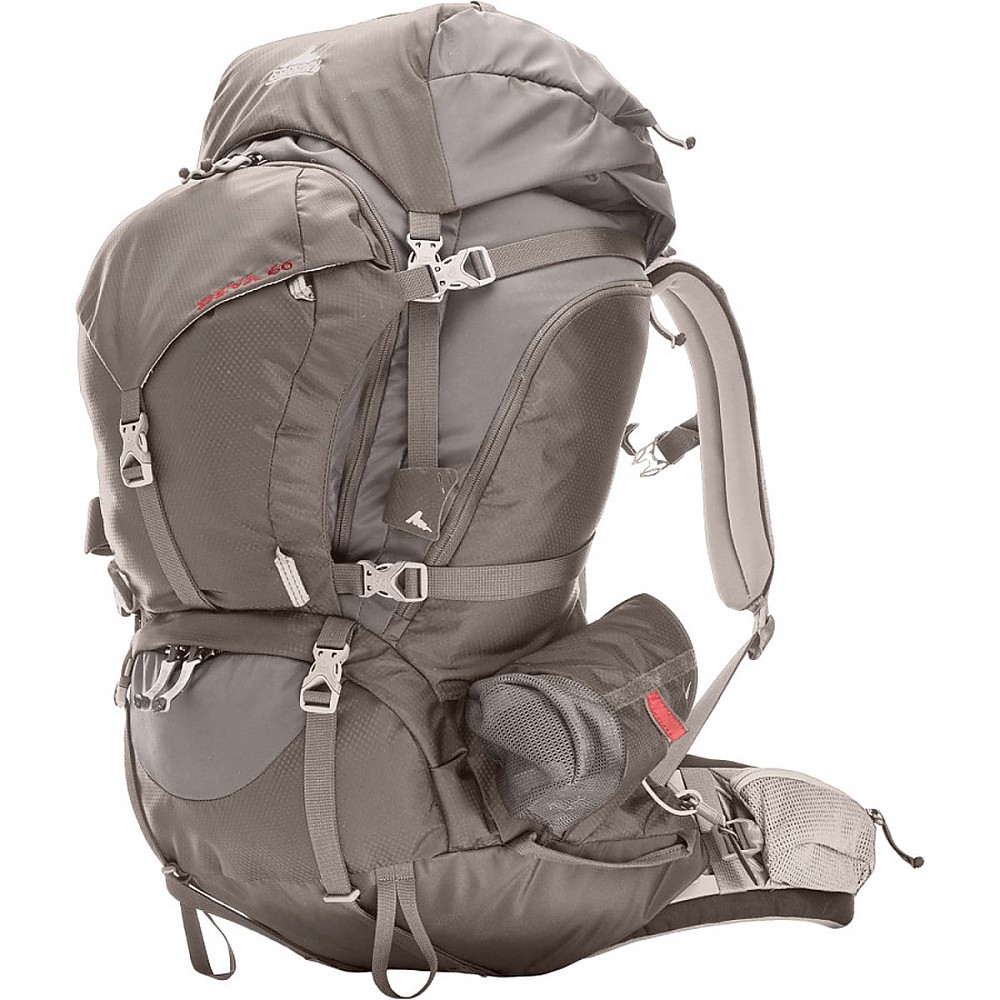 This pack has a good balance of adequate space capabilities for most backpacking trips, while also maintaining a reasonable weight. After three years of travel, I have found it to be durable and to offer great back support.
Pros
Great back support
Comfortable hip straps
Durable
Balanced weight
Good space capabilities
Cons
Cannot be used as a carry-on bag
Not the best choice for round-the-world travel
I have used this backpack extensively through Australia, Indonesia, and Southeast Asia, and it has held up wonderfully. It definitely has enough space for a compact sleeping bag, hydration pack, gear, and a fair amount of clothes and toiletries. The back-support system is wonderful; even after I broke my back in Thailand, I am still able to use this pack.
Source: bought it new

I just bought this backpack today at REI and I'm super pumped to use it this summer on my three month backpacking trip across Europe. It's soooo comfortable!!!
I'm 5'7 and I fit a small. The REI employees were SO helpful; they spent over 20 minutes figuring out exactly which pack was best for me and how to fit each strap correctly. Props to the College Park MD REI~~
Source: bought it new
Price Paid: $270

I bought this pack for an outdoor program and have used it for backpacking (obviously), ski touring, and search and rescue training. Its a fairly comfortable pack, when I originally bought it (feb 2010).
I was extremely pleased with the fit and design, what I didn't do was load it with enough weight. This pack only carries well with 35lbs or less, and I am a lager built person who can take closer to 45 lbs.
I also have had endless difficulty trying to fit things into this pack! if a sleeping bag goes into the bottom (I removed the stupid divider) you have lots of oddly shaped spaces that you need to stuff socks and extra bits of clothing around to fill, and after adding a sleeping pad and minimal personal gear I barely have room for a tent, stove and some food. For the minimum I was required to pack it was always overstuffed, cumbersome, and a fight to get everything packed well into it.
After an entire year I have given up and am going to purchase something with a simpler internal shape, and less pockets that take up the internal space. All of the straps and the hip belt are quite comfortable, but the overall shape and design of the pack itself don't allow for a load to carry well since its wider and fits more at the top and so puts more of the load on your shoulders.
It's not a great pack if you are a professional and need to put all of your gear inside your pack. Otherwise it seems alright for weekend trips. 
Price Paid: $280 ish

Great backpack overall. It is a bit pricey and a little on the heavy side. It is a tight fit for extended backpacking trips (more than a few days), but has a lot of handy pockets.
Overall, very comfortable. I'm glad I chose it!
Design: top and bottom-loading internal
Size: 60L
Max. Load Carried: 35 lb
Height of Owner: 5'10"
Price Paid: $249

I bought this three months ago and love it. I have back problems and love the design of the frame. I find the bottle holster easy to get my water in and out of.
I carry a man's mummy bag because I like the wider hips in them and my sleeping bag fits easily into the sleeping bag compartment. I have plenty of room for a pad that is carried in the pack, clothes, 3 Liters of Naglene water, food, and a tent.
I am 5'6" and weigh 125.
Design: Frontloading
Max. Load Carried: 30
Height of Owner: 5'6
Price Paid: $269

This pack is hardy and comfortable. Had it for 5 years and has held up great for both backpacking and international travel. I bought a small pack then traded out for a medium hip belt to make sure I had enough padding for my hip bones (I'm 5'5" 135 lbs). The salesperson said this was common with this pack.
This pack very comfortably holds 40 lbs although I try to stay below 30 lbs at all times. This pack is a bit heavy at almost 6 lbs but I love all the extra zippers and pockets - it helps keep me organized on long trips. I plan to use this pack for years to come for my heavier loads.
Design: front and top loading internal frame
Size: 3700
Number of Pockets: 3 outside
Max. Load Carried: 40 lbs
Height of Owner: 5' 5"
Price Paid: $215

I love my Deva (purchased in 2008) and am puzzled by the one star reviews below. I use this pack for 2-5 night trips and feels like the Deva fits the bill perfectly. I'm 5'4" and have the small pack.
The main compartment is pretty large and easily fits whatever I throw in it. I don't hike with a bear canister, but I could fit one. With the newer model, the outside compartments still can hold a good deal of gear and are great for keeping the smaller items organized. The pockets on the hip belt come in handy for snacks and sunscreen. The sleeping bag compartment fits my bag without a problem it is a 15 degree MH down bag, while it isn't something that I need it does work.
The bottle holder isn't designed well for holding a bottle, but it works great for holding bear spray, which is something I always carry. The padding on the hips and shoulders is so nice. I never get bruises or raw skin anymore, which is something I always got with my old Gregory Z. The Deva is very well designed and feels solid on my back -- great for tricky trails. Since purchasing, we go backpacking more frequently because I no longer hurt!
Sure the weight is a bit high, but the pack is so comfy I feel like I'm carrying far less weight then when I had my old Gregory Z. I would definitely recommend this pack for people who are looking for overnight to week-long trips. It's not light, but it is my favorite backpack.
Design: top loading, and front panel access internal
Size: 3500
Number of Pockets: 6
Max. Load Carried: 30
Height of Owner: 5'4"
Price Paid: $220

I love this pack! I bought a previous year's model on super sale. The exterior pockets give lots of places to stash things and the head can come off and be used as a fanny pack for quick day hikes. I didn't think backpacking would be a possibility for me until I got this pack as it was lighter and had a much better suspension system and hip belt than my previous pack.
Space is limited as it is designed more for two day trips but I found that my bear canister did just fine hung underneath the sleeping bag compartment and I just bought a larger size pack cover to fit over it and the canister. This pack is more comfortable than other packs I've tried and is capable of hauling significant weight. It has served me well in the Rockies, Berkshires and Adirondacks.
Design: front-loading internal
Size: 60 liters
Number of Pockets: 8 and then two additional large compartments
Max. Load Carried: 35
Height of Owner: 5'6"
Price Paid: $70

Okay, I really don't understand the reviews on here with 1 star...if you're looking for a lightweight but heavy-load carrying backpack then this is ideal.
The hipbelt is super comfy, the ripstop nylon is tough, good amount of pockets and access...I can fit my tent, bag, mat etc in it easily, but if you're looking to carry a fatter load then go for the Petit Dru- Gregory design some of the best packs on the market. It has to be fitted correctly to your back though, so make sure you buy it in-store not off the web!
Design: new design- front/top/side-loading internal
Size: M-63L
Number of Pockets: loads
Max. Load Carried: 23kg
Height of Owner: 1.79m
Price Paid: -tester-

I have the 2005 version of this pack and loved it so much I bought the larger model for my longer hikes. I don't know what these other women are complaining about--this thing is more than comfortable, fully adjustable, tough and can hold more weight than you'd want to carry in it.
It has tons of pockets to keep all the little stuff organized and lots of strap-on areas for poles, snowshoes/boots, anything else you want to carry--important when you're packing alone. It was rated with a Backpacker magazine Editor's Choice award when I bought it, and it has been again here in 2008.
Obviously, Gregory is doing something right with the Deva. Bravo!
Design: Internal frame with top/front/bottom access
Size: 3600 cubic inches
Number of Pockets: 4
Max. Load Carried: 55lbs
Height of Owner: 5'9"

I feel the Deva has gotten a bad rap on here. I bought my pack new in 2005, so I am reviewing an earlier model. It is a very burly pack, mine weighs in at over 5 pounds, which does detract half a star from it's overall rating. That is my only complaint, however.
For me (5'2", small frame) this pack has a wonderful fit, and I appreciate the extra comfy padding in the hip belt, straps, and back.
I thru-hiked the entire AT in '06 with my Deva. Yes, it is a heavy pack, and I did cut off a few of the (to me) extraneous bells, whistles, and loops. But in the heat waves of summer I experienced very little chafing, as opposed to the less padded packs, and towards the end of the Trail, when even the Ospreys were breaking, the Deva kept going.
I pack light, and had no problem fitting everything I need inside the 60, including hammock, 15 degree bag, sleeping pad, stove, warm clothes, the works. The bottom of the pack is a very rugged, near water-proof material, which really helps keep your gear dry.
I am looking to finally replace it (I don't think it will ever wear out!) with a less burly bag, because I don't need the capability to carry such a heavy load, and I am willing to sacrifice the convenience of less pockets and fewer access points (top, bottom, and through the front, brilliant!) for less weight.
But if you appreciate comfort and convenience, I would recommend going to a store and trying on the pack, and seeing if it works for you. (I believe I went with an extra small hip belt, and a small frame, which was the perfect combination for me.) Good hiking!
Design: Internal frame, front, bottom and top loading.
Size: 60
Number of Pockets: 4+main compartment (remove sleeping bag divider)
Max. Load Carried: 30 pounds
Height of Owner: 5'2"
Price Paid: $200+

Just wanted to echo the other reviewer on this one. I tested six packs including the Deva when I bought my Gregory Reality (with women's harness added) 3 years ago, after using a Kelty external frame for 20 years. I took each pack home and loaded it. The Deva was a joke. I concluded that the only way a woman could hike in the backcountry with the Deva was if she took someone else who had a REAL pack and who would carry all the gear. The Deva external pockets appear designed for a lipstick and a mirror. Gees, guys, get serious!
Design: Mostly top-loading internal
Size: tested small
Number of Pockets: too many
Max. Load Carried: not enough
Height of Owner: 5' 3"
Price Paid: did not purchase

I bought the 2005 Deva 60 at REI Reno a couple of years ago. BOY, HAVE I COME TO REGRET IT! The pack really stinks.
I am short, so got a women's small, and the main pack-sack is just barely big enough for my sleeping bag and a bear canister. (I hike in California's Sierra Nevada, so a bear-resistant food container of some kind is a must.)
For so little space, you'd expect light weight, but this dog of a backpack is very heavy for its size. The water-bottle holster is a terrible idea! It fits only a quart/liter bottle, it's black, and so the water not only puts an extra 2-lb. drag on one shoulder (ow!) but gets fiery hot (so I wrap my bottle in aluminum foil).
I jam small items of clothing in around the sleeping bag and the bear can to fill up the rest of the packbag. When the packbag is thus filled, the one dinky external mesh pocket is almost useless because the packbag has expanded into its measly space.
I have to carry so much stuff strapped ont0 the outside that the pack seriously pulls backward on my shoulders, causing more pain. The shoulder straps' padding is too hard and too thin for such a rotten design.
There are no lashing points on the top compartment, so I can distribute some of the external weight in a manner more consistent with my center of gravity with the pack on. OW! OW! OW!
The pack has one of those dumb compartments for a sleeping bag, as if a decent sleeping bag were small enough to be stuffed into it! Not to mention the extra weight from the internal separator from the main compartment (which I took out) and the extra zipper (which I'm stuck with).
There seem to be a number of weight-adding bells and whistles for a hydration system, which I don't use. I don't understand why a pack would have all that cr*p for a hydration system AND that brainless bottle holster!
But here's what's really brainless: me. I actually paid good money for this piece of junk. (The salesman was so nice, took so much time helping me fit it....Dumb, dumb, dumb.)
If I can sell it for $25 instead of the $200+ I think I paid for it, I'll be a happier camper. And I'll use the money for a GoLite pack, something with a very clean, simple, symmetrical, and spacious design.
It's a lesson I've learned the hard way in tents, too: Avoid bells and whistles. Avoid weird shapes and asymmetrical designs. They just mean pain and problems down the road.
Design: Top-loading internal
Size: (Don't know -- Women's small)
Number of Pockets: 1
Max. Load Carried: 40 lbs.?
Height of Owner: 5'1.5"
Price Paid: Can't recall -- $200+?

I own a previous model of this pack, with the rubberized bottom, in a sapphire blue, size small, with a medium hipbelt.
This was my first pack in many years, replacing an old external framed pack I'd had forever. I absolutely love this pack for all its features, as well as the comfort carrying heavier loads.
I hiked the Wonderland Trail with it, and found it to carry well, as well as be comfortable on the long haul. I love the fact that it moves with me, or can be cinched down tight when you don't want it to move around so much.
The lid comes off to make a fanny/day pack, although I've never used it that way. It packs well, and is my go-to "load hauler" when I need something to carry a heavier load- like in colder seasons.
Although a bear can WILL fit inside this pack, I fasten it (when needed) in between the top lid and main body of the pack, where it rides stably and comfortably. It would also easily ride at the bottom of the pack, if you aren't carrying a sleeping pad there already.
My only "complaints" about this pack are the weight- at over 5 lbs, and the fact that it doesn't have hipbelt pockets, although a side trip to Granite Gear fixed that problem easily.
I have since lightened up considerably from those days, and now only use this pack when I need to carry a winter load. But, I wouldn't give it up for anything!! It's definitely not a "thru-hikers" pack, but it does the job it's designed to do, comfortably and with a bit of style.
Design: Top loading, internal frame
Size: 60 litre
Number of Pockets: 5
Max. Load Carried: 38 lbs
Height of Owner: 5'6"
Price Paid: $250

Your Review
Where to Buy
Help support this site by making your next gear purchase through one of the links above. Click a link, buy what you need, and the seller will contribute a portion of the purchase price to support Trailspace's independent gear reviews.
You May Like
Specs
x-small
small
medium
Price
Current Retail: $179.97-$329.95
Historic Range: $53.93-$329.95
Reviewers Paid: $70.00-$280.00

Weight
5 lb 5 oz
5 lb 8 oz
5 lb 11 oz
Recently on Trailspace