Gregory G Pack

The G Pack has been discontinued. If you're looking for something new, check out the best overnight packs for 2021.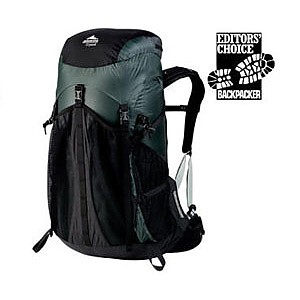 Specs
small
medium
large
Price
Historic Range: $74.47-$149.00
Reviewers Paid: $65.00-$150.00

Weight
2 lb 9 oz / 1162 g
2 lb 12 oz / 1247 g
2 lb 14 oz / 1304 g
Capacity
2500 cu in / 43 L
2700 cu in / 48 L
2950 cu in / 51 L
Reviews
13

reviews

5-star:

6

4-star:

3

3-star:

1

2-star:

3

1-star:

0
This pack has witnessed many thousand of miles of wilderness backpacking. If you love compartments, though this one isn't for you. It is light and fits everything I need for 10-12 days. Great choice, my go-to even though I buy new packs as the years go on.
Pros
Lightweight!!
Big—Holds everything
Longevity—I have had it over 10 years and still love it. It fits great and is super adjustable. Fits a bear canister right in, no problem with everything else. I've held 10+ days of food, tent, pad, bag, 2.5 liters of water, pump, first aid kit and more. I can even tuck my poles in it if I don't need them.
Highly recommend. 
Source: bought it used
Price Paid: Unsure

I used this pack for day hikes in Utah canyons. After a couple of trips, I had holes worn in the fabric where it had scraped against the sandstone. This pack might be useful for someone who never gets off the trail, but the unreinforced fabric means that you need to be careful with it.
Pros
Lightweight
Holds a sufficient amount of gear
Cons
Fabric does not stand up to hiking off trail
The pack fit fine and it is the best lightweight daypack I have used. The durability of the pack is the issue. In only a couple of trips to Utah, there were holes worn through the fabric so that I was dropping gear on the trail. The designer should have reinforced the bottom of the pack with more durable fabric.
Repairing the pack now, what with the shipping to Gregory and the repair, will cost nearly as much as the pack originally cost.
Source: received it as a personal gift

I have had this backpack since 2003 and decided now to write a review at the sad thought of finally getting a replacement.
It has traveled with me for almost 10 years and has seen much of the world. It's been through desert, mountain and 1-2 week trips, been dragged about, thrown around, etc... and still it has survived.
After all this time I've only had to patch up a small tear. The best thing about it is that for such a lightweight bag it sure can take a lot. and I'm an itty bitty thing, I can't carry heavy, so thank you Gregory this has been the best.
Now where to find another amazing lightweight and waterproof bag. :-( only time will tell.
Price Paid: $110

This pack has become my primary 1-3 day hike, during the summer months. Very comfortable up to 25 lbs. The Si nylon more durable than anticipated. Has held up very nice during many trips through slot canyon hiking.
At this point I am rating the G pack as the best lightweight pack I have owned.
Design: G Pack
Size: Large
Number of Pockets: 1 large
Max. Load Carried: 25 lbs
Height of Owner: 5 11"
Price Paid: $65

I THRU-HIKED the 2,800 mile Pacific Crest Trail with this pack and have taken it since then on MANY Sierra adventures.
The pack is amazing and barely has a few scratches and a minor broken clip. This pack is the best light-weight pack on the market in my opinion. Cut off all the extra straps that don't do anything and you have the lightest, most durable pack on the market...have fun...go..now
Height of Owner: 6'
Price Paid: ?

The g-pack has done well for me. I typically run 25-30 lbs in it and it carries real well. It's perfect for light overnight/weekend trips. The outside mesh is nice for clothing that you want to put on or off quickly or rain covers/jacket that you may need to dry.
Don't expect a rugged pack that you can throw around (like my Osprey Aether 70), but in return you get a pack that is 2+ pounds lighter and should serve you well as long as you're not being cruel to it. Overall this is a nice pack and I recommend it for lightweight packing.
Size: 51L (large)
Number of Pockets: 1 main, lid pocket, outer mesh
Max. Load Carried: 30lbs
Height of Owner: 6'1"

I had high hopes for this pack on 3-4 day trips. I lifted it up by the shoulder strap with approximately 20 lbs. — it tore! Gregory claims you should never lift a backpack in this manner. My fault. Give me a break. It's crap. Probably from China. You can do better.
Design: top- loader
Size: lg.
Number of Pockets: 2
Max. Load Carried: 20
Height of Owner: 5'9"
Price Paid: $110

I love my Gregory G-pack. It's only for the ultra-light hikers, so keep it under 25 lbs, or I hear the pack doesn't hold up well.
It's got a water reservoir pocket, so you can stick your CamelBak reservoir in there and keep hydrated while you hike (I used this for a multi-week trip to Wales. Worked great!).
Mine has been very durable, though I haven't been purposefully scraping over rocks or anything.
I only wish that it had a front-access pocket, but other than that this is a fantastic pack.
Design: Top-loading internal frame
Size: 2500 cu. in., size small
Number of Pockets: 2 + main compartment
Max. Load Carried: 25 lbs
Height of Owner: 5'9"
Price Paid: $139

Extremely comfortable lightweight pack that seems to get mixed reviews. Just realize that it's designed to carry about 20-25 lbs.
If you overpack (above 25 lbs), I rate this pack 4 stars because the hip belt seems to reach its limit around 30 lbs, and the seams start visibly stretching when overstuffed. However, I recommend this to any lightweight hiker. If you can keep your load under 25 lbs, this pack is a definite 5 star pack and it's worth trying on.
Design: top loading internal
Size: 2950 ci
Number of Pockets: 3
Max. Load Carried: 35 lbs
Height of Owner: 6'1"
Price Paid: $139

Used this pack once, it fell apart. I'm still waiting to see what Gregory does, but three days into a five-day trip in the High Sierra the framesheet had abraded a hole in the bottom. The stay actually portruded out the bottom of the pack. The frame sheet appeared to be in upside down so it may be a fluke defect but overall the pack was fairly shreded by the end of the trip. The fabric is too light weight. The pack did ride well at first though.
Design: top load
Size: 3000 cuin
Number of Pockets: 4
Max. Load Carried: 35lbs
Height of Owner: 6 feet
Price Paid: $149 US

This is a review of many packs. Ultimately I did not choose the Gregory G Pack.
I was taking a 17-day trip to Europe and my only luggage was one backpack. I compared the following backpacks:
'06 REI UL30,
'06 REI Catalyst 35L,
'06 REI UL45,
'05 Kelty Redwing 3100,
'06 Gregory Z Pack,
'06 Gregory G Pack,
'06 Osprey Atmos 50,
'06 Osprey Atmos 35
Testing:
First off I recommend REI for backpacks. They have a very liberal return policy which allows you test at home and then return. Also very knowledgeable
and helpful staff.
Some of these (REI UL30, REI UL45, REI Catalyst 35L, Gregory Z-Pack and Kelty Redwing 3100) I purchased and tested at home, them later returned. For these I packed exactly what I was bringing with me to Europe. Total weight of pack was 23-25 lbs., then later returned. I also did in-store testing on all of them by packing weight sacks equaivalent to 20-25 lbs and then walking around the REI store for 15 mins.
This was an April trip so I needed some mild to chilly weather clothes. For reference as to how much the packs can hold, this is what I packed in each of the bags I tested at home and eventually what I brought to europe on my trip:
1 pair jeans
1 pair lightweight long pants
6 pairs boxers
1 short-sleeved t-shirt
2 long-sleeved t-shirts
1 long-sleeve Columbia fleece
1 tolietry kit
2 paperbacks
2 small top 10 travel books (equal to 1 paperback together).
2 undershirts
6 pairs socks
1 pair gym shorts
1 long sleeved button down shirt
1 sweater
1 folded up duffel bag to use for return trip for souvenirs
1 outlet adapter
1 ipod power supply
1 cell phone power supply
1 Marmot Precip Jacket (sometimes I was wearing this)
I first wanted to see if everything would fit and then I put the pack on for about 15-20 mins. I also wanted to get a pack that was small enough to carry onto a plane. For sizing note that I'm 6'3" 190 and always tested the large size which hold a bit more than the smalls and mediums. Also note that I bought four of the REI stuff sacks and put clothes in those. They worked great for easier packing.
Backpacks Tested:
'06 REI UL30 - $85
Tested in store and at home.
Very light. Not much in the way of outer pockets. I could just barely get everything into this. That's with really squeezing and putting most books in outside pockets.
I really liked the skinny/tall feel of the pack. The support system and padding on the shoulder straps was not as full/quality as the osprey, gregory or kelty. But good enough for my travel needs and comfortable. Though maybe not if you were doing an all day hike. If it was a little bigger or if I was bringing a little less it would have been the winner.

'06 Catalyst 35L - $90
Tested in store and at home.
Light. But not as light as UL30 or UL45. And no outside pockets at all.
This fit everything. Nearly equivalent space as REI UL45. The Support system and straps a touch better than the UL30, UL45. Also has the skinny/tall feel like the REI UL packs, which I felt was more comfortable and makes squeezing into airplane and train luggage compartment much easier. In the end, the lack of outside pockets and it being a touch heavier than UL45 was the reason it wasn't the winnder.
'06 Gregory Z-Pack - $190
Tested in store and at home.
This was a grade up in size and quality from the others. Very light. Lots of outer pockets with a big outside net pocket. I easily got everything into this with plenty of room to spare. I could fit 1.33 times my load.
Seemed to be very high quality. The support system and shoulder straps were a step up from the REIs. But it had a ton of straps. Straps everywhere. The staps were really a nuisance. I liked it and was very comfortable. But it was more than I wanted to pay and was also concerned it was to big to carry on a plane.
'06 Gregory G-Pack - $150
Tested in store.
I really liked the outside big net pocket. And like the Z-pack was of high quality. It didn't seem to fit as much stuff as the REI Catalyst 35L and maybe just as much or a little less than the REI UL30. Also seemed to be a little small for me. It rode real high on my back and didn't rest on my hips. The large of this seemed to fit like a medium of other packs.
'06 Osprey Atmos 50 - $200
Just looked at in store. Didn't put on and test. Looked great. REI didn't have a large on the floor. The REI staff were big on this model and a couple of them said they had bought one for themselves. But I was 1.5 weeks a way from my trip and couldn't take a chance on it not being shipped in time. The Ospreys were my favorite as far as style goes.

'06 Osprey Atmos 35 - $160
Tested in store. Had a fantastic support system. In a class by itself for the support system. It was the first one I tested in the store so I was just getting
started in getting the feel of the packs. Didn't test at home with my exact stuff. But based on the in-store testing it seemed to hold less than other bags of the same listed size. I say this based on how many of those 'weight' sacks that the REI staff loads in the pack for you. You then go walk around the store for 15 minutes.
The REI UL30 and REI Catalyst 35L each fit more stuff than this bag. This bag would not have been big enough for me.

'05 Kelty Redwing 3100 - $70 (on sale on REI.Outlet, normally $110)
Tested at home. This thing fit a ton. It's got a different configuration than the other packs. This one is short and wide. The REIs were long and skinny.
The Osprey and Geregory's were in between. It easily fit in everything. Fit as much as the Gregory Z-Pack, maybe more. Had good/enough outer pockets for my liking.
At first, I though it was great. Had a comfortable shoulder straps and good support system. After a while though it seemed a little bit heavier than it should have. Maybe it was because all weight was outward, because of the short/wide style. I was also concerned that it was going to be too wide to fit into the overhead compartment on a plane or at least too big to pass the size test to get it onto the plane. I didn't want to take that chance. Though the REI.Outlet price was a great deal.
'06 REI UL45 - $100 - WINNER
This is the one that I didn't return.
Tested in store, at home and on a 17-day, 3-country, 4-hotel, 7-train and 4-plane Europe trip.
Very light. Very durable. Very portable. Very comfortable. Not much in the way of outer pockets. The lack of outer pockets is its biggest fault. It fit everything listed above. But without much room to spare. Though I could have squeezed in a few more t-shirts and didn't fully utilize the top pocket. Like the other REI packs I tested it has more of a tall/skinny style. That fit better for me and also seemed to carry the weight easier. It rested on my hips correctly. Not much in the way of bells and whistles like the Osprey and Gregory's. Only one outside packing strap that locked the cover to the top loading opening to the main body. But that's all I needed to get it tight and squeezed in. I thought this was a pro not a con. Whereas the Gregory's had straps everywhere. The UL45 also has an internal strap to compress the stuff in the pack. It's also on the UL30. Not sure if that made much of a difference, maybe a little.
This pack and the UL30 had the ActivMotion support sytem which means the shoulder straps on each side and the back suspension are one piece that moves together. I actually didn't think this was advantage for me. It actually seemed to make the pack more likely to be crooked on my back than the other packs. But not a big deal. And REI totes it as an advantage so maybe I was doing something wrong.
As I said above the REI packs seemed to hold more stuff than other packs with the same listed capacity. This was a big advantage. More space for your money.
Keep in mind that I generally did not have the pack on my back for more than 1hr at a time. Usually just from train station to hotel. Or walking between terminals in the airport. But during those times it was very comfortable, you forget it's on your back. Also very protable in terms of storing it in airplace overhead compartments and train luggage racks. I never had a problem. It fit with plenty of room to spare.
This would be the perfect pack for me if (in order of importance)...
1 it had an outside back pocket/net like the Gregory packs. and/or a little bigger outside packs
2 it had a water bottle holder pocket or any kind of pocket on the hipbelt
3 the support system was a little closer to the Osprey Atmos packs.
I highly recommended the REI UL 45. This pack has worked out great for me. I plan to use it on other trips and on weekend camping trips.

Height of Owner: 6' 3'
Price Paid: $150

Version reviewed: '05 Model
The new 05/06 version seems significantly more durable than previous years' models (identified by the blue colored G-35 fabric) with the new G-70 fabric. Pre-2005 models drew a lot of criticism for being somewhat fragile. I wouldn't make a habit of scraping this pack against rocks or sliding through slot canyons, but for normal "trail" use, mine has held up just fine. The suspension is pretty maxed at 30 lbs, so heed the design features (and mfg guidelines) and keep it at 25 lbs or less and it'll work fine.
Design: Top Loader
Size: Large / 2950 Cubic Inches
Number of Pockets: 1 Main Pocket / 3 Outer Mesh Pockets
Max. Load Carried: 31 lbs
Height of Owner: 5'10"
Price Paid: $109

Version reviewed: ultralight
This is my first ultralight backpack as I have just recently reduced my total pack volume to where my gear can fit in a much smaller space. I would not suggest this pack for first time backpacking as it's probably not durable enough for a beginner's abuse nor big enough to carry the clunky gear a new packer is likely to be using. My pack without food, water and clothes weighs less than 18 lbs. I say this not because this is an incredible accomplishment, but because if your stuff isn't that light or lighter, it probably won't all fit and you'll need a bigger pack.
I purchased the Gregory over the similar Go-Lite models as I was fearful that the lighter/thinner GoLite straps and hip pad/belt would be less comfortable and that I would not have enough volume. The penalty for my choice is greater pack weight as well as a higher purchase price. In practical application, hiking with a 25 lbs pack is sufficiently comfortable that I did not need to wear the hip belt. Having never tried to pack the same gear into a GoLite, I can make no assumptions about actual volume or the comfort of the GoLite's straps. Wish I could try everything.
The pack's interior was sufficient to carry my gear and food for 3 days, but my cold weather gear; shell, vest, jacket and chaps were relegated to the very generous outer mesh pocket along with water bottle. The pack looked somewhat ungainly packed this way, but I'm going light for comfort, not fashion. (okay, fashion, too.) The mesh pocket is somewhat elastic and could carry the load without additional straps, but there are three straps that can be loosened to carry my bulgy load and more.
Inside I was able to pack a down bag in a compression sack, full size ultralight Therm-a-Rest self-inflating pad, MSR Zoid 1 tent, 2 liter pot with Safesport alcohol stove, bowls and cup, spare clothes and three days worth of food.
In the top zipper pocket on the flap was a poncho, clock, first aid stuff, toilet paper, headlight, reading light and paperback book. The top pocket is held on by 4 straps and can be adjusted to stay centered on the top of the pack whether it is fully loaded or only partially so.
The fit and finish of the bag is excellent. I did not see any loose threads or raw seams. The silnylon feels fragile to the touch but was quite durable though I did take greater care than I would have with a Cordura pack. I do not know if the pack is sufficiently waterproof to go without a pack cover. We were in rain throughout the first day on the trail, but the pack was covered with a pack cover as well as some of my poncho. I wouldn't expect it to be waterproof without applying seam sealer to all the seams. Stuff in the mesh pocket would get wet, but I was wearing all the items that would go in there the next warm day.
Design: Ultralight top loading single compartment pack
Size: 3,300 weight 2 lbs 12 oz
Number of Pockets: 2
Max. Load Carried: 25 lbs
Height of Owner: 5' 4"
Price Paid: $150

You May Like
Recently on Trailspace