Gregory Iso

The Iso has been discontinued. If you're looking for something new, check out the best daypacks for 2023.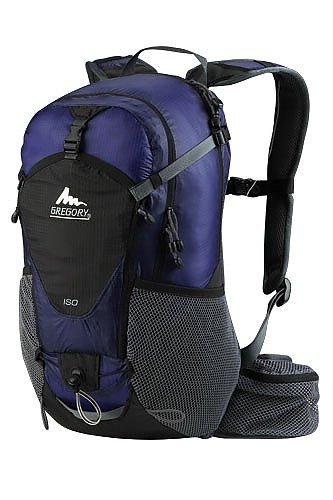 This is a very well-designed and solid day pack! The folks at Gregory included all the bells and whistles on the Iso found on most packs twice its weight.
I've found the 1200 cubic inch capacity of the Iso is perfect for all my gear on a day hike. I can easily fit a 2 liter bladder, rain shell, heavy fleece, lunch, headlamp knife, first-aid kit, compass, and cell phone. I still haven't filled it to capacity yet!
The Iso carries like a dream--it's super lightweight (1.5 pounds) and you barely know it's there. It has two separate zippered compartments. The larger compartment has a key clip and also has a sleeve for a hydration bladder. It also has a nifty zippered access on the backpanel so you can refill the bladder WITHOUT taking it out of the pack. The smaller zippered compartment has three separate sleeves for cell phone, compass, etc. Very smart design!
There is also a small, zippered shove-it panel on the back. Gregory suggests this be used to hold a helmet. I use it to store a wet rain shell.
The pack has two zippered hip-belt pockets, big enough for an energy bar or MP3 player. I store my knife and moleskins in one of them.
There are also two elastic water bottle pouches. These could be a tad deeper, but they're conveniently located and can hold a lot of stuff.
This pack carries like a dream. A foam backpanel is very comfortable--shoulder straps are liberally padded and breathe extremely well. The hipbelt is also well-designed. This pack really 'hugs' your body!
I haven't owned my Iso long enough to comment on it's durability. It is made of a very thin silnylon and probably shouldn't be dragged through slot canyons or razor-sharp bushes or anything. This super thin material is why this pack is so darn lightweight! Gregory has a heavier nylon material on the bottom and other high-stress points. I think it will be just fine in the long run, if taken care of.
Overall, I would highly suggest the Iso to anyone who carries between 8 and 15 pounds and is looking for a very comfortable and functional day pack. Another thing, this pack looks really cool! I've got it in red and simply love it!
Design: panel-loading day pack
Size: 1200 cubic inches
Max. Load Carried: 8 pounds
Height of Owner: 5' 11''
Price Paid: $69

It's a great pack for women and children.
However, the torso length is about 4 inches too short for adult males. I am on the upper medium or lower large size.
So the hip belt for me goes around my belly.
Everything else is great.
The pockets on the hip belt is perfect for GPS, camera and cell phones.
I love stretchable mesh pockets on backpacks.
I would buy one more if it came in a adult male size and is the main compartment was about a inch or more deeper. As of now I am packing it almost to the point where the zipper is about to burst. The 4 additional inches in length and 1 inch deeper should just be sufficient for day hiking or one night ultralight backpacking. The size of water bottles/pots and stuff sacks require the pack to be just a little deeper.
On hikes I carry:
A poncho
A matt
A stove/pot
A nalgene 1 liter bottle
Some food
and in the winter a down jacket
I also carry my cell phone, gps (on new trails) and camera.
Height of Owner: 5'10"
Price Paid: $98

A great lightweight, roomy, and comfortable daypack, with just one caveat.
The Iso is big enough to easily hold a whole day's gear, including a few layers, your lunch, first aid kit, etc. Contents are easily cinched down using the well-placed compression straps, and the pack is so well balanced that it's easy to forget it's even on your back. The waistbelt is particularly well designed, with large, handy zipped pockets big enough to hold a digital camera and an energy bar. Why can't other daypack makers think of that?
Now, the caveat: there is no anchor point or hook in the hydration port on which to hang your hydration bladder. This doesn't sound like a huge problem, but when I am drinking and the bladder empties, it tends to bunch up at the bottom of the sleeve. It can get annoying. It might be easily fixed by taking the pack to a shoe repairer and having them sew in a small clip or something like that. Again, nothing major, but when you're paying a hundred bucks for a pack...?
Design: Lightweight hydration daypack
Size: 1,800 cubic inches
Max. Load Carried: 6-7 lbs
Height of Owner: 5'7"
Price Paid: $95

I've had this pack for over almost 2 years and it's a great small pack. It holds the H2O bladder really well and has good pockets. The thing I don't like is when you have the water bladder in the bag, it's hard to get all my gear that is necessary when backpacking into the pack. If I'm carrying any larger outershells then I find it really hard to strap them to the pack and be stable at the same time.
Also, the gullwing pockets are pretty much useless since they sit farther back on my hips. It would also help if there was a strap to put around the water bottles to hold them in when you bend over.
Overall, its a good pack. I can get my food and supplies into the pack with some extra gloves or a hat and maybe a shirt. But it doesn't have the capability of holding larger clothing articles.
Design: top loading
Number of Pockets: 2
Max. Load Carried: 12-15
Height of Owner: 6'0"
Price Paid: $79

Among the best and lightest packs I have ever owned. 20 scrambles so far this season.
Lightweight and mostly durable; mine now has a tear in one of the mesh belt pockets.
The criticism regarding an empty water bladder is legitimate; however the complaint regarding being unable to fit all your stuff in there is not.
There are two solutions to that issue:
1. Pack less stuff
2. Buy a bigger bag
Price Paid: $100

Great daypack for carrying gear into possible storms in the mountains, yet super lightweight. I was able to load shell, insulation, and an extra baselayer, plus other gear with room to spare (plus hydration). Came in handy when the thunderstorms raced in. A slight minus is a lot of different straps to futz with but only a minor problem.
Design: rucksack with multiple front loading panels
Size: 1200 cu in
Number of Pockets: 7
Max. Load Carried: 6 lbs
Height of Owner: 6 ft
Price Paid: $95

Your Review
You May Like
Specs
Price
Historic Range: $59.40-$99.00
Reviewers Paid: $69.00-$100.00

Weight
1 lb 10 oz / 740 g