Gregory Jade 40

Top 25 in women's Overnight Packs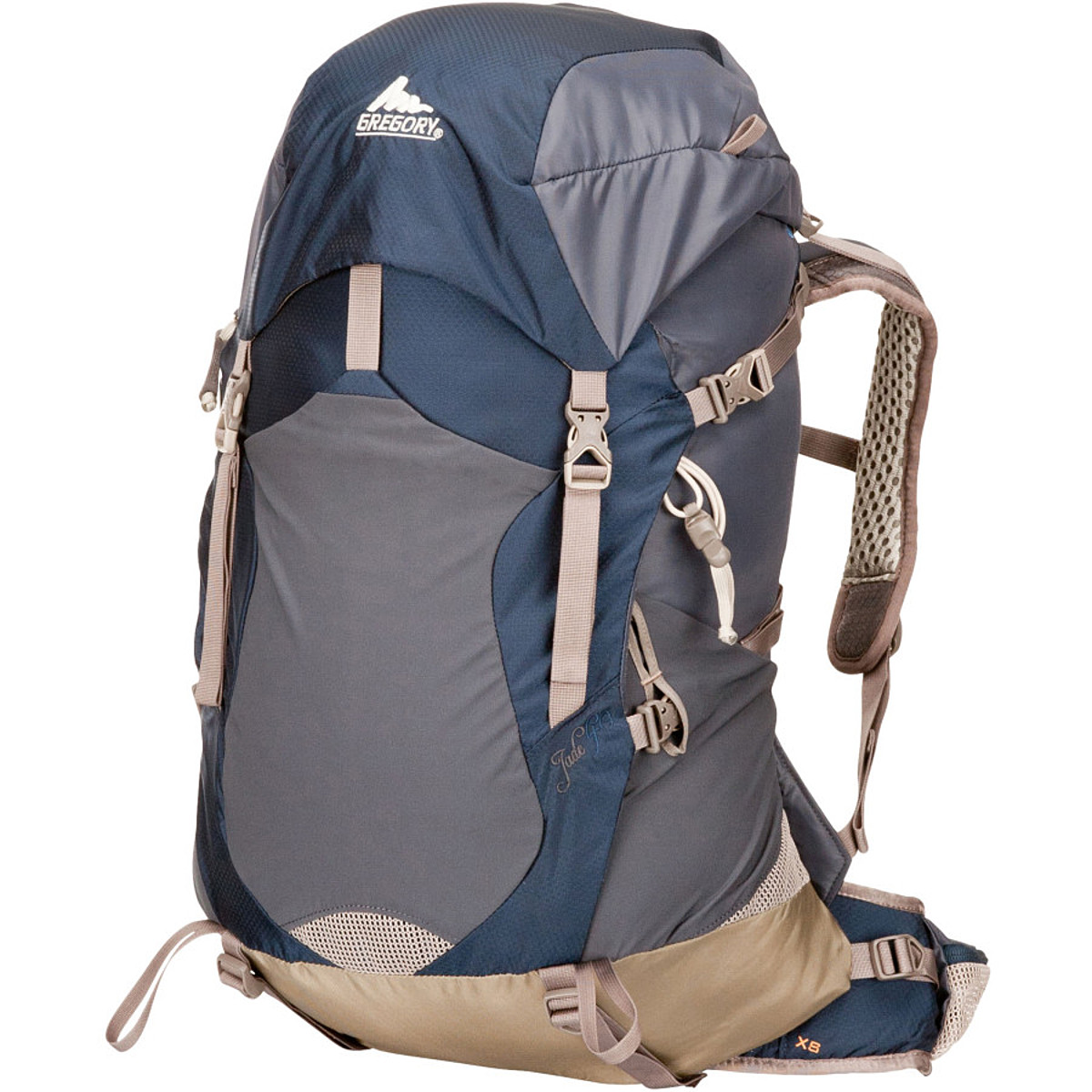 Specs
x-small
small
medium
Price
Historic Range: $49.00-$219.00
Reviewers Paid: $119.00-$135.00

Weight
3 lb 8 oz / 1600 g
3 lb 12 oz / 1700 g
3 lb 14 oz / 1750 g
Reviews
2

reviews

5-star:

1

4-star:

1

3-star:

0

2-star:

0

1-star:

0
Gregory packs are built to last.
I bought the Jade 40 back in 2008 for my stint in Search and Rescue. I had a light, less durable pack (still have it) that was great for carrying my minimal gear but not really up to the task of being tossed around in and out of various vehicles, buried under other gear, or worn while shoving my way through manzanita thickets looking for clues to where missing persons might be.
The Jade series are women-specific packs. This is not why I bought the pack. I would actually consider the Jade unisex, though I suppose the shoulder straps are curved where others are straight. I bought it on sale, online, after shopping around for a while. I looked at Gregory models in stores but the big box places do not carry all models of the brand, and I really did not want a HUGE backpack.
I was looking for just a little extra space. It was to be dedicated to carrying my minimal SAR gear and not backpacking for weeks with fishing gear and extras. To get a Jade I had to order one. The more popular models were all too much volume for my purposes. I needed a Toyota pickup, not a Cadillac.
The Jade 40 is still in one piece nearly ten years later, and there's not really much wear visible for all the times I've mistreated it. Gregory backpacks are probably overengineered for the purposes of most people—backpacking once a year won't even begin to stress out a Gregory pack. I've dumped it out of a helicopter, shoved it (full of backpacking gear) deep in a storage compartment with other packs, dropped it out the back of a Jeep multiple times, it's still coming back for more. No mesh to get holes when you rub up against things. It's kissed granite many times, and if you have had a close encounter with granite you know that a flat piece of granite is like sandpaper.
The pack weighs about three pounds empty. Most of that is the durable frame. Not many 40 liter packs out there will haul up to 40 pounds. I figured that would be a good thing, given that I wasn't just taking a sleeping bag and a jacket, I also shoved climbing gear, extra water, and whatever else we thought we needed on a mission in there. The extension collar adds plenty of room and the pack lid can be raised or lowered on the adjustable straps to accommodate more stuff.
The frame isn't adjustable but the belt—at least on my older model Jade—can become Xsmall, small, or medium. This is nice. Sometimes our midriff is a different size than the rest of us... over time I lost weight and had to move the belt down to xs, and then I had to cinch it up all the way. Lots of activity slims you right down. Since I'm no longer racing off at top speed to go look for people I'm a little "fluffier" and the belt still fits.
After I moved on from SAR to other things, I used the pack for backpacking trips and sometimes for long day hikes. Especially off trail adventures. The frame for the Jade is a little different than other Gregory frames—the profile of the pack, too. I've never liked packs with too much of an arch to the back frame; I'd rather have gear stacked up and sitting on the hips than sticking out from my back so far that the weight tips me backwards.
Some of the other models of backpack that I've tried on remind me of a whale, big, fat, and cumbersome, with that curved back frame that ventilates while putting all the weight several inches from where it should be. Give me a balanced pack that sits on the hips any day over ventilation! I use an internal frame because it lets me move through difficult terrain with minimal difficulty, and where the weight rides can mean the difference between climbing the rock face and tipping backward off of it. The Jade put the weight where I wanted it and I felt balanced while climbing or while bushwhacking. There is a slight curvature to the frame, but it's not as pronounced as with so many other frames I'd tried on in the stores.
There are just enough straps to make it functional, not so many that it's difficult to figure out which connects where. I've compressed it down to a day pack quite a lot. I don't use the zipper on the front to access the main compartment, because it's relatively easy to arrange stuff so that I don't need to get in there anyway. Rain gear goes in the front pocket. Lunch and all the stuff you need during the day goes in the lid. Lip balm and a tube of sunscreen in the zippered pocket on the pack belt.
I use a bear canister all the time (Yay California) and the Bare Boxer fits in the top of the Jade 40 nicely. I have also used a Bear Vault Solo in it. Anything larger than a BV is a challenge though. There needs to be room for the rest of the gear, after all.
I'd probably use it more often if not for my habit of planning trips longer than the small bear can will work for, but it still comes out some weekends for trail crew when we base camp and day hike—tools for trail crew can be heavy. The constant cycle of putting stuff away, hiking a few hundred feet, pulling all the tools out again, repeat, puts a lot of use on a pack. Rather than tear holes in my ultralight pack, which already is showing signs of wear and tear just from the years of use, I'll take this pack.
Or the Gregory Jade 63, which I recently got for overnight trail crew trips where I need bear can, hard hat, wedges, hatchet, saw parts, rock bars, etc as well as backpacking gear. It also has a few added features that Gregory implemented since I got the older pack—including a removable day pack that doubles as the pocket for the hydration bladder instead of the pocket sewn in against the frame. But it's the same design as before, in a bigger volume, and the same durable materials.
Looking forward to abusing my Gregory packs for a while longer! I've been quite impressed by the way they stand up to whatever I can dish out.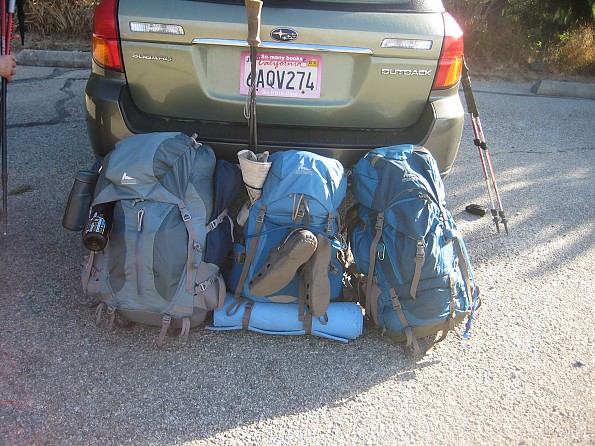 Here is the Jade 40 at the end of the Skyline to Sea, with two larger Gregory packs. My camp shoes are quite large, I'm afraid.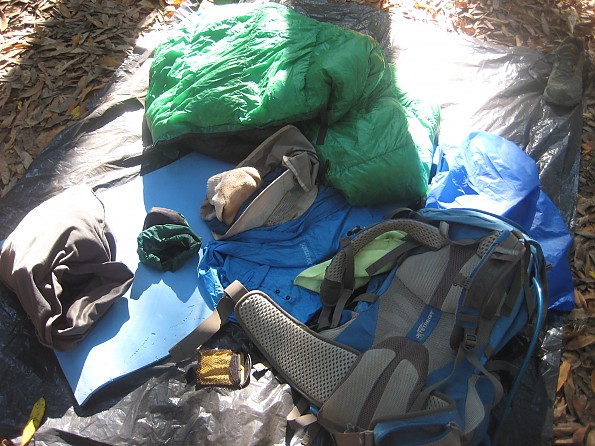 The pack with all the stuff that usually goes in it—quilt, stuff sacks full of things, etc. Note the pads for the shoulders and the lower back. The gap in between was what sufficed as "ventilation" in this older model of Gregory. The newer Jade models have a trampoline mesh panel, but about the same level of curvature, ie minimal. The hip belt was not padded very much but instead wraps around the hip bones—very comfortable.
Source: bought it new
Price Paid: ~ $135

I have not tested this on the trail yet, but it works great hauling my groceries.
Pros
Pockets and straps
Side entrance
Adjustments
I have had this for a few months and have only used it hauling my food. (Glass jars, potatos, etc.) I have probably had it heavier then the recommended weight, but it held up great and felt good. (It may have only been 1 1/2 miles from the store to my house, but with the weight and how it wasn't packed the best do to the food, it was super!) The only time I had a problem was when I didn't adjust the straps properly. I am 5'5" and the small is a great fit, even for my 12yo son.
Yes, it will hold a lot, but as stated I haven't tried loading it yet with hiking/camping item. Yes, I like it and would recommend it. I am going up a size just because I need to be able to haul more things, but I am handing it over to a child so it won't be unloved. Even though it doesn't have a rain cover it was able to keep my things dry in my short trek home. I will have to get a rain cover before hitting the trail this summer though.
The material feels good and dried fast next to my heater. The straps are easy to use once you figure out which ones go where. This wasn't a problem, it just like when you get a new car, you have a play with it to learn all it has to offer you. I haven't taken the top pocket/fanny pack off to use, but it does a great job holding bananas and tomatos and keeping them safe.
Source: bought it new
Price Paid: $119

You May Like
Recently on Trailspace