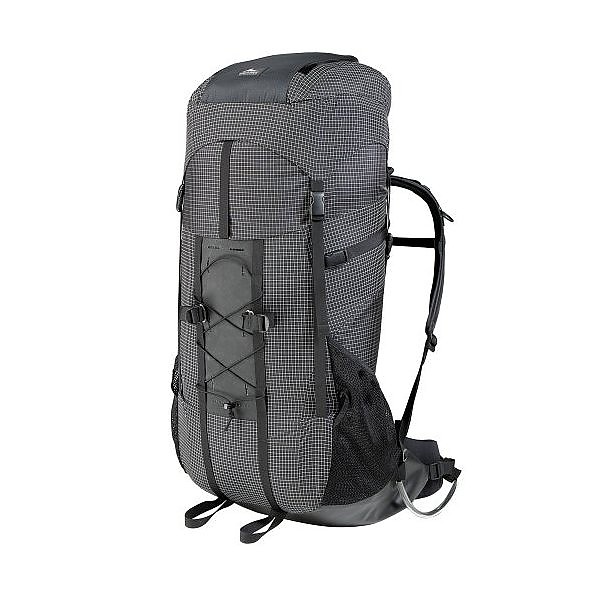 Specs
small
medium
large
Price
Historic Range: $169.95-$300.00
Reviewers Paid: $200.00-$325.00

Weight
4 lb 11 oz / 2100 g
4 lb 15 oz / 2250 g
5 lb 4 oz / 2400 g
Reviews
8

reviews

5-star:

1

4-star:

7

3-star:

0

2-star:

0

1-star:

0
The Gregory Makalu Pro is a tough, comfortable pack that can hold a lot of gear. It is designed for alpine adventures and boasts a slim profile and minimalist set of features.
Pros
Comfortable
Strong
High capacity
No bells and whistles
Cons
"Stretchiness" of water bottle pockets has loosened over time
Lack of features may turn some folks off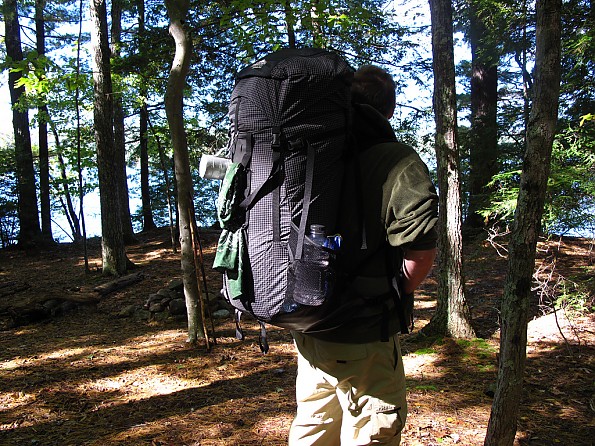 Gregory is reputed to make good packs, and the Makalu Pro is no exception.  I don't believe they make this one anymore. There is ample padding in the best places for when you need to carry up to 60lbs. I've carried only around 45lbs, which the pack held in surprising comfort.  
Gregory packs are not "one size fits all," so you must be certain to purchase a pack size that fits your body.  The hip belt, shoulder straps, and load lifters are all adjustable and it is easy to do so.  Sure, no one really enjoys huffing a ton of weight on one's back, but this pack does a great job of making the burden quite bearable.  Advertised capacity seems about right, although I've never actually measured this.
The Makalu Pro is intentionally short on features — you don't have much more than a large sack with a suspension system attached to it. This helps to save weight and to simplify your packing.  Some people like a variety of access points and pockets to help them organize gear, but I prefer this minimalist setup with a single top access point.  I thoughtfully stuff most of my gear into the single, voluminous compartment, and finally pack any "important" things like maps and trail bars in one of the side pockets or in the lid.  For certain, you need to be considerate in how you pack — don't pack your rain gear at the very bottom of the Makalu if there are thunderclouds about.  
The fabric is reinforced with Dyneema, which is apparently very strong.  I can't speak from experience because I've never punctured the material or even come close. The bottom and backside of the pack are made of a tough, rubberized material that seems very waterproof.  This is nice because you can set your pack down on moist earth and not really have to worry about the contents of your bag getting wet.  Gregory used to make many of their packs tough like this, but it seems that in the popular rush to make everything lighter, they've abandoned such features.  
On the front of the pack is a wide strip of a rubbery fabric with a slim bungee cord woven between two long sets of daisy chains.  This simple setup is great for lashing all kinds of gear onto the pack. I replaced the flimsy bungee cord with two nylon buckled straps that can hold quite a bit more gear.
The mesh back panel does not ventilate well, especially when compared to some of today's internal frame packs that offer a raised backpanel that essentially transforms the pack into a new breed of external frame. Comfort and simplicity are two big advantages to this pack.  It is marketed for mountaineering, but I use it for regular backpacking and treasure its minimalism and ruggedness.
Source: bought it new

One of the best large capacity packs ever made! Load-carrying comfort is not sacrificed, as the tried and true Gregory suspension system is in place. Weight saving comes from stripping out unnecessary features and using Spectra nylon for the pack body.
Pros
Very comfortable
Lightweight for pack this size
Incredibly durable
All the features one should need
One of the best large capacity packs ever made! Load-carrying comfort is not sacrificed, as the tried and true Gregory suspension system is in place. Weight saving comes from stripping out unnecessary features and using Spectra nylon for the pack body. It's a great design combination I can't believe more pack brands don't utilize.
Often comfort is sacrificed in the harness system for sake of saving weight, not here. Carry comfort is the starting point of this design. So many packs these days are filled with so many features, all they do is add weight, make things complicated and create more things to go wrong.
I regret having sold mine years ago when I was downsizing to smaller, lighter packs. Though this pack is much larger in capacity than I ever need, it is still lighter and more comfortable than many of smaller/lighter packs I have used.
Source: received it as a sample, freebie, or prize

I took this mountaineering pack with me to the Shenandoah National Park on a few mile hike. This pack had enough room too carry practically anything you could take with you.
I packed a full size 4-man tent a giant sleeping bag, food and water bladders. The hike started with a drizzel and the further we made it down the trail the worse the weather got this pack with no rain protection covering it was impenatrable for the most part but don't count on it to be 100 percent waterproof.
The stability of the pack was good it rested on the hips nicely and the shoulder straps were cushioned well as was the hip belt. When first breaking in this pack it will be squeaking with the side to side motion of your stride. Buy it if you need plenty of space to stuff your gear.
Price Paid: $290

Used this pack about a dozen times so far, and each time I find myself, halfway through a hike, saying aloud, "I love this pack."
At first it seemed as if it would be too light to be strong (I'm coming from the Gregory Whitney, which is rock solid and heavy), but the pack has it where it counts. The suspension is very comfortable, the design is pretty stylish (I confess, this is indeed a secondary consideration) and simple.
It took a little while getting used to the only outside "pockets" being two (large) side mesh pockets, and the lid pocket, but that has been easily solved by being more selective when choosing important gear to pack topically (1st aid, poncho, gorp, map, etc).
The pack is designed for alpinists, but it works well for valley hikes to lakes and ponds. This is a simple, comfortable, smoothly-designed pack that is well worth the money.

Price Paid: $260

Very quality pack at a good price. My 2001 model was made in the USA. However, I don't know if they still are.
One big sack with floating top pocket and mesh water bottle pockets on the side. The load rides wonderfully if you have anything under 45 lbs. Anything more and the suspension sags a little more than I'd like.
If you are a weekend warrior that packs everything, you would want to try a Palisades, Shasta, or the like. If you spend weeks in the wilderness the Denali is the way to go. If you know how to pack light for a few days at a time, or favor the "drop off" style of walking for weeks on end, this pack is for you.
Design: ruck
Size: approx. 4200
Number of Pockets: ONE BABY!!
Max. Load Carried: 60- too squishy and saggy
Height of Owner: 6'2"

Took this pack on a 4-day hike and summit to Mt. Adams, Wash. While others in my group with REI and Kelty equipment moaned about their poor fit, I was smiling all the way. With the exception of an annoying squeak, this back is pure heaven. Also, I didn't like the fact I couldn't reach the side stuff pockets for my camera, but on what pack can you do this?
The lumbar rubberized mesh pad clung to my low back like a baby monkey would. And the auto-cant system for adjusting the weight of the pack from your hips to your shoulders and back, all while on the move, worked wonderfully.
Hats off to Mr. Gregory. Finally, when it came to summit time, no need for a detachable, I simply packed my heavy stuff in my bivy at base and cinched the Makalu down to its smallest size (including goat's cheese, crackers and Bailey's) and off I went.
Design: Top loading
Size: 4000 cubic inches
Number of Pockets: large top, 2 side, inner waterproof bladder pocket
Max. Load Carried: about 40 lbs
Height of Owner: 5' 11"
Price Paid: $249

This pack is fairly light for its capacity. It appears Gregory has made most of the weight reductions in the material and pack body. The suspension system is quite heavy duty and suitable for heavy loads of up to maybe 55-60 lbs. The shoulder straps are the same as the Denali Pro model. The waist belt is from the Escape series packs. I found the pack to be comfortable and snug fitting. The two mesh pockets on the sides are handy for small/frequently used items, although I have had other packs with these in the past, and they are the first to rip or get worn away by abrasion. The included hydration system is lightweight and high in capacity (110 oz.) The spectra fabric is strong, but the thinness makes items in the pack sort of bulge out unless you load it very carefully. Not really a big deal, just makes the pack contents look lumpy. Overall, I'm happy with the pack, although I think the $340 retail price is a little high. The Gregory Gravity is only a little heavier, with similar capacity for less than $200 (although it has no included hydration system).
Design: Internal Frame
Size: About 4,500 cu in.
Number of Pockets: 3
Max. Load Carried: 40 lbs
Height of Owner: 5' 7"
Price Paid: $200 (used)

I have been curious about Gregory's Pro series packs since I first learned the company is using 7075-T6 aluminum alloy in its frame stays. Since I was looking for a new pack with about 3000 to 4000 cubic inches of volume, I decided to test a Makalu Pro size small, which is the correct size for my 5'8" and 140 pound body. The pack has an extended volume of about 4,000 to 4,500 cubic inches (Gregory's volume figures represent non-extended pack volumes and so understate the total volume capacities by several hundred cubic inches). The most notable feature about this pack (and, by extension, all Gregory's Pro series packs) is its use of 7075-T6 aluminum alloy. This alloy is considerably stronger and more resilient than the aluminum alloy most other manufacturers use and really should not be compared to those other alloys at all.
When wearing the pack with 47 pounds (combined weight of pack and contents) and viewing myself sideways in a mirror, there was a noticeable gap between my lower back and the pack itself. Gregory Customer Service personnel informed me that the pack is designed to comfortably carry 50 to 60 pound loads, and the pack certainly controlled 47 pounds without any trouble at all. I agree that weight range probably is close to the upper limit of comfort since any more weight might be troublesome to carry in this pack unless you have a linebacker's or lumberjack's physique or unless Gregory uses 7075-T6 aluminum in larger dimensions.
I wanted to try the pack with more weight, but not before I adjusted the frame to eliminate the gap between the pack and my lumbar region to bring the pack close to my body -- where it should be. I was surprised to discover that I could not remove the stays without unstitching one or more main seams or poking a couple rather large holes in the bag's bottom. A phone call to Gregory Mountain Products confirmed this. Their suggested method of stay bending was to have me bring the pack to a dealer and have one of their trained personnel bend the stays while still in the pack. I suspect Gregory does not desire to have owners try this themselves for concern we might damage the frame sheet to which the stays are attached and thereby void any warranty conditions associated with pack ownership.
I have a rather pronounced spinal curvature so it is not likely too many other people will experience the same frame-fitting problem as I. Nevertheless, I found it disconcerting that Gregory discourages owners from bending their own frame stays and makes it impossible to remove the stays from the pack once assembled.
To properly fit the pack, I also needed medium-size shoulder pads and waist belt so I actually tried two packs and swapped components between them. While examining the two bags, I noticed that the fabric colors were noticeably different hues of cobalt blue. The bag with the less richer shade of blue almost looked as though the color had faded due to sunlight exposure. However since both bags could not have been more than several weeks old, I ruled out that possibility, which leaves (poor?) quality control as the culprit.
Despite the lightness of the 210 denier Micro-Spectra fabric, it certainly is strong enough to contain virtually any load you can fit into this pack. If you require a heavier, more durable fabric for abrasion resistance, this pack is not for you. This is a single compartment bag with no interior dividing shelf or zipper access. The lid floats but does not convert to a hip pack, but it does accommodate Gregory's Hydro-cell hydration system. The pack comes with very large mesh, non-removable side pockets, twin daisy chains in the rear, and two ice-axe loops and retention ties.
The automatically adjustable harness and manually adjustable belt in addition to the 7075-T6 aluminum alloy frame result in a pack that is very comfortable to wear and relatively easy to fit. However, be prepared to take the pack to your dealer for a customized fit of the frame. For loads up to and possibly in excess of 60 pounds, this is a great pack for its intended purpose (that is, don't use the pack in situations or environments that provide repeated opportunities for abrasion).
Design: internal frame
Size: approx. 4,000 to 4,500 cubic inches
Number of Pockets: 0 (external) + lid
Max. Load Carried: 47 pounds
Height of Owner: 5'8"
Price Paid: $325 US (May 2000)

You May Like
Recently on Trailspace