GSI Outdoors Crossover Kitchen Kit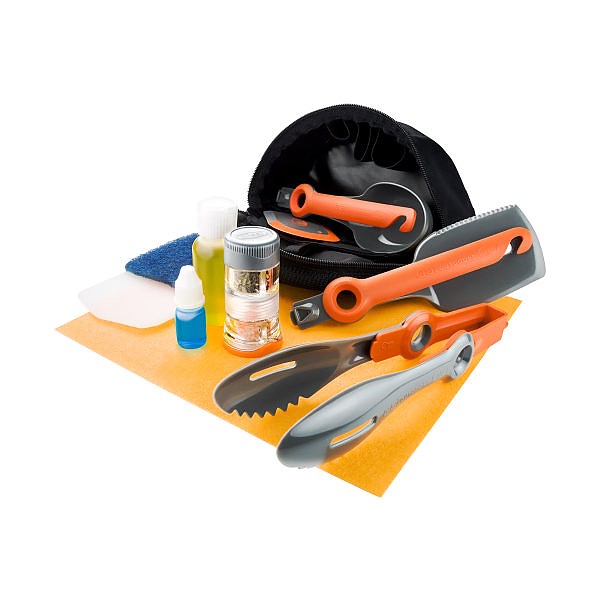 An excellent companion to any pot-based GSI cookset. Fitting perfectly into the pot-based GSI cooksets, it proves this company can not only make a cup that nests into a bowl...but complete cooksets that nest into another.

This takes up no additional room in your pack if you already own a GSI cookset, and it is so well organized that never again will you have to fish around for your cooking gear. There's even a small amount of room left in the bag to fit a couple sporks, too!
Pros
Compatible and nests into GSI cooksets
Well organized
Thoughtful, multi-use design
Backed by GSI's top-notch customer service
Cons
Utensils sensitive to heat
I bought this accessory kit to go along with (and inside of) my Pinnacle Backpacker set.
As I mentioned in my review of that cookset, after nesting the mugs inside the bowls, you're still left with half-a-pot's-worth of storage space.
SIZE AND WEIGHT
That said, this kit comes in a semi-circle-shaped, zippered nylon pouch, designed to occupy the other half of the pot.
The kit measures 7.3" x 4.3" x 3.7" - small enough to nest inside a GSI Pinnacle Backpacker Cookset!
It only adds 9.6 ounces to your existing kit, far worth the weight for as much flexibility as this affords you.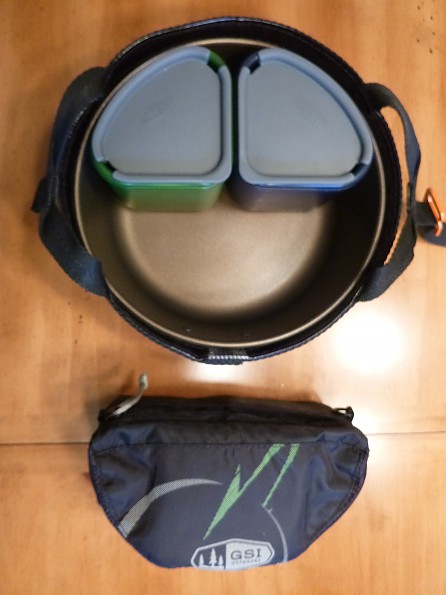 CONTENTS
Inside you'll find the following:
Pivot Tongs

Pivot Spoon (with measuring lines)

Pivot Spatula (with a serrated cutting edge)

Small Cutting Board

Eye-Dropper Bottle (for [biodegradable] dish soap)

Small Bottle (with flip-out spout) for cooking oil

"Spice Missile," designed to hold four different spices/seasonings

Food Scraper, with soft silicone and hard plastic edges

Microfiber Dish Towel

Non-abrasive plastic Scrubber Pad
I bought this new for the retail price of almost $40. It may seem like a lot to pay, sure, considering you could walk into a dollar store and buy all these components for ten bucks. 
Why is this worth four times that amount? Simple.
PACKABILITY
If you already own a GSI cookset, this fits inside of it. You may be adding a little weight, but you're adding absolutely zero volume to your current bag or pack. 
ORGANIZATION
Everything has a place inside this little bag, and you'll never again have to dig around looking for a particular item.
CLOSED
OPEN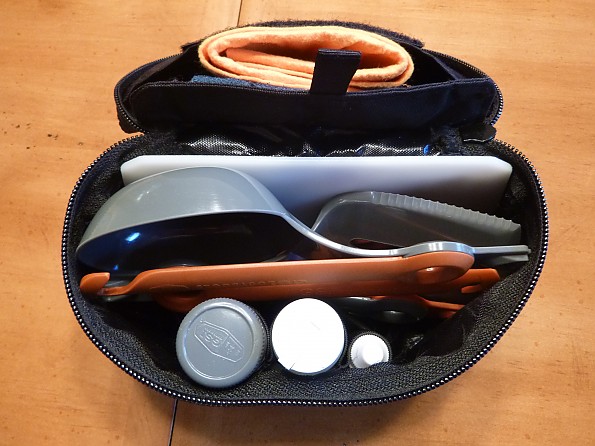 The underside of the lid has a mesh pocket which holds the scrubber pad and dish towel.
Another pocket inside the bag, at the back, holds the food scraper (tucked into a pocket behind the white cutting board in the picture above).
CUTTING BOARD, FOOD SCRAPER, SCRUBBER PAD, and DISH TOWEL (CLOCKWISE from L)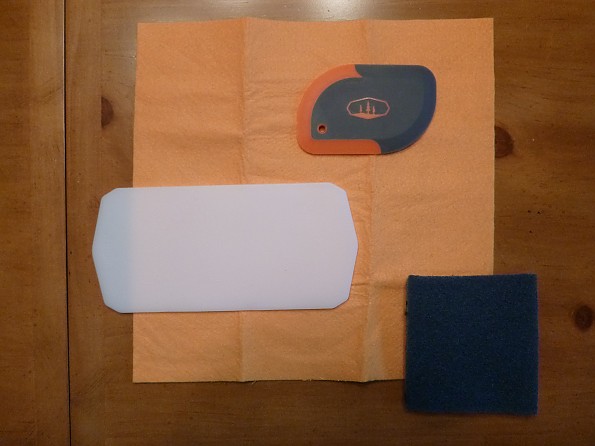 The scrubber pad and towel work as you'd expect them to, and while a little small, their size is what enables them to fit in this kit, so you really can't begrudge them that.
The scraper is a handy, oblong-shaped, tool. With both silicone soft edges and plastic hard edges, it can either scrape-off burned food, or skim the last of a sauce from the pot.
SPICER, SOAP BOTTLE & OIL BOTTLE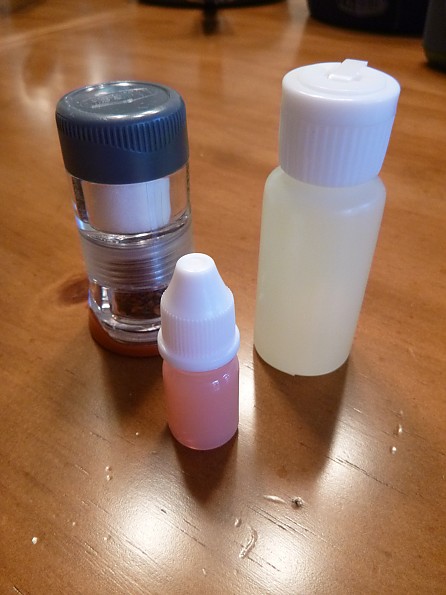 These are held in place by three elastic loops at the front of the bag.
The refillable bottles are a nice touch.
Pop the top of the dropper to refill it with soap.
Unscrew the oil bottle for its refills. If your inner Paula Deen is compelling you to do a lot of frying, plan accordingly and pack a little more oil than this bottle holds. 
(I've also managed to fit a couple LMF sporks in this bag as well).
That's how it all — literally — stacks up.
SPICER (DETAIL)
It is the spicer, however, that deserves the biggest mention of the three.
One two-compartment shaker screws atop another, acting as a lid.
And a lid goes over the top shaker.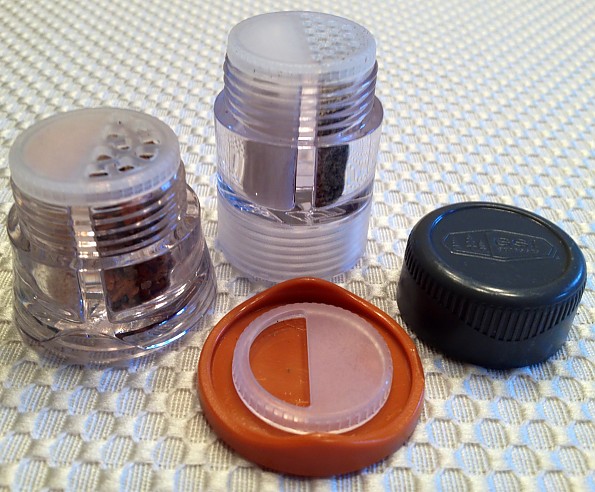 Each of the two shakers has a double-sided, rotating top: simply twist to adjust how much seasoning you want to sprinkle on your food.
You'd think this would be difficult to refill, but GSI has thought that through, too.
A secret lid pops off the bottom shaker (shown sitting atop the orange bottom lid) to reveal a third lid, completely open on one side, and completely closed on the reverse. Replace the shaker lid with this lid to make refilling easy.
There are 4 compartments that you can fill to your liking. I keep mine basic (Salt, Black Pepper, Garlic Powder, and Hamburger Seasoning). You can add anything from curry powder to cinnamon.
GSI bills the spicer as "waterproof," and as worried as I may be that my spices will be the first thing on the kayak to capsize, I would like to think this works both ways, and - as an airtight container - helps keep your spices fresh.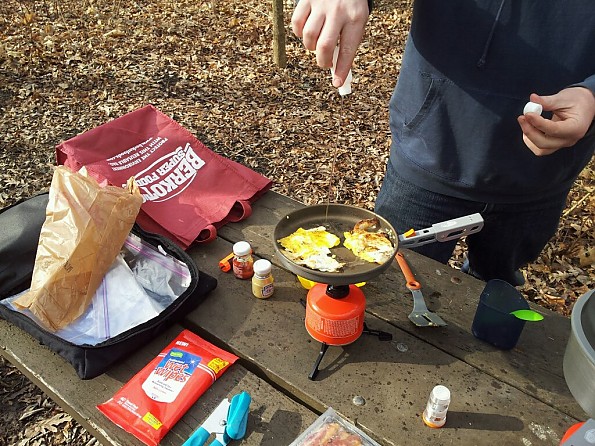 The utensils, though, are the stars of this kit. 
PIVOT SPATULA, PIVOT TONGS & PIVOT SPOON (L to R)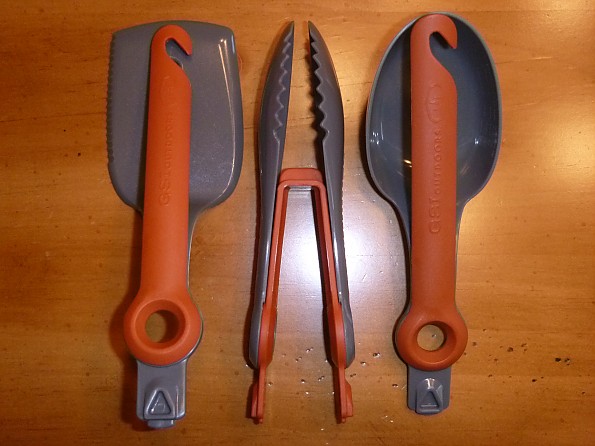 The utensils all neatly fold in half and stack atop another, and the cutting board is slipped behind them.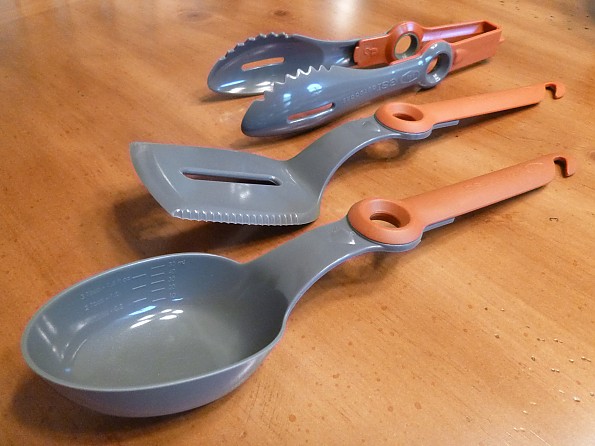 They're all made from a heat-resistant and durable plastic, with a matte orange handle pivoting from a shiny gray "business end" of the utensil. 
The tongs are pretty straightforward, with a drainage hole on each side. One side has a straight edge, while the other has teeth for extra grip.
The spatula — again — has a drainage hole in the middle, with a straight edge and a serrated edge (for light cutting and separating). 
The spoon, obviously, doesn't have a drainage hole. It does have markings for small measurements, which is a plus, I guess...though I've never rolled into camp with a recipe book. For you gourmet campers out there, though, you may get more use from this feature than I did.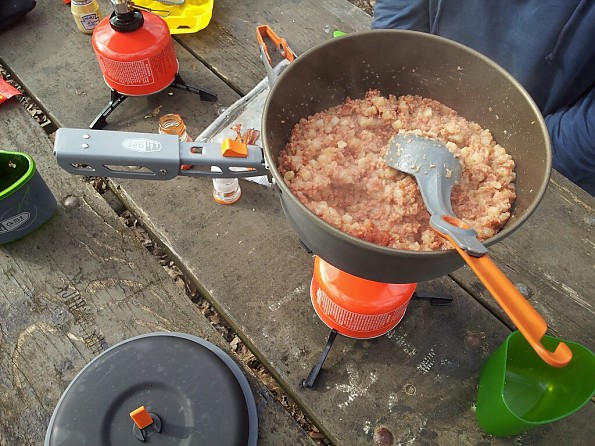 The functionality is great, and I especially appreciate the fact that GSI tries to design things that can serve more than one purpose and be used in different ways.
HEAT RESISTANCE
My only problem came when I got home.
I was hand-washing dishes in the sink (I clean them with baby wipes on the trail) when I noticed the front edges of the tongs and spatula weren't exactly smooth. I thought it may be dried food scraps, so I tried scrubbing it off. It wasn't coming off, and for good reason: the plastic edges had melted. Not enough to compromise the utensil, but enough to be a foreseeable problem.
Let me note that these never sat in the pan or stood up in the pot while cooking, nor was I doing any heavy frying with hot oil. The picture above was the longest they sat in the cookware, and that was only long enough to take the picture. Otherwise they were removed after stirring/serving and placed back on the table.
I researched GSI's customer service online and found they weren't too keen on answering e-mails in a timely fashion. They, however, seemed to be Johnny-on-the-Spot when it came to phone calls.
Gave 'em a call.
They picked up, alright. On the first ring.
A very pleasant gentleman took my call, and really, it was more of a conversation than anything. He just wanted to know more about which item I owned, how it was used, and what it was used in conjunction with. I answered his questions, and he assured me they'd replace all the utensils, free of charge, saying this was hopefully a one-off manufacturing defect.
Sure enough, a week later, they came in the mail, brand new, unopened, and even in the full retail packaging.
I guess it only makes sense that a company making awesome cookware would also have awesome customer service.
But they do. And they've got a lifelong customer in me.
If you've yet to be convinced when it comes to GSI cooksets, allow me to show you my entire camp kitchen, save my stove.
Now you see it...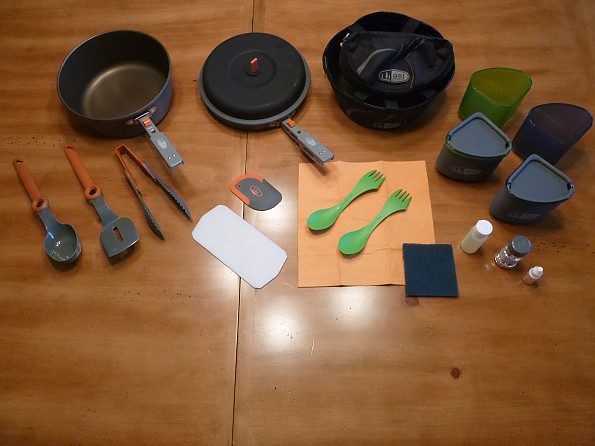 ...and now you don't.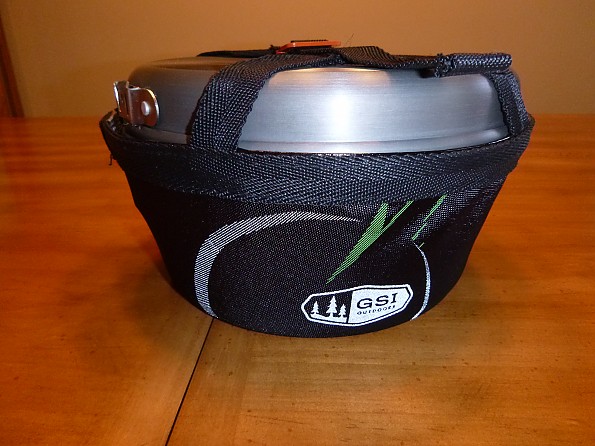 Source: bought it new
Price Paid: $37.95

A great compact little kit for weekends or multi-day trips. It has a few useless pieces but overall a good product, and great for long backpacking trips. Better than any other kit I've seen.
Pros
Good sized carrying case
Many handy features
Cons
Spatula melts
Laddle is almost never needed
Washing up liquid too small for trips longer than two nights
I've had this handy fellow for a year. It's a great addition for backcountry use and nestles nicely into my 2.5l pot, leaving just enough room to store a WhisperLite, or something of a similar size. I use it for weekend trips, and longer voyages. It is definitely more useful for multiday trips, but I find myself carrying it often.
I did find a few items were useful though so I removed the laddle, 
Lighter/matches (there is a convenient side pocket it fits into)
Hand sanitizer
A knife
Coffee packets
Sugar
I also use the oil bottle for CampSuds as the tiny little guy is only enough for one or two nights of dishes. I feel like the whole kit is a bit much for weekend use, so I put more things into it.
The cleaning tools are incredibly helpful (see my review of the Compact Scraper) and having a shamy to dry off with in a breathable pouch is a nice touch. 
The utensils come in handy, and are sized well, though the plastic on the spatula melted when I tried to cook pancakes and then a omelt. I think I'm going to just get a proper silicone spatula and make a hole I can shove a stick into. More effective for the same weight I reckon. I've never used the laddle and leave it at home. Even for liquid foods I can always just pour. It seems kind of useless for my needs. Maybe on a longer trip?
Overall I quite like it.
Source: bought it new

Your Review
Where to Buy
Help support this site by making your next gear purchase through one of the links above. Click a link, buy what you need, and the seller will contribute a portion of the purchase price to support Trailspace's independent gear reviews.
You May Like
Specs
Price
MSRP: $37.95
Current Retail: $34.99-$42.99
Historic Range: $26.57-$42.99
Reviewers Paid: $37.95

Weight
9.6 oz

Dimensions
7.30 in x 3.70 in x 4.30 in

Materials
Co-polyester, Nylon 66 and Polyethylene

Includes
Compact Scraper, Scrubby Pad, Cutting Board, Pivot Tongs, Pivot Spoon, Pivot Spatula, Spicer, Soap Bottle, Oil Bottle, Camp Towel, Tote