GSI Outdoors Pinnacle Backpacker Cookset
Rating:


Source: bought it new
Price Paid: $75

Summary
Everything two backpackers could ask for in a smartly-designed package (whose storage tub even serves a dual purpose). After camping with tubs full of kitchen gear, taking up entire seats of the car? We're more than thrilled with the small size and high level of functionality this cookset offers.
Pros
Lightweight
Well-organized
Compact
Easy to clean
Durable
Cons
Only one folding pot/pan handle
Handle conducts heat
Back when I was out with my girlfriend on our very first car camping trip, we lugged-in an entire Rubbermaid tub full of kitchen cookware and utensils. It was large enough to take up a car seat, heavy enough to throw out a healthy back, and cumbersome enough to make the simplest meal frustrating. Something had to change. 
When you look for a good cookset, you want something that solves the aforementioned problems. 
This does.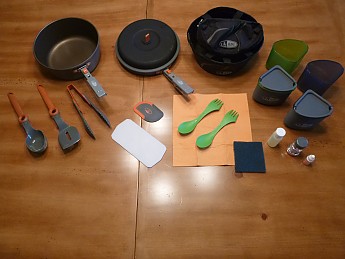 It is pictured above with my Crossover Kitchen Kit and a couple LMF sporks. They may not be included, but they do fill the empty space in the set nicely.
Here's what is included in the Pinnacle Backpacker set, and we'll go through the components in the same order you would, disassembling the kit:
-Storage Sack/Sink (with welded seams to hold water for dishwashing, etc.)
-Pan
-Strainer Lid
-2 Nesting Bowls (the Nesting Mugs fit inside these)
-2 Insulated Mugs
-2 "Sip-It" Lids
-Pot Gripper (Yep...only one, folks. More on this later.)
-2L Pot
I don't think any criticism is merited here as far as size is concerned, unless this cookset is overkill for a solo hiker or a short hike. If you want to do more than rehydrate meals and boil water, this set allows you to do anything you'd do at home with a frying pan and small pot. If you don't need that, pick up a MicroDualist. 
As far as weight (1 lb. 12.8 oz.) goes, well, no comparison to lugging in all the wares piecemeal. 'Nuff said.
Size? About the same as a small bundt cake (8.2" x 5.4"). The folding handle nests inside one mug, the mugs nest into the bowls, bowls into the pot, pot into the "sink," and the lid goes atop that, with the pan crowning the set off. Simply hook the nylon straps together, cinch down, and you've a tightly packed cookset. The nesting ability of this set is well designed, too, in that there isn't a lot or rattling around. One piece fits snugly into the next.
Clockwise, from L to R: Nesting Bowl, Nesting Mug (with neoprene cozy sleeve), and Sipper Lid.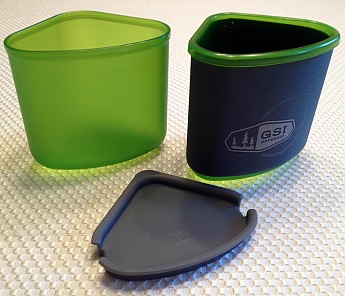 Here're all the aforementioned nested into another: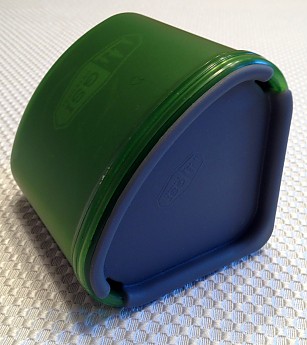 Quality is pretty darn good. You're paying more than you would for the Bugaboo Backpacker Cookset for the hard-anodized, aluminum "Teflon Radiance" coating. The benefits of this are two-fold: not only does it add durability (scratch and dent-resistance), but makes cooking easier and simpler (non-stick, with a more even heat distribution than standard aluminum sets). I clean mine on the trail with baby wipes. No need to make an appointment with Dr. Bronner! As far as the polypro bowls and mugs go, they're equally solid: not only heat and impact-resistant, but additionally, designed not to retain food odors. 
Though I said I wash my dishes with baby wipes on the trail, when I get home, I pop 'em in the dishwasher, because these are all dishwasher-safe.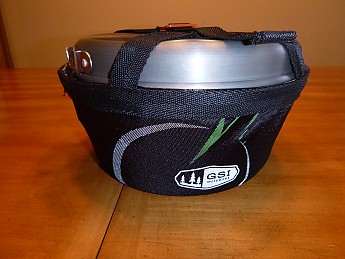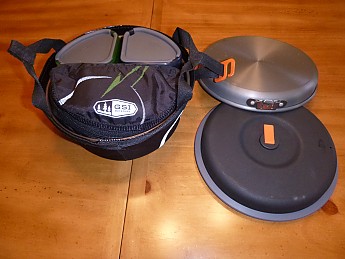 The organization makes sense, and it's literally impossible to lose anything in this kit. 
The mugs/bowls only take up half of the pot, leaving the other half open for food, a stove, what have you. When I used an MSR PocketRocket, I was able to easily fit it inside one of the mugs (sans MSR case). Personally, I chose to purchase GSI's Crossover Kitchen Kit, and that fills the extra space. Between the cookset and accessory kit, it's a full kitchen.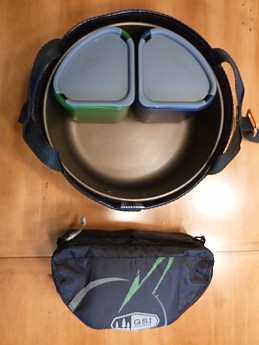 I love this thing, but I've only a couple problems with it. Otherwise I'd have given a solid 5 stars.
If GSI finally decided to provide a second folding handle? I'd consider it perfect. Then again, you can purchase a second handle for thirteen bucks, and problem solved. I place both my handles inside the mugs to keep things in the same place.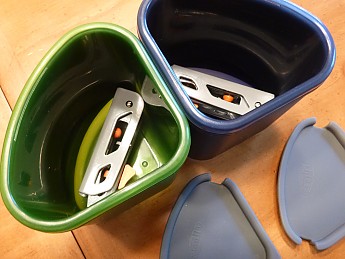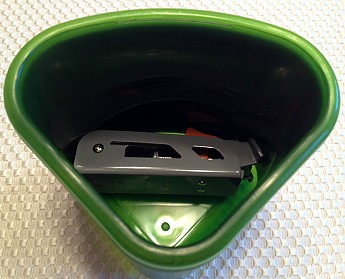 I've read other reviews that've complained the handle doesn't snugly fit the pot/pan, or is difficult to attach while the cookware is hot.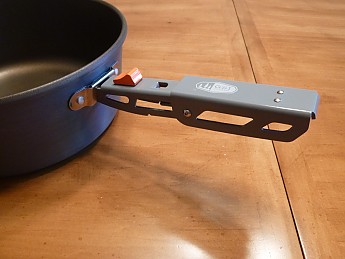 Buy that second handle. Solves having to swap-out in the middle of cooking.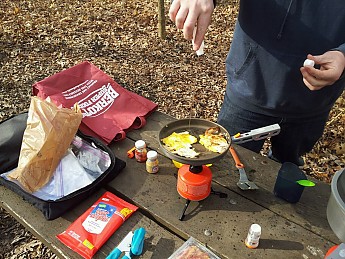 And as for it being loose? It has a little play, but that comes with your choice to not use clamps or grips that scratch and clamp onto your cookware. Small price to pay, I'd say, to extend the life of your cookset.
Another catch-22 is the fact the handle is made entirely from metal. It conducts heat, and rather well, and if you're not careful, you'll find it a little warm to the touch if you're not using a potholder or mitt to handle it while your stove is burning on full.
One last note, while I'm at it? The strainer lid vents steam, so while you're straining, be careful where you point those drainage holes in the lid.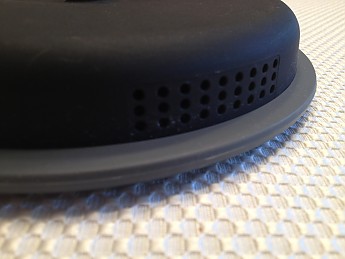 To help you out, they've added a flip-top tab atop the lid to remove and replace it without burning yourself.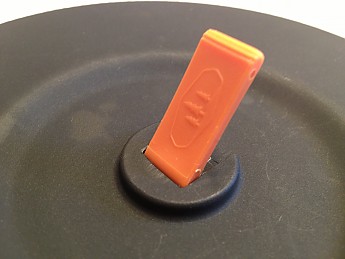 For the money? You can't beat this set. 
Writing this with the hope someone who made the same mistake(s) we did reads it, and spares themselves the trouble!
Where to Buy
sponsored links
Help support this site by making your next gear purchase through one of the links above. Click a link, buy what you need, and the seller will contribute a portion of the purchase price to support Trailspace's independent gear reviews.