GSI Outdoors Ultralight Dualist Cook System

The Ultralight Dualist Cook System has been discontinued. If you're looking for something new, check out the best pots and pans for 2023.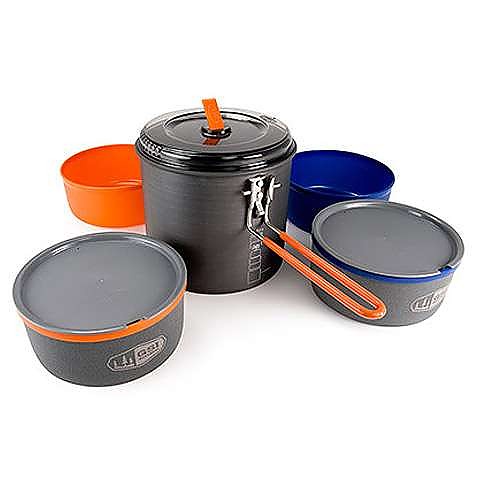 After my last hike where my pack was way, way too heavy and I had a bum knee from, I was ready to upgrade my one pot/lid and canister stove outfit from the year 1992, and get something a little nicer.
I poured over the internet and discovered the Dualist cook system. The reviews I read said it could hold an MSR Pocket Rocket and canister inside of it and the whole 9 piece set and canister and stove weighed in less than my one pot and stove held together with rubber bands.
Everything I saw about the cook system looked too good to be true, but I took a leap of faith and ordered one before I got to hold it in my hands and see it for myself. Oh yeah baby!
I just got back from my first "ultra-light" hike and I took the Dualist. Even though for this hike I shed my pack weight by 15lbs. (It took two weeks for my knee to heal after my last overnighter) I have never had so much luxury on a trip. I owe it all to the Dualist. If you eat like a king, you feel like a king.
I was with a group who didn't go "ultra-light", and when they saw I was just bringing my daypack in November, they thought I was nuts. (I bought some other lightweight gear beside the Dualist) Then when we got to camp and I had a three course meal with a cup and a bowl left over for putting my trailmix in they realized that when you buy quality, you get quality.
Great pot, I loved the strainer feature for my Ramen noodles. (I poured the flavored water into my insulated cup for a hot drink), and clean-up was a breeze thanks to the pot holder/sink. I had plenty of fuel left in the canister thanks to the fast boil times, so I made the guys some hot chocolate.
Now those guys I went hiking with are limping with their bad knees to the nearest GSI dealer to pick up a Dualist for themselves.
Update: February 1, 2010
My review of the Dualist by GSI:


Enjoy!
Price Paid: $49.99

I used to use the old GSI pot set that had 2 pots and a lid. It worked well but for the same space in my pack I get 2 insulated bowls with lids and one pot with a see through lid.
With the old set I used to use the second pot as a bowl but being aluminum it drew the heat from the food so if you didn't eat quick it got cold before you finished. That is no longer a problem as the 2 bowls are insulated and both have lids that snap into place and have holes in them so you can put cocoa, coffee or hot broth in them and drink them without removing the lids.
Also the bowls come apart to make two insulated bowls and two non insulated bowls for the times when you need more than two bowls.
I don't use the sporks that come with it but it's a matter of personal preference more than anything else. The watertight stuff sack is handy at times for washing up after the meal. I don't use it that much but it is always there when I want it.
The lid for the pot has holes in it so you can use it as a strainer when cooking noodles or what have you. It comes with a little cloth pouch that you can put your canister stove in so it won't scratch everything up. The handle locks into place open and closed.
The only problem I have with the set is the little "pull tab" of a lid handle broke off. It could be repaired with a small piece of wire so it's not the end of the world just something that they maybe could improve on in the future?
All in all there isn't much to complain about with this set and a lot to like. Everyone who backpacks ought to have one in his pack!
Price Paid: $60

Really clever nesting -- great kit for 2 or 3 on the trail.
Pot size works perfect for backpacking with 3 hikers. I only use it for boiling water to rehydrate meals, instant soups (ramen) and hot beverages.
Bowl sizes are perfect. Cups are short and wide, but work fine with the no-spill lids. Lids are also just large enough to rest on top of bowls, allowing me to stack bowls of ramen to preserve heat while they "stew" and rehydrate.
Collapsing sporks were actually a nice surprise as the outside short tines have small pitchforks on the inside that allow them to hook noodles and work more like a fork (thru that with your Taco Bell spork).
Everything cleans up easily.
System nests together along with my Snow Peak stove and a 110 ml canister. It's all snug and there is no jingling of parts when you're on the trail -- that alone is worth the price of purchase to me.
Now, while I love my new kit, I have two small gripes:
1. The cups have faint measuring marks that allow them to be used to measure boiling water for your trail meals -- super idea. Problem is that the etched measurements are so faint that I can barely make them out in bright sunlight or in my own kitchen. When I'm backpacking, I do almost all my cooking in the fading light of sunset (at best) or as the sun is coming up, and I just can't see the marks without using my headlamp on high beam. I wish they were more easily read.
2. I wish the pot had some type of spout. It isn't the worst pour, but the slightest hesitation can result in a spill (and I seriously hate spilling water I've had to filter, carry and boil!). Maybe I just need to practice.
Price Paid: $50

Bought this to get out of the trail mix and beef jerky diet I was used to on the trail. Love it, and use it every time I leave home.
Pros
100% functional
Lightweight
My wife got to where she would not go camping with me because the eating was too "primitive" for her. She craved something warm like a cooked meal. I set out to find a product that fit the bill without killing my pack space. This is the size of a large grapefruit and every piece is functional. 
The pot is awesome for making soup, boiling water, and any other trail type food you can fit in it. The lid has a built in strainer to ease pouring. The bowls are excellent as well as the lids make it where you can drink soup and whatnot straight from them. You can take the bowls completely apart and get them nice and clean.
The sporks are absolute junk and went in the trash as soon as I took them from the package. The cover that everything nest in can be used as a sink or a water bag. 

I don't have anything to compare this to as my previous setup was a series of plastic bags with ready eat foods. As far as I am concerned this is a win at $65. When a product holds up to near a 100 trips over three years and every inch has use you can't argue the value. I treat my stuff hard and this looks almost like the day I took it out of the package. This will be with me a long time. 
Source: bought it new
Price Paid: $65

Just right for two.
Cons
not ultra light
collapsible sporks
I backpack with my nine-year-old son, so I carry most of the equipment. This cook set has everything two need, a cup, bowl and spork each and a pot to cook in. The set is big enough to hold my stove and a small canister of fuel and fit into a water tight bag that is designed to be used as a wash basin.  
I like that the cups have a neoprene sleeve so you can have a cup of hot chocolate made with boiling water and not burn your fingers from the heat. The pot itself has a hard anodize which is very durable and can stand up to  abrasive cleaning. The pot has a plastic top with steam vents that can be used as a strainer and the pot's handle folds onto the pot to hold the whole package together.
On the negative side, every time I extend the collapsible spork I'm sure it is going to break. If you think something is going to break you carry a spare and that is more weight. While this set isn't ultra light titanium, it doesn't cost like ultra light titanium.
Source: received it as a personal gift

Just tried this as the whole set this past weekend, but have used it in various configurations over the past few months. It's really light! It's amazing that you can fit so many different things in one package so efficiently.
I thought the wash basin would be handy but I really only use it as a stuff sack. For cleaning the dishes I just boil water in the pot and add soap (I guess old habits die hard).
The other thing is the cups- they're pretty big and kinda awkward. We do find that using the cup/bowl combination works as a good insulator for hot food.
We don't use a PocketRocket stove, but storing a stove in it would be pretty sweet (it even comes with a small pouch for one). Otherwise, you can't store much in the bowls except really small stuff.
A nice feature (as mentioned in another review) is the strainer in the lid. Also, 8 oz. of water boils in less than a few minutes (with a WisperLite).
Price Paid: $45

Camping for two, this item works great. Insulation on the cups is nice when using hot liquids.
Pros
Lightweight
Heats up quickly
Easy to clean with included sink bag
Includes telescopic sporks that work nicely
Cons
Not all stoves will fit inside
Pot handle pops out of place easily
I've owned this item for over a year and really like it. It has served its purpose well for my backpacking trips. I've even used it for up to four people on a few trips.
Source: bought it new
Price Paid: I don't recall

What a great set up for backpacking with a friend! I carried the cookware, he carried most of the food. The fact that my MSR Pocket Rocket stove, fuel canister and 2 folding sporks can fit inside this kit, along with the kit itself saves on a lot of room.
I absolutely love this kit. The only problem I have had with it so far was cooking eggs in it and trying to clean it out with the food stuck to the sides. Eggs seem to be the only problem I have had with it so far.
Highly recommended!
Price Paid: $49.95

Ok so the version I own is the slightly older one without the sporks. Anyways, its an awesome kit for the weight and price. The mugs work great and the drink stays warm. As for the pot, it dries out very fast, just set it in the sun and it will be dry in a few minutes. I wouldn't try cooking anything like eggs or pancakes in it though, it's a little on the small side.
As for the kit all together, it's a great for being compact and a great storage space for stuff like contain-alls.
Price Paid: $39.95 REI sale

Your Review
You May Like
Specs
Price
Historic Range: $48.89-$59.99
Reviewers Paid: $39.95-$65.00