GSI Outdoors Ultralight Soloist Cook System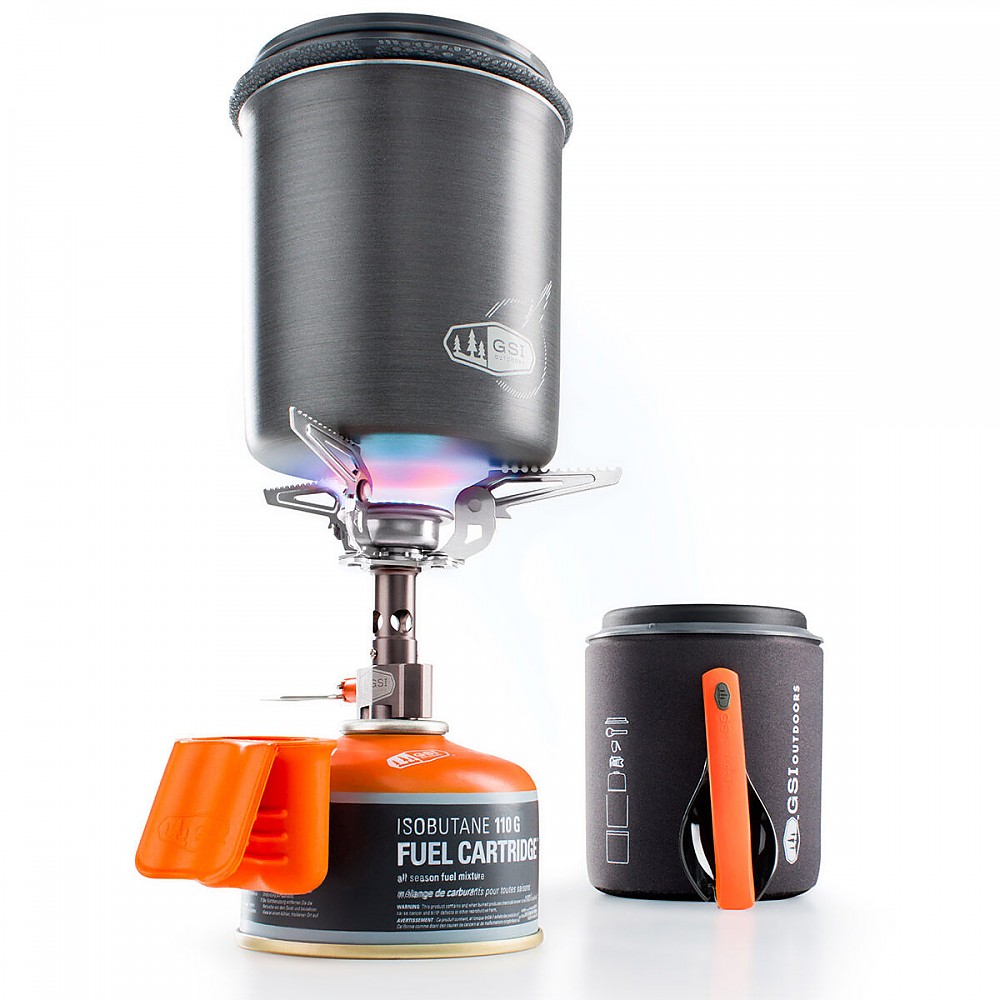 Very convenient, will provide for one or two people.
Pros
Compact
Sturdy
Easy to clean
I'm normally camping either alone or the girlfriend is hiking along. It's very easy to use and it compacts everything into a noteworthy size. I really enjoy how the bowl/spoon fit inside the pot. It makes it very easy to pack/travel. 
I've used it 15+ times and never ran into an issue. It's easy to clean and very easy to use. 
What I really enjoy is the handle flipping up to hold the pot in place. I posted a few pictures below that will show it better than I can explain it. 
The only con, if that's what you'd call it, is that the spoon/spork is pretty short. I picked up another utensil and it still fits fine along with the original. The longer spoon makes it easier to stir. 
All in all, this was a great pickup! I caught a deal at Gander in their sale rack. If you are looking for a single or smaller duo pot to cook, I'd definitely give the Soloist a try. 
Source: bought it new
Price Paid: $20

Wow, just got my new GSI Pinnacle Soloist set and it is great, aside from the spork as others have noted. Let's get that out of the way - the spork feels like it will most certainly break pretty quickly. The weak link is the handle and how it attaches to the 'spork' end. Very weak and leaves much room for improvement. That said, with a little care it would do it's job in a jam.
Weight: When I received the package, I thought it was something else that I have on order (a GSI nesting mug/cup). That's how light this thing is! Really amazing.
Design: Much thought clearly went into the design of this product by people who have been in 'the field'. The way that this unit packages AND makes room for other necessities is near perfect.
My Brunton Raptor, a 4 oz isopro fuel canister, spork, a small amount of dish soap, and a sponge all fit inside. Sponge serves double duty as cleaning tool and also keeps items from rattling while packaged. While the lockdown handle is great, it does leave a tiny bit of wiggle room when 'closed' and allows contents to shift a bit. This is not a problem once you cinch down the strap on the included bag. Bag can serve triple duty; carry bag, dish sink, water carrier if necessary in a pinch.
As noted in the product description, the lid also serves triple duty: pot lid, strainer, sip top for mug
Price: At around $40 this feels like a great deal. I walk away feeling like I got a great product that will last many years for a reasonable price.
Durability: With no field testing, I have yet to find out what durability is like but I'll speculate a bit because - heck, why not!?
The rubber covering on the handle will melt if you let your stove flame protrude from the bottom of the pot during cooking, so watch that flame. If this becomes an issue, simply cutting off a bit of the rubber closest to the pot will likely solve the problem (all of this may depend on your stove type and it's ability to maintain a small flame while still providing ample heat.
The cup and lid are plastic so be wary of burning or stepping on. Other than that, if you take care of your gear like you should, I am convinced that they will last a long time. The pot itself seems extremely well made. I am impressed by it's weight and it's overall build.
The spork is poorly made in my opinion (many reviews agree). See opening of review.
Overall: If $40 is within your budget, you'd be hard pressed to find a better product for solo use. Go with the Dualist for more than one person, even if you are a minimalist. it adds very little weight for the addition of pot size and added mess kit items.
Price Paid: $39

This is a great cookset. It definitely is not made cheap. The handle snaps in position very well. The lid has a good fit in the pot and bowl/mug.
I use an alcohol can stove and boiling up to 16oz of water is relatively easy. The last time i used this set i cooked one cup of 10 minute rice (3min boiling time and 8min in the pot more or less). Rice was great.
GSI did a great job keeping it cheap but with good quality. The new system comes with a spoon/fork and is Teflon coated. The carrying bag does work as a sink!
Price Paid: $30

When I venture into the woods, I tend to seek solitude. Many of my trips are solo ventures, and so factors such as weight, packability, dependability, and so forth are important.
The GSI Soloist cook kit is my most recent camp-cooking purchase, and I'm very pleased with it. It is very light, made of a proprietary anodized aluminum alloy that GSI claims is as tough as titanium but a better heat conductor--and a lot less expensive. The kit packs up well, and is properly sized so as to receive for packing purposes an IsoPro fuel canister and SnowPeak Giga stove.
The fold-up handle for the pot works well and locks firmly into position both for pot handling and to secure the lid and contents when packing. Also included is a serving bowl/mug with sleeve for handling, and the pot lid, made of clear Lexan, also serves as a strainer, or, by using the other side, a sip-lid for the mug.
It cleans easily, and as a final nice touch the cylindrical bag into which the kit goes also serves well as a small water basin, holding about a liter of water in a remarkably stable manner for cleaning, etc.
My only quibble is that the "mug" doesn't fit the hand in a way that makes drinking from it as comfortable and mindless as I would like, especially when I'm enjoying the view on a frost-tipped morning.
But, that said, this kit will be in my pack whenever I head out on my own.
Price Paid: $29.95

This is a good solo set, and can be used for two.
The pot is excellent, has a great handle attached to it, and is the piece I use the most. I typically boil water for drinks and freeze dried meals, and it is large enough to do both at once.
The lid has warped just slightly, but is still perfectly functional. It packs pretty small, and carries my 6 oz insulated cup and the bowl inside.
Overall, I'm very happy with this cook set.
Price Paid: $39

The spoon is very flimsy and far too short to eat out of a freezedry bag, It is also impossible to clean the open/close slide mechanism. I recycled it. I will continue to carry my long REI titanium spoon.
The plastic cup is fine, but the flimsy foam band which insulates it is likewise impossible to clean thoroughly. Stuff gets under the band, and when water is short, there is too much surface to clean, the band itself floppy and unscrubbable. I threw out both cup and band. I will continue to carry my 30-yr-old sierra cup, which in pinch can be cleaned with sand or duff.
The waterproof bag, being - to continue the theme - utterly uncleanable is useless as a "wash basin." Good grief. I wonder whether a breathable bag in which things could dry out might not make more sense.
The stove bag doesn't seem to offer much protection. I threw it out. Better to wrap the stove in a bandanna, which actually serves potential additional purposes. I suspect alas that only SOME stoves will fit in the pot anyway.
The pot itself seems fine, though I have only used it a few times so far. The rest is overthought frivolity.
Price Paid: $30

This set is compact and does not (as it says on the diagram on the pot) hold a large canister and the stove at the same time. But that's okay.
I have boiled water and cooked pasta in it, over a Pocket Rocket and an alcohol stove. The bowl is a great cup and the lid snaps down on it (upside down) to keep your drink warm. I find it boils enough water for two people to rehydrate meals and then a second boil for the beverage.
The sack it comes in makes a good water scooper to put water in my gravity filter a little at a time; I would not use it as a sink or washbasin, it's too small.
Price Paid: $39

I tend to backpack solo so this is a perfect cook set.
I like the quality of the product, you can tell it's not made with cheep materials. The lid that also converts to a sip lid for the mug is a great idea and I like the ease of use of the handle for the pot.
Very well designed although you can't fit a fuel canister and stove in the kit like it says. I have the MSR PocketRocket and the fuel canister fits in just fine but I can't get the stove in as well.
I would recommend this to anyone looking for a light, simple, compact cook set.
Price Paid: $29.95

Your Review
Where to Buy
Help support this site by making your next gear purchase through one of the links above. Click a link, buy what you need, and the seller will contribute a portion of the purchase price to support Trailspace's independent gear reviews.
You May Like
Specs
Price
MSRP: $42.95
Historic Range: $29.90-$74.95
Reviewers Paid: $20.00-$39.00

Weight
10.8 oz

Dimensions
5.00 in x 5.40 in x 5.50 in

Materials
Non-Stick Coated, Hard Anodized Aluminum and Clear

Includes
1.1 L Pot, Strainer/Sip-It Lid, 14 fl oz insulated mug/bowl, Stove Bag, Welded Sink

Recently on Trailspace