Guyot Designs Original Squishy Bowl and Cup Set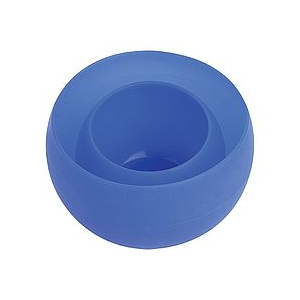 Specifications:
Squishy Bowl Large Bowl - 3.3 oz, 4.7" diameter x 3" tall
Squishy Bowl Cup - 1.7 oz, 3.45" diameter x 2.45" tall
Travel Shot - 0.5 oz, 1.95" diameter x 1.42" tall
Made of food grade silicone.
Available in tomato red, tahoe blue, lime green, and slate dark grey.
Purchased for $14.95
Guyot Designs asserts that the squishy bowl series is flexible, durable, dish washer safe, and heat resistant. We submitted the Squishy Bowl set of Large Bowl and Cup ($14.95 together in our store) and Travel Shots ($7.55 for a set of two) to several (unbiased, but not entirely scientific) tests of these claims.
First up, flexibility. The large bowl and cup are easily turned completely inside out and returned to normal shape with a simple flexing of the sides. The travel shots were more difficult to turn inside out, but it is possible. We poured liquid in all three sizes to test whether this flexibility interfered with drinking. If you grip with one hand, the bowls form a little spout that is easy to sip from.
We also took the bowl and cup on a picnic. They packed easily and cleaned up well too. They nearly bounce if you drop them, so no worries about shattered plastic or scratches. The slightly matte finish on the outside does tend to attract dirt and hair which are easily brushed away.
For the durability test, we engaged our toddler and dogs. They were allowed to play with the bowls at will. The hounds even licked them clean and carried them around with no punctures or damage to be seen. Certainly a longer test range is necessary to say these are unbreakable, but from a few weeks use they pass our durability check.
The dishwasher safety was another easy one. All bowls went through the dishwasher a few times. There was no damage to the bowls, but water does tend to pool in them. If your dishwasher is as inefficient as the model we used, some of the pooled water may have food bits floating in it. Ick. Washing is so easy by hand that we recommend hand washing even though it is possible to throw Squishy Bowls in the dishwasher.
Finally, the fun one: heat resistance. First, we tried making hot tea by pouring boiling water over a tea bag in the cup. The squishy cup performed beautifully. The silicone is thick enough on the bottom and sides that little heat transfered to the outside of the cup. The tea stayed warmer longer than in our standard stainless steel camping cup. On a backpacking or camping trip, the boiling water test showed these would be great vessels to make instant meals or hot cocoa right in the bowl.
Next, we had to try baking in them. I was making bran muffins and poured batter into the buttered large bowl, cup, and travel shot. I baked these on a cookie sheet in a 400 degree Fahrenheit oven. After baking was over, I allowed the muffins to cool for about 10 minutes.
Then I squeezed the bowls from the bottom to release the muffins. The results: spherical muffins! The bottom of the cup one broke off a bit, which is why it is not quite spherical. Both undersides were slightly overdone which could probably be prevented by baking in a bain marie.
As for the bowl and travel shot, they seem no worse for the wear after baking. Cleanup was easy because the inside of the bowls is smooth. It's good to know that for special occasions I now have a way to make spherical baked goods.
Overall, squishy bowls are fun, lightweight, durable, and easy to use. They will surely accompany me when backpacking, picnicking, and baking for years to come.
Price Paid: $14.95

For me, at least, the perfect bowl and cup set. They weigh very little, pack small, and hold hot coffee without burning me. Also, double as hotpads for handles on pots.
Pros
Lightweight
Pack small
They have measuring lines inside
Squishy
So, what can be said, they hold liquid while insulating my hands from the heat of hot liquids. They double as hotpads and measuring cups. They don't weigh much and take up very little space because they're squishy. They also clean up easily as they can be turned inside out. 
The bad part? Ya, they're squishy, so you have to be careful not to squeeze them if you fill them too full. No big deal and you get used to it really fast.
Highly recommended. Especially since the origami style plates and cups don't come with snaps anymore so they don't hold together.
Source: bought it new
Price Paid: $15

I picked up up this set at REI for myself and the ladies at janeofthewild.com
Guyot named this product appropriately, "squishy". It doesn't take much pressure to squish the bowl. You need to gentle when holding this bowl if its contents are liquids. It is however easier to handle when the contents are heavier like stews, rice, pasta, etc...
I didn't notice a transfer of taste or the heat transfer.
What I did notice is lint sticks to the surface. Air dry recommended unless you're cool with lint all over your food.
So far I've eaten pastas, instant noodles, chowders, rice, cereal, stews in the squishy bowls.
Price Paid: $14.95

Picked one up for me and another for a friend. Have not used it a ton on the trail, but use it regularly at work for lunches.
Pros:
Very packable
Microwavable and Dishwasher safe
Easy to clean/rinse
Cons:
Leaves a bit of a weird taste to food
Transfers heat - don't hold when filled with hot water
Seems to be staining a bit
Overall, a neat little bowl.
Price Paid: $15

These are sooo COOL. You can stuff them anywhere in your pack and they bounce back into shape. The best thing about the Squishy bowls is that if you put boiling water in them you can actually hold them! They're great for keeping hands warm while sipping hot chocolate. To rinse/wash them out, you use your finger and swish around and your done!
Price Paid: $15

Great product if you want your gear to stand up to multiple outings and lots of abuse. Just cram these bowls into your pack and they come out ready to use!
Price Paid: $12.95

Your Review
Where to Buy
Help support this site by making your next gear purchase through one of the links above. Click a link, buy what you need, and the seller will contribute a portion of the purchase price to support Trailspace's independent gear reviews.
You May Like
Specs
Price
Current Retail: $14.95
Historic Range: $9.93-$24.99
Reviewers Paid: $12.95-$15.00