Helle Trofé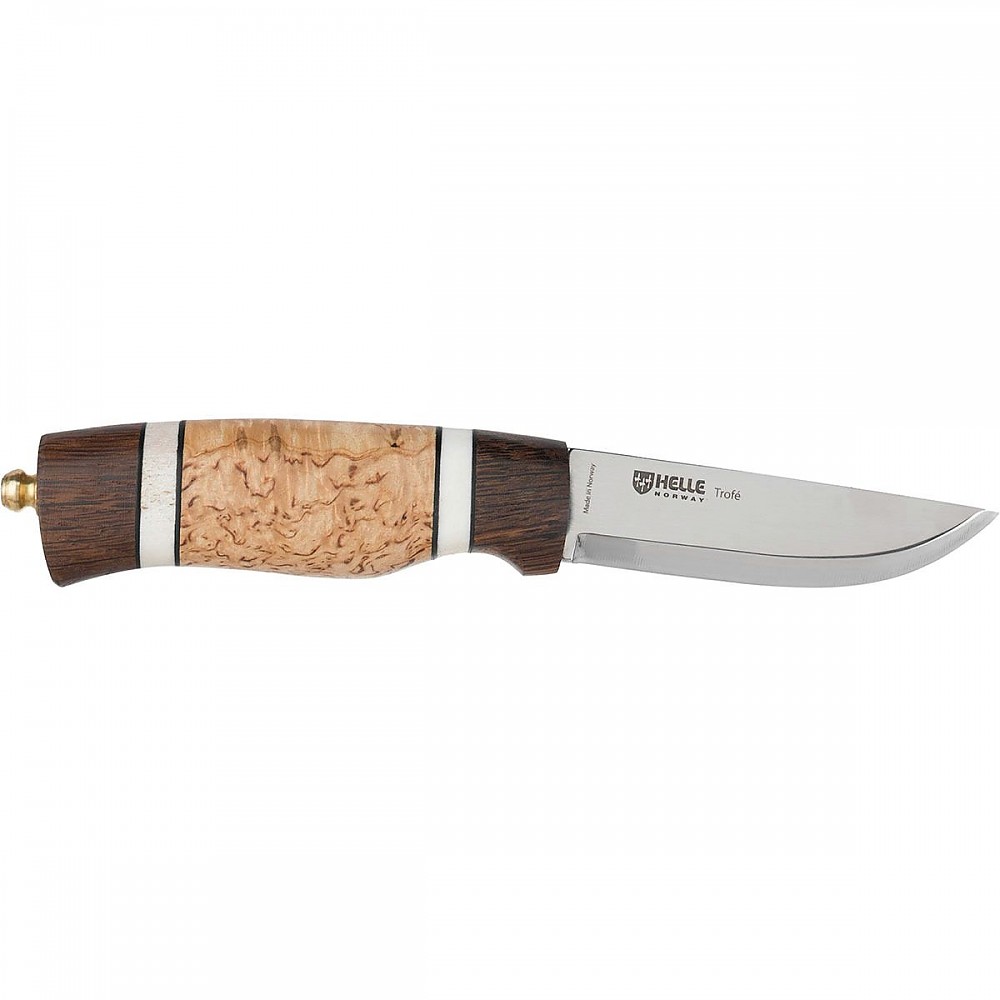 The Trofé is a mid-sized Norwegian utility knife made from a quality, triple-laminated steel for durability and good edge retention. The knife is fashioned from traditional materials and housed in a traditional leather sheath. While it's not a "one-tool option," the Trofé is perfect for someone willing to pay a bit more for a quality knife that offers its user both the satisfaction of good performance and of considerable, traditional beauty. It is a great general camp knife (though not for batoning) that holds a keen edge, provides excellent cutting control, and is easily resharpened in the field or at home.
Pros
Beautiful traditional Norwegian design
Premium materials
Sharp Scandinavian grind
Excellent edge retention
Handsome and functional sheath
Cons
Minor aesthetic imperfection given cost
Stick tang, lack of sharp spine limit use as outdoor knife
Helle advertises the Trofé as "a true Norwegian style outdoor knife." The basic dimensions of this knife, wrought of Helle's triple-laminated steel, are indicated below. 
Helle's triple-laminated steel provides a durable, rust-resistant outer 18/8 stainless steel (18% chromium, 8% nickel) sheath around a high carbon steel core. I learned from bladeforums.com that the core is evidently technically comprised of C: 0.67%, Si: 0.70, S: 0.002, P:0.019, MN:0.44, Ni: 0.28, Cr: 14.25, Mo:0.52; that puts it close to either 13c26 or 12c27 Sandvik steel, steels known as well-rounded knife steels with—according to Sandvik—"excellent edge performance allowing razor sharpness, high hardness, exceptional toughness and good corrosion resistance." Obviously, those are useful qualities for a knife blade to have. 
When ground, the high carbon steel provides a keen knife edge that is hardened to 58-59 on the Rockwell scale while the stainless steel provides an exterior sheath that is durable and easy to maintain.
The Trofé has been given a Scandinavian grind for its edge, where the bevelled portion of the blade begins close to the edge at a 12° sharpening angle. This grind provides exceptional sharpness and control of cuts, though it is sometimes more fragile than other grinds owing to its keenness. It is intended for cutting, carving, and slicing, not for splitting wood.
The Trofé is handled in darkened oak, staghorn, and curly birch with leather spacers, and it is sheathed in a tanned traditional Norwegian-style sheath ("treated with saddle grease 'for increased lustre and durability'").
The result is a handsome knife with a keen edge, comfortable in the hand and capable of handling various outdoor tasks. 
Observations
When I previously reviewed the Helle Mândra, I noted that the fit and finish of that knife seemed poor given its steep price tag. I was curious to see if this was typical of the brand, but the Trofé escapes this issue for the most part (perhaps the Mândra I received slipped through quality control). The only blemish on the Trofé was a misalignment of the plunge lines where the two bevels of the knife edge meet just above the handle. 
This, however, is common on many hand-shaped knives, and Helle notes that part of their tradition is producing no two knives that are alike "because each receive individual treatment by human hands. For us individuality does not come at the expense of quality, but rather enhances it."
Regardless, the result of almost a century of knife-making heritage is that this knife is truly beautiful with the darkened oak, leather, staghorn, and curly birch setting off the handle elegantly. This is fitting since the knife's name, Trofé, means "trophy" (if online Norwegian-English translators can be trusted!). The finish is very smooth, yet the palm swell of the handle is pleasing even for someone like me with big hands. I wear large gloves, sometimes XL. 
The knife slips into the simple but attractive leather sheath with a snug squeeze, and a metal band around the exterior of the sheath seems intended to keep the retention good over time. The sheath is fashioned of good quality leather and reflects good craftsmanship. 
Its seam is both glued and sewn, and the belt loop is riveted to the sheath through the metal band.
A strap of leather, cleverly cut from the sheath's belt loop, slips over a brass ferrule at the end of the knife's handle, additionally securing the knife in the sheath. The sheath is readily secured to a belt by way of the belt loop, though I often found myself carrying the knife in its sheath in a pocket.
The blade's traditional design is pleasing to the eye, too, and so this knife is the sort that gives aesthetic satisfaction each time it is unsheathed. Indeed, this aesthetic appeal—created through the use of traditional materials of superior quality—is a significant part of the knife's overall appeal and a notable reason that it commands the price that it does (MSRP USD $164).
This knife comes in a handsome cardboard tube with a polishing cloth, the Trofé, a note about Helle and the knife, and the sheath.
A Word about the Tang
I was cautioned by the knife's distributor that the Trofé has a stick tang and was not intended for abusive use: "Please let your tester know the Trofé is a traditional Nordic-styled outdoor knife for carving and cutting. It's not a survival knife for making firewood. Please don't baton this knife, it's a stick tang knife and will break." 
For those who may wonder, a stick tang exists when the blade's steel tapers into a thin "stick" of steel within the handle. In the case of the Trofé, the stick tang terminates in a brass ferrule and has been peened to secure the handle to the blade.
The distributor's caution alludes to an alternative knife construction technique in which the width of the blade steel is maintained through the entire handle rather than being reduced to a thin stick tang. This full tang construction generally makes for a heavier but more durable knife. In other words, it often holds up to batoning—using a weighty stick to beat the spine of a knife to split wood.
Mindful of this caution, I set about using the Trofé.
Use
Out of the box, the Trofé came literally shaving sharp (note hairs from my arm on the blade, below), capable of effortlessly slipping through paper without ripping or snagging. Note how fine some of the paper curls are, a testament to the blade's keenness.
The Scandinavian grind excelled at cutting and carving tasks, easily slicing through various types of cordage and wood. The grind can bite into wood for rapid stock removal at a steep angle or shave away delicate, wispy curls when used at a shallow angle in the manner of a drawknife or spokeshave. The keen edge provides crisp, clean cuts. The classic blade shape, which curves up to a sharp point, allows one to do a measure of detail carving, too. 
For instance, I found the Trofé ideal for carving a toggle for my bear bag kit (PCT style)...
...or for carving notches in a Burtonsville Rig that allowed me to suspend my pot at various heights over a fire during a more bushcrafty trip.
The handle is comfortable in a variety of grips. It fills the hand nicely for power strokes when held in the forehand grip, and—despite the protrusions on one side of the handle—it is generally comfortable in a reverse grip or a chest lever grip, too. I imagine, though, that prolonged use with the handle held sideways might become less comfortable over time.
I did not have any issues with slipperiness when the handle was wet.
The height of the blade—7/8 in or 2.22 cm—is sufficient that one can also choke up on the blade, holding it between one's fingers for finer tasks.
The spine is not sharpened to a 90° angle. This allows for more comfortable use when stabilizing the blade with one's thumb on the spine, but it also means that it can't be used effectively to scrape a spark from a ferrocerium rod to start a fire. However, I did find that the spine was sufficiently sharp to scrape curls from fatwood for tinder processing.
While a Scandanavian grind is not ideal for food processing (most chef's knives are flat ground), the Trofé was certainly capable of cutting and slicing food with ease, whether it was meat or vegetable.
Its limitations as a food processor are attributable to the knife's size and choice of grind—obviously one can't match the slicing and chopping ease one gains from using a longer, taller, flat ground chef's knife, and the thickness of the Trofé's blade has a tendency to split food rather than slicing it once the beveled part of the blade is through the food. 
Nevertheless, I found it quite handy for slicing off wheels of summer sausage, cutting off slices of cheese, and performing other light but typical camping food tasks.
Long-Term Observations and Care
Both of the steels used in the blade appear to be finely grained and of excellent quality. Accordingly, I found that the Trofé kept its keen edge for quite some time with regular stropping of the edge. 
When something beyond stropping was needed, the edge could be touched up with a few passes of a fine sharpening stone and returned to razor sharpness. The Scandinavian grind with its simple bevel was especially easy to sharpen, even in the field where I used my Work Sharp Guided Field Sharpener. 
While I avoided abusing the knife in my testing, the Trofé emerged from my testing without any chipping or rolling of the blade. I was careful to keep the blade clean and free of contaminants, pausing after use to clean and dry the blade. The stainless steel was predictably easy to maintain, a nice feature for an outdoor knife.
To maintain the knife's handle and sheath, I used Tru-Oil on the handle and mink oil on the sheath. I found both provided sufficient protection, were easily applied, and deepened the luster of the handle materials and leather.
Conclusions
The Trofé justifies Helle's claim that it is a traditional-style Norwegian knife made of high quality materials. The triple-laminated blade provides a keen, easily maintained edge that is suitable for many outdoor chores. Helle terms it a "compact yet robust mid-sized utility knife for everyday carry," and my experiences bear out this description.
At its price point (MSRP USD $164) the Trofé offers a good value. It is more expensive than an equally functional but much less expensive Mora knife (like the Mora Companion), but the Trofé is far more attractive, it requires more human effort to craft, and it is made of more costly materials. One expects a higher price for such things. That said, it is also far less expensive that most custom knives. Its price point will put it out of range of some buyers, but it will also allow others to own a handsome knife for less than they would pay from a custom maker. 
For whom is the Helle Trofé intended? Its elegant appearance and lovely design make it ideal for one seeking a knife that is not merely functional but also aesthetically pleasing. Those who use tools will recognize that there is satisfaction in having the right tool for a given task. There is also satisfaction when the tool itself is beautiful. Using the Trofé is a joy because it is a quality knife that feels good in the hand, performs well, and just looks good, too. For a camper or, indeed, anyone who is also a knife aficionado, that joy and satisfaction may be worth more money.
The Trofé does have a few limitations. Owing to its stick tang design and stacked handle, the Trofé is not suitable for batoning, a limitation for those seeking a one-tool wilderness option. You won't be beating the Trofé through wood to split kindling for a fire. Additionally, its spine is not sufficiently sharp to throw sparks from a ferrocerium rod for firebuilding, another limitation. 
Obviously, a knife made of these materials requires care (as do all knives). Some might perceive the non-manmade materials of the handle and sheath to be liabilities in wet climates, but as I noted in my Helle Mândra review, "such materials have been used for generations in Scandinavia, an area that averages 30+ inches of rain a year, so they are also functional and proven."
Overall, I recommend that the Trofé to those who crave a bit of beauty and tradition in their tools and who are willing to pay a little more to have those qualities. It is intended to be part of a system of tools (with a small axe or saw, for instance), not a one-tool option, but those who value quality, beauty, and tradition are likely to find much satisfaction and joy in using the Trofé, as I have.
Experience
I am now in my fourth decade of using knives, having been smitten with these tools as a youth at scout camp. I have found that each knife can teach its user something—about blade steels and grinds, about materials, about purposeful design, about aesthetics. This has led me to own and use many knives and to research everything from blade steels to the relative merits of various knife grinds.

My greatest joy, though, is using knives as they are intended to be used in the field. I used this knife at home and in the field for most of a year. This provided me with ample opportunity to evaluate the knife's durability and edge retention over a period of months and through many tasks from food preparation to notching wood to other carving tasks.
Source: received for testing via the Trailspace Review Corps (Sample for testing and review provided by ple for testing and review provided by Helle)

Your Review
Where to Buy
Help support this site by making your next gear purchase through one of the links above. Click a link, buy what you need, and the seller will contribute a portion of the purchase price to support Trailspace's independent gear reviews.
You May Like
Specs
| | |
| --- | --- |
| Price | Historic Range: $113.93-$169.00 |
| Weight | 114 g |
| Blade thickness | 3.1 mm |
| Blade length | 92 mm |
| Handle length | 111 mm |
| Blade material | Triple laminated stainless steel |
| Handle material | Darkened oak, leather, staghorn, curly birch |
| Sheath material | Genuine leather |
| Sheath weight | 40 g |
Recently on Trailspace