Helly Hansen Atlas Flow Down Jacket 3L

Top 25 in men's Snowsport Jackets
The Atlas Flow Down Jacket 3L has been discontinued. If you're looking for something new, check out the best snowsport jackets for 2023.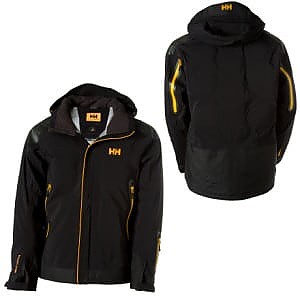 Let me begin by explaining where I live; Saskatoon, Saskatchewan, Canada, is one of the coldest places you'll probably find yourself in. Our winters here last five to six months, with temperatures regularly below -40 before windchill. It also snows, a lot. Not as much as in places like Revelstoke, but a few feet of snow a winter is the norm.

Living here, I was looking to buy a jacket that was waterproof breathable, and extremely warm. But what I got was...better.

This jacket is very light. Not weight weenie light, but for a durable jacket that stands up to extensive use and is waterproof, it is light. The down pockets are soft, and feels very nice because it feels like your entire torso is being warmed by it, but not as stifling as a normal down jacket is. The sleeves and hips are actually thinsulate, and not primaloft, which was a little disappointing, but wasn't a huge deal. For the -55 days, I'll throw on my HH Odin Insulator underneath for a bit more warmth.

When I first got the jacket, I was worried that it might not be insulated enough for walking to and around campus during the week, and playing in the snow on the weekend. And on those really bitterly cold Canadian prairie days, it isn't. But as long as the temperature is above -25 celsius, I can throw this jacket overtop of a shirt and sweater, and be extremely comfortable both in doors, thanks to its high breathability, and outdoors, thanks to its incredible wind and waterproofing.

I've used the jacket for a bit of winter running as well. The vents do a great job once you get going, and even when your sweat starts to overwhelm the shell's breathability, the down pockets do a really good job of keeping the moist shell off of you.

Yes, this jacket is really expensive at retail. But the high quality, and the lifetime warranty(which is excellent btw, HH has always been very quick to handle any manufacturer's defects, and more than a few times, and fixed stuff due to customer error), really makes this jacket worth the investment if you do find yourself living somewhere cold and snowy.

For full disclosure, I work in an outdoors/bike shop, and am able to purchase various brands, such as HH, Sierra Design, Oakley, Columbia, and Salomon at a staff price, which is why I'm able to get such an expensive jacket. But I'll take this jacket toe to toe with any Patagonia, Arc'teryx piece, and be confident that this jacket is just as good, if not better than anything they make in this category.
Fabric: Helly Tech XP
Fill: 90/10 800 fill down torso, Thinsulate sleeves and hip
Price Paid: Pro-Deal

Your Review
You May Like