Helly Hansen HH Lifa Merino Pant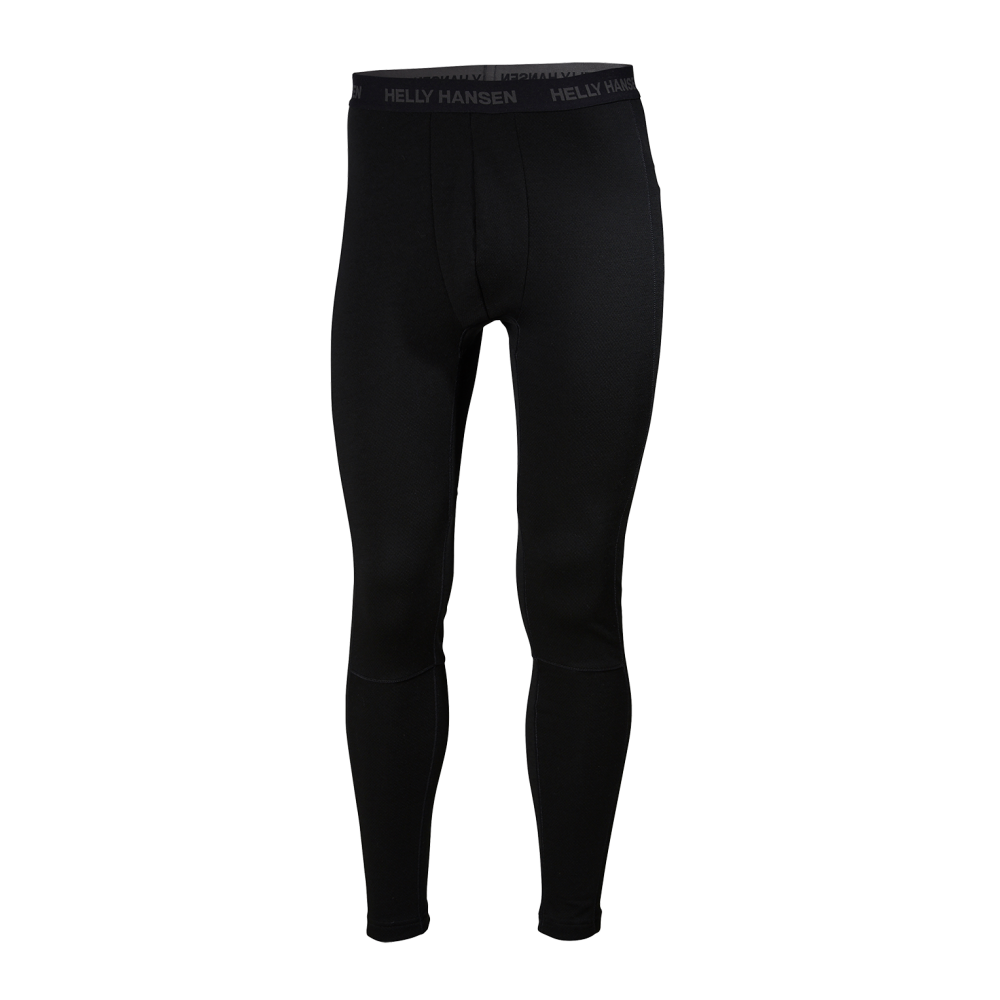 An excellent base layer choice from a company that understands cold and wet weather. The HH LIFA Merino 2-layer construction keeps you warm and dry in all kinds of conditions, and feels great when wearing it. Watch out for the "athletic" fit when purchasing, but if you get the right fit this base layer will keep you comfortable in rain, sleet, and snow well below freezing.
Pros
Comfortable
Wicks moisture from skin
Warm even when wet
Wears well
Accurate sizing
Comfortable elastic waistband
Odor resistant
Dry quicker than 100% wool
Cons
Athletic fit may not work for all
No fly
Washing/drying care needed
Few loose threads – no structural issues
Note that this is a companion review with the Helly Hansen LIFA Merino 1/2 Zip top.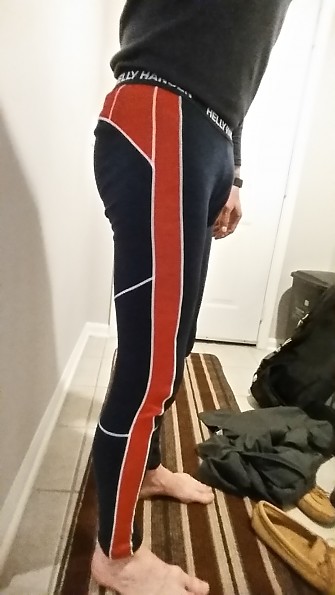 Product Description
Helly Hansen (HH) LIFA Merino base layers are designed for cold weather with a two-layer construction consisting of their synthetic LIFA Stay Warm Technology interior and 100% Merino wool exterior.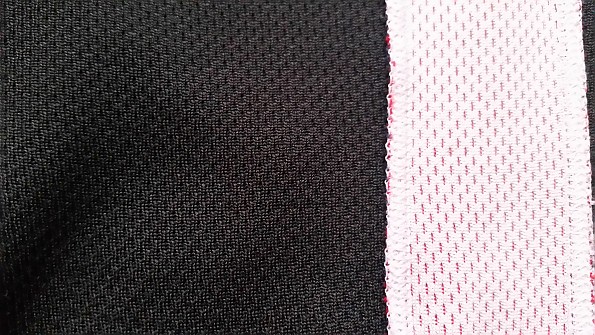 Their LIFA layer pictured above is designed to push moisture away from the skin while being itch-free and comfortable.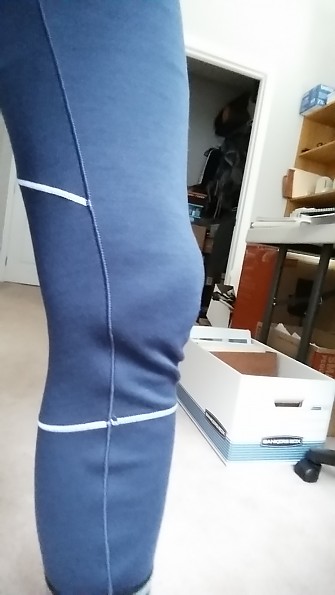 The wool exterior pictured above provides extra warmth and helps wick the moisture away.
Product Features (per Helly Hansen) include:
2-layer construction 
100% merino wool exterior 
Lifa technology interior 
Non itch 
Flat lock seams 
225g/m2
Testing Conditions
I wore the HH LIFA Merino base layers from November 2017 to March 2018. Activities included day hikes of 5-12 miles and four weekend backpacking trips from 20 to 35 miles. I endured prolonged exposure to wind, rain, sleet, and snow in temperatures ranging from 10 to 50 degrees. This included an overnight trip (two long days) during a one-foot snowstorm (the HH pants are under there doing their job)...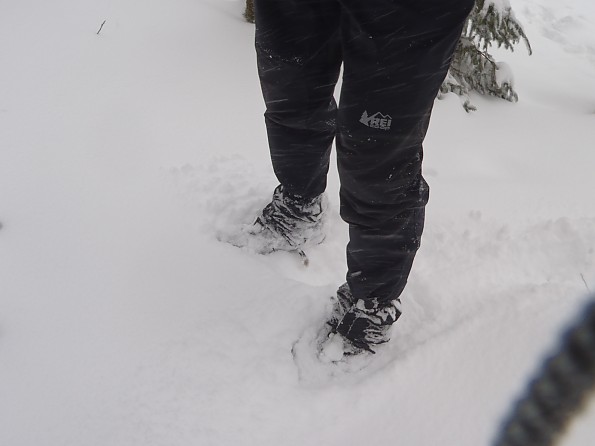 Plus a three-day trip with about 36 hours of rain, and a two-day trip with another 6-8 inch snowstorm. Never mind numerous winter day hikes in all sorts of conditions.
A quick description of the tester—my measurements for comparing sizes (I ordered a medium bottom) are waist 33, hips 36, inseam 32 (all in inches). I am a heat generator and sweat just thinking about summer. I used to wear shorts down to the 30s when moving (in sunny and not too breezy weather) and add pants when I stop. Now I'll wear light pants (or rain pants) when it's less than mid-40s and add a base layer on bottom below freezing.
Below 40 in adverse conditions, I always wear a base layer (previously Capilene). Below freezing I'll layer the bottoms with hiking pants over a base, and maybe rain pants on top. I don't spend much time in less than 0-10 degrees F due to my location in the Southeastern U.S.
Sizing/Fit/Comfort
When Trailspace contacted me to test the HH base layers, and asked what size would be best, I had a difficult time deciding as I know some companies tend toward an athletic fit tighter than others. I decided to go with Helly Hansen's size chart and risk it being too tight as this would test their sizing chart for others. I therefore tested their Medium size.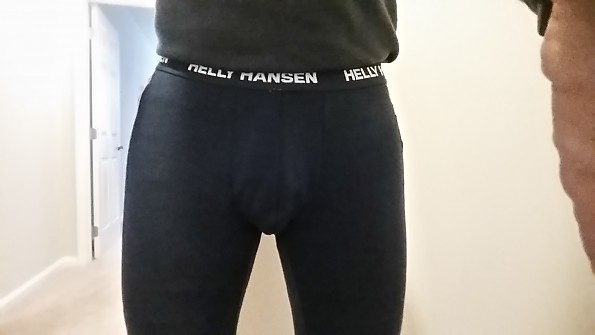 The base layer is a snug "athletic" fit and is true to the size chart. It worked well for me, but may not work for everyone. I have dropped about 15 pounds over the last year or so, and I doubt this would have fit me as well back then. If you tend to need some waist room, I would go one size up.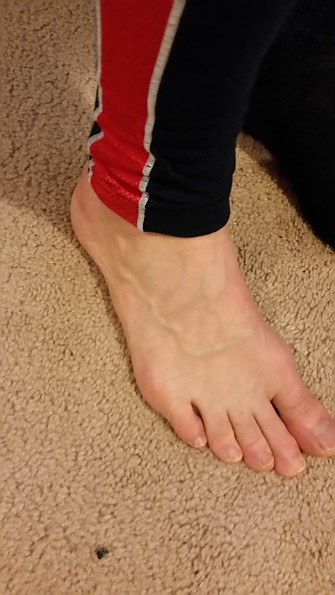 The inseam length was just about right for my sticks (32-inch inseam), but may be different for others as your legs may vary. 
To test the comfort for shorter legs I wore it "scrunched up" above my ankles for a long day hike—no issues at all with comfort.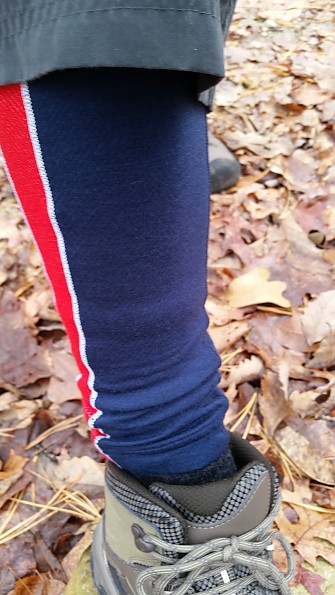 For longer legged folks, I think it would be fine with the right socks to cover the "gap."
The elastic waist band fits my 32/33 waist just about perfectly and caused no irritation at all with my typical pack (20-25 lbs) over long days of 15+ miles.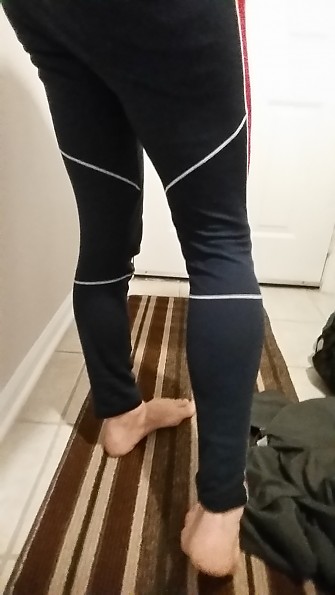 The flat lock seams look like they would feel uncomfortable and cause irritation, but I didn't notice them at all. In fact, the LIFA Merino material is so comfortable, I rarely noticed I was wearing this base layer.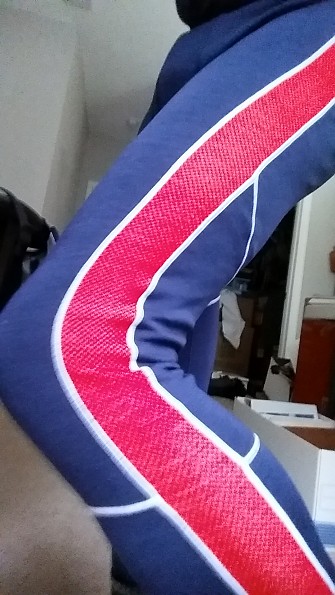 The legs flexed well and did not bunch up or cause any irritation during a lot of 1-2000 ft climbs (well walks actually). No seams are located in the knee area where obviously the most flexing goes on.
Breathability/Warmth/Layering
The HH base layers breathe really well. You can feel a breeze coming through and they dry out fast compared to pure Merino wool. I regularly wore the HH LIFA Merino Pants with just rain pants in temperatures from 20s to 50.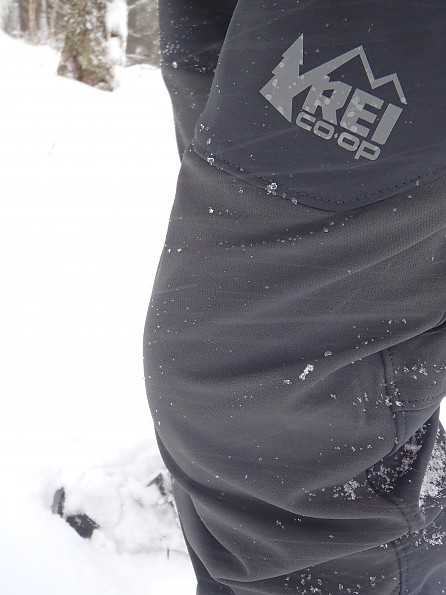 In a recent 30-degree snowstorm I was perfectly warm and dry with just this layer and windproof pants. 
The two-in-one layer system seemed to work really well. I can generate sweat with a minimal amount of exertion well below freezing. In fact I am sweating right now just thinking about warmer weather. Sweat is wicked away from the body quickly and moved to the outer Merino layer. The LIFA Merino bottoms did not seem to get as moist as the top when testing, but I tend to sweat more on top anyway so that made sense to me. When the bottoms did get wet, they mostly dried out in a matter of 30 minutes.
The warmth for weight is better than my older Capilenes. I never got cold (with appropriate layering) and being damp did not make it colder. 
During a trip with 48 hours of rain, the base layers never dried out overnight as it was 100% humidity and misting everywhere. I put on both base layers wet on that 20 degree morning and they warmed me up right away (after that initial shock). Should have taken a picture, so you will have to settle for my sock photo as proof that it was pretty cold.

Here is another photo from around 30 degrees and snowy outside. I found myself perfectly comfortable inside the tent that morning in just the HH base layer bottoms as I was preparing for the day's hike.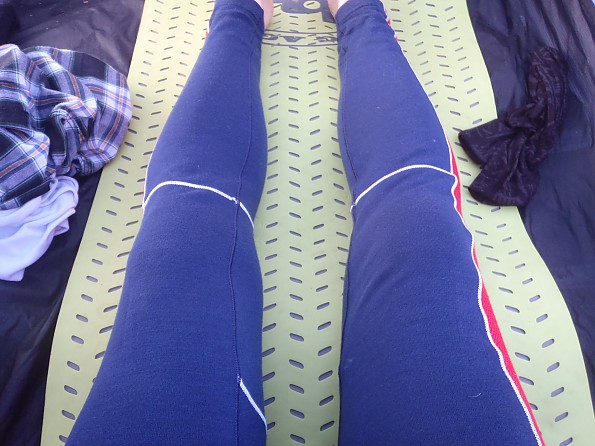 My layering approach is difficult to describe as it is not one setup of three layers but a combination of different items depending on the expected weather (worst case). I found the HH base layers fit easily into my system due to the athletic cut under other layers. I shift a lot when temps change so here is a summary of some variety of conditions and my other layers worn.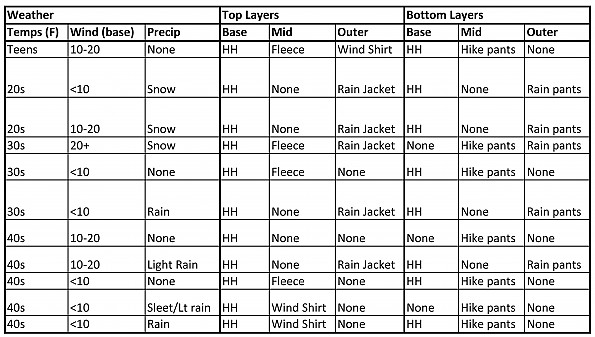 Care/Maintenance
Many hikers will be familiar with the stench that quick-drying clothes generate after a short time on the trail. I decided to test this by not washing these for a solid week. After the week of heavy day hiking—7 to 10 miles per day for 5 out of the 7 days—there was still no significant smell. Don't take my word for it—these passed the wife test as well and she is much more sensitive to things like that (or she "smells more than I do" as we often joke).
I washed both base layers per instructions and hung them out to dry. Inside my house, they dried overnight every time. Except on the 48-hour rain trip, there was significant drying when I hung them out in camp and mostly they came out dry by morning or slightly damp but warm.
Construction/Durability
I found the HH Base Layers to be well constructed and so far have noticed no wear in them. These photos are from the end of my testing, not new out of the box.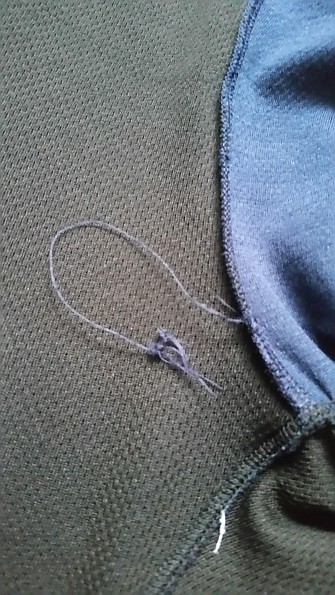 There were a few loose ends on the seams but they were snipped off and did not cause any issues. I see a lot of loose ends on clothes now so don't know if that is a common "thread" in clothing manufacturing.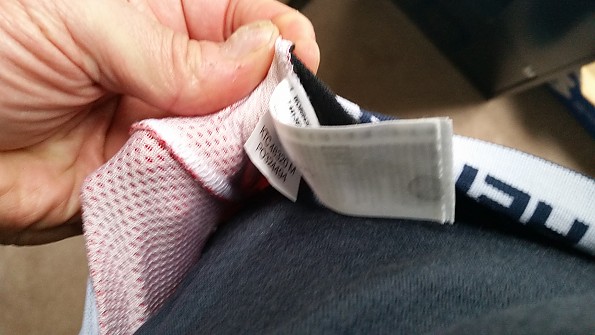 One pet peeve (common to many clothes) is the amount of tags. I know this is so HH can provide washing instructions in several languages, but I wish there was a better way of doing this.
The only design thing I would change is to add a fly to the bottoms. This would allow for the quick No 1 option on the trail (well, hopefully off the trail actually).
There is no difference, apparent to my eyes at least, between the different colored panels of the bottoms.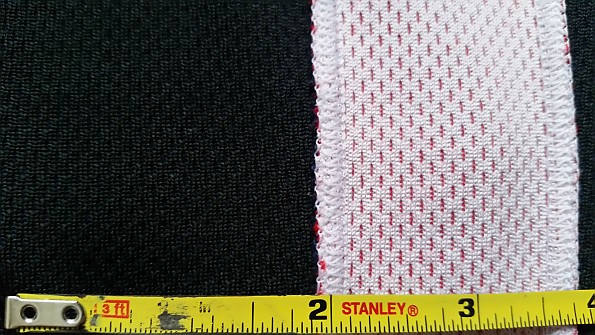 At first I thought the white sections were more vented, but when you put a ruler to them it shows the same spacing of the LIFA "mesh" layer, so I think this is just an optical illusion with the color change.
Recommendation
The HH LIFA Merino base layers are excellent for colder conditions. While untested in this review below zero degrees F, I found them more than adequate for temperatures down to around 10 degrees, with appropriate other layers of course. I would continue to test them in lower temperatures as I don't think I reached their lower limit, and confidently recommend them for others with the waiver that you should use caution in these temperatures and combine them with other appropriate layers for the conditions as well as your metabolism.
If allowed to keep these layers on conclusion of this test period, they will be my primary base layer for walking across wet and windy Scotland in May. I don't think I could provide a higher recommendation!
Thanks to Helly Hansen and Trailspace for the opportunity to test the LIFA Merino base layers.
Source: received for testing via the Trailspace Review Corps (Sample provided by Helly Hansen for testing and review)

Your Review
Where to Buy
Help support this site by making your next gear purchase through one of the links above. Click a link, buy what you need, and the seller will contribute a portion of the purchase price to support Trailspace's independent gear reviews.
You May Like
Specs
Price
MSRP: $90.00
Historic Range: $37.99-$95.00

Recently on Trailspace