Helly Hansen Odin 9 Worlds 2.0 Jacket

The Odin 9 Worlds 2.0 is a superbly water-resistant, windproof, and breathable men's jacket that allows one to forget about the weather and focus on one's activities in the outdoors. Excellent features, a practical design, and a trim fit come at a high-end price that is ultimately reasonable given the jacket's superior performance. Excellent for a wide range of year-round outdoor activities such as hiking, mountaineering, trekking, or skiing.
Pros
Superb waterproofness
Superb windproofness
Superb breathability
Thoughtfully designed for active use
Excellent attention to detail
Cons
Trim fit could limit cold-weather layering
Slightly finicky internal cord lock adjustments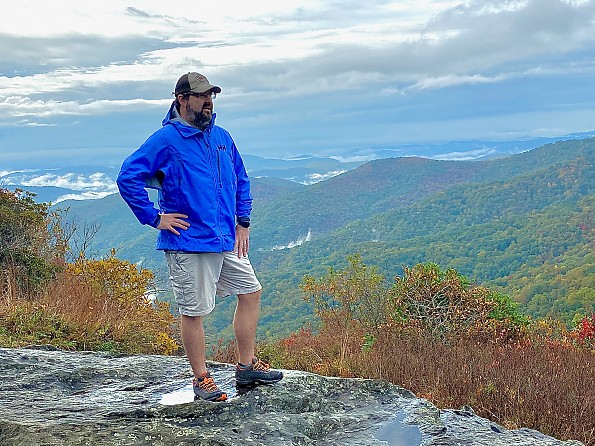 The Odin 9 Worlds 2.0 is a three-layer men's shell jacket featuring Helly Hansen's Helly Tech Professional 3L fabric made of 100% polyamide (nylon). The jacket comes in four colors: Royal Blue, Patrol Oran, Alert Red, and Black, and it is designed for year-round activities such as camping, hiking, trekking, skiing, or mountaineering. 
The Odin 9 Worlds weighs in at 19.5 oz/ 554 g (my XXL weighed 22.8 oz/646 g) and has an MSRP of $400. Helly Hansen boasts that it is waterproof, windproof, and breathable, citing a 20,000gm WP and 15,000gm moisture vapor permeability.
The Odin 9 Worlds 2.0's 20,000gm WP rating basically means you should be dry in heavy rain or wet snow while the fabric endures high pressure—think driving wind and heavy rain. Additionally, the 15,000gm moisture vapor permeability rating suggests that the jacket is suitably breathable for you to engage in any vigorous outdoor activity.
Building off of their original, award-winning Odin 9 Worlds jacket (2017), the 2.0 has been designed to be "cleaner and lighter," providing space for layering while maintaining hard shell protection. According to Helly Hansen's site, updates also include an 11˚-angled zippered chest pocket, "improved CF zipper puller, wired hood brim and flush internal cord adjustments." It features two double-zipper-pull front pockets/vents, the previously mentioned chest pocket, and a host of adjustments for dialing in the fit.
Video Overview
If you want a quick take on this jacket, please see my overview video below. For more detail, read on.
Features: Much Attention to Detail
When I first unpacked this jacket, I marveled at the designers' attention to detail. It is unmistakable and immediately attracts one's attention everywhere one examines the garment. Take the seams, for example: a glance at my older North Face and Marmot jackets revealed seams that expose thread on the exterior of the jacket, but on the Odin 9 Worlds 2.0, all of the seams that join pieces of fabric together are sewn from the inside and taped, creating precisely finished, flat seams that minimize any potentially water-wicking exposure of thread to the elements.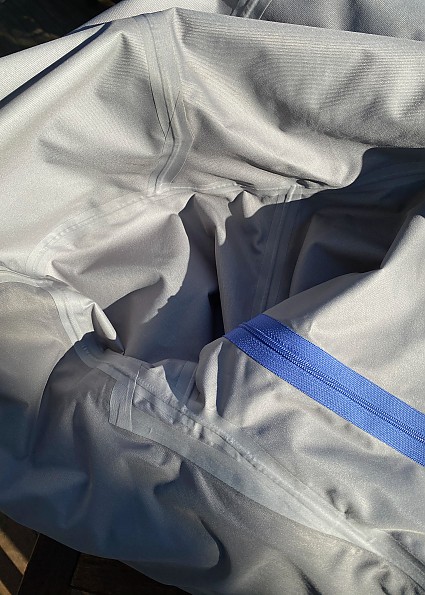 Consider the adjustment cords to cinch the hood: the openings to these, too, are hooded to prevent rain from infiltrating the pull cord openings.
The same can be said for the front zippers. The two main pocket/vent zippers feature double zipper pulls for greater control and for ease of opening around a fastened pack belt or a climbing harness. That little chest pocket is useful for the same reason, offering accessibility to small items when harnessed up or carrying a pack. Moreover, these pockets'  zippers are not only rubberized for water resistance but also hooded so that the top zipper pull is housed in a flap of fabric when zipped shut (see "Tight, internally sewn seams" image, above). The design is practical, seemingly influenced by real-world demands.
The jacket's cut is trim enough to hug the body, yet capacious enough to allow modest layering—I found it ideal with a base layer and my Patagonia R1 fleece, for example. The bottom seam allows hip coverage even with a pack belt around the jacket.
The cut features articulated sleeves to allow a greater range of motion without causing the sleeves to ride up. The elbow alone is the junction of five seams, each contributing to a sculpted sleeve that minimizes fabric used while preserving complete freedom of movement for vigorous outdoor pursuits.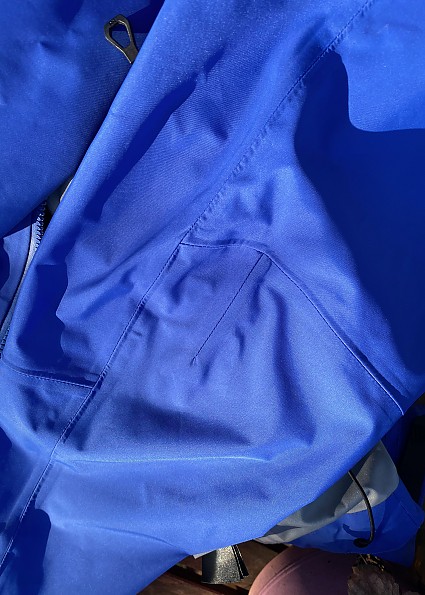 Move inside the fully lined Odin 9 Worlds 2.0, and one sees more attention to detail. The zippered slash pockets on the front are lined with a material that allows vapor to be wicked from the body through these pockets. That same pocket lining features two sewn-in organizer pockets, but Helly Hansen's attention to detail is such that small, round patches protect the lining from the slightly thicker masses of stitching that shape the organizer pockets, so as to prevent abrasion of the lining if these organizer pockets are loaded. Every eventuality seems to have been anticipated.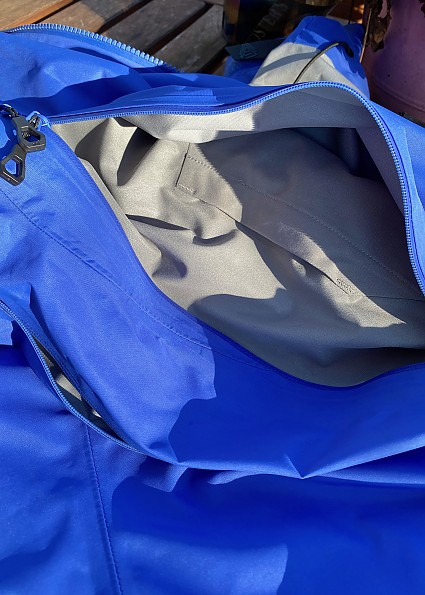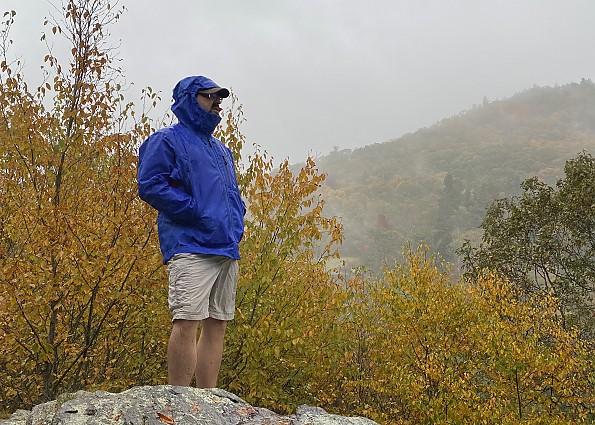 The shock cord drawstrings around the waist and bottom of the jacket are located between the jacket's layers or emerging from grommeted holes on the interior, but they feature--as does one of the hood cinch cords—internal, low-profile cord locks that are completely shielded by the rain shell's fabric.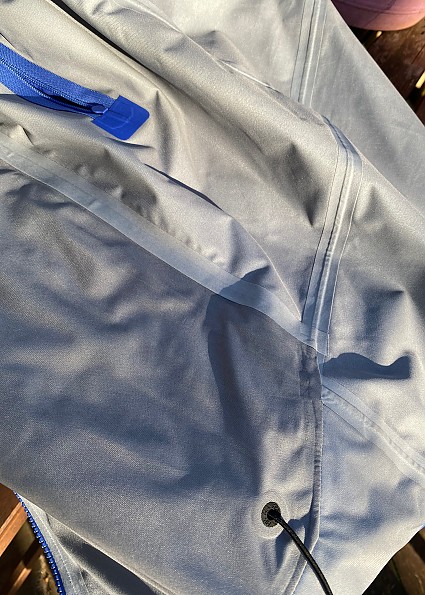 One can adjust the tightness of the jacket using completely sealed cord locks with no fear of the elements getting in. While I did find that there was a learning curve to using these cord locks and that they could be a little finicky, such gripes are minor when one enjoys dry comfort as a consequence.
Simply put, one quickly senses that every detail of this jacket has been patiently and thoughtfully considered to produce the best possible user experience—even the care instructions are translated into thirty languages on the jacket's tabs!  
Fit
The fit of this jacket is flatteringly sculpted. I tested an XXL and had no problem wrapping my 6'2"/240 lb. (1.88 m/108 kg) body in the jacket; I would say the jacket runs true to size. The fit is more trim than baggy (I'll discuss layering below).
I did find the sleeves to be a little too long, but this may be by design to allow full arm extension during activities such as mountaineering without having any ride-up of the cuffs. In any case, the wrist closures prevented this from being an issue.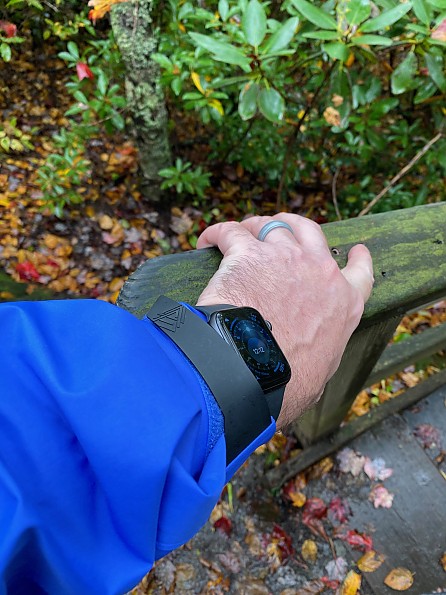 The hood is designed to accommodate helmets while also cinching down for a tighter fit as needed. While I did not happen to use a helmet during my tests, the hood's generous cut and adjustability appear readily able to accommodate a helmet.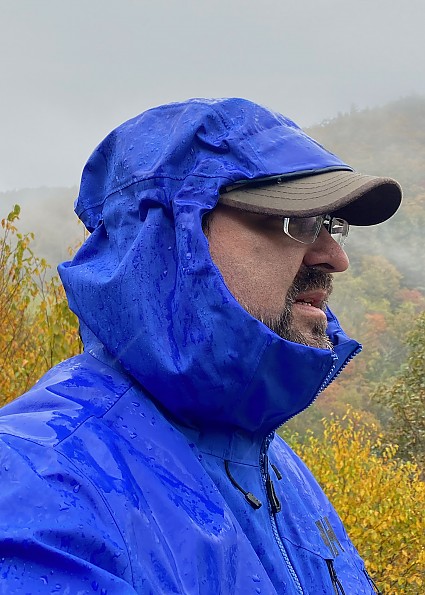 Waterproof?
So how does this well-designed but pricey jacket do in the elements? Helly Hansen rates it a 6/6 for waterproofness. Early in my testing, I playfully asked my children to turn the garden hose on me. They did so, with glee, glee that spread to me when I watched the water bead off the DWR finish. Thereafter, I found myself eagerly eyeing the weather forecast to see if rain was likely.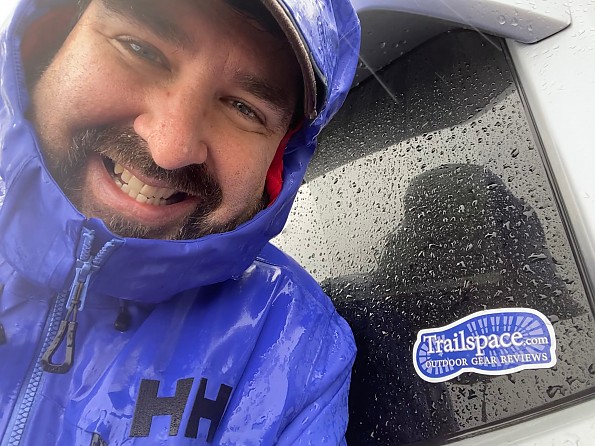 In fact, I planned backpacking trips around the likelihood of rain coming. Fast forward to fall. By that time, I was actively seeking out adverse weather conditions because I felt confident in this jacket's abilities. By adverse, I mean remnants of hurricanes with gusting winds and drenching rain. Sudden cloudbursts from summer thunderstorms. Long, steady rain during hours on the trail.
The bottom line is this: its 20,000gm rating meant rain never got through the fabric in any of these conditions, even in gusting winds and tropical rain. Well, except for the time I left the front pockets unzipped due to my preoccupation with land navigation! Wearing this jacket, I simply ceased worrying about rain or wind and focused on my tasks or my surroundings.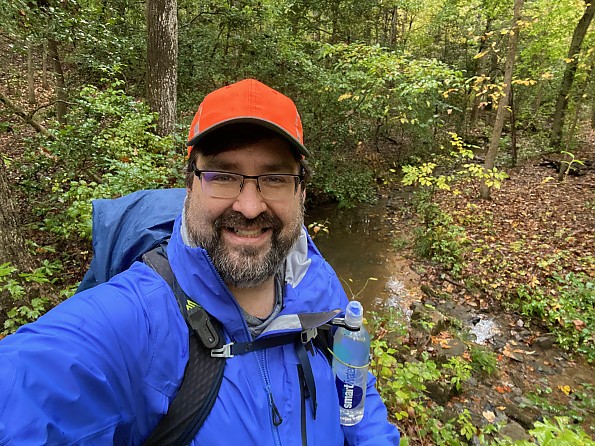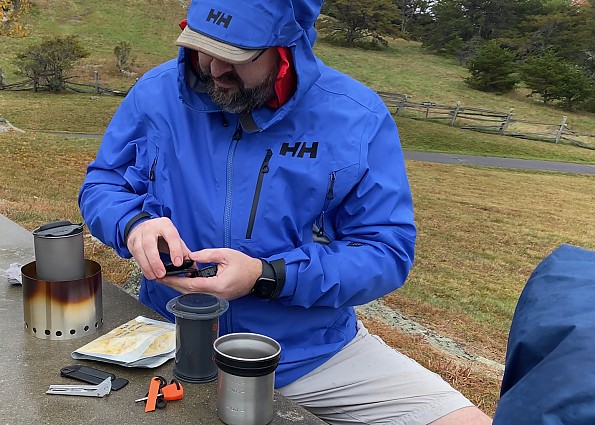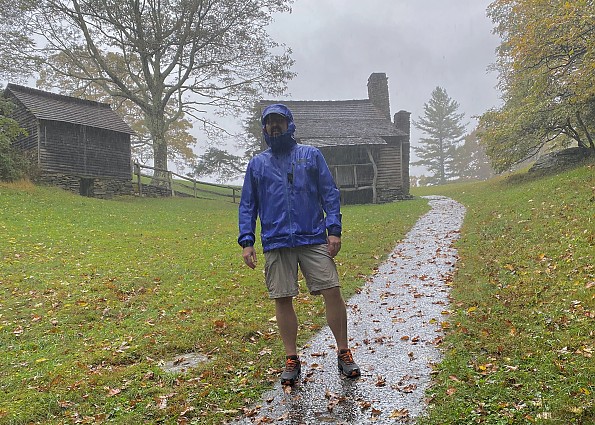 One thing I noticed, too, was how rapidly this jacket dried after the rain stopped. So impressed was I by this quick-drying aspect that I filmed it to see how quickly it dried on its own without the benefit of my body's heat to speed the process (see video, below).
Windproof?
Helly Hansen rates it a 6/6 for windproofness. I've used the Odin 9 Worlds 2.0 in coastal winds, amid normal breezes and winds that one might encounter on any given day, and in the mountains amid blustery hurricane remnants with winds gusting from 30-40 mph.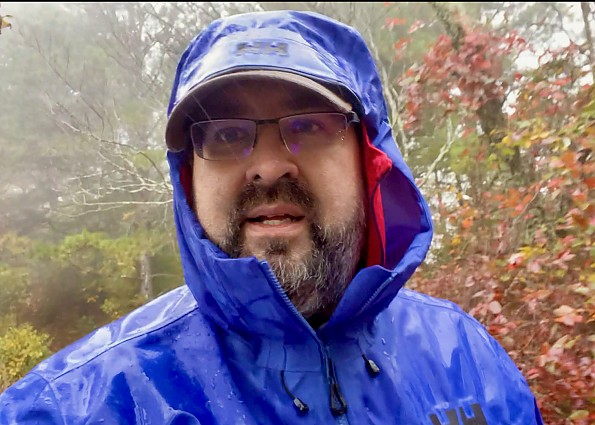 With pit zips and pockets sealed, the jacket provides an impermeable barrier to the wind. Indeed, the only discomfort I felt from wind occurred when I wore the jacket on an unexpectedly cool day without sufficient layers beneath it. The fabric—cooled by wind and pressed against my t-shirted body—felt chilly, but this was not due to any lack of windproofness on its part but rather due to my own rookie mistake of not grabbing another layer before eagerly hitting the trail.
Breathable?
In keeping with Helly Hansen's high expectations for this jacket, the company has rated it 6/6 for breathability, too. I've had plenty of jackets that may initially have held rain off but ultimately would wet out from the inside due to lack of adequate breathability. Would a jacket with a 15,000gm moisture vapor permeability rating fare better? Yes. 
In the full summer heat of the Southern United States, I am not often inclined to wear a rain jacket, but I did try this jacket in 80˚s F/ 26.6˚+ C to see how it would do. The Odin 9 Worlds proved remarkably breathable in these conditions (albeit warm: who wants to wear any jacket in those temps?), though I learned quickly in warmer weather that I preferred to have pit zips and front vents open, and the wrist cuffs loose to increase airflow. Candidly, I sweat when backpacking in such conditions, and I welcome the rain on my clothes and skin, so these summer tests were more experimental tests to cover my bases rather than something I am wont to do in the field.
As fall's cooler temperatures came on, though, the jacket hit its sweet spot: while it can be worn at any temperature, I found it most comfortable in the lower 70˚s F/ 21˚C and below. At these temperatures, the breathability really became apparent, too.
On one backpacking trip, I shouldered a pack on a muggy trail on a rainy morning, huffing up plenty of elevation from creek bottom to ridge top, exerting myself sufficiently over more than an hour that my ball cap grew soaked from my exertion. Yet, when I removed my pack and took off the jacket when I reached my car at the trailhead, I was stunned to find the inside of the Odin 9 Worlds 2.0 was completely dry (see image, below).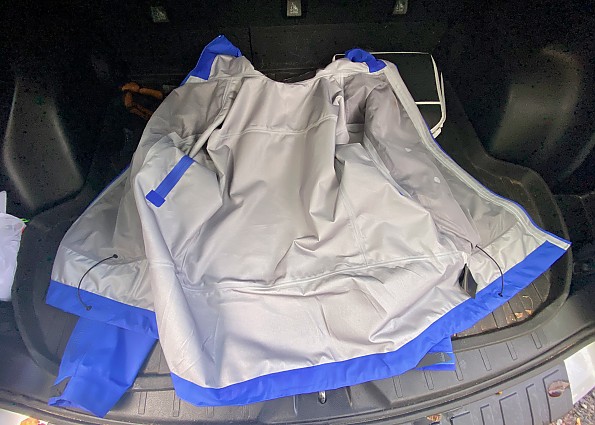 The layered design does an excellent job of dissipating moisture vapor that is produced by vigorous exertion, an issue I've had with other jackets that I ceased to worry about when wearing this one.
A Word on Packability and Weight
My XXL weighed 22.8 oz/646 g. The jacket is readily stuffable into an outer mesh pack pocket, or it can be rolled into a compact bundle. For example, I found it fit into a 4 x 10 in/10.2 x 25.4 cm cylindrical stuff sack I had.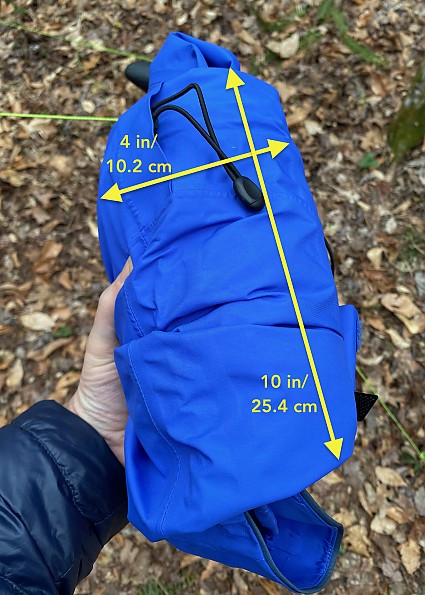 Doubtless, there may be lighter and more compact rain shells on the market—Helly Hansen calls the Odin 9 Worlds 2.0 "extremely lightweight" yet rates it 5/6 on their own scale for weight—but this jacket's superior performance and quick-drying aspect quickly won me over as I found I never had to stuff it wet into my pack, something for a prospective buyer to consider if questioning its weight. I'd much prefer to carry the Odin 9 Worlds 2.0, knowing it dries quickly,  than one of my lighter shells that tends to stay wet longer and thus add weight to my load when it's wet.
Minor Gripes
I previously alluded to the slightly finicky adjustments of some of the cinch cords owing to their internal location. If you're one who likes every adjustable option perfect every time you wear a shell, this feature might drive you a little batty unless you take some time to work through each adjustment. In general, though, I found myself using or not using the cord lock adjustments based on the conditions, and I didn't worry about adjusting the cords often. It took really nasty and cold weather to inspire scrupulous attention to getting those perfect.
A second minor gripe is the tailored fit. In most circumstances, this sculpted fit is a boon. It works well for athletic body types and even those like myself who are working back toward a more athletic body type, and it prevents the fabric from being whipped about in high winds.
Where this tailored cut could become problematic is cold-weather layering: this shell works best with close-fitting insulating layers under it. It is clearly intended for active use that generates its own body warmth. I loved it with my Patagonia R1 fleece, for example, or perhaps with that fleece and a light down vest.
Any bulkier insulation than that and one will find the trim cut of the jacket confining. Trying to pull the Odin 9 Worlds 2.0 on over a sumptuous puffy jacket would be a hassle. Only a few times did this present a problem for me during my testing since I was generally moving and plenty warm, often shedding a layer rather than wishing for another, but it is a point of consideration for a prospective buyer.
Durability and Cleaning
This jacket appears to be made of top-quality materials. Its durability has been excellent, and I've found that its tough exterior discourages abrasion. The fabric has exhibited no ill effects from being worn under pack straps or belts, and while it has more wrinkles in it now than it did when it first appeared in its crisp glory, that's about it.
Design elements support the jacket's durability, too. For instance, the hook-and-loop closures on the wrist cuffs do not feature one side with hard plastic loops catching the softer, looped part on the jacket (the ones that have a tendency over time to turn the softer part into a fuzzy mess). Instead, Helly Hansen uses a rubber-like, textured cuff that engages with the soft loops, a feature that preserves the effectiveness of the closure without the pulling that can render hook-and-loop closures fuzzy and useless. 
After months of use, the collar and cuffs show some grime, but there have been no stains or discolorations. I have yet to wash it, but I will update this review at such a time as I do to report on its launderability. Helly Hansen recommends a lukewarm water wash (no bleach or fabric softener) with a low tumble drying and low iron to reactivate the DWR finish.
Conclusions
Overall, the Odin 9 Worlds 2.0 shell is an impressively designed, high-functioning jacket that appears to meet Helly Hansen's own lofty performance expectations. Thoughtful detailing and features yield a jacket with excellent breathability, windproofness, and water resistance, a design well-suited for any outdoor activity that requires rain or wind protection.
This jacket is especially ideal for fall, winter, and spring conditions when one needs a reliable option for rain and wind protection that can handle active physical exertion with superior breathability. It is not ultralight, but it is respectably light for a three-layer shell, and unlike some lighter shells, the Odin 9 Worlds 2.0 dries quickly for dry stowing—one won't be toting the extra weight of a wet jacket.
One gets what one pays for here, and the product is top-notch and satisfying to use. Simply put, this jacket allows one to enjoy the outdoors without worrying about the weather, and while that peace of mind comes at a notable price, anyone who has experienced rain jackets wetting through or growing clammy from a lack of breathability is likely to consider this MSRP to be reasonable for a high-quality jacket. It's a perfect choice to toss in a day pack for an iffy spring forecast, to protect you on a multiday fall backpacking trip, or to pull over a mid-layer fleece for vigorous winter fun.
The Odin 9 Worlds 2.0 is a jacket that inspires confidence: it's the sort of gear one relishes putting to the test because time and again it passes with flying colors.
Experience
I used this jacket as my primary rain and wind shell over the course of nine months. I tested it in microclimates as diverse as the eastern Atlantic seashore to Appalachian mountain peaks, in weather ranging from light spring rain to gusting torrential downpours. While my primary activities during my testing were backpacking and hiking, I also wore the jacket to and from work in inclement weather.
Source: received for testing via the Trailspace Review Corps (Sample for testing and review provided by Helly Hansen)

Your Review
Where to Buy
Help support this site by making your next gear purchase through one of the links above. Click a link, buy what you need, and the seller will contribute a portion of the purchase price to support Trailspace's independent gear reviews.
You May Like
Specs
Price
MSRP: $400.00
Current Retail: $285.00-$450.00
Historic Range: $225.00-$450.00

Weight
554 g

Fiber Content
100% Polyamide

Waterproofness
20,000gm WP & 15,000gm moisture vapor permeability / waterproof, windproof and breathable