Hennessy Hammock Deep Jungle Assym Zip

Top 25 in Hammocks
A three-season hammock that can easily be modified for winter use. Great construction, excellent design, and superior customer service!

If you're either a hammock sleeper, or looking for alternatives to ground sleeping, the HH Deep Jungle doesn't fall short in any aspect!
Pros
Can be set up just about anywhere there are trees/anchor points
Customizable/lots of useful accessories
Easy/dry setup
Very comfortable
Included with rainfly, straps, insulation pad
Two layer hammock fabric for worry free installation/alignment
Bug-free comfort
Can be used as a chair/workstation in inclement/any weather
Cons
Two rainflys recommended for year-round use
Not ideal for areas without trees/other anchor points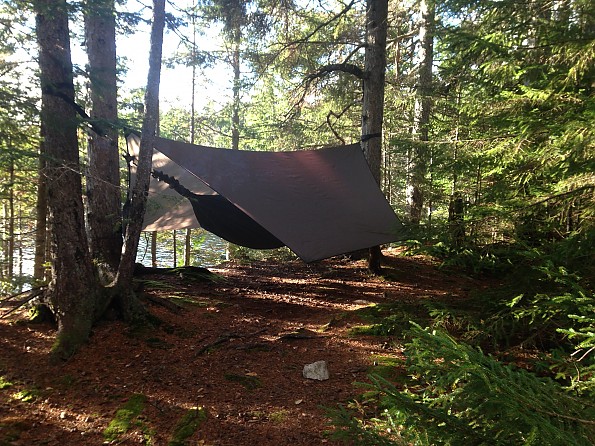 Home, sweet comfortable home...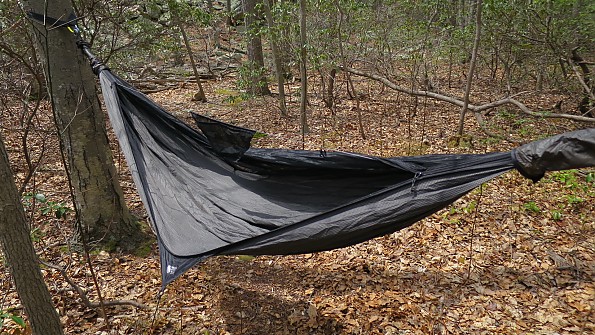 Who said hammocks give that claustrophobic feeling? 
"It's a tent…It's a hammock…It's a Chair… It's a lounger… It's Super Shelter!"
The Hennessy Hammock Deep Jungle is an EXCELLENT sleep system. It is very clear that R&D was very well done before this product became available to consumers. An asymmetrical design, it is very easy to lie almost completely flat when in this hammock. Hennessy Hammocks has grown to have a devoted following of long-distance hikers, people with back problems, and the everyday hiker!
Testing Conditions
I have used this hammock on several backpacking trips, from summer into late autumn, and spring in northern Maine, Virginia, West Virginia, and Maryland. I have also slept in this hammock at home, and on day hikes many times.
Temperature ranges have varied from about 90°F+ area, to under 30°F. Wind has varied from still nights to very breezy, 30mph winds in November, below freezing. Testing has occurred from Summer 2014 through Spring 2015.
Specifications
Hammock:
Fit: 6' Height, 250 lbs. capacity (regular model). XL model capacity is 7' Height, 300 lbs.

Hammock fabric: two layers 30 Denier Nylon 66 with polyester reinforced ripstop

Mesh: 20 Denier polyester No-See-Um

Suspension Ropes: 10' each/1500 lb. test Spectra reinforced with tightly braided polyester cover

Dimensions 100" x 48"

Weight: 2 lbs 10 oz

Packed Size: 10" x 8" x 5"
Stuff Sack (included) with silkscreened instructions made of ripstop polyester, 0.6 oz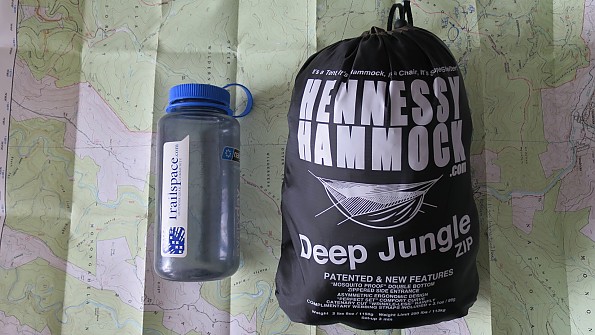 Hammock and Snake Skins in the included stuff sack.
Webbing Straps:
1.5" x 72" polyester tested

Sizes Available: 1.5" wide x 42", 72", 96" polyester


                        2" wide x 42", 72", 96" polyester
Deep Jungle Rainfly 30D Silnylon:
9.4 oz

30 Denier high tenacity 66 Silnylon Ripstop material

Parallelogram design 63" x 99"

Diagonal length along ridgeline- 132"

Packed Size 8" x 2"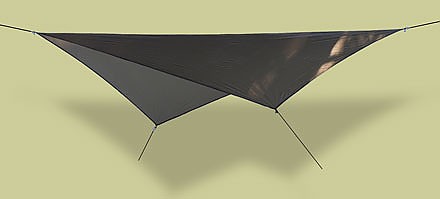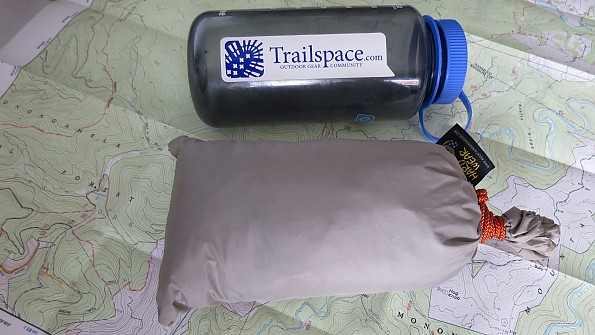 The included rainfly easily stuffs into a tent stake bag.
Hex Rainfly 70D Polyester:
23 oz

70 Denier Polyurethane coated polyester Ripstop

Hexagonal design 132" along ridgeline, 103"" at ends

Packed Size 11 x 3.5"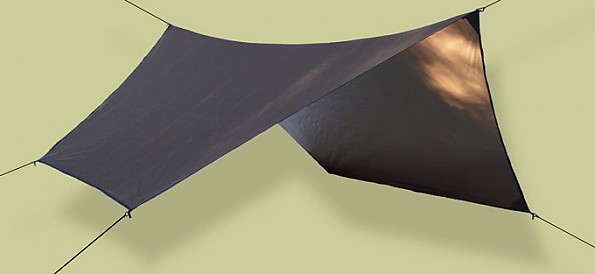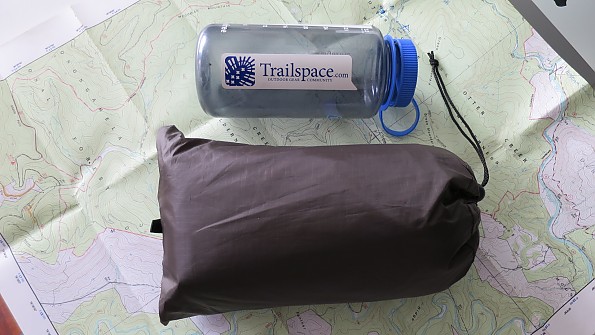 The Hex rainfly is clearly much larger when packed.
30 Denier Silnylon

2.3 oz

84" length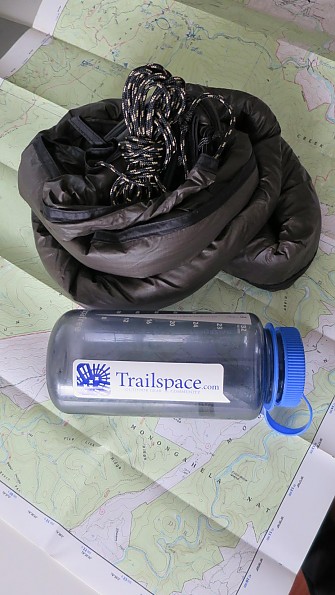 Hammock in the Snakeskins, ready to be packed away.
Radiant Double Bubble Pad:
2 layers of bubbles, silvered on both sides

10 oz

Packed Size 23" x 4.5"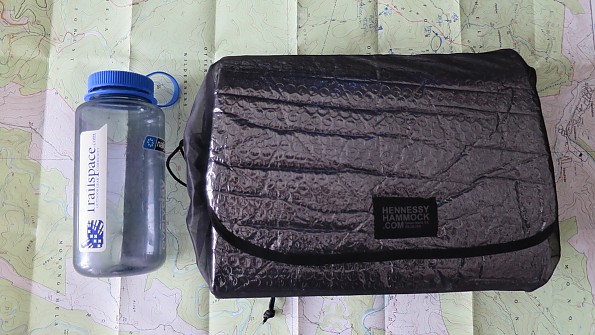 DoubleBubble folded/rolled, included with mesh bag.
The Hammock
The HH Deep Jungle is so rich with features, the manufacturer has really gone to great lengths to comfort the consumer. The hammock's simplicity is also part of the success of the product; lightning quick, dry setup time, great packability... I have found all components to be very well constructed, and equally well though out. 
The bottom fabric of the hammock is very spacious, with separate attachment points (bungee guy lines) to keep it open.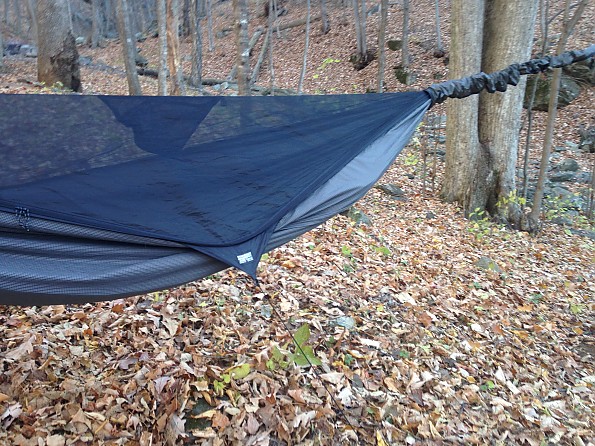 Bungee guy lines.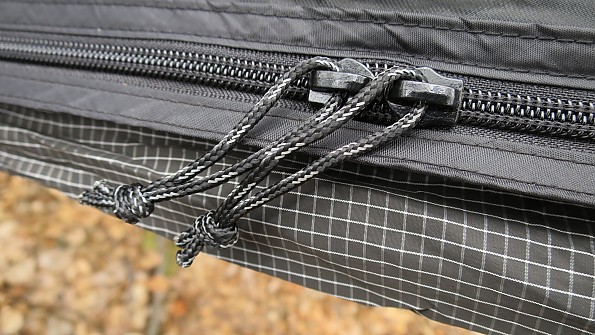 Two-way zippers allow one to easily get in, out, and secure the bug netting, which doesn't allow ANY critters in!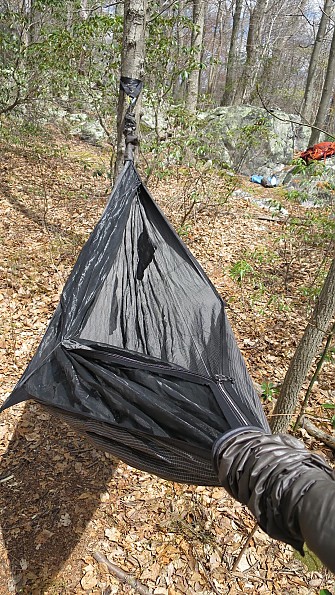 The netting can also be folded and secured out of the way, allowing an open view on mild days and nights.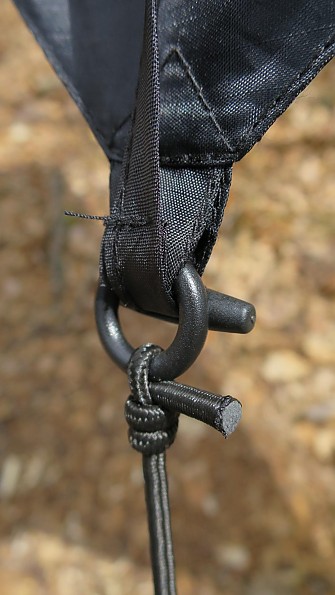 Closeup view of the tie-out for securing the bug netting out of the way.
I personally find this particular hammock so comfortable I have made this my primary shelter as long as trees are around. The only disadvantages that I can even think of are synonymous with all hammock systems; ie. not having a place to change clothes, a place to spend substantial downtime during storms, etc. It is arguable that the hammock makes a great seat, and area to cook, etc. however the footprint for spreading out gear in a storm is limited.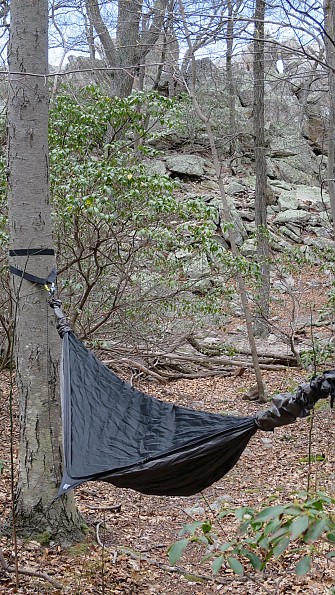 Set up for an early spring snooze during a day hike on the Cat Rock Trail in Catoctin Mountain Park, Md.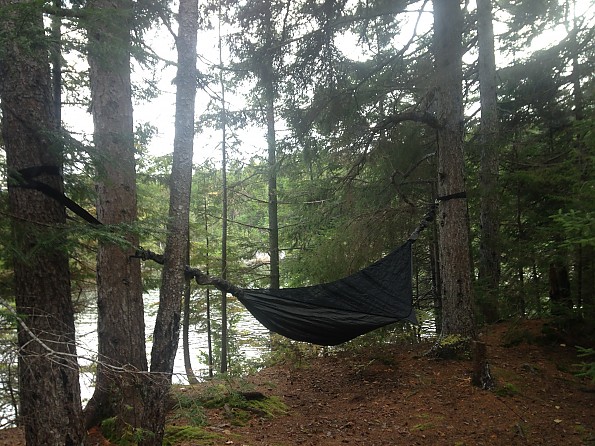 Hammock setup at the Wassataquoik Lake campsite; Baxter State Park, Maine.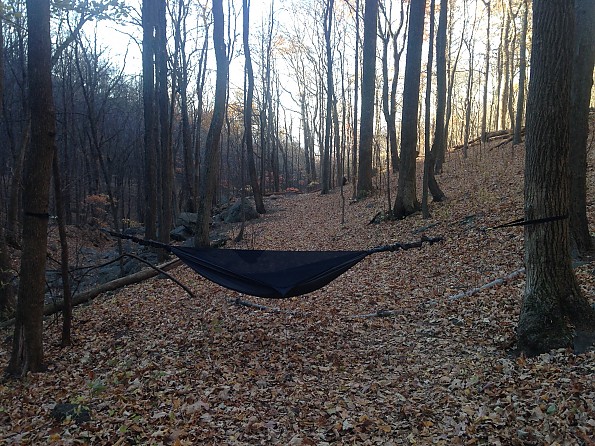 An extended pic of the hammock.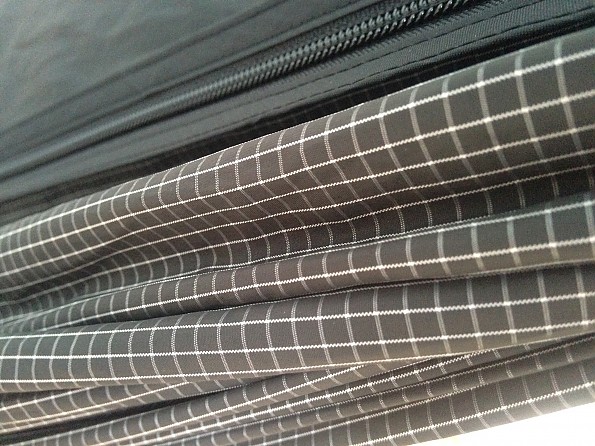 Closeup of the ripstop hammock material.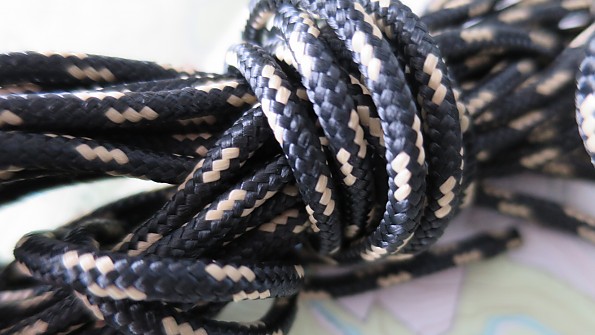 Closeup of the suspension rope. Who knew such a comfortable night's sleep relied on something the size of shoestring?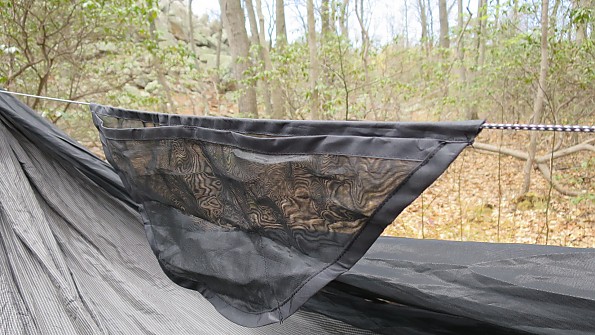 The storage net on the ridgeline freely slides for comfortable positioning.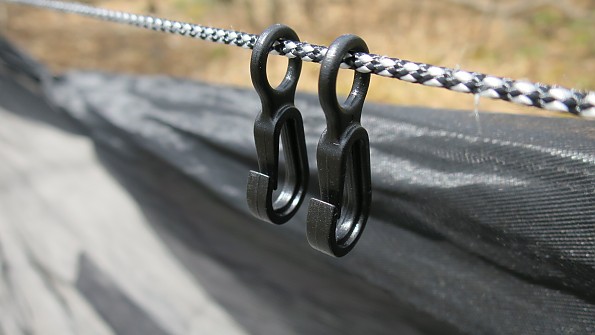 Additional clips for attaching things inside the hammock.
The Rainfly
HH has given the consumer countless options using a rainfly with this hammock system. Since the consumer has the option to attach the rainflies directly to the anchor points, ventilation is 100% customizable. There are factory attachment points on the ridgeline of the hammock, which are adjustable using Prusik knots.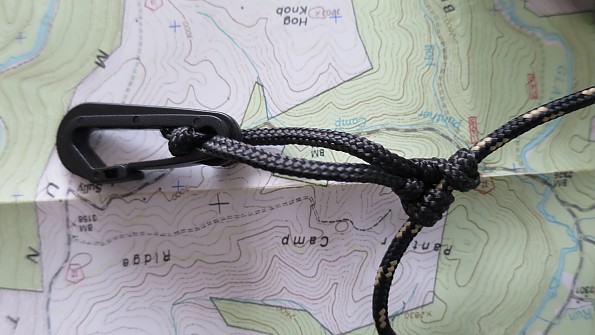 Ridgeline Prusik knot attachment points for the rainfly.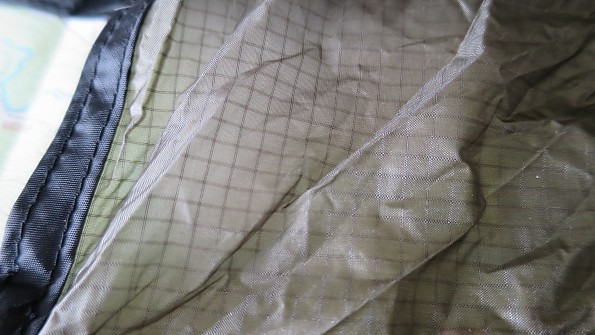 Closeup of included rainfly.
The rainflies can also be externally attached to the anchor points, allowing different ways of configuration for rain/wind coverage.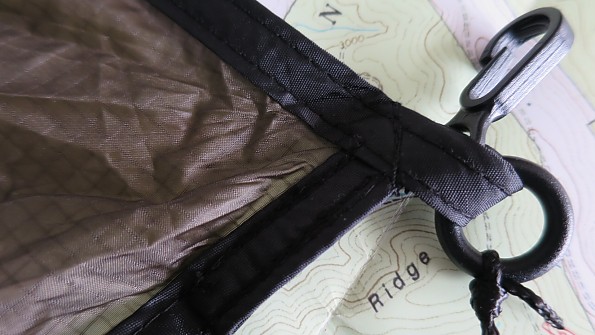 Corner of included rainfly.
Construction for both the hex fly and the asymmetric are very high quality, and show no wear from use. All of the nylon line is very easy to use/work with, and has built in pockets on the underside for storage.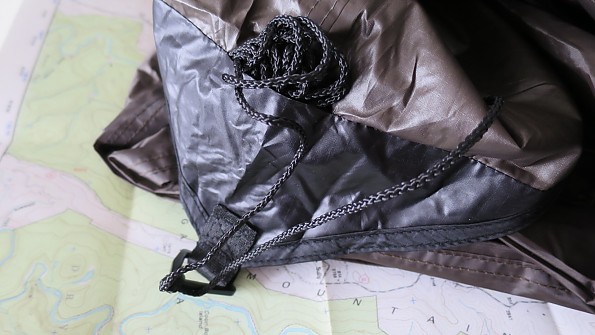 Pockets are at every line attachment on both rainflies.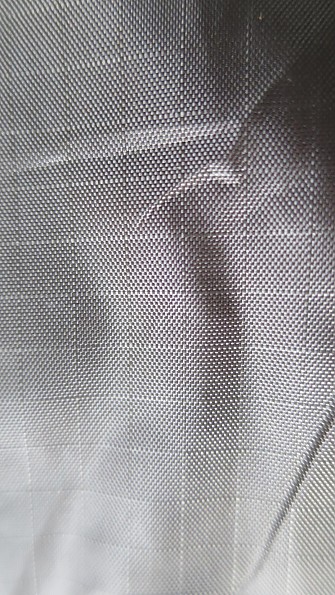 Closeup of Hex rainfly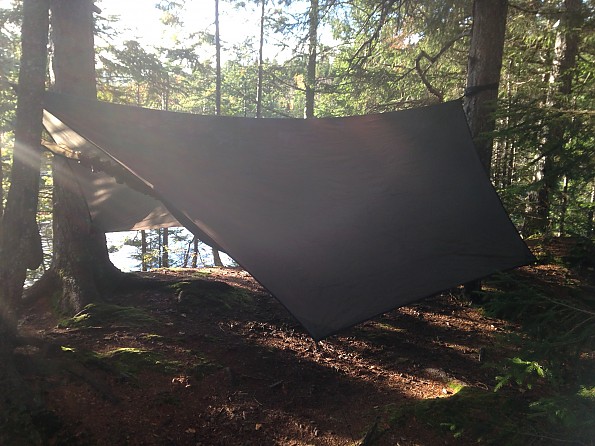 It is recommended to use a larger footprint rainfly for inclement weather, or cold weather use. Aside from mild weather, the Hex rainfly was my go-to.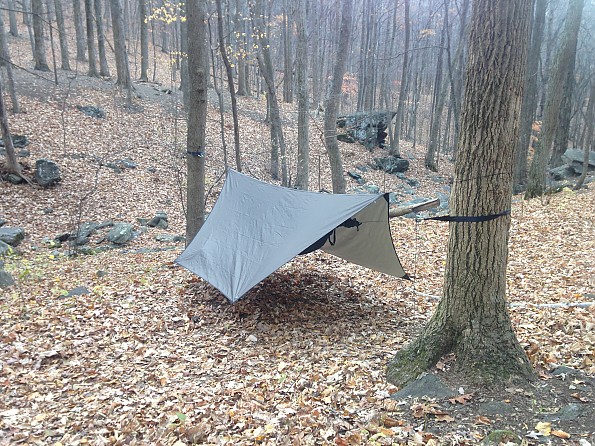 An angled view of the Hex rainfly in the Three Ridges Wilderness, Va. This was a perfect place to set up, unsuitable for a tent.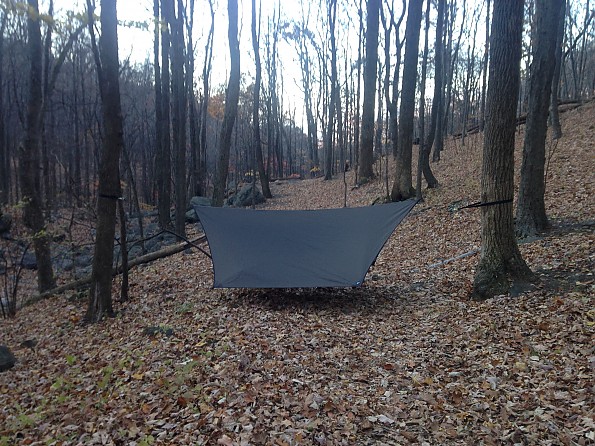 Side view of the Hex rainfly.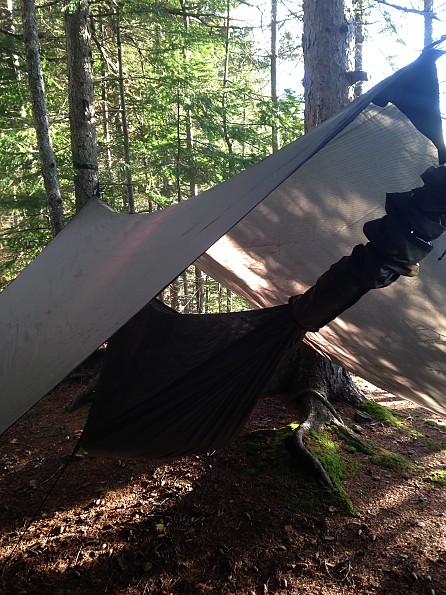 Clearance under the Hex rainfly, Baxter State Park, Maine.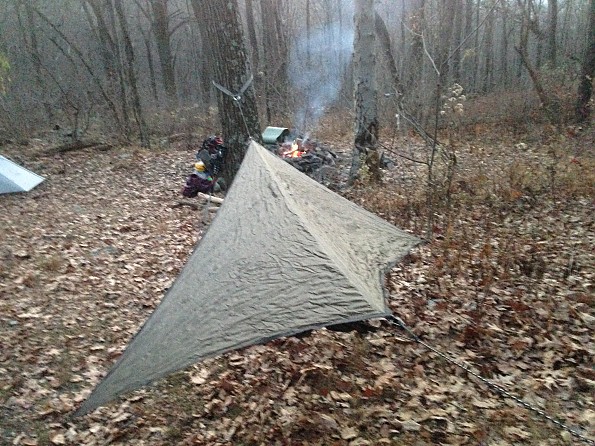 Parallel view of the included rainfly.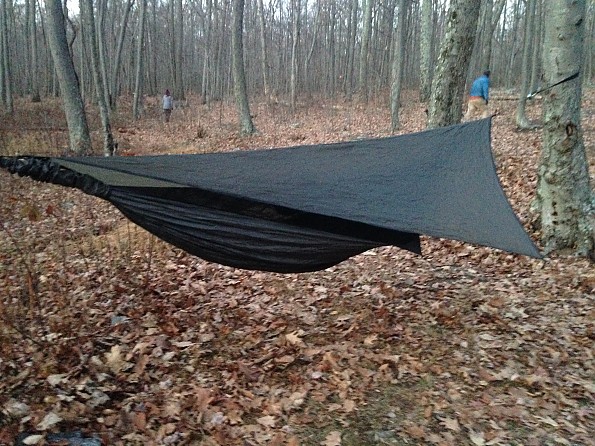 Side view of the included rainfly. 
The Webbing Straps
I have been using the 1.5" x 72" webbing straps, and have found in the Mid-Atlantic area that this can be problematic when finding the perfect site. Although I greatly prefer to sleep far away from others, sometimes that perfect spot has a very large old tree. They are extremely durable and well made, and closely resemble the material used for automobile seatbelts.
Closeup of the 1.5" webbing straps, VERY tough!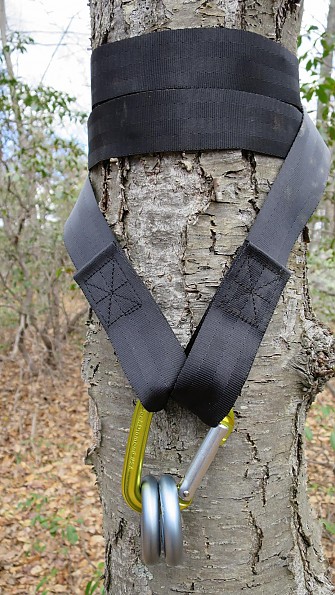 Experimenting with a friend's carabiner/rappelling ring system; easy, but a lot of unnecessary weight. Note: Hennessey Hammocks does not recommend anything other than standard lashing to the webbing straps.
The DoubleBubble Insulation Pad
Claimed to reflect 97% of body heat back to the sleeper, this pad did a very good job keeping me warm down to about 40°F. Like the asymmetric design of the hammock, the pad installs one way, with two attached lines and clips to keep the pad adjusted where you need it to be. It is a little cumbersome, but isn't all insulation?
For those without overnight hammock experience, it is crucial to understand that insulating underneath your body has paramount importance! Like conduction robs body heat when ground sleeping with too little insulation, air circulating under a hammock sleeper steals warmth via convection.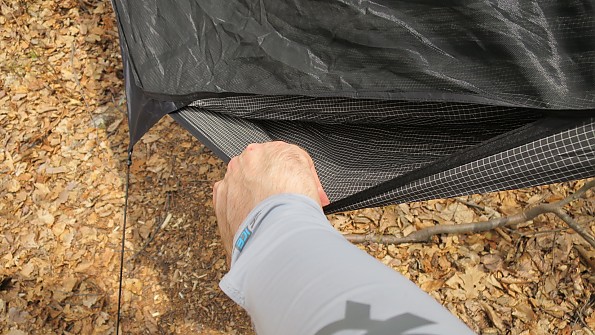 One of the seams where the sleeping pad is slid in and attached between the main fabric layers.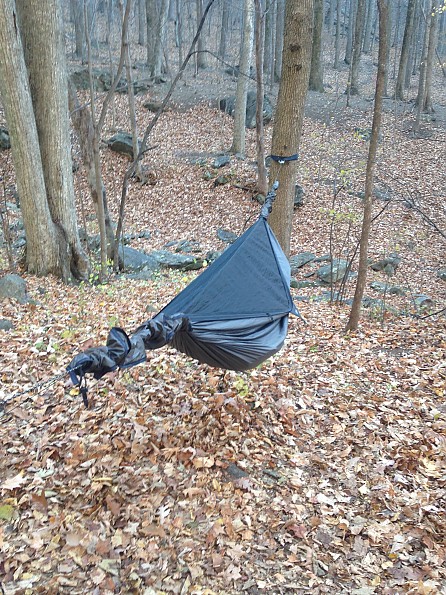 The hammocks 'floor' spread out with the DoubleBubble pad.
The Snakeskins
This is an ingenious method for storing a hammock! It is an easy way to keep the hammock clean, dry, and organized!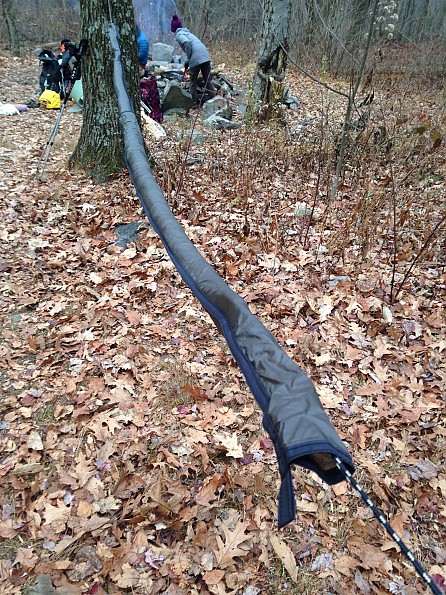 Pogo Memorial Campsite, Appalachian Trail, Md.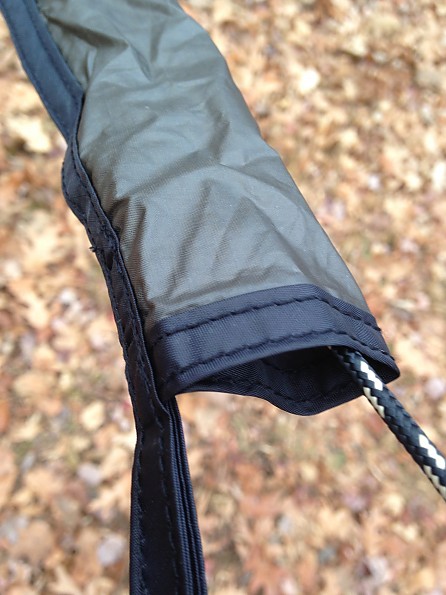 Conclusion
Having a spinal injury, this is a superb way to sleep if traditional ground shelters are no longer ideal. Hammock systems give opportunities to hikers like never before, allowing one to have a much larger canvas for resting locations. One can be elevated from rocky, uneven, wet, snow covered, bug covered ground with no worries!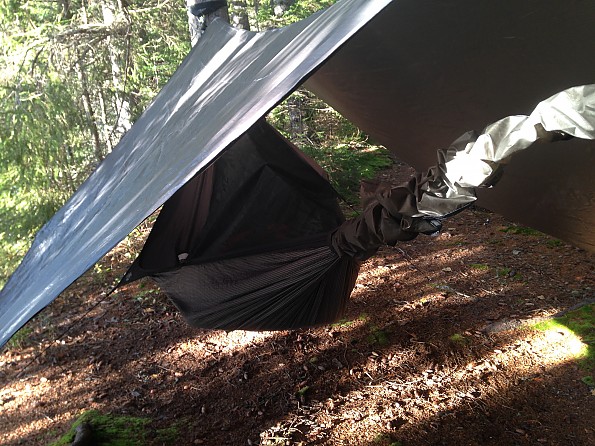 Not a bad place to get some fresh air!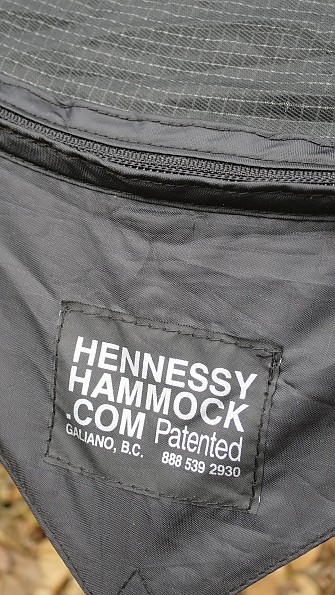 Source: bought it new

Your Review
You May Like
Specs
| | |
| --- | --- |
| Price | MSRP: $299.95 |
| Packed Weight | 2 lb 10 oz / 1200 g |
| Weight limit | 250 lb / 115 kg |
| Height limit | 6' tall / 180 cm |
| Packed Size | 5" x 8" x 10" |
| Dimensions | 100" long x 48" wide |
| Hammock fabric | Two layers of 30D Nylon66 with polyester reinforced ripstop |
| Mesh | 20D Polyester No-See-Um |
Recently on Trailspace