Hennessy Hammock Explorer Deluxe Asym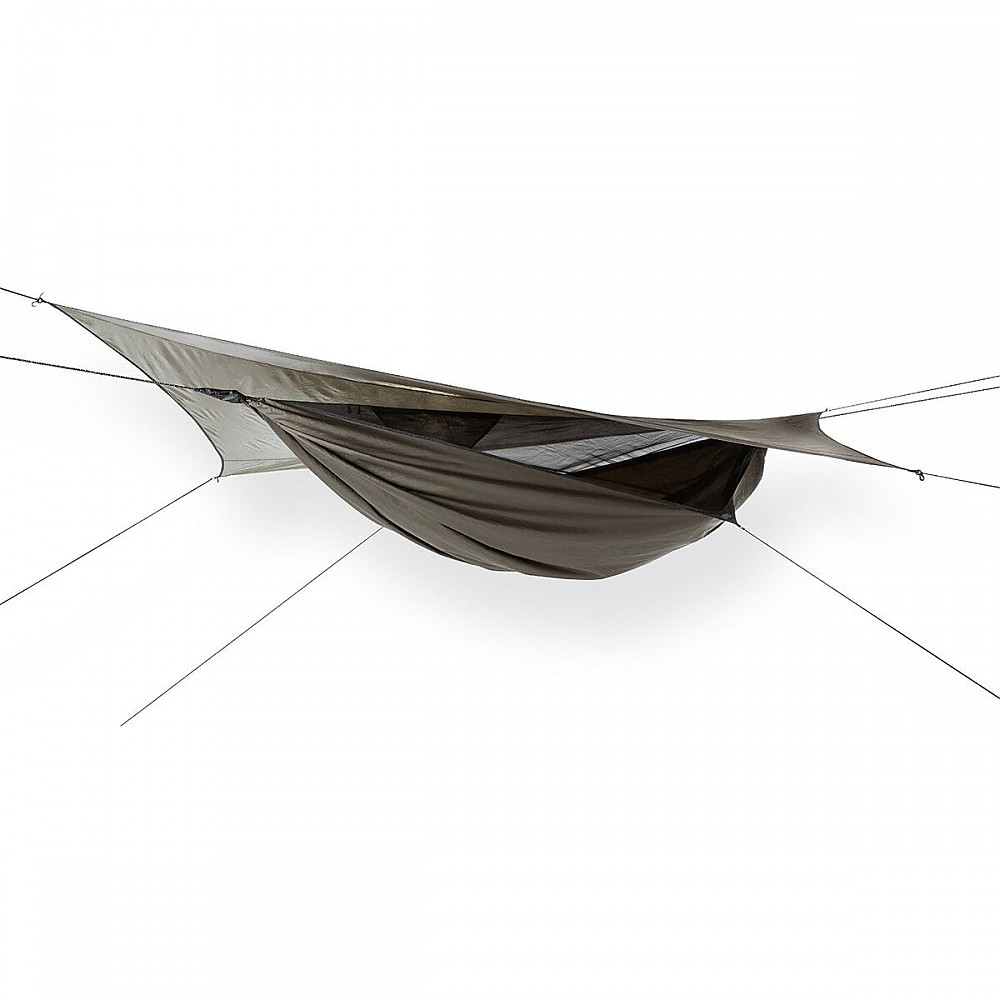 The Hennessy Explorer Deluxe Hammock is great for anyone that wants to sleep comfortably while hiking or camping! Its design allows you to sleep diagonally and FLAT!
Pros
Solidly made
Integrated bug net
Compact and light
Cons
Must have trees to hang from to comfortable
I have owned this hammock for three years now and have not slept on the ground since!  
The Hennessy Explorer Deluxe comes with everything you need to start hanging. It includes "tree huggers", or straps to protect the tree trunk from damage, a rain fly, an integrated bug net, a carrying bag, and ropes that are connected to the hammock to hang it with!
There are different versions you may encounter — the older model has Velcro closed end-entry access, the newer models have a side-entry zipper available too.
In my family we have one of each. Mine is the end-entry and my son's uses the zipper. They're both solidly built and have put up with many scouting campouts over the years.
Setup is a cinch — literally! The tree huggers wrap around a tree (at least 4 inches in diameter) and the rope from the hammock goes thru the sewn in loops on the tree hugger strap. Hennessy details a really cool kind of figure-eight wrap to attach this with, although there are many ways to secure your hammock. Once one end is attached, you go to the other tree (at least 9-10 feet, up to maybe 15 feet away) and do it again.
There are many good videos showing the ease of setup, and it can be done VERY quickly.
Once the hammock is hung, the tarp gets staked out and you are done! I leave my tarp attached to my hammock for ease and speed of setup, but some folks prefer to keep it loose to be used separately.  
The tarp covers the hammock quite well, but you don't have a whole lot of protected space for your backpack like you'd have with a tent.  I use a weather cover for my pack and just hang it from the tree huggers, but I'm sure there are other options out there.
This system packs down into its own carrying bag and weighs just over 3 pounds. Packed it goes down to about 10"h X 9"w X 5" deep - at least the way we do it!
We've slept in these during summer, fall, and winter campouts! Summer, best thing is being able to lift the tarp and enjoy the breezes at night! The bug netting blocks the LIGHTEST breezes, but really breathes VERY well... Fall or rainy weather, lower the tarp to block winds and rain. Winter, take a good sleeping pad and sleeping bag and you'll be nice and warm!
Sleeping in the hammock is wonderful! No rocks in your back, it's just as level as you hang it, and you can lay in pretty much any position you want! I'm a side sleeper, and once I get on my diagonal I can curl right up and doze off, rocking in the breeze....
Is this the lightest hammock out there? No.
There are many other great hammock manufacturers out there and I've seen some great hammocks while out camping, but this one has been the right fit for me: Durable, complete, compact, and comfortable.
Source: bought it new
Price Paid: $199.99

Good hammock for the price. Some call HH a starter hammock, but I don't think so. It is not for gram conscious ultralight backpacking.
Pros
Tough as nails
Reasonable price
Comes as a complete set
Cons
Cannot get in double layer
I personally don't like the suspension system.
a little heavy
With hammocks, as with any gear, there are a great many variables. The HH Explorer Delux Zip has served me well.
I travel and camp on a motorcycle so weight is not as big of issue as hiking with an HH Explorer. Hennessy makes lighter equipment for hiking. I have other brands of hammocks for hiking but always use the Explorer for the bike.
Most equipment nowdays is fairly tough but all will fail with abuse. Tarps strung to tight can cause them to rip.
Anyone beginning I recomend visiting hammock forum and doing their homework before making a purchase of any kind of hammock.
I think the Explorer is a very good bang for your buck. If there are any problems with material or workmanship they will make it right.
My con of the suspension. All off the shelf hammocks come with cord. This is (1) a money issue as the cord is cheapest (2) the supplier doesn't know what suspension you would prefer. Cord works good as long as you learn how to tie them.
Other suspensions are whoopie slings which are lighter, smaller and easy adjusted. They are made usually from 7/64 Amsteel blue. They work on a constrictive principle.
Strap suspension is another. They usually go through 2 rings @ the hammock and are very quickly adjustable. They work like the strap on a motorcycle helmet.
Some like one, some like another. The reasons I don't like the cord is weight, size, and having to untie re-tie to adjust my setup in the field. I have different hammocks using all 3 suspensions.
Source: bought it new
Price Paid: $180

Ok, as a gadget guy I have a tendency to try items that do not always impress. This is NOT one of those occasions. My first Hennessy hammock was the Scout, paid about a hundred bucks or so for it. I learned fast that reading all the information on a web site would be a great idea before purchasing an item for backcountry use! It was a little small for my build, I am over six feet tall!
While it was a little tight, I did sleep better than usual, there were no issues with looking for level ground, and that's a Huge benefit when one hikes until the wee hours of the night! After a few months I treated myself with an upgrade!
The Explorer ASYM fits like a glove. Lying in the hammock at an angle provides a much more level sleeping environment. Also I purchased the "Snake Skin" covers for quick setup, the "Hex Fly" for slightly larger rain and cover fly, and did a few modifications of my own.
One of the simplest ideas is the attach a small pouch to the end of one rope so you will always know where your line stakes are kept. A more complicated task, but by far worth the trouble, is to modify the guide rope for attaching the hammock to trees! Hennessy sells "Tree Hugger" straps that are primarily used to help conserve tree bark and provide extra length for tying rope. Therein lies the problem, one still has to "tie" each end of the tent every time it is set-up. I was never good with knots, nor do I have the patience to re-adjust them if they are not level, especially if they are wet.
If you leave about two feet of main rope leading off each end of your hammock, this is for rain fly adjustments, you can cut the leads and make a closed end loop around both ends shorting them drastically. After this is done, go the hardware store and purchase motorcycle tie down straps, or something similar. Make sure the weight limits fit your needs and be sure to keep them as light as possible for obvious reasons. Feed one end into the newly made loop and Walla! You now have one and a half times the length on each end, pending on your straps, and the ability to wrap them once around a tree, feed the end thru the clamp and adjust on the fly! I can set up my hammock in less than thirty seconds! After cutting the extra bits of rope and eliminating the need for tree hugger straps, the weight turns out to be about the same.
I will never bunker in a tent again! I have used the modified Hennessy For a minimum of two months total sleep time outdoors with nothing but perfect results. I love it! Only setback is having to leave it when nature calls in the middle of the night!
Design: Hammock Shelter
Sleeps: 1
Ease of Setup: Cake!
Weight: About 4 LBS with Mods
Price Paid: $160+

Love it. Can't sleep completely flat, but I can get pretty close. Super easy to set up, no rocks in your back, perfect for slopes or uneven terrain.
You WILL get cold underneath unless you adapt in some way. My solution--a trimmed-down $7 Walmart blue pad and some velcro. I can attach it to the bottom of my sleeping bag (semi-successful). Since I use a 3-part Army Modular Sleep System, I velcro the pad inside the camo bivy bag and put the sleeping bag (both if cold) inside the bivy bag. Takes a little shimmying around to make sure you're in the proper diagonal position in the hammock and that the pad is underneath you, but after that it's extremely comfortable.
I recommend the Snakeskins sliding covers. With these, it takes me about a minute to have the hammock ready to put in my backpack. Set-up isn't much longer.
I suppose the larger Safari model might be nice (could get a cute girl in there too), but the Explorer is fine for me (6 feet, 170 lbs).
I LOVE how low-key, lightweight, and fast this thing is. I have set it up in the middle of the night before with no problem.
One tip--find some way to mark the outside of the hammock so you know which end is the entry end. That way you can string it up the way you want.
Design: Hammock
Sleeps: 1
Ease of Setup: Easy-breezy
Weight: Minimal
Price Paid: $140?

I love this hammock. Many of the negative comments I read above I have to disagree with. Like anything new, there is a learning curve involved in using a hammock.
The complaint of leaking. I have two Hennessy tarps, the stock tarp and their hex fly. Both have been used in torrential downpours with absolutely no leaks. At all. Pitch either the stock tarp or one of the optional tarps correctly, and you will stay dry.
As regards getting cold, remember, you do not have the ground under you to insulate you from the cool air. Using a short ccf pad, or a 2/3 length Thermarest will work. Or, if you plan on using a hammock regularly, and in cold weather, use an Under Quilt (UQ). These range in price and materials, and work wonderfully.
Someone commented it was difficult to set up. While the Hennessy method is a bit counter intuitive at first, it is not difficult to master, and works very well. Simpler methods are available, from whoppie slings, to strap and buckle, etc. I use two descender rings at each end to form ring buckles in a carabiner, and a simple garda hitch to pull my hammock to the correct tension. It only takes a few minutes to set up correctly, and it gives me a nice, comfortable flat lie in the hammock.
As with anything new, research and learning are necessary, but do not let it dissuade you from trying out a Hammock. This or any other one.
Design: Asym Hammock
Sleeps: 1
Ease of Setup: Very simple
Weight: 2+ lbs
Price Paid: $199.99

I have camped in tents for years. No longer! This hammock packs up and weighs less than almost any tent. Loads of room inside. I am 6'3 280lbs. Will hold my heavy a$$ no problem as long as you know a few simple knots.
I've actually set it up during the remnants of hurricanes in the backyard to test the water-proofness and if set up correctly, it won't leak. Set-up is easy, taking it down is easy, getting in is easy, getting out is easy. It is bug-proof, water-proof, and is well ventilated. It can even be used without trees if you have trekking poles or find sticks. The only drawback is cold weather camping. I have used it without modification down to 35 degrees F. without getting cold (15 degree bag). I have not tried it below this temp, but I have read that there are contraptions designed to assit with keeping your backside warm. Perhaps a little velcro window could be modified on the bug-screen so your buddy can pass a drink, cigarettes or whatever so you don't have to get out.
It also can be used as a chair but be careful not to put too much stress on the bug-screen. In the summer it's really nice because you are suspended in the air, closer to the breeze and condensation is not a problem. If you lay diagonally, your back will lay flat and I actually prefer the hammock over a bed. Use the included straps so you don't scar the trees you tie up to.
This is a very well designed 3-season (as is without modification or pricey add-on blankets) shelter and once you try it a few times, I'll bet that most will not want to be in a tent again. I've had mine for two years and there is no sign of wear yet. Approximately 35 nights out.
Price Paid: $160

I love my Hennessey Hammock! It's great for summer use, nothing better than a hammock after a long day in the canoe. It can get a bit cold, however, so avoid using without some preparation. I use a "space blanket" underneath my bag when it's chilly outside. Once you get used to one of these you won't want to switch back. Each year I anxiously wait until it's warm enough to get off the ground and start using my hammock again. I'm a big guy, 6'3" 210 lbs, and I've never felt uncomfortable or unsafe in the hammock. Definitely get this one if you're 6 ft plus.
You can't go wrong with these!
Design: Tent Hammock
Sleeps: 1
Ease of Setup: Simple
Weight: 1.5 lbs
Price Paid: $150

I used the Asym ONE TIME on a two-night backpack in the Smoky Mtns in mid-May. Night one it rained a bit with temperatures about 48 F. Slept very cold with my summer bag (rated to 20 F). Used a Therm-A-Rest in the tent with me and it slid all around, got bunched up, etc. Did stay dry.
On night two we camped high (6600 ft) under dense trees. Very stormy night with high winds and driving rain. The Asym was a COMPLETE FAILURE! Rain blew in, under, and through the fly. I got thoroughly soaked. The base is treated so water accumulated inside the tent! Same problem with the Therm-A-Rest. Worst of all the tent ripped at the fly/base stitching - after only two nights of use.
Very disappointed. I sent it back to the manufacturer and after six weeks have still received no credit and no response. VERY DISAPPOINTED.
Design: Three season - extra long
Sleeps: 1
Ease of Setup: not as easy as advertised
Weight: 3 lbs
Price Paid: $200

The hammock is difficult to properly deploy - believe it or not. It works very well once set up. Despite what is said in literature it is not for people over 6' 2".
Worst part - I got soaked in a heavy downpour. Rain went right through the fly, then accumulated in the waterproof base! Terrible design. Clincher was the tent ripped - not at the seam, but right below it.
Hennessy was very good at fully refunding my money, though and I am quite grateful for that.
Design: hammock-tent
Sleeps: 1
Ease of Setup: not as easy as it should be
Weight: 2 lbs
Price Paid: $250

I slept in this hammock every night for about a month on a university campus in the middle of a major Canadian city in December. I would have been much wetter and colder in a tent. However, I was never quite as comfortable in the hammock as I would have been if, all other things being equal, I had been able to lie flat. Getting to sleep tended to take a few hours. Once I was asleep it was comfortable enough, and mornings were great -- very little condensation and no hard ground.
This product is excellent for wet or uneven areas in which a tent cannot be set up.
Your Review
Where to Buy
Help support this site by making your next gear purchase through one of the links above. Click a link, buy what you need, and the seller will contribute a portion of the purchase price to support Trailspace's independent gear reviews.
You May Like
Specs
Price
Current Retail: $153.89
Historic Range: $137.93-$229.99
Reviewers Paid: $140.00-$250.00

Recently on Trailspace