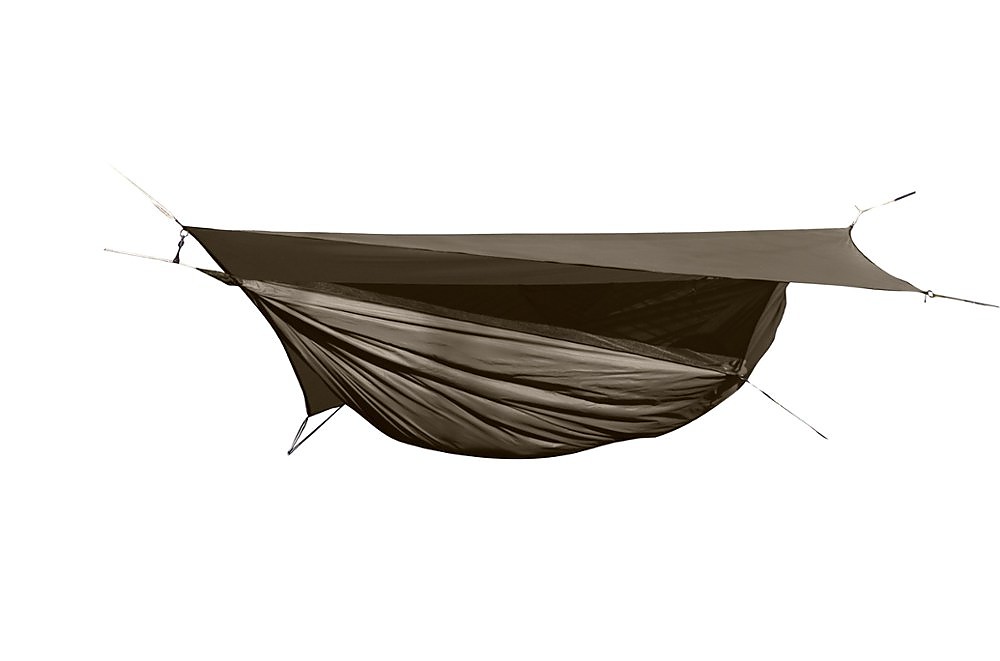 Specs
Price
Historic Range: $161.93
Reviewers Paid: $149.00-$249.95

Reviews
2

reviews

5-star:

0

4-star:

2

3-star:

0

2-star:

0

1-star:

0
Version reviewed: 2012
The 2012 HH Explorer Ultralite is both quick and easy to set up and take down, packs well, opens up terrain options that tent and tarp users wouldn't even consider. The benefits do not stop with versatility, coupled with quality insulation it affords the users comfort in both heat and cold.
Pros
Comfort
Versatility
Not limited by terrain
Great company, Great service
Cons
Bugnet is not removable
Suspension is good, but not the best
Lighter materials available
As far as setup goes, find a couple of trees about 15' apart with no dead or suspect limbs above and little clutter below. Once you find your trees if you take more than three minutes to setup your rig, you're just lollygagging.
Take down is just as simple, and one point in particular I like is that your sleep system never, ever has to touch the ground. Raining? Pitch your tarp first, now you can set up with out getting you hammock wet! Know you're headed into wet weather, pack a larger tarp, put the tarp in Snakeskins (two sections of elongated sock like tubular material netting or silnylon) that organizes your tarp and facilitates storage on the outside of your pack or in a smaller exterior pocket.
Using the tarp tie points on the stock hammock suspension simplifies the setup process, and the asymmetrical shape of the tarp matches the hammock perfectly, minimizing tarp size and weight while allowing setup with only two stakes. I've slept in the rain several times, and been high and dry every time. 
The bugnet is sewn in on one side of the hammock, with dual zippers on the other. There is a loop of velcro on the sewn side that appears to be an attempt to secure the net while rolled up, but I've been unable to use it. The tarp may be hung low on the same suspension as the hammock or raised by connecting it directly to the trees to meet any ventilation needs the weather dictates.
The hammock packs up to about 11" x 6" in the included stiff sack, that's everything for your shelter and weighs in at 2 lbs. 10 oz. Directions are printed directly on the stuff sack for setup as well as care and maintenance.
The setup is detailed on videos available on hennessyhammock.com, and are just as easy as the inventor conveys in the videos. Everything about this product equals the companies claims in writing and on their videos, and everyone I have dealt with in e-mails or over the phone has been eager to help and professional.
After a couple of months of ownership I see no reason to believe the product will not last for many years. The seams are consistent, all of the materials are just as advertised. I've used this on local trails in South Carolina for two months. I've slept in conditions from clear skies and 55° to rain and 40°, to 30° with breezes, and the low of 23° and breezy.
Modifications are possible with minimal effort and expense. So far I've cut a few ounces by removing the stock suspension and replacing with Amsteel. Modification ideas and details may be found on Hammock Forums.
10/2/14 Pics added
With stock tarp & Super Shelter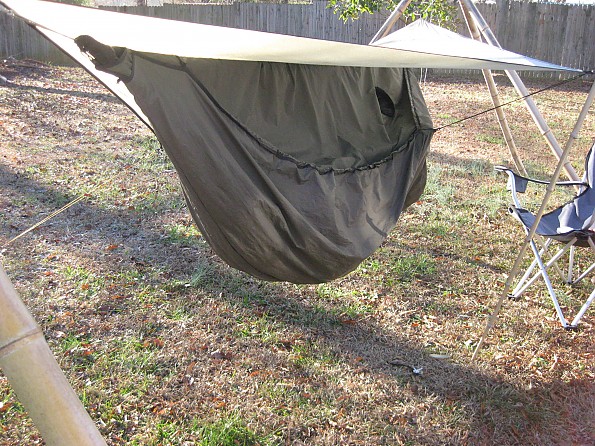 With Hennessey Monsoon Tarp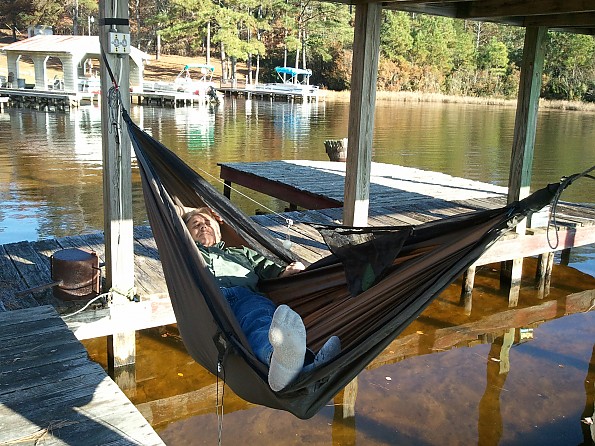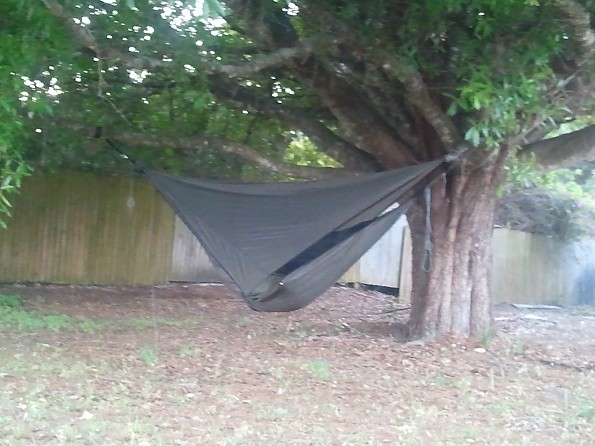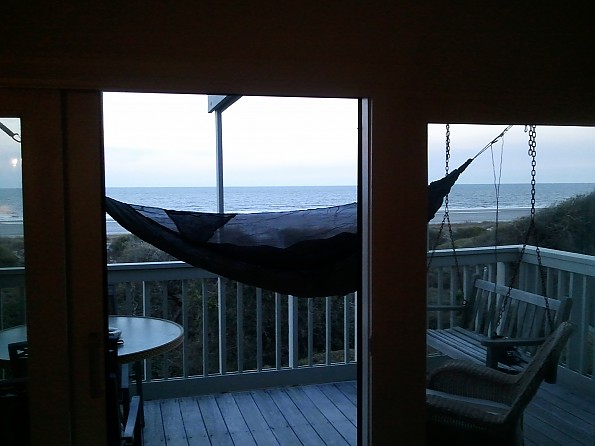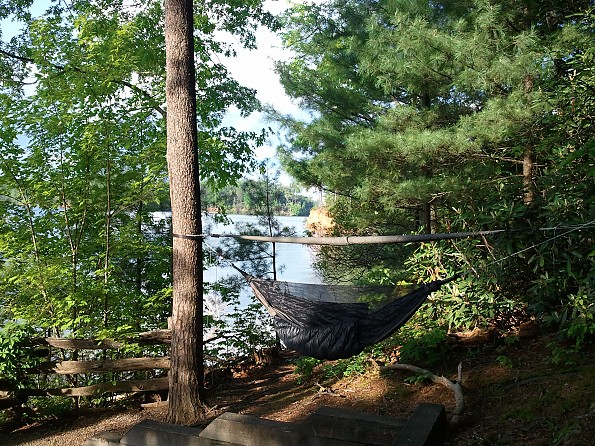 Both Hammock and tarp neatly tucked away in their Snake Skins, great for base camp setup.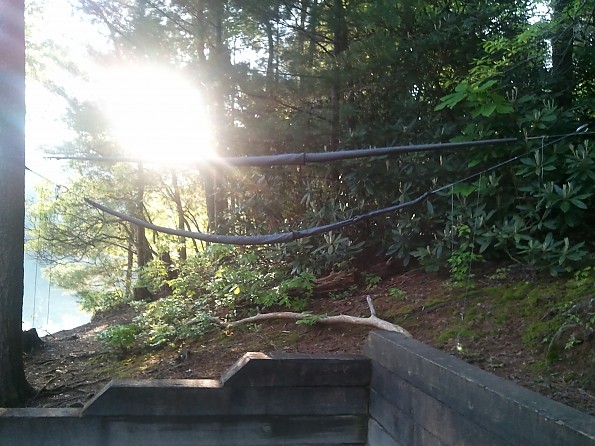 Source: bought it new
Price Paid: $149 in annual October sale, Retail is $249

Just about everything is perfect with this hammock. A comfortable night's sleep is only 3 minutes of set-up time away.
Pros
Easy to set up
Lightweight
Comfortable
Cons
Suspension system is questionable
Okay so I'm just going down the list here on the review.

Setup: Easy peezy. The lashing system is super easy. Setting up the hammock and rainfly all is about 3 minutes. Grab a couple ultralight y-type tent stakes to make the rain-fly easier to set-up.
Stability: As stable as a hammock can be... maybe even more so with the side tie-outs. Nothing to worry about weather-wise either, really, so long as you're prepared for the cold. The weather is extremely easy to deal with in these hammocks.
Weather Resistance: Again, excellent. You'd have to get in some serious, serious weather before you had any problems... as in... "you'd better hope a tree isn't falling on you" type of weather.  I have the Hex-fly and so I feel pretty well covered all the way around.
Ventilation: You're in a hammock.  Ahhhhhhhhhh.  It's relaxing.  You breathe.  It's wonderful.
Room and Storage:  Room for one.  Storage of your gear is pretty simple though.  If it's a wet night out, hang it from the same rope you're hanging from.  The rain fly will keep it dry.  No water on it from the ground.  It's wonderful.
Packability: No tent poles. Packs down to the size of a grapefruit. Or don't pack it in the stuff sack and let it fill the bottom of your backpack to take up the little crevices and all that. Or use the snake skins and strap it to the outside of your pack.  In any case, you're packing is quick, easy, small, and light.
Ease of Use: Extremely easy to use. I'm pretty sure my wife can set this up, and she's never been camping.
Features:  No-see-um mesh bug netting attached. Comfortable Asym design means you lay flat. If you're buying direct from the manufacturer, they include snake-skins and tree-hugger straps.
Construction & Durability: A few notes.  First, take care of the no-see-um mesh. If you're not cautious about where you're putting your hammock, it might get caught in a zipper, and the mesh might rip.  Easily repaired with some screen-repair but still, it's not as pretty now.  Second, particularly on this model, it's not made for lashing with a carabiner.  I've had some issues with the rope, and plan to make the switch to some whoopie slings, assuming I can make them correctly.
Conditions:  It can get cold in a hammock. Make sure you have proper insulation and check out hammock-forums.net for information on how you can make your hanging experience better. A lot of those folks know a lot of good stuff.  
As it is, I've had this hammock out in cold and warm.  It's extremely comfortable and well worth the price. 
Source: bought it new
Price Paid: $249.95

You May Like