Hennessy Hammock Hyperlite Asym Zip

Top 25 in Hammocks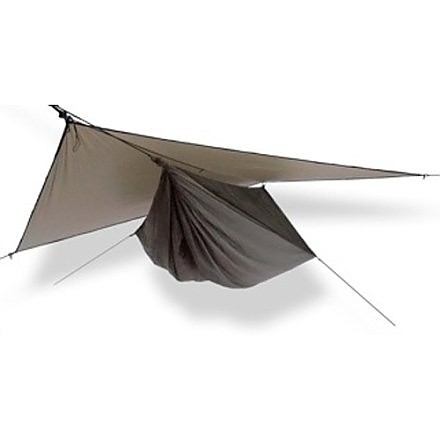 This hammock is the absolute best and lightest hammock system I have tested and used on the trail. I highly recommend it. The weight rivals that of a tarp tent but the sleep it affords is unbeatable.

If I could pass along one bit of advice, it would be to practice extensively with setups at home before you take it to the woods. A hammock is not a hanging tent, and if approached in that manner, will lead to disappointment the first time it is used.

Everyone has their own sweet spot that allows them to sleep comfortably. I found mine with a long (non stretchable) suspension, a loose hang, and hanging my feet a little higher than my head.
Pros
There are millions of hanging spots but very few flat spots for a tent
A hammock hung properly allows the sleeper to lie flat and get a good night's sleep
The weight of the whole system (hammock, straps, and tarp) rivals that of a lightweight tent
Setup for the user's preferred sweet spot (after practice) takes less than a minute
Packing up with snake skins takes 30 seconds
One can look at the stars with the rain fly within easy reach
The user can cook under the rain fly. No one should ever cook in a tent. It is rare, but nearly every stove will eventually misbehave. If you are cooking in a tent you will end up severely burned. Just do not do it.
Cons
It is not a product weakness of this hammock. All hammocks will give you a cold rear end in the mountains unless you utilize a sleeping bag that does not compress on the bottom or a pad underneath you. This issue can be solved.
I prefer a larger tarp than the standard one that comes with the Hyperlite.
Have used my Hennessy Hammock Hyperlite more than 45 times in the deep woods (I am not a campground camper) this summer and I absolutely love it. I have experience with more than 20 different hammocks and this one is my favorite.  
What makes it different? One, it is not too big. I found that the bigger hammocks have a lot more bed material to wrestle with during the night. For me, that extra material tends to get in the way of a good night's sleep.
Two, the hammock and the suspension system does not stretch. Almost all of my other hammocks are made of parachute cloth which stretches and contracts like air in a balloon. With hammocks that stretch when you move your head, your feet will feel the change. With the Hennessy Hyperlight the whole thing does not appreciably stretch at all allowing me to move around during the night and find my sweet spot for a good night's sleep.
In the summer months I actually enjoy camping in the rain because I do not pack up and move every day. I tend to go deep into the wilderness and set up a base camp and take day hikes from there. A week of rain does not bother me and actually clears out the woods of people who are not as prepared to deal with the weather. For this reason I purchased a larger tarp from Hennessy than the standard Hyperlite tarp.  The Snake Skins are perfect for packing up a dry hammock under the tarp.
For my purpose (wilderness camping), the Hennessy Hammock Hyperlight is the best sleeping system out there. I highly recommend it.
Even if you are a very experienced backpacker, remember to practice at home with your hammock system. It is not the knots and the straps that you need to practice, it is the 30 degree loose hang and the asymetrical lie with your feet a little higher than your head.  If you do you will be rewarded with the best night's sleep you have ever had in the woods.
Source: bought it new
Price Paid: 182 dollars on a closeout sale

Your Review
You May Like
Specs
Price
Historic Range: $239.95-$259.95
Reviewers Paid: $182.00

Recently on Trailspace