Hi-Tec Altitude II

The Altitude II has been discontinued. If you're looking for something new, check out the best hiking boots for 2023.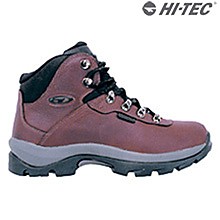 This is my second backpacking shoe. My first one was a Merrel boot that, while snug at my forefoot, kept losing the grip on my heel.
The leather upper is well waterproofed. I walked through deep puddles of water where the level of water was almost to the 'tounge' of the boot. No water and moisture seepage to inside.
The thick rubber soles were very grippy on granite that have been eroded smooth by melting ice in the hikes near Tuolumne meadows. The shoe flexes slightly less than what I like, so it does get a bit tiring after a few miles. While the soles weren't printed as 'vibram soles', there was adequate cushioning.
The neck of the boots are pretty high, making it difficult to run in them. But then one shouldn't be running with a backpack and with backpacking boots on. But the top is flexible enough to allow me to squat for a while.
Lately I started hearing a 'creaking' sound as I walks with weight on my back. Almost as if a robot is walking ;) This isn't a bother to me, but I thought I will mention it.
The slightly rough texture of the leather makes it catch dust a lot. But since it is waterproof, I just hose the shoes down after my trips.
The brass hardware is very robust and the top hooks make for a quick lace-down.
At less than $50, these boots are a good value for money in my opinion. There are newer versions of this boot. I saw the Ascent IV on someone the other day. I will continue to wear these over the next few years to various backpacking and hiking trips.
Materials: waterproof nubuck leather
Use: rough trail w/ medium pack
Weight: 20 ounces
Price Paid: $40

These are EXCELLENT boots for the money. I bought them for a hike up Mount Washington's Ammonoosuc Ravine Trail, which is a very rough and rocky trail with a number of stream crossings, and these boots handled the trip without a problem. The waterproofing is as advertised. While some others in my group ended up with wet feet, my toes were nice and dry. I didn't have any issues with the grip of the soles while scrambling over rocks and boulders, and I didn't have a single blister. I like the fact that the boots are lightweight, so I didn't feel like I was hiking with weights attached to me feet. However, the ankle support was excellent, even with a 30 pound pack.
My only minor complaint was that I found that the arch support wasn't good for my feet, so I ended up swapping out the insoles for a pair of Spencos. However, I have "problem" feet, so I am a little more picky than the average person.
I would definitely recommend trying them on in a store first, since boots are such a personal thing. Also, you definitely have to break them in with a few short hikes, although the leather is rather supple so you really don't have to break them in too much. Overall, these boots are definitely worth a look, especially at the price.
Price Paid: $70

Bought these for hiking/camping and canoe tripping. I am very pleased with them. They are lightweight, and quite waterproof. On our canoe trips I carry a 70lb pack for two of us and they seem to support my ankles fairly well. The sole is also very grippy, and I have had zero issues on snow and ice as well as wet rock etc.
After many short hikes around home to get them broken in I did get a blister on my heel on a 5km portage with the 70lb pack on. The portage was a lot of up and down hills and technical sections and I see it as a worst case scenario. Aside from that one time I have not had another issue. I have owned for approx 1.5 years and they are holding up great.
Price Paid: $129 Canadian

These boots have served me extremely well for 4 years of 15 mile hikes each weekend, 5 day backpacking trips, climbing up mountain scree slopes, summer construction work, and post-Katrina demolition and cleanup. They're still completely waterproof, even though I have done no maintenance on them. There's still plenty of wear in them too! I've gone on tough trips where nearly everyone out of a group of 30 has quarter-sized blisters by the time we finish, and had no hot spots.
I've worn them in weather from 0-105 degrees, from Maine and Nebraska winters in snow and over ice, to the arid Rift Valley of Kenya. When this pair finally wears out (and it looks like a long time from now - lots of wear left in sole, and no separation occurring), I'll want another pair of the same.
Materials: Leather
Use: Backpacking, dayhiking, construction
Price Paid: $45

Never buy this boot!! Let me say that again, Never buy this boot!!
It is complete rubbish. The upper synthetic outer shell decays after about 10 months. Small micro splits at first becoming serious material failure just at the time of out of warranty. Hi Tec don't care, l tried.
Pros
Replacement laces from Coles last longer than originals.
You will regret wasting your money.
Background
Limited
Source: bought it new
Price Paid: Too much

These are worth what I paid for them, but not the $80 list. They are lighter-weight than I'm used to, so to me they feel rather flimsy. I wouldn't use them for long trips where you intend to cover a lot of ground, but the break in is very short and they are very shock absorbing. Ankle support is good. The only downside so far is that the tongue is only waterproof up to a low-top level and I prefer the waterproofing to go all the way to the top of the boot. I bought these to ruin this winter and if they are still waterproof in the spring I'd give them an extra star.
Materials: leather
Use: winter boot, short hikes if they last into spring
Break-in Period: 3 days
Weight: 2.5 lbs or something like that
Price Paid: $50

These really are amazing boots for the price. I work as a landscaper/lumberjack/construction/hunter/hiker and these boots have held up through everything I've put them through. Very good choice if you're not trying to spend a fortune on good boots. I choose these over combat or hunting boots because hiking boots are so much more comfortable thoughout the four seasons and they're very lightweight.
I rate them a 4+ just because they're not the best boot out there but the best for the price. Great boot!
Price Paid: $47

I love them. For $70, I don't think you'll do much better. I am not a fan of heavy footwear, so the fairly light weight of these pleases me just fine. Fairly waterproof, and pretty warm with wool or fleece socks -- even if they get wet. I sprayed mine first and that has worked well. Very comfortable, good supprt, great traction on gravel and rock -- not so great on ice. I have bad ankles and the support is more than adequate. Great, affordable boot.
Price Paid: $70

These are amazing boots! I am going to order my third pair tomorrow but they are going to be the new "Altitude 3". They are extremely comfortable, light, and durable for long hikes. They look great considering most hiking boots these days look ridiculous. I have took these boots with me riding freight trains and hiking the Appalachian Trail. I would trust these boots with my life.
Price Paid: $55

I walk approx 5 miles a day. I was having knee and ankle problems. I was walking in good low cut walking shoes. I bought these boots and it's has been like a blessing to me.
I wear them all the time and have no pain.
Materials: leather
Use: all purpose
Break-in Period: none
Weight: 200 lbs
Price Paid: $64.99

These hiking boots without a doubt are the most comfortable boots I have owned.
Materials: leather
Use: work, hiking and everyday
Break-in Period: none
Weight: not sure but are lighter than most
Price Paid: $78.95

Your Review
You May Like
Specs
Men's
Price
Historic Range: $46.93-$79.99
Reviewers Paid: $40.00-$78.95

Women's
Price
Historic Range: $46.83-$79.99

Kids'
Price
Historic Range: $54.95-$54.99

Recently on Trailspace