Hi-Tec Altitude IV WP

The Altitude IV WP has been discontinued. If you're looking for something new, check out the best hiking boots for 2023.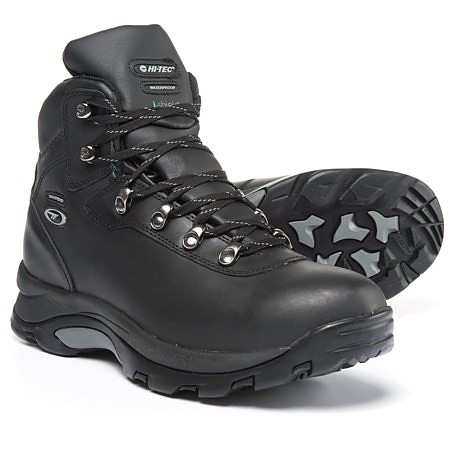 Quality very bad!
Pros
I still have my old "good" Hi-Tec boots
Cons
I still have a brand new pair of Hi-Tec junk
I bought a pair of Hi-Tec boots about 3 years ago and have been pleased with them. (Even in the high San Juan Mountains of Colorado.)  After this rough use, the boots looked a bit worn so I decided to buy another exact pair of boots for going into town.  (A mountain dress boot if you will.)
After only a short time, the lacing hooks got loose and the top hook came out of my new boots. Now I lace both boots EXACTLY the same and while the older pair still holds the hooks tight the new, barely worn boots are coming apart. 
Hi-Tec won't make good on their boots so all I can say is:
DON'T BUY HI-TEC BOOTS!!!
Experience
I live at 9,000 ft in the San Juan Mountains and have since 1972.
Source: bought it new
Price Paid: $70

Pros
I like the fact that they are waterproof and seem to have good soles.
Cons
That base of the shoe isn't shaped for human feet.
For some bizarre reason the shoe base has a bump in the middle on the *outside* edge of the foot. Nobody has feet shaped like that. Your arch is on the *inside* edge of your foot—that's where you need support. I can imagine nothing but pain wearing this shoe for any distance. No thanks!
It's possible that this could be corrected with replacement insoles, but the bump is part of the shoe design itself so I doubt it.
Source: bought it new
Price Paid: I don't recall

Sorry, people, but the soles on both my boots came loose. Had them reglued, but within a week they came off again. How can it be fixed?
Pros
Everything...but the adhesive
Source: received it as a personal gift

Well, I just bought a new pair of Hi-Tec Altitude boots. I like them for the fact they are leather and that they are waterproof. I find a really good amount of support with them.

I recently wore them on an in-city hike which was just over 6 kilometers. It was a mixture of sidewalk, mud, water, snow and ice, as well as hill climbing over grass, rocks, and light gravel. My feet stayed comfortable.
Pros
The strength would be solid leather with good support.
Cons
For some people they may prefer a slightly higher boot around the ankle and lower leg.
Also they do not breathe as well as fabric.
So I recently bought a new pair of Hi-Tecs. These, the Altitude 1V's are in my opinion a good boot. The one thing I liked when I bought them was that I got them for $69 compared to $139 — 50% off. Of course that doesn't affect the performance of the boot, but it was a nice little incentive.
But for the boot's performance. Well,they are full leather, which makes them nice if you want a good solid boot. They are stated as being waterproof, compared to the nylon and fabric boots. I live in Saskatchewan, so we get everything from wet and cold, to wet and hot, to dry and cold, to dry and hot, and almost everything in between. And believe me this spring we are getting the full spectrum.
So do I like the boots? I recently took them on three separate in-city hikes, the longest just over 6 kilometers and the shortest, just over 5 kilometers. It was along sidewalks, mud, snow, water, ice, grass, rocks, gravel, and a few other aspects and I can say, my feet were warm, dry, and comfortable the entire time. I did not experience any rubbing resulting in blisters, or sensitive spots.
Now, will the same be true after a week-long backpacking trip carrying around 30 to 35 pounds? Don't know. But for an inexpensive boot, which I think will probably last for at least three to five years, assuming you do not intend to hike completely around the planet, I think they are a really good boot.
I have had Hi-Tecs before and believe me they held up good. I am rough on boots. The last pair I had, they lasted just over four years, and I wore those thing literally year round. They went through spring, summer, fall, and winter. I wore them at work, out hiking, through the valley, and even all winter.
So do I think they are a pair worth looking at? Absolutely. Hey, not everyone who is going to buy a new pair of hikers are immediately going to throw on a pack and immediately head of to scale Mount Killmanjaro. (Hope I got the spelling correct. Some days my English sucks.) A lot of people use them just for light hiking. But with these I do not think you will be disappointed. Unless of course Everest is your plan this weekend. I like them, personally.
Source: bought it new
Price Paid: $69 plus tax

A sturdy, waterproof hiking boot that doesn't cost an arm and a leg.
Pros
Waterproof
Good materials
Quality manufacture
I've now owned about six pair of these boots, and for my money they are the best waterproof hiking boots that you can buy. I wore my first pair out on the PCT without breaking them in, and had no problems whatsoever. My feet have never gotten wet, even while fording small creeks.
The only downside that some may want to consider is their durability. On average, I have probably gotten a year out of each pair, which for me works out just fine. Some people may want a boot that will last somewhat longer, and for them the extra expense of a higher priced boot may be worth it.
However, I think that for the money, you simply won't find a better pair of boots.
Source: bought it new
Price Paid: $80

These boots are great for hiking. Recommend them.
Pros
Waterproof
Keeps feet dry
Hard wearing
Plenty of support
Cons
Very heavy
Not very breathable
Very comfortable all round boots. Fit well, never had any blisters. Walked 3-7KM in them no probs. Grip well, keep feet dry, good hard soles keep feet snug and warm.
Only downside is that they are very heavy. 
Source: received it as a personal gift

For a boot that is lower priced I would highly recommend. Less than $100 and they are comfortable from day 1. I am on my second pair and already have recommended to some of my family.
Pros
They do not need to be broken in, ready to wear.
Not expensive.
The fit is very true, and it supports the arches of my feet. I spent around the same price for other boots that I could not wear on a day hike without hurting my feet.
I now have my second pair of these boots and they have never hurt my feet. My 85-year-old dad now has a pair and says they are the most comfortable boots he's ever had — and he was 30 years in the military.
Source: bought it new
Price Paid: $74

Love the shoe, but I guess it wasn't meant to be.
Pros
All leather construction
Good wide fit
Strong eyelets
Good support
Overall comfort
Price
What can I say, I thought I would try these boots out at a very reasonable price, and all was good for a time. I would like to mention that I hike a lot, and put a lot if hard working, elevation gaining miles on these boots. With that being said, I feel I should have gotten more for my money.
The shoes have an excellent fit for a wide foot like mine. Probably the most comfortable pair I have ever owned. The all leather upper is durable and really takes a beating from the likes of exposed rocks, roots, ice and snow. The eyelets and speed lace hooks are solid and never a concern. Even the laces have never had to be replaced. Durable lug soles never failed and offered great traction in all the various elements.
This unfortunately is where the compliments end. After a year, the waterproof element began to fail me. Really? A year? I took very good care of these boots and feel a bit disappointed they just couldn't give a little more. After thorough inspection, I really cannot find the faulty area and everything seems intact, but I still end up soaking wet. It must be somewhere that the upper meets the sole, hard to tell.
The worst part of this whole situation other than wet feet, is the boots are in amazing shape otherwise. They really look like they could serve me well for many years to come. Living in the Pacific Northwest, waterproof is a necessity though, so I will continue to use them on the few really dry days we get.
Source: bought it new
Price Paid: $90

I actually am fine with these boots, especially for the price. I used them to train for and then go on a five-night, 50-mile Grand Canyon backpacking trip. They held up great and I have many more miles to go before they break down. No loose stitching, no tread problems, no falling apart. They are sturdy.
My only issue is I got a severe case of plantar fasciitis, and I am starting to wonder if a better boot, like a pair of Lowa's would have fit my foot better and provided better support. These boots are not exactly a glove-like fit.
It could be my feet, I know, and I was carrying 55lbs up and down miles and miles of steep terrain for over 8 months. But the problem surfaced after the first couple months and just got worse.
The boots are the right size, but a little box-y in terms of fit over the top of the foot, and the sole is stiff. I am tempted to get a more expensive pair of boots if I can ever rid myself of this issue.
Price Paid: $79

I got my pair on clearance a few weeks ago, done a little (14 or so miles) hiking with them, no breaking in required. I have a bad ankle and knee on my right leg from an old injury so I need to be extra picky when it comes to support and stability in a hiking boot and these have truly stood up to all of my expectations, providing good solid support without having to tie them so tight that they cut off circulation. 
I've been through a lot of hiking boots and I noticed a lot of comments about the sole coming undone at the front and the traction going bad once the sole wears out a bit. I just wanted to say that that has happened to every boot I've ever owned, including my Asolo TPS 535's which I used during my military service and cost 4 times as much. 
All in all this is a cheap and effective boot, I could not suggest a better one for a casual hiker.
Price Paid: $40

I wear these boots on an almost daily basis, i have also put a lot of trails miles into them and really couldn't be much happier with them unless they carried my pack for me. The fit is good and very comfortable. I have a wide foot and they didn't feel like they were cramped up at all.
Price Paid: $70

These boots were pretty comfortable with hardly any breakin, and have been pretty waterproof, but only after about 70 miles they're starting to fall apart .mainly the tread is tearing away, one spot with the actual sole. I believe it is due from a lot of trails with rocks.
So to make a long story short is I loved these boots but I feel like the life isn't that long. Not sure if I will buy these again or not.
Price Paid: $79.99

I'm a long-time user of Hi-Tec boots, and my latest purchase was these boots.
It was the first time I'd tried a leather hiker (vs. nylon, other na-made material). I bought these for multi-purpose use... hiking, everyday use, and for work.
The boots were extremely comfortable right from the start, and are very light.  They look great, have great support and grip.  Those are the good things.
Unfortunately, despite being treated (with mink oil) before wearing them for the first time, and re-treated several times over the coarse of my first spring/summer using them, they were never waterproof.  In fact, the very first day I wore in wet conditions (within a couple weeks of purchase), I was walking through wet grass, within 10 minutes my feet were wet.  Not just damp, but wet.
On returning home, I dried allowed the boots to completely dry, cleaned them thoroughly, and retreated them with mink oil. Unfortunately, the next time I was again in wet conditions, my feet got wet.
It's now about 10 months later. I wore the boots through all of last spring, summer, fall, and still this winter...  but I am not happy with them, and I need to replace them, as the are now actually beginning to fall apart. 
On both boots, the rubber toe cap has separated from the leather, and also on both boots the stitching below the lacing area, connecting lace area leather to the leather area above the toes, has torn, allowing a 'tear' to form in the leather, completely elinimating any water resistance that the boots ever had.
I still like Hi-Tec, and am looking at Hi-Tecs to replace these boots, but I'll never buy this model, or leather hikers of any kind, again.
Price Paid: approx. $120 (Canadian)

I bought these boots over 6 months ago and I just love them. They are the most comfortable boots that I have ever worn. I've tried Columbia, Wolverine, Nike boots and so on and nothing compares to this product.
I stand for over 9 hours a day on concrete floors and my feet don't bother me like those other competitor boots. I would highly recommend this product to everyone. They won't be disappointed at all.
Price Paid: $79

I just finished an 120-mile trek in Philmont and I could not have asked for a better set of boots for the price. They broke in easy and did not let me down. We had times where the water on the trail was flowing over the top of my boot, and they did get completely waterlogged, but never broke down and dried quickly.
Best part is after all the miles I had no blisters. If these ever break, I'll get another pair.
Materials: Leather
Use: rough trails w/full pack
Break-in Period: 1 week
Price Paid: $70

These boots are incredible. I'd say I've put around 150 miles on them, with several dayhikes each week and at least one multi-day backpacking trip each month, since I've owned these.
They may not have Vibrams soles or be Gore-Tex, but they keep the water out and I have not had a single blister. I've crossed streams and been caught in rainstorms, but my feet have never gotten wet. If they failed tomorrow, I would still rate them highly, as I feel I have gotten more than my money's worth already.
It took less than a week to break them in, doing short hikes after work. I'm in decent shape, in my early 20s, and have never had any joint problems, so I can't speak on how they might affect someone with joint issues, but I will say that even with a 30-pound pack I have no problem hiking 12 miles in a day, wearing these boots. I even opted for a pair of Hi-Tec Owaka sandals when I was shopping for camp/boat shoes, namely because of the positive experience I've had with my Altitude IV's.
In short, these boots may not satisfy someone accustomed to a pair of Asolos, but if you're on a budget, these will surely satisfy.
Materials: leather
Use: backpacking, dayhiking, hillclimbing, shallow crossings, wet weather
Break-in Period: 3 miles
Price Paid: $80

I give this boot 5 stars for comfort. They are totally waterproof with an occasional Nikwax application. Just this summer my weathered 3-year-old pair has done the Lost Coast, the JMT and been to Alaska. No blisters and just enough support when you add an insert - I use Superfeet and suffer from plantar fasciatus so comfort is important.
They look like crap and are full of shoe goo but are still waterproof. I have used many very expensive boots and these are the 1st to give me blister free hiking. A pair of Montrails at twice the price were the closest thing I've ever had that didn't kill my feet but they still gave me blisters.
I'm a gear snob but swear by these boots and this will be my boot of choice as long as they make them. They wear out a little fast but so what - they are cheap.
I took 2 kids last summer on a 50 mile JMT hike last summer, including the summit of Whitney. Bought them these boots which they wore out of the box and were blister free and they enjoyed walking through streams while keeping their feet dry. I'm buying a new pair since my 3 year old ones are falling apart now.
Materials: nubuck
Break-in Period: none
Weight: light
Price Paid: $59

I rated this pair of boots in the middle because I like that they are durable and fit me well. I don't like the fact that they say they are waterproof and they are not. I exchanged the cheap insoles for some more expensive after-market insoles. I think I got a real sale on these, I don't remember the exact price.
They say "waterproof" on the box, on literature in the box, and on a tag on the boot. But if you walk through a few puddles you will get wet. I treated them with NikWax, but to no avail. Good summer time boot if it doesn't rain too hard.
Materials: Leather
Use: Hiking and Alpine climbing
Break-in Period: None

I walk on the average 2.5 miles a day during the week, come rain or shine. I hike upwards 14 miles on any given weekend come rain or shine. I get out backpacking one weekend a month. So, I can put a few miles on a boot.
These boots... they hugged my feet and performed pretty well at holding them in place going uphill and down, they also held on to slippery rocks okay. When one lives in western PA, this is important because there is/are a lot of hills and rain. Kept my feet from getting soaked, but not waterproof so wear wool.
But. It is the middle of July 2009. The soft durometer rubber is worn of parts of the sole making them slippery. The toe (sole) of my right boot is torn away from the upper about 1/3 of the way back. I have cleaned and waterproofed these boots, but they look like they have gone through hell.
I bought these boots at the end of February 2009. Essentially, I wore these out in 5.5 months. In the end, I would say these are a great boot for the weekend hiker, but will not stand up to the test of time and rigor.
I know... I should have known. One gets what they pay for.
Materials: synthetic leather
Use: all around
Break-in Period: about 10 miles
Price Paid: $70

I have owned a pair of Hi-tec leather boots for 3 years now and find they are very comfy and hard wearing, but they do make your feet sweat and the tops of them will rub on my leg leaving my feet feeling wet and sore on a long walk. defo don't recommend for summer use.
Materials: leather
Use: 3 years
Price Paid: £50

I bought these to use just for 2 snowshoes trips and they worked great. Just applied sno-seal and gaiters, have also used them for 3 backpacking trips during this past summer.
I did not get blisters or sore feet from these boots and yes, they are waterproof. Crossed a few streams during the backpacking trips and not once did my socks get wet.
I have used Hi-Tec boots for the past 15 yrs with no problems. These are my 6th pair and I will continue to use this brand.
Materials: Nubuck leather
Use: Snowshoeing
Break-in Period: 1 day, wore them prior to my trips
Price Paid: $75

Great boot for the price I paid. Good looking and comfortable. I bought these after returning some Timberlands that killed my feet.
I've used these boots hiking the AT and other trails around Virginia. Great on the trail, however the traction was a little iffy when scrambling over boulders on Old Rag mountain.
Overall a great boot and would consider buying another pair if these ever wear out.
Materials: Leather
Use: Dayhiking and backpacking
Break-in Period: No break-in needed
Price Paid: $39 on sale

I am breaking in my 2nd pair of these boots right now. I am still using my 1st pair out on the trails that I have had for almost 2 years now. I prefer a 100% leather upper boot to the Gore-tex/ Other Material mixed in with leather. These boots are light (for leather), very sturdy and most importantly very comfortable.
I broke my leg years ago and I don't have the normal front to back rocking motion in my right foot when I walk, so I need a boot that will help with that. Hi-Tec products (also have several pairs of trail shoes) provide that comfort. They are very waterproof (walked down a creek several hundred yards and my feet stayed dry), but let your feet breath.
The other thing that I like about these boots are that they come in a Wide width. For those of us with wide feet, you will welcome the feel of these boots. I use these for anything from working around the back 40, to backpacking expeditions with 40+ pounds on my pack.
Materials: Leather
Use: Working around the back 40 to backpacking with 40+ lbs on your back
Break-in Period: A good week
Price Paid: $45

Version reviewed: Insulated
The BEST Dayhiker! Light, sturdy, all leather upper, Gore-tex insulated. Excellent climbing and descending.
No slip; waterproof/feet stay dry; No break-in and no blisters. Worth more than price.
Materials: Nubuck leather upper, carbon sole
Use: Adirondack mountains & trails
Break-in Period: None
Weight: They're fairly light
Price Paid: $79

These are amazing boots! I am going to order my third pair tomorrow. They are extremely comfortable, light, and durable for long hikes. They look great considering most hiking boots these days look ridiculous. I have took these boots with me riding freight trains and hiking the Appalachian Trail. I would trust these boots with my life.
Use: riding freight
Price Paid: $88

Great boot for the price.
I tested these boots, after a short break-in period, on a rocky trail that had a 1200 foot elevation change in less than a mile.
On both the uphill and downhill this boot performed admirably, it gripped damp rock and I had no problems with my foot slamming into the toebox on steep descents.
I've never owned boots from any of the higher-end manufacturers, so I don't know how these compare. The Altitude IV did everything I needed them to do, they kept my feet dry and supported with no blisters or strange aches at the end of the day.
Materials: Leather, carbon rubber outsole
Use: Extended mountain trail use
Break-in Period: 2 weeks
Price Paid: $70

These shoes are great. I walked through some deep puddles on purpose, feet stayed dry throughout the last six months. Great price compared to other hiking shoes that are waterproof. My friends all had blisters, bruises,etc on their feet from other shoes. I had none. Great shoe, great price.
Price Paid: $60

Excellent workboot if you are on your feet all day. I work in a warehouse with concrete floors. I do 10-14 hour shifts on my feet and these boots are comfortable. They are lightweight with good support. No need to break them in. As soon as you take them out of the box they are as comfortable as a good sneaker. Also, I wear a wide width and they come in wide sizes. I am on my 3rd pair.
Use: work
Break-in Period: none
Price Paid: $69.99

I originally bought the Hi-Tec Altitude IV for hiking, for which it worked well. Its true test of worth came when I began wearing it to work at a wildlife sanctuary in Florida. It has good traction to keep me from falling off tall, wobbly ladders. That these boots are waterproof is a necessity during Miami's seemingly endless rainstorms; I can walk through deep puddles and mud without slowing down. Not to be overlooked is the Altitude IV's tough exterior - helpful when a North American River Otter decides to bite down because it smells like the fish you just dropped on your foot!

Materials: Waterproof (seam-sealed) nubuck leather upper
Use: While working outdoors with wildlife, in sun and endless rainstorms
Break-in Period: None to speak of.
Weight: Weight Based on Women's 7: 16.3oz
Price Paid: $67.53

Your Review
You May Like
Specs
Men's
Price
MSRP: $105.00
Historic Range: $29.95-$104.95
Reviewers Paid: $39.00-$90.00

Women's
Price
Historic Range: $39.83-$90.95
Reviewers Paid: $67.53

Kids'
Price
Historic Range: $18.93-$64.99

Recently on Trailspace