Hi-Tec Bryce II WP

The Bryce II WP has been discontinued. If you're looking for something new, check out the best hiking boots for 2023.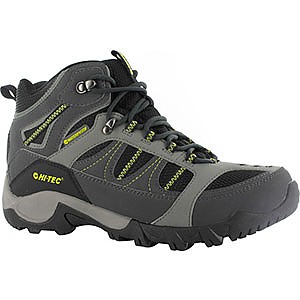 A low cost, entry level, low hiking boot.
Pros
Low cost value for money
All synthetic and waterproof
Excellent sole design for grip
The HI-TEC Bryce 2 WP is an excellent low cost, entry level hiking, low cut boot.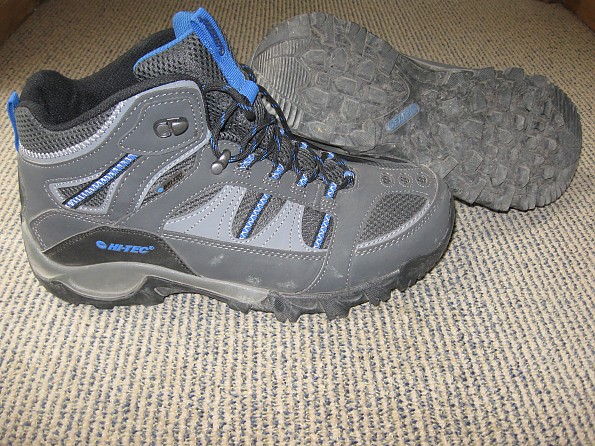 Straight from the box allowing a full size up this was a well fitting and comfortable boot. At first they were very stiff, feeling similar to a mountaineering boots. This wears off quickly and the sole especially become very flexible, stones and rocks were felt on rougher ground. After 40 km I added a different insole which was stiffer and thicker, this made a big difference to comfort.
The outsole with its 5 mm deep well spaced lugs gives excellent grip on a variety of terrain and track surfaces. I walked trails with surfaces as varied as pine duff, muddy clay. stone chip and rough volcanic rock. Only on wet snow grass did I lose traction a little.
The weight of these boots is minuscule, just 1400 g for pair of size US11 makes for light as air travel. The synthetic Nubuck and mesh has a waterproof liner which restricts their breathability somewhat, so allowance for foot swelling of one full size for me was a must.
To sum up, after 50 km I find that these are excellent value for an entry level low cost boot and I would recommend them for formed tracks and trails, but not for rugged mountain terrain. 
4/20/17 Update: I have now done quite a few more km's in these boots and in some atrocious weather including two days with an excess of 50 mm of rain per day. Yes, they are waterproof! The terrain covered has been from alpine to park trails, rock ribs to bog; the wide spacing of the lugs on the sole have proved to give excellent grip and mud seems to be shed by sheer magic.
The one fault (for me) is the soft sole that allows everything underfoot  to be felt; if there is one thing that I hate it is sore and bruised soles to my feet at the day's end. This was cured by the addition of an industry safety insole of semi-hard plastic. They are for proofing gumboots from nails and sharp objects and are quite stiff, but only 2 mm thick so fitted snugly under the insole provided (not my own addition). This has cured that problem and stiffened the boot up quite a bit and they now feel as they were when new.
With winter coming on in the southern hemisphere and the trail conditions deteriorating I feel quite happy with these boots ability to perform. One nice thing is with the all-synthetic construction they can be high pressure hosed clean and dried overnight ready for the new day's journey. 
Source: bought via a "pro deal"
Price Paid: NZ $50

Your Review
You May Like