Hi-Tec Canyon WP

The Canyon WP has been discontinued. If you're looking for something new, check out the best hiking boots for 2023.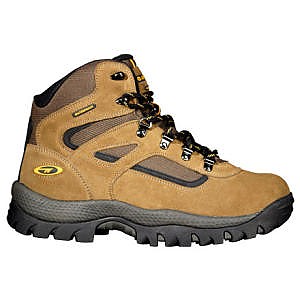 I've had these boots (or a similar/older model - 71141/v005/179) for close to 5 years now and they've served me well with medium usage. In fact, I wasn't exactly expecting them to last as long. I bought these during the year end sale where there was a massive discount and got it for 40 USD.
Initially, they did need some breaking in as it was a little tight for my foot (I have big wide feet). But after around a couple days of constant wearing and walking, they seemed to break in just nice.
I have since brought them with me to the Middle East where we did quite a bit of trekking through some rough rocky sandy terrain and also to New Zealand last year where we did a lot of walking, hiking and climbing.
While I'm in country (Malaysia) where it's always hot, humid and raining. I generally use them for hiking, trekking, paintball, and my tri-weekly physical training where they almost always get submerged in mud
To say the least, they have survived and performed, and I'll be honest, I don't treat the boots very kindly, but it has my appreciation and gratitude.
It's extremely comfortable, much like walking with your feet covered in cushion. I could literally walk forever in them. I do prefer a higher boot, around 8 inches, but these served just fine. The boots do mold to your feet after breaking them in, and your feet just stay really snug after that.
I've managed to immerse the boots in ankle deep water and it still keeps the water out. As mentioned earlier, i do also always trek in mud and the moisture does still stay out.
The sockliner is starting to wear out, but only after these 5 years. Usually, insoles and sockliners would last me a year with medium usage and 5-6 months if I use them rigorously.
The outsoles have lasted quite a long while, seeing as it's only starting to wear out a bit and has still most of the patterns on them. Mostly, its at the heel that the sole is wearing out.
Now for the cons,
The tongue of the boots does not have the web that keeps water out of the front of the boots, so this means, if you're in water any higher than your ankle, you're gonna get wet.
The breathability could use some improvement as my feet does get on the hotter side while on a hot sunny midday. It is a lot better than some of the no-name tactical boots I sometimes wear.
When you do walk in mud, everything is going to get caked, including your soles. Walk on grass enough and it'll clear away though, but not entirely, as I still do have clumps of dirt and grass stuck to it.
When the boots do get soaked (from flowing in through the crevices), you're pretty much effed. I'd be walking around sloshing while wearing them. Change the socks and you'll be pretty much good to go as it'll dry off from there. Not entirely, but just enough.
The eyelets have also started to rust, as it's made of metal. But if you do treat your boots nicer than I do, it'll probably not rust as fast or bad as mine. Irregardless of the rusting, it does still hold a strong tension on the laces, which is good.
As far as traction goes, I'll give it a 3.5 out of 5. On gravel, sand, muddy and wet grass terrain, it works exceptionally, but on wet pavement/tiles there's very little grip, so when you're on marble floors indoors, you can expect to slip a little if you're not careful. Also, on super smooth surface, you'll be making a lot of squeeking sound while you walk. I've also once slipped on a cement pavement that's been covered in moss, and gotten a scraped knee and knuckled because of it.
One thing that did amaze me was that while i was wadding through a river, the traction on those large boulder surfaces that are underwater seemed rpetty decent. you'd still have to be careful, but you know you probably won't go sliding down into the river.
conclusion,
All in all I like these boots. They're hiking boots, so you're not spposed to be walking on smooth surfaces much anyways. The traction on the gravel and sand was amazing for climbing up rocky hills.
The comfort is always there, I will always wear them if I know i'll be in for a long walk, and the breathability doesn't affect me much as again it's a lot better than a lot of the footwear I have (the working shoes i wear now will always cause me to come home with my socks soaking wet)
Would I reccomend these? I already did, to a friend who was looking into getting a pair of cheap hiking boots for light hiking and walking. But anything heavier than that, I'd reccommend something a little bit more waterproof.
Price Paid: 40 usd / 130 myr

Got a great deal on REI closeout on these. Mine look drastically different in style than the pair pictured. They don't have the traditional leather look to them but they are highly functional. I have literally stood in solid water (Minnesota River) up to my ankles and stayed completely dry.
The material and quality is amazing. Never have gotten any blisters in these, even though I feel like I have plenty of breaking in to do with them (probably have only put in 50 miles so far) My feet stay relatively cool in the warmest, most humid weather. Traction is good, no problems.
I know it's not a 5 because there are other boots out there with much more breathable technology and better traction, but as a college guy who really didn't want to pour $200+ into boots I'm extremely happy with these and plan on using them for a long time.
Note: If you're doing winter camping in a really cold climate, buy a real pair of winter boots. These have kept me warm for short jaunts in 5-10 degrees but I feel they would be useless for an extended winter trip. Summer and fall they were awesome though, no sore feet after multiple days of distance hiking.
Price Paid: $35

Great boots!!! Held up strong, I stayed dry and was blister free. I have only put about 55 miles on them, but I think they are going to last for a long time.
It's wonderful and comfortable footwear and I am relax on these.
Price Paid: $50

Your Review
You May Like
Specs
Men's
Price
Historic Range: $15.35-$64.99
Reviewers Paid: $35.00-$50.00

Women's
Price
Historic Range: $19.49-$64.99

Recently on Trailspace