Hi-Tec Odyssey 65

The Odyssey 65 has been discontinued. If you're looking for something new, check out the best weekend packs for 2023.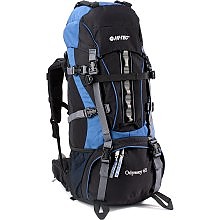 The Hi-Tec Odyssey 65 is a very good workhorse backpack. If you're thinking about getting into backpacking but aren't sure you want to fork out a lot of money for the ultra-lite, this backpack is a good place to start.
Pros
Full featured
Adjustable
Well-made, sturdy
I bought my HiTec Odyssey in 2005 when a friend invited me to hike Mt. Whitney. I didn't have a lot of time or money to choose so I headed to the local Big 5 and picked this one out. I didn't know much about what I needed, but as I've taken up backpacking again, I've learned to take advantage of the features.
Features
As far as features, let me start at the top.
The pack features a removable waist day pack that acts as the main compartment cover. I dropped the main pack at Trail Camp and used this as I climbed to Trail Crest in the snow. It has two main pockets with room for a few hours of food and plenty of adjustability.
The main compartment features a triple drawstring with two at the top and one at the bottom to separate it from the lower compartment. It had plenty of room for a couple days of clothes and a bear container/food.
An added bonus is the hydration bladder sleeve and openings. This makes drinking on the first part of your hike very convenient. I've recently added a steripen and Nalgene bottles to my equipment so refilling once I make camp is easy.
The backpack also has three outer pockets--two on the side, and one in the middle. I put my emergency stuff in the middle so I can get at it quickly. I put new WAG bags and small food items in the others.
There are plenty of straps to hang stuff and adjust the size of the main compartment. I find myself using the lower straps to hang my 1-liter nalgenes plus stabilize my hiking sticks and tent poles on the sides. I hung my crampons the copious loops found on the main body. I hung my used WAG backs on the same loops.
The lower compartment hast just enough room to fit my down sleeping bag, although I could open the lower drawstring and make one huge compartment. I could then store my air mattress inside and use it to stabilize the whole volume. This pack offers so many options.
The backpack features some very tough cordura on its bottom to resist tears and scuffs. More straps are located there for my tent or air mattress. Another added bonus is bottom pocket holds the pack's rain cover.
Lastly, the pack features an ice-ax loop and clamp. 
Adjustability
As far a adjustibility, the pack has a waist strap and two shoulder straps. I find if I tighten the waist very tight, I can take most of the pressure off of my shoulders. The waist system is very padded and comfortable.
The pack features an adjustible harness system so you can customize it for long or short bodies. It uses velcro and takes only a couple of minutes to adjust.
The straps have plenty of length--maybe too much for my 5-11''/150lbs frame. I've toyed with cutting most of the length off, but my wife (who is a little larger than me) might use this pack so I just stuff them out of the way. 
Well-built
I can't stress enough how well built this unit is. I haven't had any issues with zippers, tears, or seams. The only problem I've encountered is that the elastic on the ice-ax clamp has lost its stretchiness. 
My kids are old enough to hike with me so I will probably hand this down to my 14-year old girl for her first backpacking trip so I can upgrade to something lighter. Otherwise, the  HiTec Odyssey is a keeper.
Source: bought it new
Price Paid: <$100

This is an awesome backpack for weekend backpacking trips and it's lasted me four years so far and it's still going strong. I'm in Boy Scouts, and I've been in about 150 days and nights of camping, and I've always used this backpack to hike in my stuff. I have also taken this backpack on many backpacking trips such as the time when I took it to Lake Mary, AZ, and took a 20 miler. If you are interested in camping and backpacking, I highly suggest buying this pack, it is definitely worth the money.
Pros
Tons of space
Lots of straps to externally store sleeping bags, tents, and cots
A very useful raincover stored underneath the pack
Cons
The external straps aren't long enough for very large sleeping bags
This pack fits me so well that I feel that it was made just for me, although it is so adjustable that it can feel like that for anybody else too. The hip belts, shoulder straps, and sternum straps are so comfortable that you hardly even ralize that they are there, and they are widely adjustable to fit nearly any outdoor enthusiast.
The volume that the product advertised is definitely accurate and more than I expected with its extending baggage capacity. It can definitely hold tons of gear, because I was able to fit 8 sets of clothing, all of my camping essentials, a sleeping bag, a cot, and all of the hygeine products that I needed for a week long camping trip. This pack has a great deal of space so that it can be easily packed to the rim but still be organized so that during use all of the weight that it bears is evenly distribted so that it doesn't grow uncomfortable.
Everything about this pack was based off of durability, accesability, and performance which makes for the ultimate backpack. The pack does struggle to adjust to more heavy loads, but it makes up for it in its comfort. This backpack was obviously made keeping durability in mind becuse it has lasted for 4 years of camping, and backpacking.
The only thing that I've ever had wrong with this pack is that one of the straps has finally snaped, but I hardly use the strap so it's fine. I've used this pack all over northern and southern Arizona, and it's proven to be a very useful, durable, and rugged pack. 
Source: bought it new
Price Paid: $69.95

I bought this pack a couple of months back and I chose it over many others because it fits my long torso very well and when carried with 35 lbs it is a joy to have on!it has many features and loads very well. Comfort and fit is the key and this pack has it all! Awesome!
I took this bag on my trip to Oz and am now preparing to take it to Guatemala with me. Super comfortable and fit EVERYTHING I needed with room to spare. Very comfortable and offers plenty of options for different ways to pack in all the things I want to take with me!
Price Paid: $65

I use my pack for school. It fits all my books a binders and other things. Great fit and really comfortable.
Price Paid: $96

Your Review
You May Like
Specs
Price
Historic Range: $74.93-$111.96
Reviewers Paid: $65.00-$96.00

Recently on Trailspace