Hi-Tec Tioga 80

The Tioga 80 has been discontinued. If you're looking for something new, check out the best expedition packs for 2023.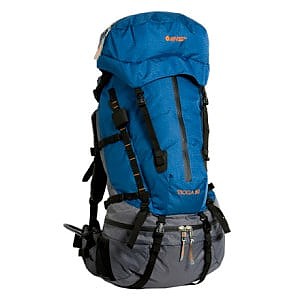 I purchased three of these packs for me and my two sons to take on a 23 mile hike with our boy scout troop. I paid $70 at big 5.
For the most part this pack can take a beating. I threw my pack down the side of the mountain b/c it was just too dangerous to go down with my pack on and it didn't puncture or fall apart. It comes with a mini pack on top, which I will never use, but i guess someone eventually will.
I was hiking in 100 plus heat and i felt the pack well ventilated on my back which kept my cool. I like the fact it has hydration compartment, adjustable straps, rain tarp, large waist opening since i weigh over 350 lbs., water ridge zippers, most important was side zipper access to main compartment, and draw string to close top compartments.
This is not a light pack nor is it heavy. It weighs almost 6lbs. This was a beginner pack for my two sons and it did great.
Some of the problems I found was the size of the hole on straps that i used to run my Camelback hydration hose. My line kept on slipping out. One of my sons seemed to struggle when crossing river streams (via rock jumping) due to its size. If you are a beginner and shorter than 5'7 this may not be the pack for you.
The sleeping back compartment seems a little too small for my sleeping bag so i really needed to cram and compress my sleeping back in order to fit into it. (this was a regular 3 lb sleeping bag). I started worrying that the zipper would break from the tension so i ended using the main compartment to store my sleeping back and used the sleeping compartment to store my heavy gear. This was great in that it kept the heaviness of the pack close to my hips but when i placed the back on the floor I seemed always worried about breaking my gear in the compartment (i.e. lantern, ipod etc).
The shoulder pads were a little stiff, but I'm sure that's a result from being new. The side mesh water bottle holder seemed a little small, but the bungie retainer seemed to compensate.
The pack comes with a rain guard, which broke on my son's pack the first day. Good news is that the guard seems to stay in place even though the zipper is broken. I'm heading on a 50 mile, 6 day trip in Yosemite and believe it will hold up. For the price i paid ($70) this is a great pack.
If you are looking for a pack that is light weight, (under 5 lbs.) medium to small size pack this is NOT for you. I found that I can make do with a much smaller pack (55) and still carry the same amount of gear. This pack can carry enough for two if necessary. if you don't mind the weight, have a waist size of 50 inches or more, and u are looking for plenty of room, this is the pack for you. Happy hiking.

Max. Load Carried: 30lb
Height of Owner: 6'1
Price Paid: $70

I bought this pack at a good price. It has most features i need and wanted.
It has a nice large front pocket w/a zipper down the front for finding items quick. it has many pockets inside including the large hydration pocket, rain cover at the bottom, good size bag compartment, waterproof zippers, expandable main compartment with zippers along the sides for quick access, hood turns into a useful day pack, i'm 21" torso and 36" waist and it fits great and is adjustable, has great padding, is comfortable, and ventilates well, the longest i hiked with it was 7 miles in the mountains with 35 lbs and i was not sore at all and probably could have gone another 7. it seams to be tough at least the pack.
the strap buckles tend to slip on the first try, i think they are too small and fragile, i bought mine online although i saw it in the store at big 5, it came with a broken clip although it still works some what i don't use it anyhow, but contacted hi tec about it and i haven't gotten anywhere just a recording that says to contact the store it was bought from for help, kelty helped me right away with multiple replacements on my old 1999 redcloud in 2009, that is ridiculous, bad customer support and fragile clips makes my rating drop. it is also heavy, i weighed mine at 6.9 lbs, hi tec's website says i believe 5.8 lbs, big difference, that effects my rating. the side mesh pockets are a bit smaller then id like. it also doesn't have side pockets which i loved on my older pack but that isn't a big deal since i strap my poles there and the front pocket is big and better. it has 2 big gear loops on the waist straps which are cool.
over all this pack seams to have good features that out weigh the minor bad and for the price you cant beat it. but i recommend you see it in the store and buy it there vs online unless it is a store with a good policy, don't buy at a discount seller like i did. and don't expect anything from hi tec other then bad shoes. also take a look at the Arc'teryx Bora 80 Backpack, it looks exactly the same as the tioga, i'm willing to bet hi tec didn't make the pack originally and the original manufacturer also does the bora. but the bora sells for $375, and weighs more, and Arc'teryx is a high end expensive brand.
Design: Internal frame
Size: 80 l, large
Number of Pockets: 8 including pockets inside
Max. Load Carried: 38lbs
Height of Owner: 6.1
Price Paid: $70

My friend and I bought these packs at Big 5 for $69!
We just got back into backpacking after about 12 years.
We used to have old school frame packs.
We have used them twice, 12 mile trip in Sequoias and 10 mile trip in San Gabriels.
Works great. Outside front pocket is large enough for backpacking tents and more.
Sleeping bag compartment works great. Love the removable lid which turns into a hip pack. We went on a night hike & climbed up to a cave and used our hip packs to cary stoves, food, and mess kits to eat at the cave.
Love the utility loops on the waist belt. I can clip tools, water bottle or anything else there while I hike.
Only problem was busted zipper pull. They seam to be made of die-cast metal and for some reason the are perforated and it broke in half. I just replaced it with a key ring.
On our first 3 day trip I started out with 50 lbs.
Second 2 day Trip we started with 35 lbs but added 9lbs each by strapping a 12 pack of beer to the bottom using the 2 built in straps and adding another for side stabilization. Held it very tight. Oh and the 2 mesh side beer holders work great too.
Used the rainfly on our first trip with no problems.
Lots of straps and daisy chains to strap stuff to.
Pack feels great and works great and we don't pack ultra light.
Can't beat the price for the size and quality.
Price Paid: $69

Picket up this bag on sale. Did a little research and for my money it's worth it. All the belts and straps look to be well sewn in place, large hydro pouch, plenty of upper and lower bag space.
Planning a trip down the Grand Canyon in Oct/Nov. This bag will hold my tent, sleeping bag, water, extra clothes, food, stove, cookset with room left over.
This bag is of med weight (5lbs), easy to adjust to your body. There is very good ventilation aroud your back. A well padded waist belt and shoulder straps make the bag comfortable to wear for the long hike ahead. The hydration outlet on the bag is a extra, I didn't expect
Design: internal
Size: 80l
Max. Load Carried: 45lbs
Height of Owner: 5ft11in
Price Paid: 80

I do a lot of backpacking and this backpack was a surprise. It has plenty of space and storage compartments, the sleeping bag fits in the bottom compartment, it has a waterproofing cover and is very comfortable after a day of hiking.
I have used packs that cost three or four times as much and this one is quite good. Recommend!
Price Paid: $70 only at Big5

Your Review
You May Like
Specs
Price
Historic Range: $125.96
Reviewers Paid: $69.00-$70.00

Recently on Trailspace