Hi-Tec V-Lite 2

The V-Lite 2 has been discontinued. If you're looking for something new, check out the best three-season tents for 2023.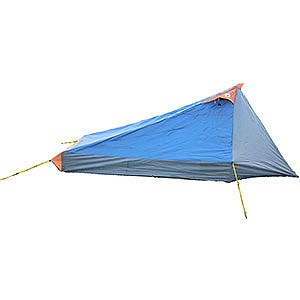 When one is 99% sure that this is the tent for you, the 1% happens. That equals a 100% failure.
Cons
Upper seams
Vestibule zipper
Just picked up this tent last week.
This tent starts at 3.5 lbs. Getting rid of the pole, use trekking pole, and the heavy stuff sack you are down to 2# 6 oz. I also took out the floor of the vestibule, and the 4 small poles in the corners. That brought the weight down to 33 oz. Just about perfect for my UL summer trips. What sold me on this tent was its size. 28 sq foot sleeping area, and a 14 sq foot vestibule. Big, very big, for just over 2#.
Two vents at the peak and a large vent at the rear of the tent. Provide good ventilation.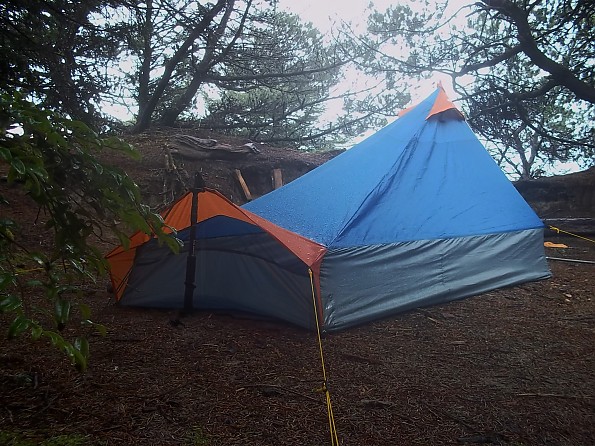 The inside is huge for two. Even better for one.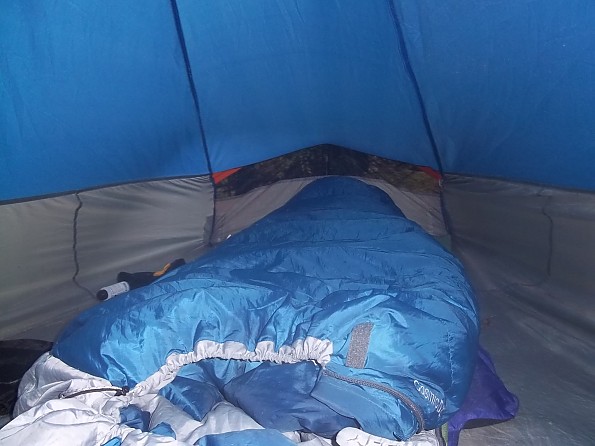 My large Kelty backpack fits easily in the vestibule. With plenty of room to get in and out.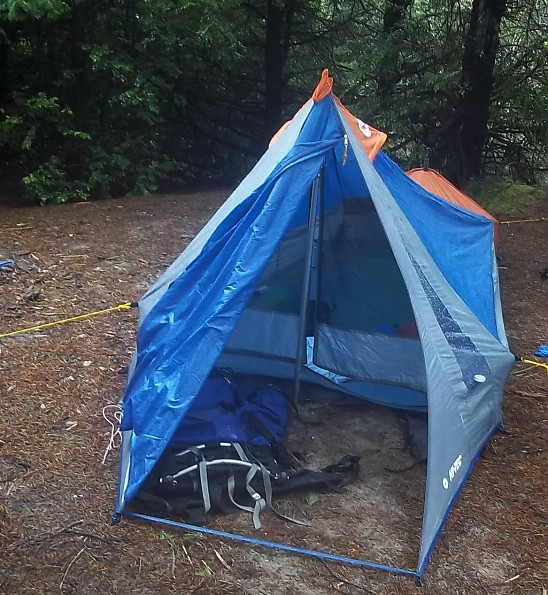 I set it up in the yard during a rain. It leaked thought the top seams. It seems that these seams are sewn wrong. They are a Y seam. By this I mean that they are a gutter on the outside of the tent and hang loose on the inside.
So I took the tent in and seam sealed three times on the outside, and twice on the inside. At this point I was sure that the problem was salved. So out I went to my test area.
The weather report said 100% rain for the next 3 days. And for a change they were right. I had just gotten there and the rain started. I should have known that everything was doomed when one of my trekking poles snapped, Vu ja da, never saw that happen before. I was only 1/2 mile from the car and had my car camping tarp poles there. So back to the car I went.
I got the tent setup and let it sit there in the rain for around two hours. I took a peak in and sure as crap those seams were leaking. Now mind you, this was not a driving rain just a light soak-er. The tent had failed.
But I wasn't done yet. I was hoping to use my tarp as a kitchen/wind block. But now I had to cover the tent. I slept nice and dry. In the morning I was getting out of the tent only to find out the the zipper had come undone during the night. I made my coffee and bailed.
Now I'm not ready to quit on this tent. For the size, weight, and price, I am willing to work on it. But most people want a tent that works right out of the box. At best, this is a project tent.
I'm a great fan of inexpensive gear, but this is the biggest failure that I have experienced. I guess that if you lived in an area that never rains this would be the tent for you. 
But watch out for that 1% doubt, it's a 100% failure.
Source: bought it new
Price Paid: $26

Had a similar experience, only on night 2 of a 3-day backpack trip. Very wet night.
Pros
Great design except for the fact it does not keep out the rain
Love the small packing size and nice design and shape
Cons
Not well designed for rain. Tie-outs required to best utilize, so if terrain is not favorable that will be a challenge.
Many other tents will maintain their shape without stakes and gear, etc, can be used to weigh down the corners...
My sleeping bag, myself, and gear were completely soaked. Wondered if I would die of hypothermia on the Washington coast, but fortunately my sleeping bag still conserved a fair amount of heat even though soaked through and I had brought a bunch of Hot Hands packets, too.
Still, not the ideal sleeping conditions.
Source: borrowed it

Your Review
You May Like
Specs
| | |
| --- | --- |
| Price | Reviewers Paid: $26.00 |
Recently on Trailspace