Hi-Tec V-Lite Buxton Low Waterproof

The V-Lite Buxton Low Waterproof has been discontinued. If you're looking for something new, check out the best trail shoes for 2023.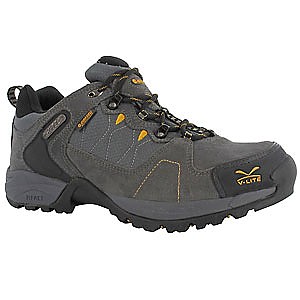 This is a very light but sturdy shoe for track and trail use and living in Christchurch, NZ, where we had a devastating earthquake good footwear is a priority. Every day we scramble through broken roads and demolition sites, a real test for any footwear. These shoes have proven to be top value. They are stiff soled and waterproof and just so comfortable; they are pretty good out on the hill trails on the Port Hills too.
Pros
Comfortable wide fitting
Stiff sole to protect your feet
Waterproof and stylish enough for town and around
Cons
The tongue is short and care has to be taken when doing up the laces
After our devastating earthquake on Feb 22 2011 when our city changed to something resembling a war zone and traveling by foot became for most an everyday activity. We had to walk through rubble, liquid mud, water and over broken roads. Suddenly footwear became very important for all. I was lucky as with both climbing and hiking boots coped very well. After eighteen months things have got a lot better but still the ground is pretty rough and still good shoes are a must throughout the eastern areas.
Six months ago I went shopping for some new shoes and as most of the outdoor shops had found new premises in the west went to see what was available. Shoes from many countries were on the shelves and the choices many. I wanted value for money and a sturdy water proof shoe not a boot. After trying many on in the shops decided that the HI-TEC V-LITE BUXTON LOW fitted the bill very well and being at the lower end of the price range was an added bonus.
For the last six months five days a week, sometimes six I wear these shoes. Though very light in weight I have found them a top item for not only around the town but up on the hill tracks and trails. The sole is gnarly and gives good grip in both dry and wet. The sole is stiff and rigid giving excellent protection on rough ground. They can be hosed off to remove liquefaction (Mud from deep underground) and they dry overnight and so far the waterproofing has been great.
Another big plus is the sole wear is minimal; walking through broken concrete, glass, climbing over broken buildings or negotiating river banks with fissures many feet deep and up to a meter wide I think is a really good test of a quality build.
The added bonus for me is that the fitting is quite wide which makes for an almost perfect fit. I couldn't ask for better in a shoe.
Source: bought it new
Price Paid: NZ $200

Son muy livianas las tuve hace mucho tiempo ahora requiero comprar y no sé dónde puedo adquerirlas.

[Google Translate: They are very light I had them a long time ago now I need to buy and I don't know where I can buy them.]
Cons
No le encontre [nothing against it]
Deseo poder adquirirlas y no se donde puedo comprarlas.
[I want to buy them and I don't know where I can buy them]
Experience
Muy buenas
Source: bought it new
Price Paid: 340

Your Review
You May Like