High Sierra Access

Top 25 in unisex Overnight Packs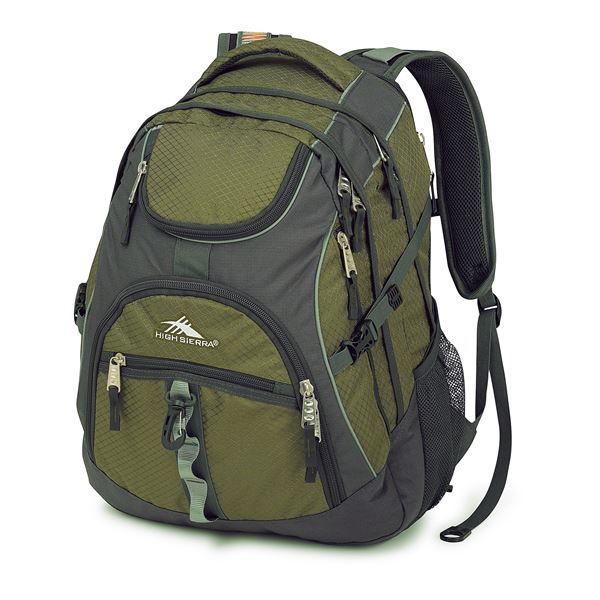 Specs
| | |
| --- | --- |
| Price | Historic Range: $29.99-$59.99 |
Reviews
1

review

5-star:

1

4-star:

0

3-star:

0

2-star:

0

1-star:

0
I have only heard of High Sierra brand among packs until I discovered this product through a friend. I enjoy packs of all types and currently own several backpacks and daypacks. A friend came wagging this product in to work one day and I absolutely fell in love with immediately!
If you love pockets and organization, I am telling you, you will love this product. It is VERY well thought out. It is the PERFECT daypack for the person with an active lifestyle and travels a lot, needs to carry stuff everywhere he goes, or the college student.
The product is made where all most all the other packs in the world are pretty much made and out of the same plants-China. Construction appears to be pretty good, about typical of what you are seeing the Chinese make for all the pack manufacturers.
High Sierra's design on telling them how to make it is the best I have come across on any daypack, any brand, I have seen. It features extremely comfortable padding, a media pouch on the front of the pack (as do most all of High Sierra packs). This is one of only a couple of its weakness points and this is being picky. The media pouch will hold a very small cell phone and that is about it. Not big enough to hold a PDA, but I guess they figure most people would not store their PDA there anyway!
It features one main compartment to hold a laptop and additional paperwork, computer charger, etc. A strap with a snap buckle allows for a tight adjustment to hold down a laptop. Access to this main compartment is allowed straight from the top with a zipper (easy to just slip out your laptop and nothing else) or it has the normal full length zipper in the front for the main compartment to access everything.
The second compartment offers even MORE space to add items. It has a full zipper to access it as well. The third section of the pack offers two smaller zippered pockets, one to hold a media player (top pocket on the outside) and another pocket below the media player pocket that is at the very front of the pack for organization of small things. THIS is the pocket that caught my attention and I dearly love it. It features probably some 10 extra small pockets of various sizes, shapes, and some have closure flaps or zippers to secure items even more tightly. If you love organization and lots of pockets on a daypack, you will dearly LOVE this part.
In addition to all the pockets mentioned, there is another small zippered side pocket to hide some items that you need to get to real quick such as GPS, camera, or cell phone. A total of 7 pockets of every shape and size you would ever need are on this pack, and as I mentioned earlier, the main pocket on the front has some 10 pockets within it for small items.
The outside of the pack has lashing points and even a clip for keys or items to clip and hang on the outside of the pack. The pack has padded hip pads and belt as well, so it is made to haul a pretty good sized load. The pack can be tightened up with some load straps on each side. This will secure any load you have. It has a wonderful large carry strap on top that is heavily padded.
I guess the coolest thing next to the pockets for organization is something that High Sierra is doing that not many other companies are, and that is the built in rain cover. Simply unzip a section on the very bottom of the pack and you have a full length rain cover for the pack. What a neat ideal, and you didn't have to pay an extra $25 for a rain cover for the pack. I was SO impressed with this pack and its pockets, that I purchased a High Sierra Appalachian 75 for backpacking. I plan on reviewing it later after some use.
Overall, I sincerely mean that this is the FIRST daypack (and I have owned many) I have come across that I dearly love. If you are looking for a pack with tons of room and especially lots of pockets for organization, than look no further.
The ONLY small complaint one might have is that this pack seems to be tailored for small torsos. I have an 18" torso, and when you tighten the waist belt up on this pack, it tends to ride a little high for a waist strap. The target market is probably for students, thus made for smaller torsos. Other than a couple of small quirks, this is THE DAYPACK to get for people who like organization with pockets! You will not be disappointed.
This pack offers a limited lifetime warranty as well. From reading other reviews, they tend to back that warranty as well, but hey, they should. As dirt cheap as it costs them to make it in Communist China, they could replace it 5 times and still make a profit. The company though I understand is very easy to work with. Hopefully you should never have to do that but it is good to know.
As of February-2010, I would say High Sierra is a company to watch. They are definitely coming out with some innovative packs.
Update: January 27, 2012
Update January 27, 2012
This is THE best day pack I have owned, period. I have 11-14 packs currently. THIS pack is my favorite. You will NOT be disappointed with this pack!
Design: Front Loading Daypack. Top load for laptop as well.
Size: 2743 cubic inches
Number of Pockets: 7
Max. Load Carried: 30 lbs.
Height of Owner: 5' 9"
Price Paid: $30

You May Like
Recently on Trailspace