Highgear Alterra

The Alterra has been discontinued. If you're looking for something new, check out the best compass watches for 2023.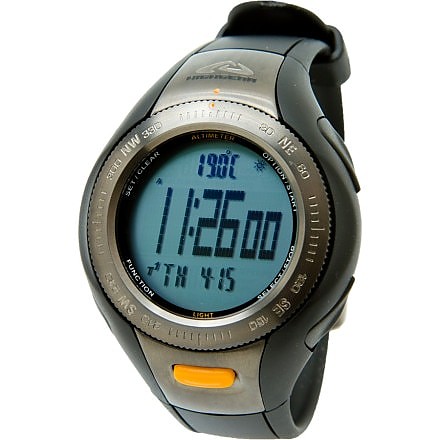 Had the Highgear Loft for 1 month, somehow the bezel came unglued and broke off while I was running. Sent the watch to Highgear, customer service said they sent me a new replacement which after one run had condensation on the inside of the watch!
Call cust. ser. they said don't press any function button if the watch is wet (you have to be kidding me!). Told me to take watch apart and dry it out then close it back up, I very politely said that was not an acceptable solution. After a couple more calls listening to them himm and haww they said they actually sent me a refurbished demo and that the seal most likely had been damaged.
So then they said send it back again, and the tone was like they were doing me some huge favor because they were going to swap it out for a brand new Alterra model, I said well OK whatever, asked them to reimburse me for the shipping, because they sent me a defective watch, never was reimbursed. The new Alterra worked fine for 2 months then began falling apart.
Very poor customer service, very poorly engineered product, stay away from Highgear unless you need a very cheap alti/watch that will need to be replaced after hard use.
Spend the extra money and get a Suunto!
Price Paid: $89

This watch has a great log book, with graphs, and information on how much you ascended and descended during a climb.
I have had to send it back on two occasions. One due to the rubber around the face coming apart and again, a year latter when I developed an allergy to the watchband. I have tried to get the company to send me a watch without the band but they sent a refurbished watch that gets condensation on the inside. I am now in the process of trying to rebuy the watch and have someone take off the band, as the jeweler where I live cannot.
Living in a rural area I have little choice of jewelers so this is a problem. I have tried several other watches, and this one has the best features.

Price Paid: $150

I bought this watch in the summer of 2006 from the nearest REI store from my house, which was over 80 miles away. I liked the features and the look of the watch.
Unfortunately, pieces of the watch (the name plate and cover on the backlight button, etc) began to fall off soon after I purchased it. It wasn't convenient to drive back to the REI store that I purchased the watch at, so I glued the pieces back on.
About two years after I purchased the watch, the band broke where it connects to the watch. Since the band was not under warranty I just threw the watch in a drawer and started using the old $25 Casio watch that I had before I bought the Highgear Alterra.
I strongly do not recommend buying this model of watch from Highgear and based on the quality of this product, I would seriously consider not any watches from Highgear.
Price Paid: $150

I purchased this watch in January 2008 for a deployment to Iraq. I looked at every high end watch you can spit out, and in the end I bought this one because for the price it did come with a digital compass. For around the same price I could have gotten a few other watches that were available.
For almost 200 bucks after taxes, I expected this thing to last awhile (5-6 yrs?). Within 3 months of owning the watch the Highgear emblem was gone, and the steel face plates on the watch were scratched and some of the numbers were fading. (I was not even in country yet). You can see how this story is going.
Eventually when I was in theater the rubbery-plastic (very cheap design) coverings for the function buttons came unglued (cheap) and sand and grit and water got inside of the watch (not water resistant when glue wears out), and the watch died.
I think I owned this watch for a half a year and went the rest of the time without even knowing what time it was. Thanks, High Gear.
Price Paid: 185 USD

I received this as a gift at Christmas 2005. It was used in mountain biking, road biking, hiking, adventure racing, and worn daily to work.
Within the 1st 4 months of ownership the metal plates at the top and bottom of the watch either fell off or were loose enough to fall off. This was discovered in hour 3 of an 8 hour adventure race. Customer service quickly took care of the situation and I was out a watch for less than a week.
Nearly a year later, similar issues arose along with the rubber surrounding the buttons simply started peeling away from the watch face and the lower right button was very loose. Slower customer service this time, but the watch was fixed for free aside from shipping costs.
This summer the watch was exposed to slight amounts of steam created in the work environment and the display went blank. My 1st email to customer service went unanswered. I emailed again and finally got some gears moving to eventually be advised the watch had water damage and I was offered to purchase a new one from them at a significant discount from MSRP. The Alterra is supposed to be sealed to withstand the pressure of 50m. I then discovered that my coworker's $20 superstore watches that had been exposed to the exact steam levels as my Alterra had not experienced any issues from the steam.

After my 1st experience with Highgear's customer service, I was doing everything I could to support them and recommend their products. With the decline in their customer service response and the apparent low quality standard in both production and materials I cannot recommend the Highgear Alterra any longer.
Price Paid: gift

Broke within 3 months, most of which was non-use. Customer service was more into placating. Best off spending $$ anywhere else!!!
Price Paid: $79.99

Great features and easy to use. Only problem was I had the watch for about three days when the backlight button just fell off. This was only used around town. I will say that I was disappointed with this considering the short time used and now no backlight on a 150 dollar watch.
Price Paid: $150

Let me first say I really dig this watch. As with all wrist altimiter watches, consistant updating is required to maintain accuracy. The watch looks nice, is comfortable and has a good amount of features for your average joe alpine guy.
Now for the problem. I am not sure if my watch was just defective or what. I had the watch for a couple days when the compass adjustment dial just fell off. It is held in by two small pins. I managed to find the parts and put it back together. Hoping it was a manufacturing issue, I went on using it. A month later it happened again. The watch was in no way misused and was only taken out on the trail once. I cannot say that this was due to poor design but it left me a little frustrated. I plan on contacting Highgear for a replacement.
Price Paid: $125

Your Review
You May Like
Specs
Price
Historic Range: $46.65-$175.00
Reviewers Paid: $79.99-$185.00

Recently on Trailspace