Highgear Summit

The Summit has been discontinued. If you're looking for something new, check out the best compass watches for 2023.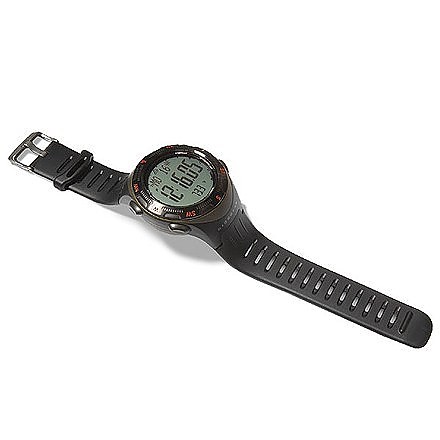 I bought a Highgear Summit watch in July of 2005 and was excited with the triple sensor features. In the fall, we hiked through the Grand Canyon and I was anxious to review the elevation changes throughout the hike. Five days later on the trail up the South Rim the altimeter ceased to function. I called Highgear and explained the situation and they authorized a return. I received a new watch a week later (November 2005) and all seemed OK.
In July 2007 I started to experience problems again. Now the barometer would not change and since the altimeter is tied to the barometer that too was incorrect. I procrastinated calling Highgear and with an upcoming vacation planned to the Teton's in September 2007 I wanted to have a functioning altimeter. However, the watch then signaled a low battery by beeping and flashing a number of times and went blank. I replaced the battery and nothing. Total blank. I tired the complete reset maneuver (holding all four buttons simultaneously) and still nothing.
When I called Highgear and explained all the problems, the customer service person was nice and did a lot of searching to find my original contact in 2005 and the authorized return. She informed me that the replacement watch was within the 2-year warranty and likely they would replace the malfunctioning watch. I was told I would get an email with the RMA. That never happened. A week passed and no email. I called again but never got through to a person as the customer service number immediately transferred to voicemail. I left my contact information repeatedly but never received a call back.
Upon returning from the vacation, I called again and customer service still transferred directly to voicemail. I called back but choose technical support and talked to a technician. This person was either having a bad day or did not like taking support calls. His first reaction was that I did not know how to change the battery. His second reaction was that I was using an expired battery as a replacement. When I insisted I had a fresh battery he then informed me I would get an email with an RMA (sound familiar) and to send the watch back with a copy of my receipt and Highgear would either replace or repair after they evaluated the watch. When I told him that the watch had been replaced by Highgear in November 2005 and that a previous customer service contact indicated the replacement watch was within warranty he just repeated his instructions without any comment about the prior replacement.
I never received the email with the RMA and at this point no longer interested in any Highgear solution.
Pros:
The watch is attractive and I received a lot of compliments on its look.
I liked the large size and large numbers.
The backlight feature was strong and there were times I used it as a quick "flashlight" in a dark tent.
Cons:
The mechanism failed in two watches in two years through normal wear and tear.
Customer support and technical support do not follow up on their commitments.
Here's the bottom line…The watch was not cheap and should have more durability than I received. I could understand one watch having a problem but for two watches to fail in two years seems very odd and a bit concerning. Since I am in the market again for another watch, I have read more reviews on triple sensor type watches and have learned that all seem to have issues, regardless of manufacturer, mainly in the barometer and altimeter features. It may be too much to ask a timepiece to accommodate the triple sensor technology.
Price Paid: $149.95

I would like to chip in on this "American issue." First of all, if not for the breakage of my Summit's battery hatch out of force for being stuck of long usage it would still be running good on that rainy day. Then it got water seeping in and display all gone and blinkered and I thought it was dead, but after some months I put in a battery found out that it still work. So in my case my Summit is tough but one thing about HighGear product is that it is so hard to even get a battery hatch replacement out of US/UK whereas I am one of the very few owners of HighGear in Malaysia. My HighGear Summit is really tough surviving a 13 feet hard fall from the ceiling, and another two blows from bike accidents. And commenting on its finishing quality I think there is some issue here that the compass bezel does not really line up on the N cardinal with the LCD point. If one of you HighGear company guys is listening, please, smart up on all these issues in this forum. What good is an American brand if it is not good enough? You guys forgetting the motto to walk "Just one more mile"?
Easy to use, good display, tough.
Accurate performances.
Construction is good but finishing is average.
Use on daily basis for work and play outdoor and indoor rain or shine. Use for over 3 years running good until I damaged its battery hatch and rain seeps in. Otherwise this watch is still good. Do not like HighGear spares market, replacement parts are limited outside of U.S.
Source: bought it new

Bought this multi-function watch at REI several years ago and for the first year or so everything functioned well. However, came time to change the battery and shortly after that the watch's compass circuit failed completely (the calibration set feature no longer worked and appears to be permanently given to flashing 'ERR').
The altimeter I have found, despite careful and regular altitude calibration setting and use on Sierra Nevada mountain climbs), to be consistently off by a margin of about 200 to 300 feet. The other features seem to be functioning well.
Due to the inaccurate altitude problem and the failure of the compass calibration setting procedure, I now use the watch strictly as a running chronometer...a very expensive (US$ 150 when I purchased it originally) way to determine your time per mile goals on a run!
Next purchase may be a Casio Pathfinder 500T (Titanium) multi-sensor watch, since I have read very good reviews on that relatively 'new' (2011) product. They are still expensive at the moment (about US$ 375 or so), but no reports of failure or problems have yet surfaced on them.
Price Paid: US$ 150

Bought new from Cabela's and I don't think I'll get another watch from Highgear.
Pros
Temp and predicting rain is awesome.
I have bought it from Cabela's sportsmen store. For what I have paid, I really thought it's going to last for life. Wrong.
The watch is really nice while it's working. There is an issue with the strap, which I have bought a replacement. The battery went dead and I had to replace it. Watch won't come on, tried 5 different batteries. Of course it's out of warranty.
So I took it to a battery store, and they told me it's the watch. $140 down the drain.
Background
I'm thinking about getting Android watch from now on.
Source: bought it new
Price Paid: $139.99

Watch is okay until you need it fixed. Then, if it's out of warranty, you're told "forget it."
Pros
Works fine and is accurate.
Cons
Weak case
Straps separate easily
No replacement parts
Source: bought it new
Price Paid: $92.85

My wife purchased the High Gear Summit for me as a gift. After calibrating the altimeter I have worn it everyday for the last six months. The altimeter, barometer, compass, and temperature functions have not failed me yet.
The forecast function has shown rain when there was not a cloud in the sky and within the next couple of hours, it was raining!
I do not leave home without this extraordinary piece of gear.
Price Paid: $100

I bought this watch just for the trail. First day out the altimeter didn't work right, the compass gave wrong direction, the temp useless. I read the manual and changed the battery. Still no go. I've seen other reviews and think these watches are not reliable. The wilderness is not the place for this one.
Price Paid: $125

I have the watch and had a few issues. Found that leaving the battery out and re-calibrating the compass will fix the "ERR." Same with Alt.
Since re-calibrating all has been good.
Price Paid: $80

Your Review
You May Like
Specs
Price
Historic Range: $78.32-$160.00
Reviewers Paid: $80.00-$150.00

Recently on Trailspace