Highgear TrailLite Mini

Top 50 in Battery-Powered Lanterns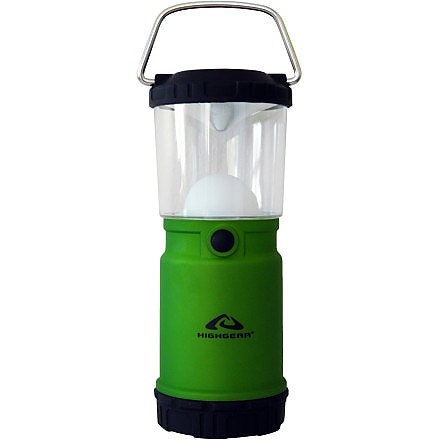 Specs
Price
MSRP: $18.00
Historic Range: $7.98-$18.00
Reviewers Paid: $7.00-$10.00

Reviews
2

reviews

5-star:

0

4-star:

1

3-star:

1

2-star:

0

1-star:

0
A good value for a rugged lantern that is in the middle of the pack in terms of built-in features, battery life, and brightness. I would recommend this lantern for anyone who goes on trips in groups of three or more. It won't replace the headlamp in your pack, but I find it to be useful and affordable supplemental lighting.
Pros
Durable construction at a low cost
Replacement batteries (AA) are cheap and easy to find
Compact and lightweight for small-group camping
360 degrees of light
Cons
Closed handle for hanging
No brightness control
Not waterproof
Large dark spot when hung
I picked up the identical Eddie Bauer-branded version of the Highgear TrailLite Mini two years ago on a whim, and so far it has performed up to my expectations, considering the price I paid for it.
Product Specs (claimed by manufacturer, unless otherwise noted)
Brightness: 30 lumens
Burn time: 110 hours (constant), 145 hours (blinking)
Weight: 6.6 oz. (confirmed, 6.55 oz. on home scale)
Batteries: 4 AA
Testing Conditions
I have taken this lantern with me to all sorts of places: multiple nights in the deserts of Utah, overnights in the mountains of Colorado and Montana, and countless nights around a backyard firepit.
Description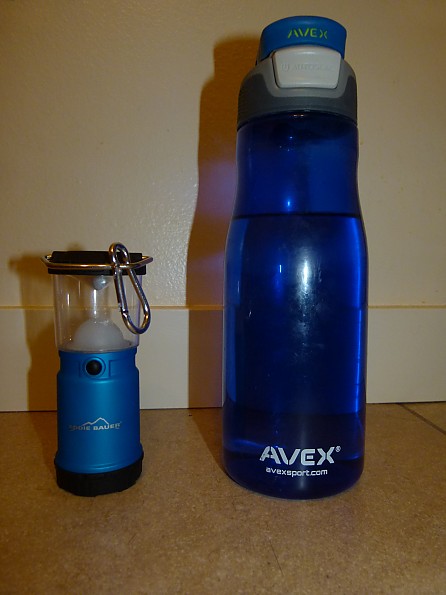 Size comparison of the TrailLite Mini to a 32 oz. Avex water bottle.
The TrailLite Mini is about as simple as a camping lantern can get. Light comes from 5 LEDs housed inside of a frosted globe, with a mirror on the roof of the lantern to further reflect the light outwards. The top and base of the lantern are slightly rubberized and are designed to provide grip and protection from small drops and fumbles. A closed folding steel handle reaches out of the top of the lantern for hanging and carrying.
The button on the front of the plastic body cycles through three modes: off, constant, blinking. There is no way to adjust the brightness level, or select specific modes without cycling through in order. When the batteries run out of juice, a quick unscrew of the bottom cap allows access to a battery "capsule" containing the 4 AA batteries needed.
Construction and Durability
Thus far, this lantern has been as rugged and durable as I could have hoped. I can't claim to have beaten it up too badly, as it mostly rides in a pocket in my backpack as a backup light, but after two years, the only blemish is a small scuff on the clear plastic.
With regards to weather resistance, I've been lucky enough not to have pushed the lantern very far. However, there is no rubber O-ring in the battery compartment so I would be EXTREMELY hesitant to expose this lantern to anything more than a light sprinkling. And while I was initially worried about the lantern being turned on inadvertently in my pack due to the button protruding slightly, I've yet to have this problem on the trail.
My one main complaint about the construction is that the top handle is closed. This can make it difficult to hang on tree branches in camp, and impossible to use with the hang loops inside my tent. My solution was to attach a cheapo carabiner to the handle, which adds a huge amount of utility to the lantern. Even though it was an easy fix, it would have been nice if the manufacturer designed the handle as more of an open hook, or included a hanging hook on the bottom of the lantern, as I've seen in competitors' products.
Brightness
While you will never mistake the TrailLite Mini for your own personal "mini-sun" at night, its 30 lumens and 360 degrees of light do an adequate job for small groups in and around camp or in your tent. For checking on food while cooking, talking around a picnic table or campfire, or reading a book or map at night in your tent, this will give you the perfect amount of light. The fact that you can't adjust the brightness of this lantern is a minor issue for me since it really isn't all that bright to begin with.
If you have something to work on more than 10 feet from this lantern at night, I'd recommend bringing your headlamp for some extra light oomph. An additional weakness in the lantern brightness is weak vertical lighting, something inherent in its design. With all the LEDs pointed up, if you hang this lantern on a branch or in a tent, you'll quickly notice a large dark patch directly below the lantern as well as a dark ring from the mirror reflection, which can be frustrating at times (see photo below).
One more note on brightness, while the 'blinking' mode offers longer battery life at the same brightness level, it is obnoxious in camp, especially when you accidentally cycle to the mode. I can only imagine using the 'blinking' mode in some sort of survival communication scenario.
Light pattern on tent roof when hung using carabiner.

Overhead view of light pattern, showing dark ring.

Battery Life
I have used this lantern up to several times a month for two years now and have had to replace the batteries once. While I wouldn't have a clue as to how many hours of burn time I got from the first set of batteries, I am confident that the manufacturer's stated burn time is reasonably accurate.
Conclusions
The Highgear TrailLite Mini is an affordable and durable lantern that is suitable for a range of outdoor activities. While it doesn't excel in any one area, it can be counted on for years of use and can be regularly found on sale, making a good deal even better.

Source: bought it new
Price Paid: $10 (on sale)

A small, light, and very efficient addition to our canoe camping equipment arsenal. It is very reasonably priced (we got a great sale price), and has held up over multiple trips. Simple AA battery use makes it easy for us (we carry extras), but the lantern has kept its brightness for a long time.
Pros
Small size
Lightweight
Bright illumination
Nice color choices
Cons
Not rechargeable, so if have to replace lots of batteries, could get pricey.
Not sure I would pay full MSRP of $18 for it.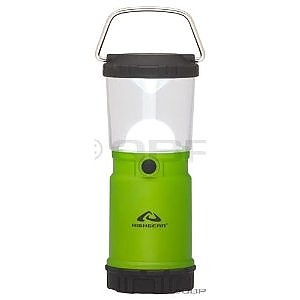 I had seen this lantern at a gear swap (it was new, a vendor item), and was impressed with its size. For canoe camping, small size is preferred. We did have a larger (though still only about 8 inches tall) scout lantern (uses 4 AA batteries), but it was bulky, and a bit heavy to hang inside the tent.
I was not sure how bright the lantern was, and just hesitated and did not buy it. A week later, I saw it on a great sale online and ordered it. It has been a great little lantern!
It has 5 LEDs, and is nicely bright; the reported burn time is 145 hours, so we have a ways to go. It is rubberized, and has an easy single push button control; nice for our sometimes rainy adventures, and easy to turn on for lighting up the tent interior. The globe is frosted, so the light has limited glare effect. It only weighs 6 oz. (with the 4 AAs installed).
This is a nifty little light, and we may buy another one, if we get another great sale opportunity!
Source: bought it new
Price Paid: $7

You May Like
Recently on Trailspace