Hilltrek Clova SV Breeches

Top 50 in men's Soft Shell Pants
Specs
| | |
| --- | --- |
| Price | MSRP: $168.67 |
| Weight | 13 oz / 365 g |
Reviews
1

review

5-star:

0

4-star:

1

3-star:

0

2-star:

0

1-star:

0
The Clova SV Breeches are hard wearing 3/4 length pants made from windproof and water resistant Ventile in a classic breech style from Scottish manufacturer Hilltrek. They are ideal for hiking in temperate climates where some wind and rain can be expected. Hilltrek offer a range of options for their breeches and a made to measure service.
Pros
Comfortable
Warm and windproof
Showerproof
Shrugs off dirt
Good quality zip fly
Deep pockets
Lots of belt loops
More environmentally-friendly than non-synthetics
User serviceable and easily repaired
Low rustle
Cons
Expensive
Slow to dry
Dry cleaning recommended
Press stud fastener instead of a button
Increasingly, in these times of rising environmental awareness, the question is often asked on the forums: I want to make my backpacking more environmentally friendly, is there an alternative to synthetic fabrics?
The answer is generally the same: yes, something called Ventile. Ventile is not a new fabric by any means, it was invented during the Second World War and has a very interesting history, just google "history of Ventile".
To cut a long story short, it is basically a very densely woven cotton fabric that is then treated with a water repellent coating (more on the coating later). This makes the fabric highly water resistant whilst remaining highly breathable; much more so than conventional waterproof membranes.
However, this comes with a few inevitable caveats. Firstly, the fabric is fine until it gets thoroughly soaked, usually after about two hours heavy rain. At that point it becomes cold and heavy to wear. Not only that, but it also takes a long time to dry out. "Use at your own risk" is the solemn advice one usually hears on the forums. However, I couldn't help but wonder how many of those people had actually tried it for themselves; most people have never even heard of Ventile.
The other caveat is with regard to the PFC coating. PFCs do not have a particulary good reputation when it comes to the environment. And whilst there was a move to a slightly less damaging version of the PFC treatment a few years ago, they are still seen as a technology that needs to be replaced ASAP. Manufacturers like Nikwax were very quick to promote their silicone based treatments as a viable and much cleaner alternative.
So Ventile is not as environmentally-friendly as some people imagine; until now. Just this year saw the arrival of Organic Ventile, a PFC-free alternative to classic Ventile that also uses organic cotton as the base material. So Organic Ventile certainly ticks a few more boxes environmentally and should keep even the most conscientious eco-warrior happy. The only fly in the ointment is a slight drop in water repellency. That said, Hilltrek say that users should not notice any difference during normal use. 
I generally wear a lot of Paramo gear, so I am already a long time convert to the breathability beats complete waterproofing ethos. If I think the weather could turn really nasty, like in Iceland, then I may carry a light anorak, but I find I hardly ever need it. I think most people will wear trousers while walking and carry waterproofs for when it rains. So there seems little harm in giving the trousers some wind and water resistance.
Also, I am very active in winter above the snow line where I would never wear anything else other than Paramo. Ventile also is a firm favourite with adventurers who are going to be getting snowed on rather than rained on. When I first decided to give Ventile a try, last year, the Organic Ventile was not yet available, otherwise I would have been very happy to try it out.
Instead, I was very interested in the breeches offered by Hilltrek; a style I had always regarded as logical and practical for walking, but one that some people may perhaps view as old fashioned. 3/4 length pants are, however, making a strong comeback and people seem receptive to the idea of not getting mud and water all over the hem of your trousers at least.
I live in Austria, where breeches never went out of fashion and are still regarded as a smart and sylish choice for walkers. With the weather in Austria generally much dryer than in the UK, I opted for the single layer showerproof Clova SV Breeches, rather than a double layer garment that would give a higher level of water resistance. I also ordered them in custom cinnamon colour, which matched the rest of my gear. Pictured below are the Clova Breeches in bronze: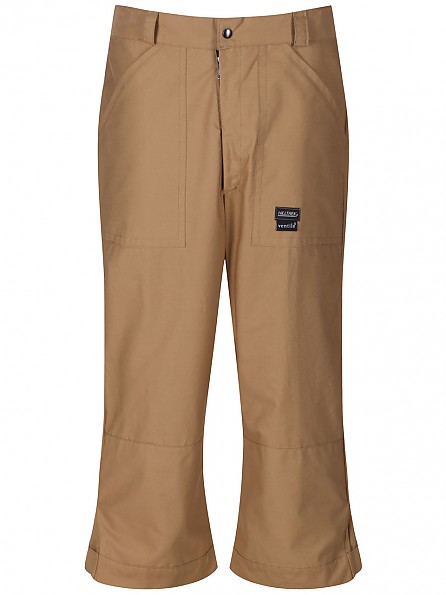 They arrived whilst it was still winter in Austria, so I just tried them on and put them in the cupboard for a few weeks. Here I must admit to finding a slight niggle with the design. The breeches come with a press stud fastener rather than a button. Having my own sewing machine, I like my clothing to be as user serviceable as possible. When a button comes off, I just sew it back on, perhaps with some reinforcement if the base fabric is damaged.
Whether I will ever be able to replace a press stud I can't say. Unfortunately, I know from experience (Mountain Hardwear climbing pants) that the spring in the press stud can eventually lose its grip leading to the stud bursting open when I bend over or otherwise exert myself. Oh well, I'll just have to see how this one lasts.
On a more positive note, the Clova Breeches have a rugged zipped fly, rather than the unfortunate modern trend towards velcro, which I find stops working almost immediately (I'm thinking of you, Paramo). Velcro may save weight and and cost for the manufacturer, but its use for the fly is a dreadful and unnecessary mistake. Thankfully, Hilltrek have avoided that particular pitfall.
In all other respects the Clova SV Breeches are sturdy and very well made. As soon as the weather improved I started to wear the breeches out on my hikes:
The fit was very good and exactly according to the measurements I had supplied. I found the breeches very comfortable to wear, not just to walk in but in a variety of situations for long periods of time. The material is a little stiffer than normal cotton, but this never becomes annoying.
The adjustable knees allow the breeches to be adapted to a range of situations. They can be closed up when it is windy, or loosened off when scrambling or driving. I was really surprised by how water beaded up on the surface, the water resistance of Ventile is something I have never experienced and I was quite impressed. What I also liked was the way the material shrugged off mud and dirt: Ventile is almost like teflon in the way stuff just rolls off it.
Of course, breathability was very high, as you would expect in such a garment, and switching between cold windy areas and sunny south facing slopes was something the breeches handled very well. Being windproof, they are obviously warm and that was sometimes very welcome on those cold late winter mornings: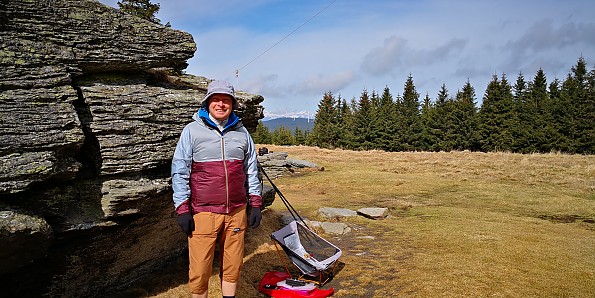 Coupled with a fleece, a down vest, and an ultralight windproof, the breeches kept me warm enough in the morning whilst being comfortable to wear in the afternoon sun. Having worn the Viento zip-off trousers from Paramo for over 10 years, I would say these are quite different, but have their own unique advantages. Paramo trousers are certainly softer to wear, but also a lot warmer; too warm, some would say. I know that I really need the zip-offs for when in gets hot. Sadly, the Viento zip-offs are no longer available.
These single layer Ventile breeches, on the otherhand, were better suited to warm weather. I would certainly not wear the breeches out in the pouring rain; I think there is already enough knowledge out there about how Ventile performs when soaked through, so no need to cover old ground. The weather was never really wet enough for me to need to put on waterproof trousers, so I can't say for sure how well they work underneath a membrane. However, I can't see there being a big problem.
The deep pockets are really nice for carrying your wallet; keys and coins don't fall out when you sit down. You can even get a large smartphone in them and still walk comfortably. I have been using them now regularly since late winter and the material does not show any signs of wear and tear. Ventile must surely rank among some of the most hard-wearing soft shell fabrics on the market and one can expect many years of hard service out of this garment.
Overall, I am very satisfied with these breeches. Apart from a minor gripe about the press stud, it is very hard to fault them. If you are looking for a comfortable and environmentally-friendly alternative to synthetic soft shells and you prioritse breathability, then Ventile may be the fabric for you.
These breeches, and Ventile clothing in general, will definitely be of interest to walkers who regularly wear a softshell layer, and also to hikers who like to carry an umbrella insted of full waterproofs. Would I take them on a long multi-day trek in wet weather? Probably not, but I know I will be wearing the Clova SV Breeches for a long time to come.
Experience
I normally wear breathable softshell pants when walking in winter, early spring, and late autumn. I have used Paramo gear, which is in some ways similar to Ventile for almost 20 years. I live in the Steiermark in Austria where I wore the breeches on numerous occasions for long day hikes in a range of conditions that were generally dryer than one would expect in the UK. As well as extensive long distance hiking, I usually climb well over 100 mountains a year.
Source: tested or reviewed it for the manufacturer (I kept them.)

The author of this review received a sample of the product from the brand or its representative in exchange for a review.
You May Like
Recently on Trailspace