Hoka Challenger ATR

The Challenger ATR has been discontinued. It was replaced by the Hoka Challenger ATR 6.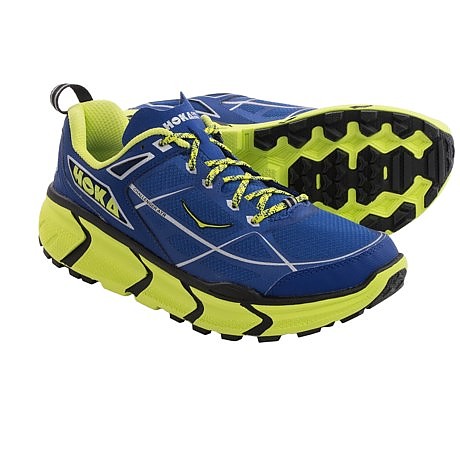 I believe the shoe is best for technical trails (sandy, rocky, dry powdery dirt trails, and muddy slippery trails). I have used them in all of the above conditions and have been very pleased. They are great for more groomed trails as well, but seem to really excel in the tougher conditions. They could be used on the road but it would be a waste of their excellent traction.

I would recommend them to anyone running technical trails, especially the rocky and sometimes sandy stuff we get here in Utah. While they have lots of cushioning they are still very light and are great for doing longer trail runs. I have had them about 250 miles and feel like they will be done and ready for retirement around 500 miles.
Pros
Traction, they have plenty of it
Cushioning to take the abuse instead of your feet
Breathability, it's hot out west and they breathe and drain well
Minimal drop, one of the reasons you buy Hokas, right?
Cons
Sides of the shoe are starting to lose their finish/color
Insoles bunch up at the heel, could be a problem for some
Over time the laces seem to not pull tight as easily. They get hung up as they wear due to use, sand, dirt, etc.
Fit: I have a narrow foot so I do have to pull the laces somewhat tight. Not so tight the eyelets come close to each other or anything. I do have to be careful to not over tighten the top of the shoe.
A lot of folks change out the lacing for speed laces or a different type. I didn't but can see why some would. The laces are OK, but not great and seem to fight you the more wear they get.
Comfort: I ran pretty far in them the first day I had them. They were great right out of the box. I run with gaiters on the trails around my house. If I didn't I would be dumping a lot of sand/dirt out of them. I think that is more related to the trails in Utah then any issue with the shoe. 
Support: They are a fairly neutral shoe. I don't find them under or over supportive. 
Water Resistance: Not at all but they drain well.
Traction: I find them to have great traction in all conditions the summer has thrown at them. Not sure how great they would be on ice, but I would use the pull-on traction products anyway.
Temp Control: They breathe great for summer. I can't say how they would do in the winter/cooler months. My guess is they breathe too well for cold weather.
Ease of Use: Pretty straightforward. Again the laces seem sub par or less than to me. 
Features: Traction and cushioning
Construction and Durability: Sides of the outsole are flaking off their coloring pretty quickly. Doesn't seem to impact performance but has occurred in the first 200 miles of use. One last time, the laces aren't great.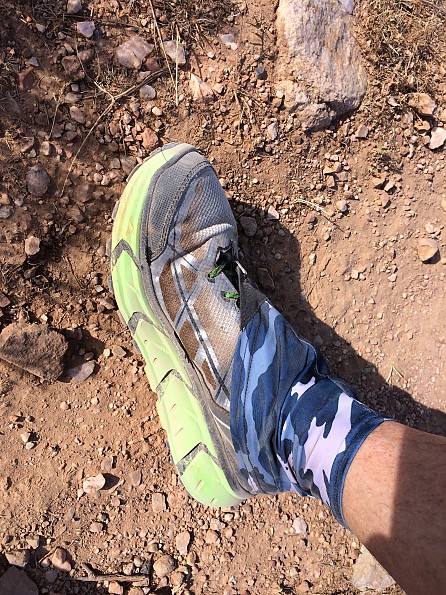 Conditions: Sandy, rocky, dusty, hilly trails of Utah for about 250 miles. I don't use them on the road at all.
Source: bought it new
Price Paid: $125 before discount

The Hoka one one Meta-Rocker totally changed my training and hiking experience by relieving pain and neuropathy in my right foot. Super cushiony underfoot and a wide sole for stability. Excellent breathability.
Pros
Very soft underfoot
Lightweight
Meta-Rocker
Breathability
After hearing all the buzz about Hoka one one shoes on hiking forums I was pretty excited when I was offered a pair to test and review. While the Challenger ATR is a trail running shoe I have used it almost exclusively for gym training on the treadmill and hiking in my local Northern California state parks.
I found a size 9 was true to length and the width would be medium. I have a wide foot so I wear a thinner sock when wearing these shoes. Fitment was good from the start, snug without being tight and quite comfortable during my 60-90 minute sessions. The shoe has a rather deep insole which keeps the foot well centered in the shoe.
This shoe is very soft underfoot which works great on the treadmill, whether walking fast or running, incline or decline. From the start the neuropathy that had always occurred in the ball of my right foot when training became nonexistent.
It took a while for me to figure out what was making the difference. It became apparent that the Meta-Rocker under the middle of the shoe was changing the way my foot struck the ground. Looking at the shoe in profile, both the heel and the toe are bent up from the midsole. Being a heel striker, the rocker was smoothing the transition from my heel to the ball of my foot.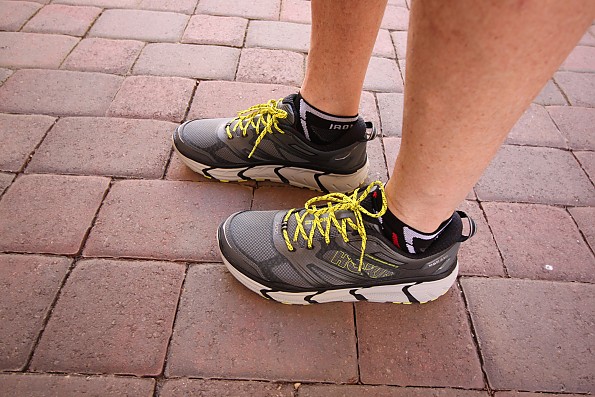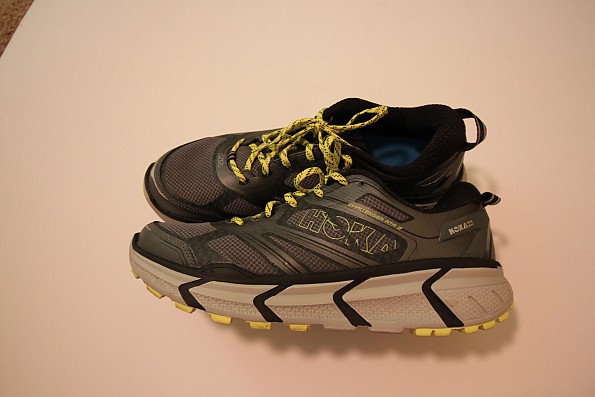 Taking them out on the trails, the lugged soles have worked well on the dry dirt trails in my area and so far are holding up well. The soles flair out from the shoe's uppers and that provides a nice stable platform. The toe has a nice rubber bumper which comes in handy when an obstacle is struck because I'm not paying attention. Breathability during trail hikes has been good. 
I have been using these shoes for 4 months now and I will be sticking with Hoka for my training shoes for the foreseeable future.
Source: tested or reviewed it for the manufacturer (I kept the product after testing.)

Disclosure: The author of this review received a sample of the product from the brand or its representative in exchange for a review.
I got the shoe in December to start incorporating them into training for the HURT 100 in Hawaii. They did great on the frozen trails and winter back roads of Maine. But I was still not sure how this would correspond to the heavily rooted technical running on Oahu.

After multiple 20 mile training runs on the HURT course as well as using them for 85 miles during the race I can say they withstood everything I threw at them.
Pros
Light weight
Increased cushion during long runs
Versatile through different conditions
Cons
Cost
Some bunching of the insole in the heel
Premature wear on the upper specifically through the toe box
Specs:
Purpose: Trail

Offset: 5mm

Heel: 29mm

Forefoot: 24mm

Weight: 8.6 oz. size 9 
Fit: Typically I am a size 9. These tend to run a half size large, so 8.5 Men's.
Comfort: Very comfortable shoe. They achieve increased cushion while maintaining a low weight 
Support: Adequate 
Water Resistance: Not particularly water resistance, but they do drain well
Traction: Well thought out tread pattern that is effective over multiple conditions 
Temp Control: Breathable 
Construction Durability: 500+ miles on them and will probably get around 600 miles before retiring them.
Conditions: I have used these on frozen trails, roads, humid jungle, Southwestern rocky dry landscape.
You can read my full review at http://dirigoendurance.com/2015/04/08/hoka-one-one-challenger-atr-review/
Source: bought it new
Price Paid: $130

Your Review
You May Like
Specs
Men's
Price
Historic Range: $59.99-$130.00
Reviewers Paid: $125.00-$130.00

Women's
Price
Historic Range: $64.83-$130.00

Recently on Trailspace